The Oris Divers Sixty-Five is hugely popular, and rightly so. Any independent brand that makes a well-designed, vintage-inspired tool watch at an affordable price will quickly gain a loyal following, something Oris has done with aplomb since the collection was first released in 2015. What some don't know, and a key ingredient in their popularity, is the sheer depth and breadth of different offerings within the Divers Sixty-Five collection. Currently there are more than 50 different references, varying in size, dial colour, bracelet and beyond to make sure there is something for everyone. So with that in mind, let's take a look at a few of the key references within the collection that deserve your attention.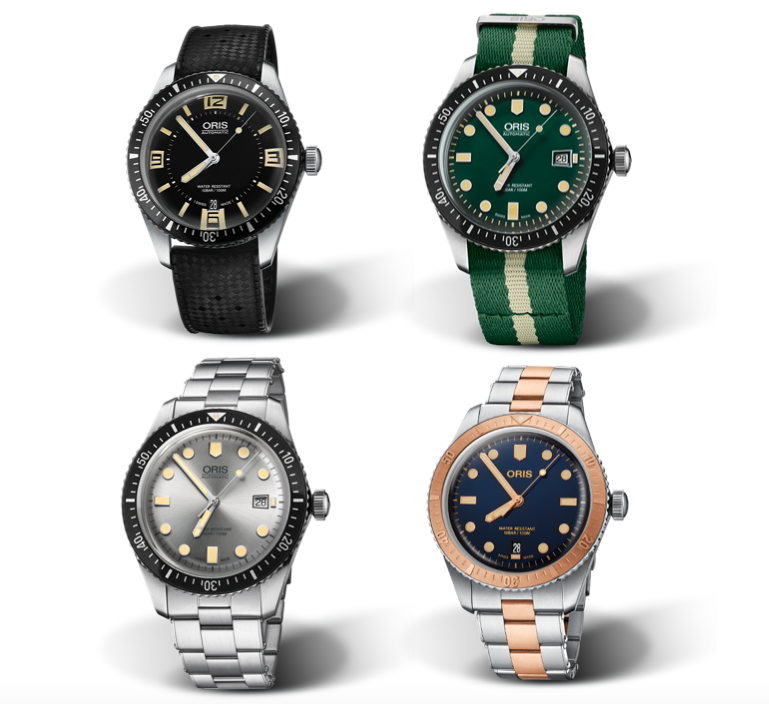 Oris Divers Sixty-Five with recycled plastic strap
Oris has a long-established connection with ocean conservation, making much of their packaging out of recycled materials and supporting various initiatives including World Cleanup Day. In this Oris Divers Sixty-Five reference we have a blue dial 40mm watch cased in steel, but the strap is where things get interesting. The strap is made from a special material called r-Radyarn®, which is essentially recycled plastic that has very low impact on the environment. It looks great in the woven stripe pattern, and is a tactile reminder of the ongoing work to take care of our planet.
Oris x Momotaro
In this collaboration, Oris have partnered with the Japanese raw denim manufacturer Momotaro. The 40mm case features bronze highlights and a soft green dial that contrasts very well with the coloured metal hands. As you might expect in a collaboration with a denim manufacturer, the strap that the watch arrives on is Momotaro denim, and will also arrive with a denim shoulder bag.
Regardless of how you feel about moustaches, the work that Movember does each year is important in its support of men's health. Oris has teamed up with the organisation to produce a limited edition watch that features a few small nods to the furry upper lips that are born each November.
Oris Divers Sixty-Five vintage reissue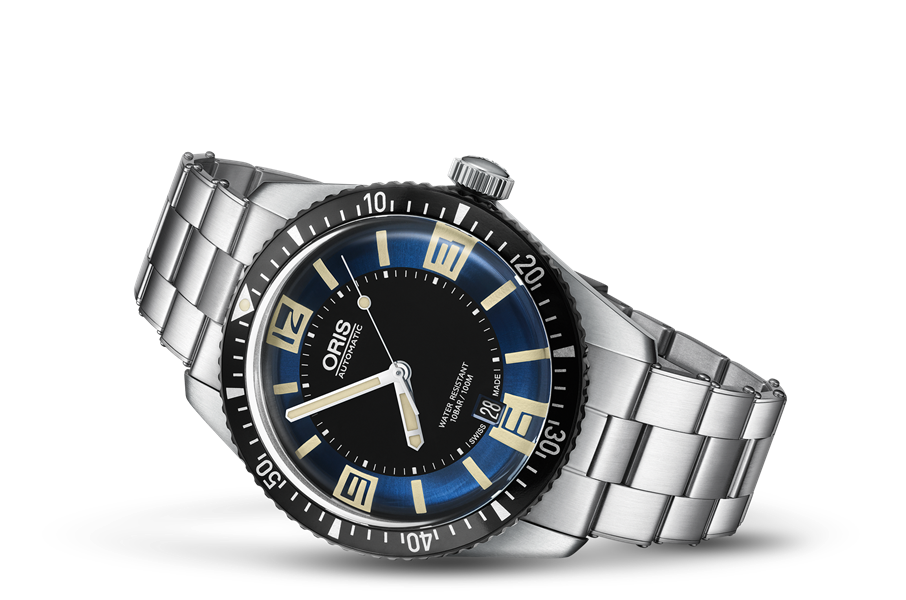 This watch shares much of the same design as the first Oris Divers Sixty-Five that was released half a decade ago. In turn, the watch from 2015 was based on a vintage Oris dive watch that was released 50 years before that, featuring the same stylised vintage numerals at the cardinal points. The different dial design is available in both blue and black, and has options for steel bracelet, rubber strap or textile strap.
Oris Divers Sixty-Five two-tone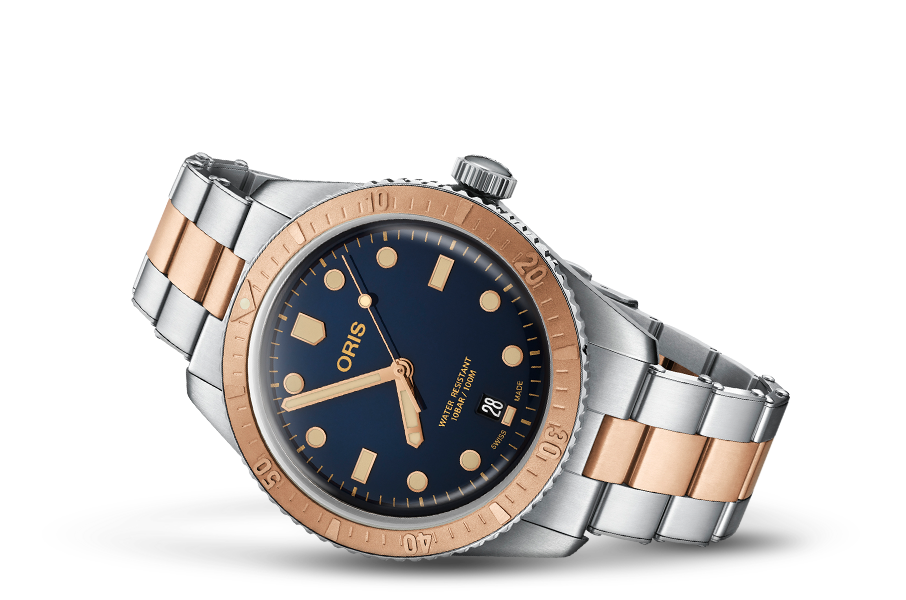 Within the nostalgia of vintage-inspired dive watches, there is something particularly attractive about two-tone watches. This blue dial Oris Divers Sixty-Five features a 40mm steel and bronze case that delivers some two-tone charm in a metal combination that is both more affordable and subtle than a precious metal alternative. It is also available on a leather pin buckle strap.
Oris Divers Sixty-Five blue dial
Blue dial steel sports watches. They might be the defining characteristics of this generation of watch design when future generations look back through the history books. But there's a good reason for so many watches in this style – they look damn good. This reference features a 40mm steel case on a steel bracelet, however it is also available in 36mm and 42mm, and can arrive on your choice of steel bracelet or leather, rubber or fabric strap.
Oris Divers Sixty-Five black dial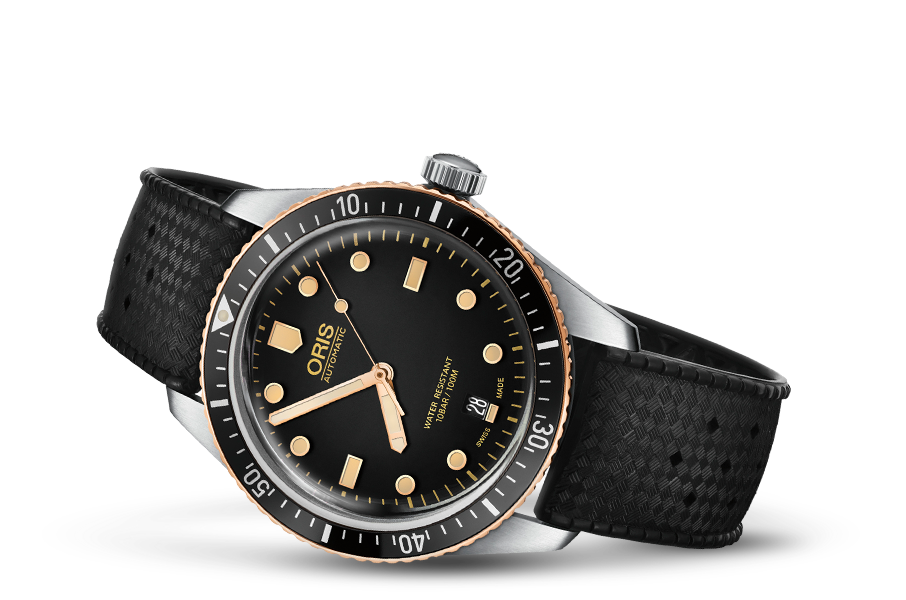 Of the Oris Divers Sixty-Five references with black dials, there are two distinctly different families of watches. The first (pictured above) has a very subtle two-tone colourway, with the outside of the bezel, hands and hour markers in bronze. The other is a more conservative look, with those details in steel, delivering a more visually contrasting package. Both of these variations are available in 36mm, 40mm and 42mm sizes, as well as the range of rubber, fabric or leather straps or a full steel bracelet.
Oris Divers Sixty-Five silver dial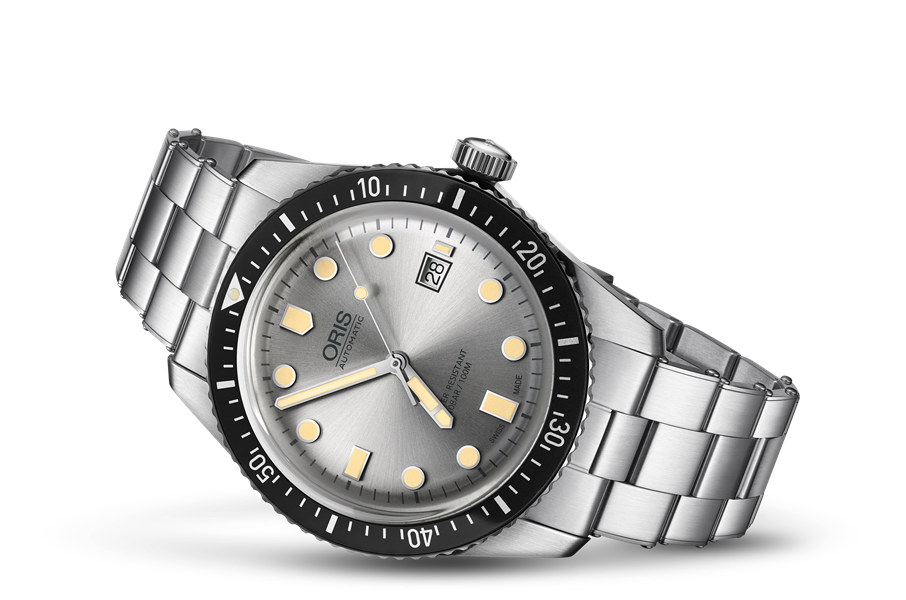 The most immediately noticeable visual feature of the Oris Divers Sixty-Five with a silver dial is just how much the creamy coloured lume contrasts against the dial. The impact of such clearly coloured luminescent material on the hands and hour markers is sure to polarise, with most watch enthusiasts knowing very well where they stand on the subject known as fauxtina. Regardless of how you might feel, you'd have to agree that the dial and case/bracelet being so similar in colour means that a little extra contrast on the dial doesn't go astray here. References with silver dials are only available in 42mm case sizes, and can be worn on a steel bracelet as seen here, or alternatively a rubber or leather strap.
Oris Divers Sixty-Five green dial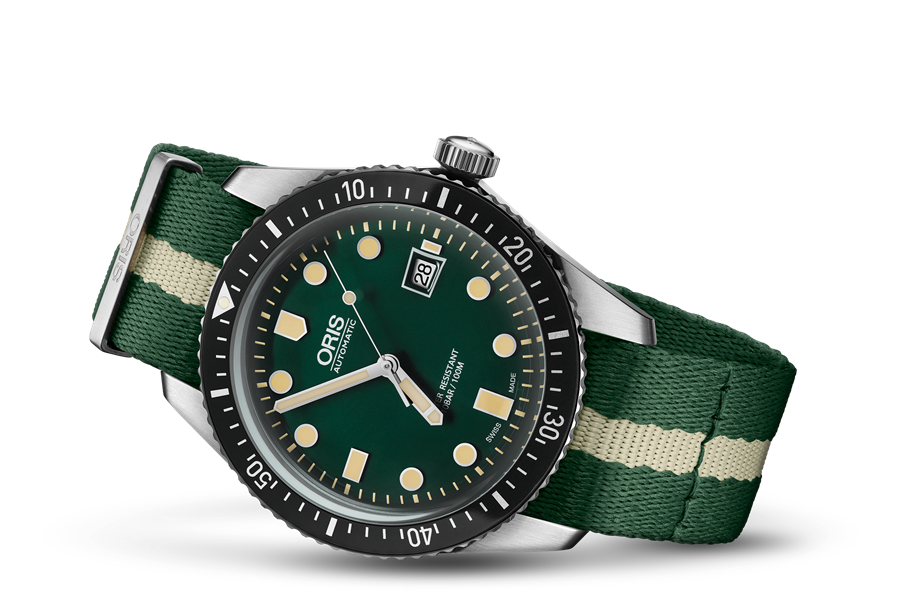 Green isn't a colour that makes its way onto a dial very frequently, but whenever it does it only serves to remind how nice it can look. The green dial Oris Divers Sixty-Five is a sort of British racing green tone, and is available in 40mm and 42mm case sizes. All of the 40mm references also feature the two-tone details of the previously mentioned black dial references, while the 42mm references are produced totally in steel.