INTRODUCING: Furlan Marri take vintage contemporary value to a whole new level with the Black Sector Mechanical 2116-A
Zach Blass
It is quite fitting Furlan Marri decided to name their collections "stories". Andrea Furlan and Hamad Al Marri knew from the outset they had many stories they wanted to tell. And by stories, I mean an effort to carefully roll out different horological visions, or chapters, with the goal of shaking up the notion of the value of a watch – offering as much as possible for as little money as they could.
The first "story" was their mecha-quartz chronograph, and to say it took the watch world by storm would be an understatement. Upon its launch last year, it raised and then re-set the bar for Kickstarter micro-brands when they met their funding goal in record time. Whether a mega-collector, or diehard newbie, the chronographs really struck a chord with the quality of their aesthetic, components, and attractive pricing. A little over a year later, Furlan Marri is ready to usher in the next chapter. With each story, the brand aims to push the envelope further and their next step is a new three-handed fully mechanical watch: The Furlan Marri Black Sector ref. 2116-A
The Black Sector is the beginning of the "three hands mechanical story", and, from our firsthand account – Andrew has had the privilege of getting hands-on this time, so keep an eye out for social media where he will share all! – I can confidently confirm that it not only lives up to expectation – it surpasses it.
Many lauded the Mecca-quartz story pieces for their exceptional case-finishing and, more specifically, quality mixed finishes on a watch that cost a few hundred dollars. The stainless steel case we have here also leverages a vintage-inspired case form, made of multiple pieces and executed with richly brushed and mirror polished surfaces. The top of the thin bezel is concentrically brushed, its outer-facing ring and stepped case-side mirror polished. Its caseband utilizes a rich satin-brush, sandwiched by the polished outer ring of the bezel and a polished ring that breaks the finish before you reach the caseback. The lugs take on an intriguing cow-horn shape, attached to the case after it has been finished, the bridge holding it visible between the lugs at 6′ and 12′. They are primarily mirror polished, with their outer-facet richly richly brushed.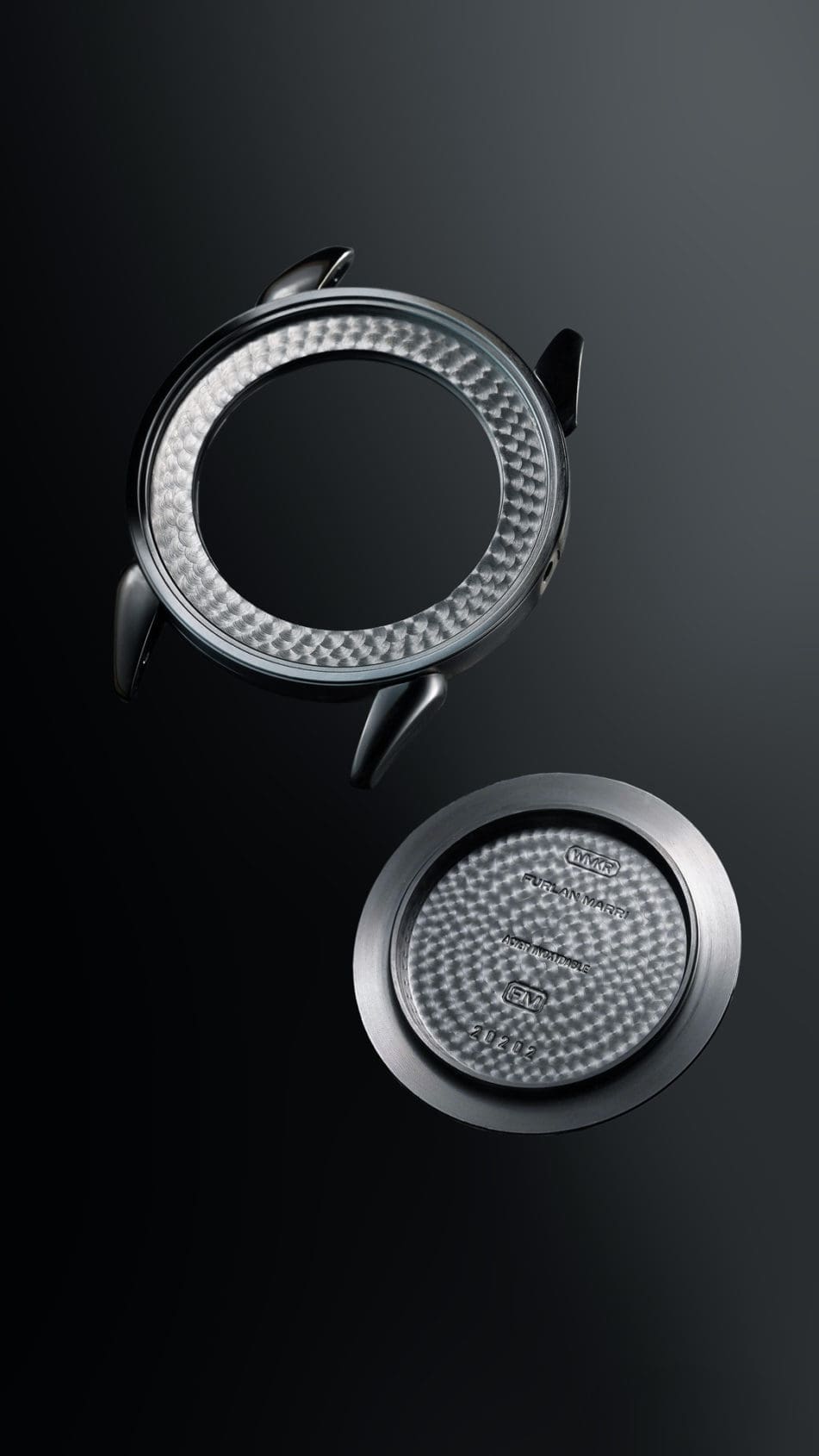 Even the internals have received the same attention to detail, the unseen surfaces beneath the bezel and inside of the caseback executed with perlage. Continuing to use vintage pieces as their muse, the 50 metre water-resistant case carries welcoming dimensions of 37.5mm in diameter, 10.5mm in thickness, and 46mm across the wrist lug-to-lug.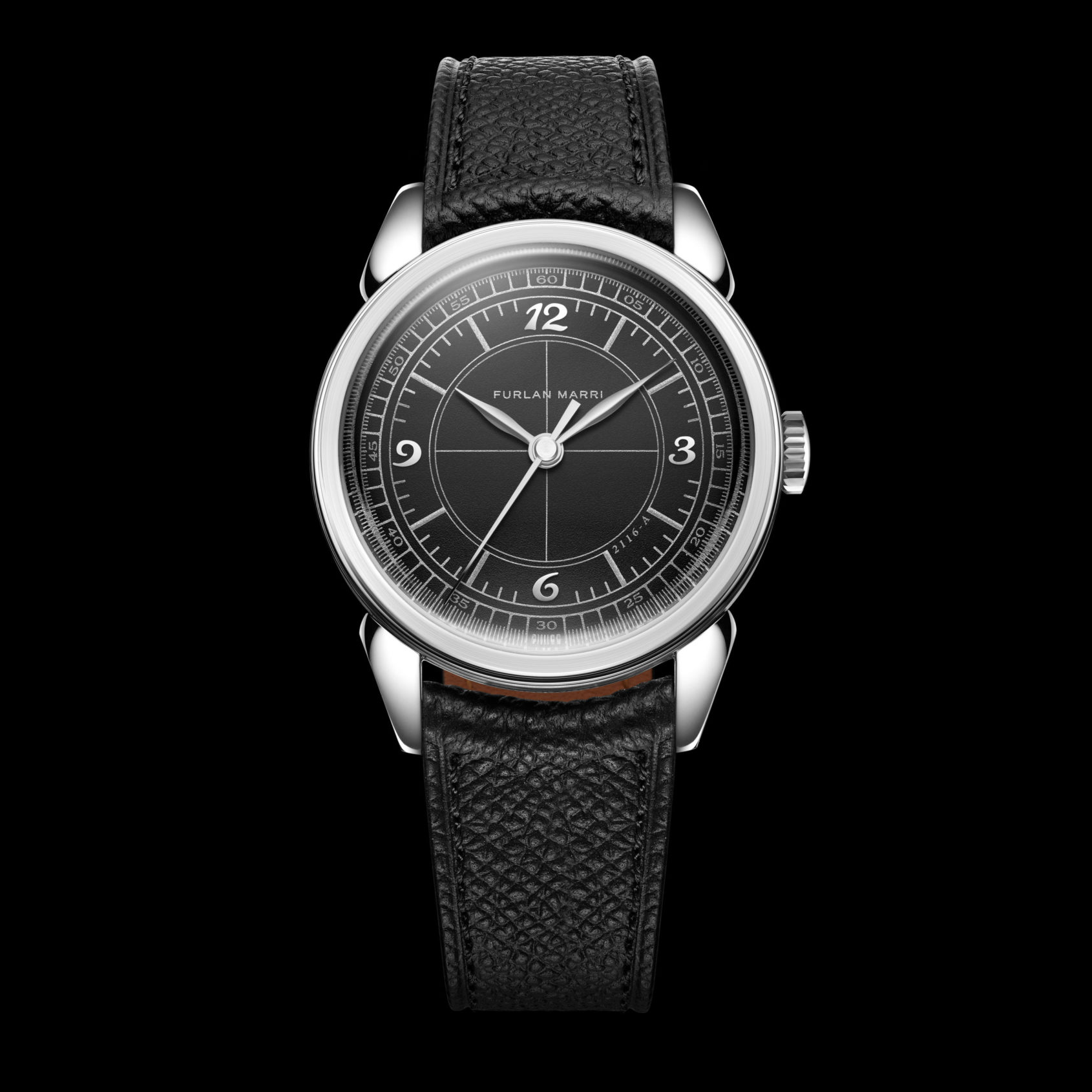 As its name suggests, the Furlan Marri Black Sector has a black sector dial with four quadrants in the central medallion separating each quarter hour. If you are anal about ensuring the minute hand perfectly aligns with the hashes every 60 seconds, you have two rows of hashmarks to refer to. At first glance, I felt it was a little bit of overkill. But, ultimately it helps make full use of the dial and prevents it from looking too minimal.
The applied Breguet numerals, made of polished stainless steel, at 12′, 3′, 6′, and 9′, will, of course, go over well with watch enthusiasts and vintage-lovers – a classy expression and numeral-type for sure. As for its texture, the black has a grained appearance that is achieved through electrical discharge machining to give a thin and finely grained surface. Fittingly, considering the dressier nature of the piece, its aesthetic is not diluted by SuperLuminova®, but this will not work for those needing night-time illumination.
The Furlan Marri Black Sector is offered with two French leather straps. The first is a curved black leather strap with black stitching, the second a straight honey-brown strap. Curved, straight, Zach… what is going on here? Furlan Mari, in their attention to detail, have drilled two sets of holes into the inner-sides of the lugs. One set accommodates curved straps, such as the supplied black strap, that will rest more flush to the case. The other set accommodates more common straight straps, straps that leave a gap between themselves and the case. Both feature quick release tabs, so you can quickly swap either on or off the watch. But, the two sets of lug holes allow you to accommodate any aftermarket options you want to explore – whether curved or straight. Really neat and thoughtful.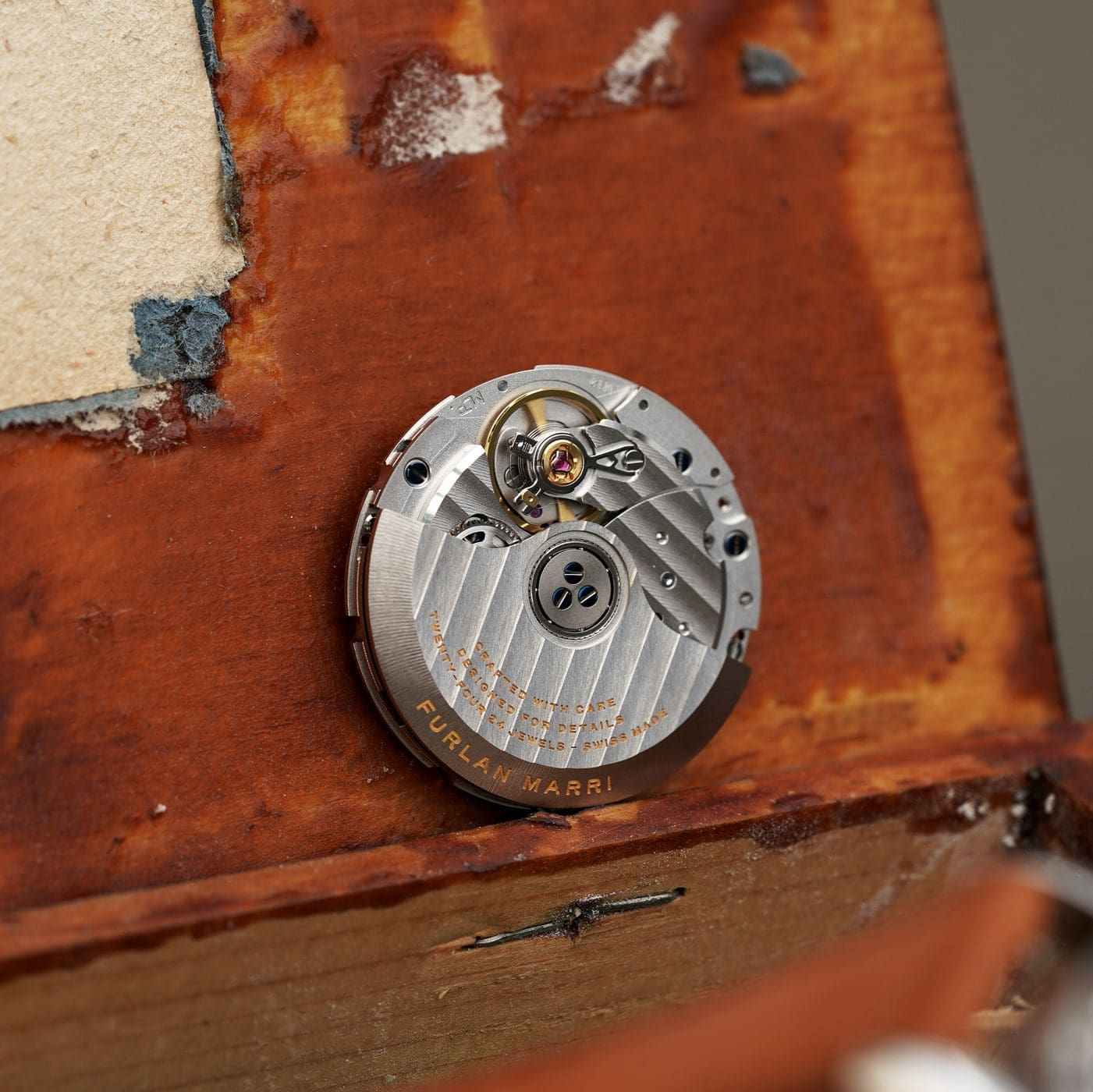 Furlan Marri made the jump to a fully mechanical calibre, but the automatic movement, which is decorated to a TOP finish and armed with Élaboré-grade adjustments, is hidden beneath a solid brushed caseback. We felt this was an intriguing choice. I mean, you have finally given the people a mechanically powered watch and you are not going to show off the movement?
Andrew and I had to ask the question, and we did so on WhatsApp. Why close the curtains permanently on this show? Andrea Furlan replied: "We will have an open caseback later on in the permanent collection, but we wanted this initial special reference to be as thin as possible. It also speaks to the era of incredible vintage watches, where you had a nice movement inside you could not see – collectors like this little nostalgic touch." The calibre, supplied by venerated movement supplier and manufacture La Joux-Perret is handsomely decorated and offers a near weekend-proof 68 hours of power reserve. Most watches at this price would have settled for a more common ETA or Sellita calibre, but Furlan Marri, in the spirit of pushing the envelope, have taken things a step further.
As somebody who owns the Havana Salmon Mecha-quartz they introduced last year, I know first-hand what Furlan Marri is capable of delivering. Aesthetically, I was very impressed. The mecha-quartz calibre, however, was less than ideal as I am well documented with my irk of one aspect of it. That being said, I was not oblivious to the cost factor. To use a fully mechanical chronograph movement would have raised the price, so I was curious to see what the price of their first fully mechanical creation would be. The fact that, even with a La Joux-Perret with 68 hour power reserve, they are able to offer a handsomely built and finished three-hander for CHF 1,250 earns a virtual pat on the back from me. I imagine the will amass quite a large number of pre-orders for this piece, and I am excited for them to tell the rest of this "three hands mechanical story" in the coming months.
Furlan Marri Black Sector ref. 2116-A pricing and availability: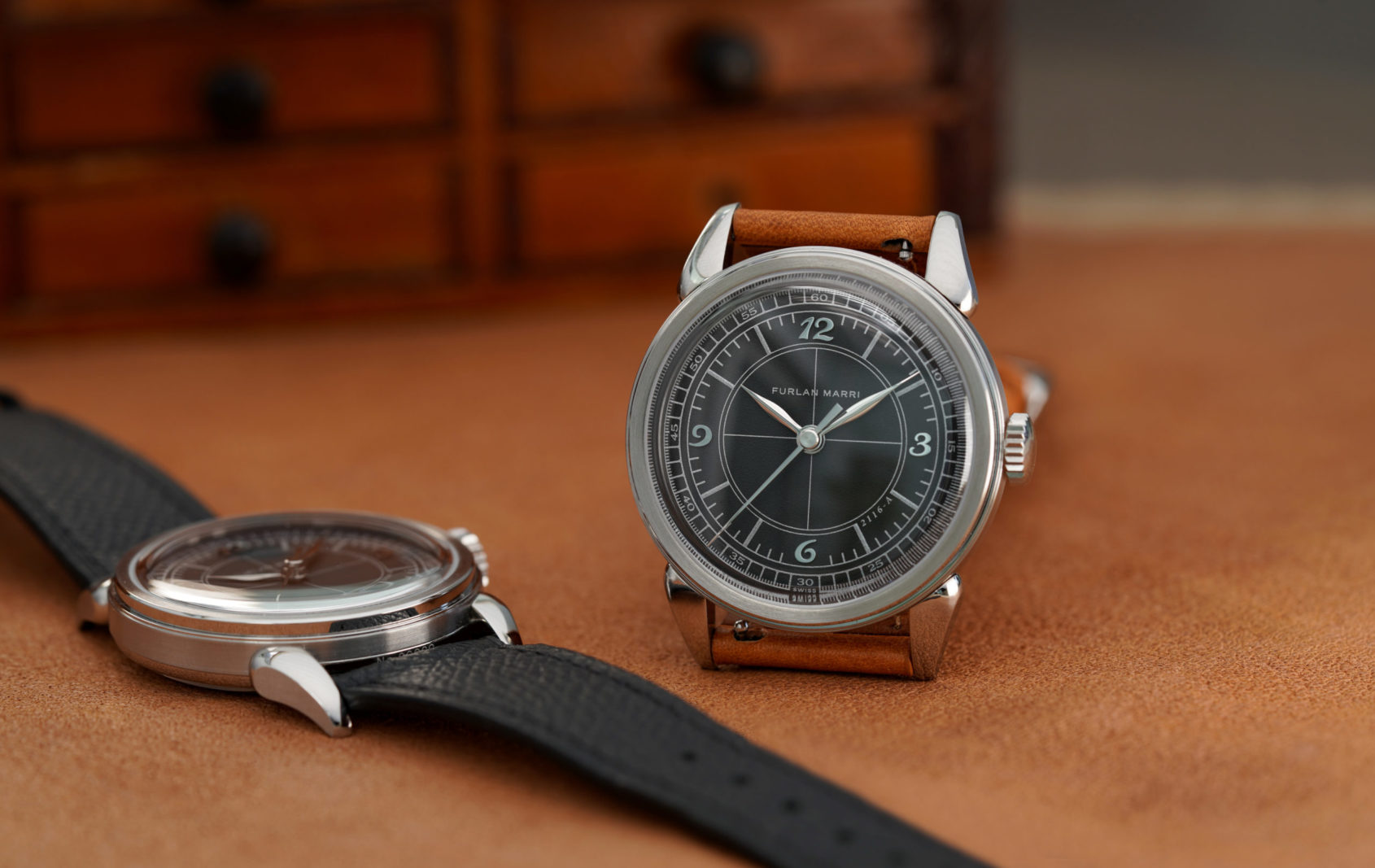 Pre-orders will be taken on the 24th of June (time to be confirmed). The pre-order period will last for ten (10) days and they will produce the number of pieces ordered over these 10 days. The production and shipping timeline will be shown on their website. This particular reference with a black matte sector dial will be unique to the pre-order session, they will therefore not produce again this reference. There will be new references coming in the late 2022 as a permanent collection. Price: CHF 1,250 (excl. tax) if pre-ordered
| | |
| --- | --- |
| Brand | Furlan Marri |
| Model | Black Sector (Three Hands Mechanical Story) |
| Reference | 2116-A |
| Case Material | Stainless Steel |
| Case Dimensions | 37.5mm x 10.5mm x 46mm |
| Water-Resistance | 50m |
| Dial | Black sector dial |
| Strap | Curved black leather strap, straight honey brown leather strap, quick release |
| Movement | Self-winding La Joux-Perret calibre |
| Power Reserve | 68 hours |
| Complications | Hours, minutes, seconds |
| Availability | Pre-order June 24th |
| Price | CHF 1,250 (excl. tax) (pre-order price) |