IN-DEPTH: The history of stone dials
Fergus Nash
It's incredibly rare that anything truly new happens in the watch world, and even the most groundbreaking innovations can often have their roots in technology and theories from decades ago. Something that has been swirling around the fringes of popularity, for the last few years in particular, is the phenomenon of stone dials, whether they're made of precious minerals, fallen meteors, or any other exotic matter. Although the appeal is quite niche and they tend not to come cheap, the various colours, gradients and patterns these natural phenomenons can offer is extremely alluring. Let's take a moment to explore history of stone dials and why they make such great options.
It may surprise you to learn that precious stone dials actually are a recent development, in horological terms at least. Even though there was some experimentation on pocket watch and clock faces with mother-of-pearl, the inclusion of a stone dial would have required the cases to be much thicker, and that's before considering the fragile nature of the material. It wasn't until 1957, when Piaget launched the ultra-thin calibre 9P with a 2mm thickness, that there was finally an opportunity to experiment with watchmaking in ways that were unheard of before. After several years of growing success from their Geneva salon, Piaget released their first batch of stone-dialled watches in 1963, featuring gorgeous 1mm cuts of lapis lazuli, opal, malachite, tiger's eye, and far too many more to count. It was a delicate process that resulted in a lot of wasted material, but that was no turn-off for the luxury powerhouse. One of Piaget's watches with a jade dial and gold bracelet even ended up on the wrist of Jackie Kennedy.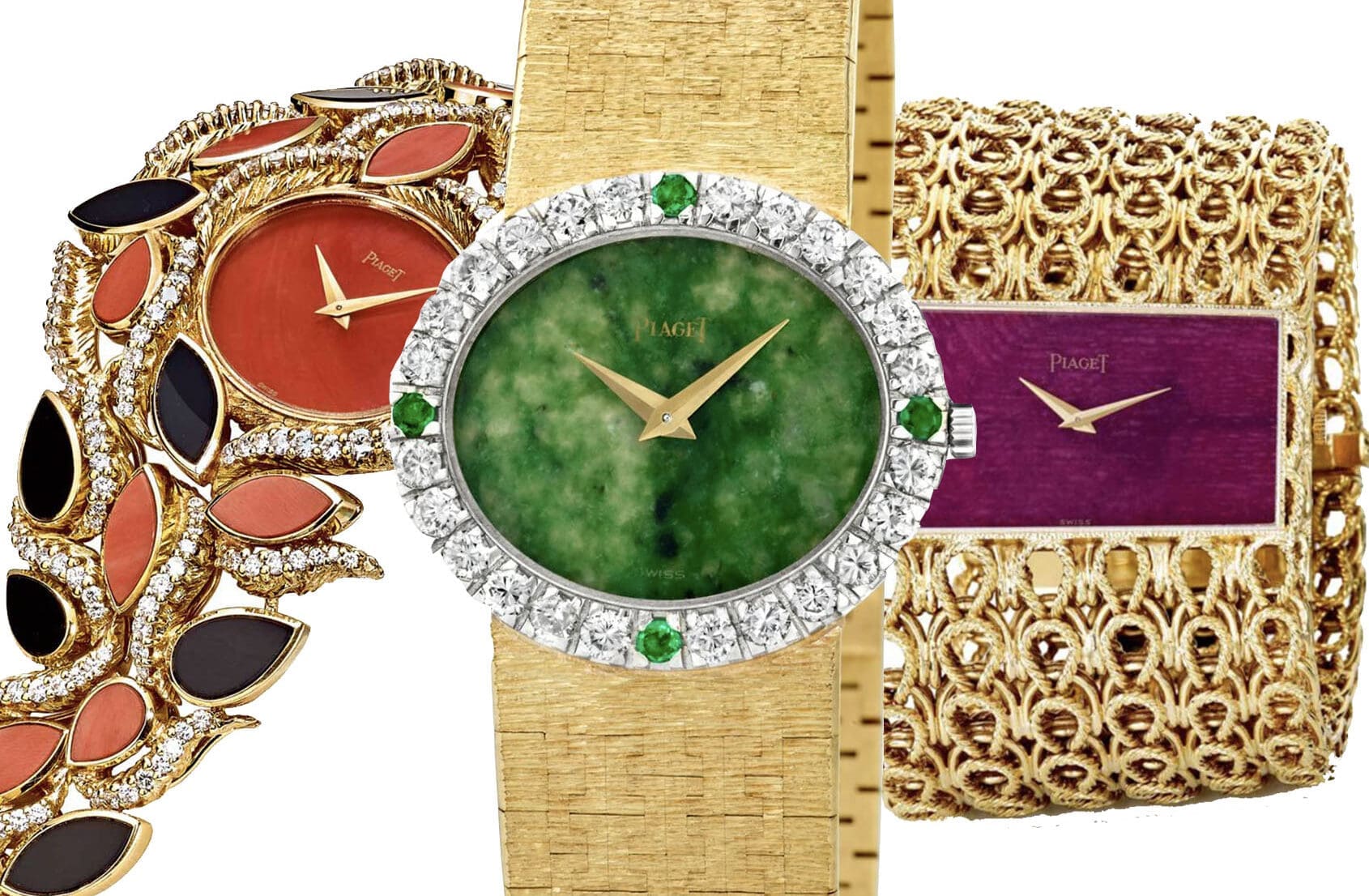 By the late '60s there were more than 30 different precious stones to choose from, but it was still a fairly small operation of bespoke watches for Piaget clients. Clearly, the market was there to be entered, and other brands started sensing that opportunity. The idea of a mineral or gem as the centrepiece of a watch dial is quite inherently showy, and come the 1970s Rolex was beginning its meteoric rise as a conspicuous status symbol. Thanks to the Datejust and Day-Date, Rolex had normalised flashy gold cases and diamond indices for their men's range as well as their women's, so stone dials were the next logical step. Judging by a 1970s dial code chart, there were at least 126 different configurations that Rolex were offering with a variety of stones, such as onyx, obsidian, jasper, agate, and even fossils of tiny ancient sea creatures. What's more is that thanks to the cut-outs for the date windows, you could actually get a glimpse at the thickness of the dial, which made it feel much more tangible.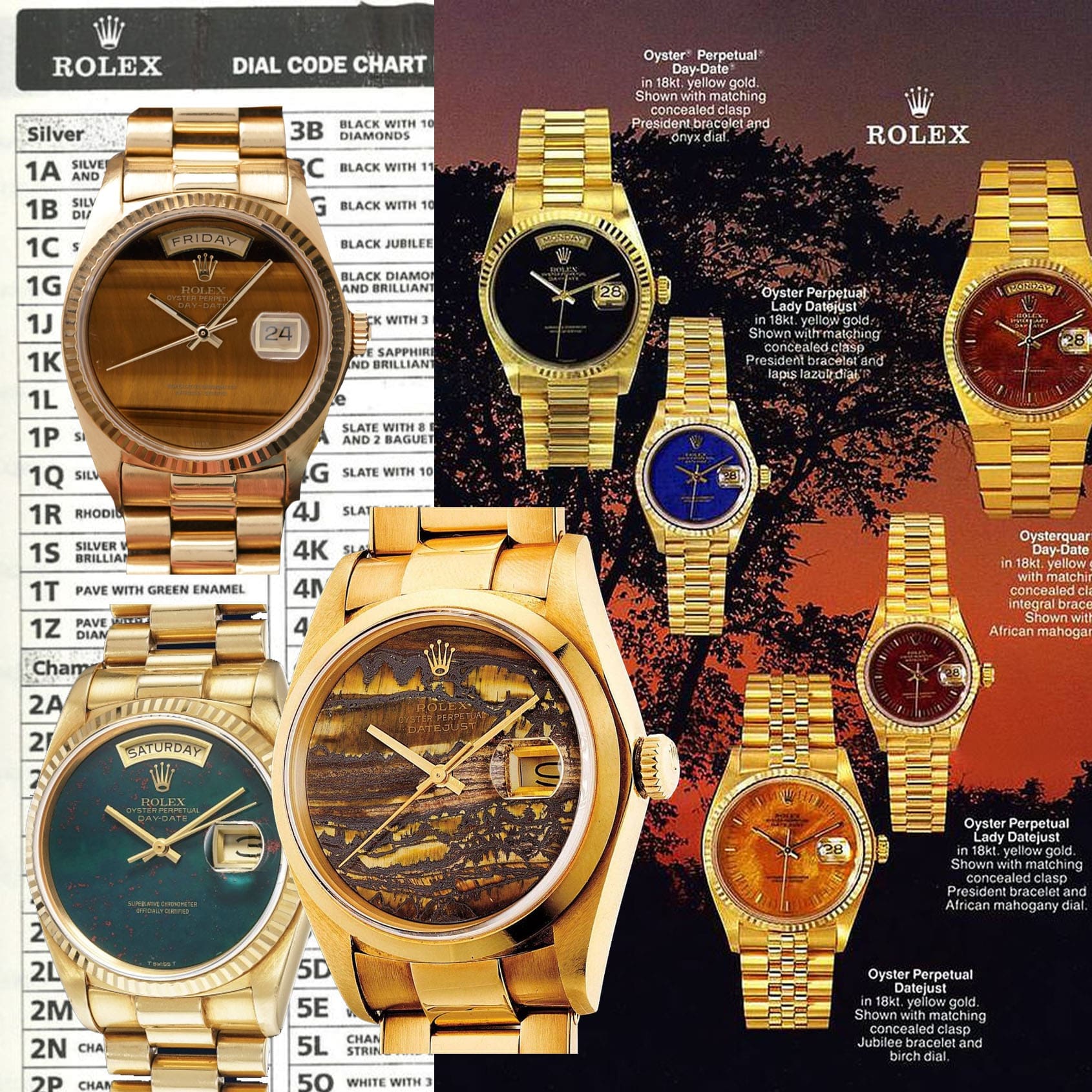 Throughout the 1980s the Quartz Crisis halted much of the luxury watch industry, with some brands pivoting to the steel sports watch formula, some switching to affordable quartz watches, and some brands dying out completely. The stone dial was well and truly out of fashion, but a few stragglers still made it through. Companies like Cartier survived through their Must de Cartier line, with some of their quartz-powered art watches displaying stone dials alongside their more upmarket Santos. As bigger, chunkier watches became the norm, the place for elegant materials rapidly vanished from catalogues.
Never afraid to ignore a trend, Rolex reminded watch collectors of stone dials through their iconic chronograph, the Daytona. Having surpassed its racing tool origins and entered into the realm of high luxury, the addition of a Sodalite stone dial within a white-gold case and diamond hour markers was a bold statement for the late '90s and early 2000s. It was that kind of bravado which echoed the Datejusts of the 1970s, while recontextualised in a big, modern sports watch to whet some appetites. To say it took off would be an overstatement, but it proved that the 21st century was the time for the stone dial comeback.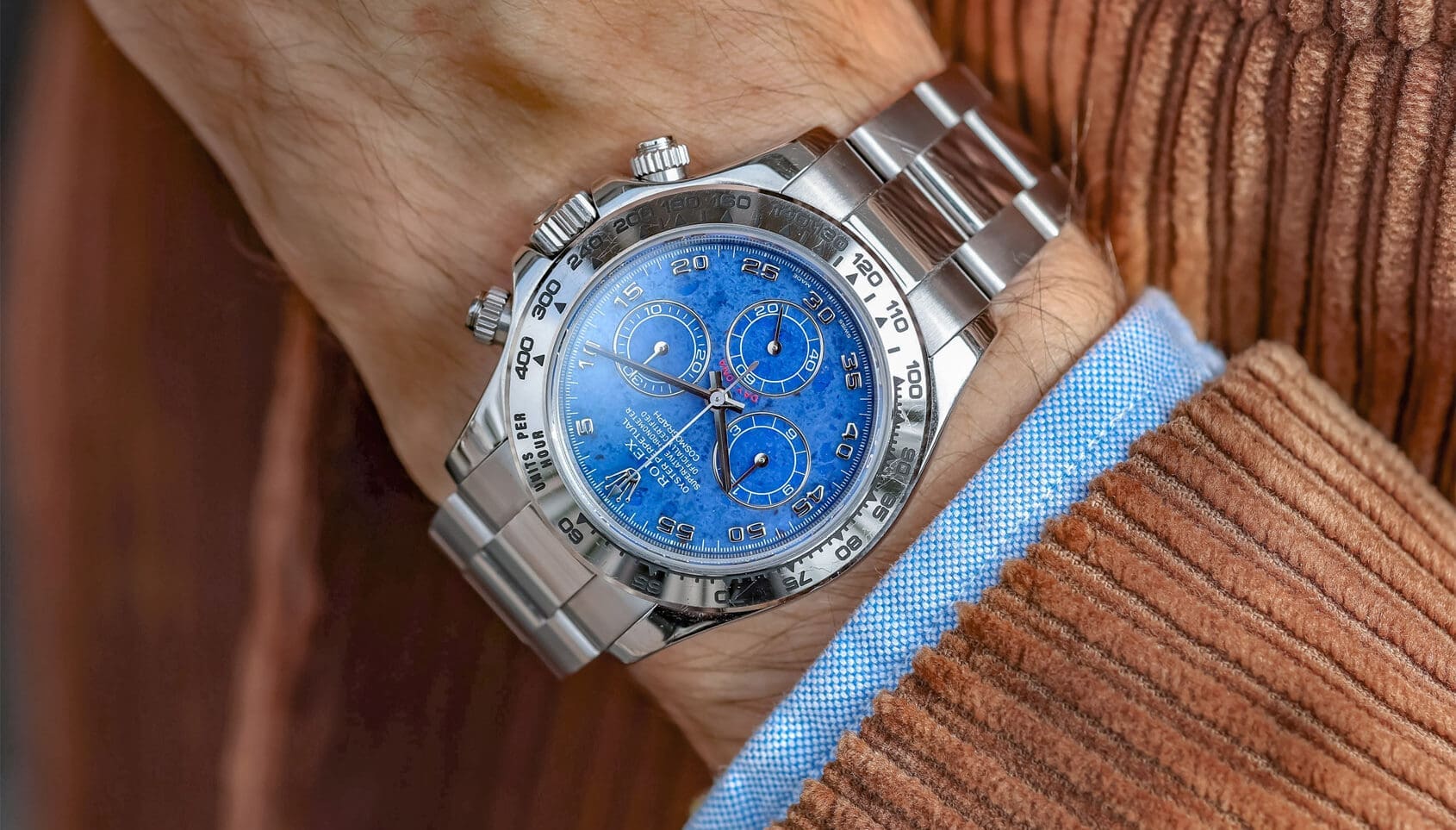 The next couple of decades leading up to the present day has seen countless releases from the likes of Jaeger-LeCoultre, Patek Philippe, Bulgari, Chopard, and many more across a wide variety of price brackets. Even the Omega Seamaster 300 can now be bought with a lapis lazuli or malachite dial, proving that it's possible to merge slick sports style with precious materials in a way that isn't overly gaudy or kitsch. The improvement in quality of overseas manufacturing has also allowed microbrands to include stone dials into incredibly affordable watches, with brands such as Zelos, Direnzo, Boldr, Signum, and heaps more utilising stunning specimens of meteorite. Aventurine is also becoming increasingly common among big and small brands alike, although the starry-sky effect is actually created by including minerals in glass, whereas the actual aventurine stone is usually a green colour.
As for the future of stone dials, it's quite clear that the democratisation of precious stones in watchmaking is only going to get stronger. More and more affordable options are being released alongside breathtaking haute horology examples that are equally valid in their existence, and the freedoms afforded to contemporary fashion only encourage further experimentation with different materials and aesthetics. If you've found yourself tempted by this article, stay tuned for the follow-up where we list some of the best stone dial watches for every budget.