HANDS-ON: The Hamilton Khaki Field Murph is now available in 38mm
Zach Blass
Hamilton is an industry leader for watch cameos in film. Their timepieces have been interwoven into many silver screen narratives, with recent Christopher Nolan movies like Interstellar and Tenet a prime example of a watch not just simply being placed on an actor, but also a core element and story device of the plot as well. In Interstellar, the Khaki Field Murph had a starring role. The watch, given by pilot Cooper (Matthew McConaughey) to his daughter Murphy (Jessica Chastain), initially seemed like a mere heirloom to signal the importance of time and relativity in outer space. But this prop watch, specially rigged to have a staggering/jumping seconds hand controlled by a crew member off-screen, ultimately helps send a morse-code message that could potentially save the Earth at the film's climax. Of course, theatre-goers who left in awe of the space opera desperately wanted to purchase a Hamilton Khaki Field Murph for their own collection, and Hamilton obliged with a production model of the watch that functioned normally. But, its case size of 42mm was intimidating to some and deterred purchases. The brand received social media feedback from the outset begging for a smaller version of the watch to be made as well. Some brands would ignore such feedback, but not Hamilton. Today they have proven to the watch community they were in fact listening, with a new Hamilton Khaki Field Murph 38mm watch the watch community has long been waiting for.
The case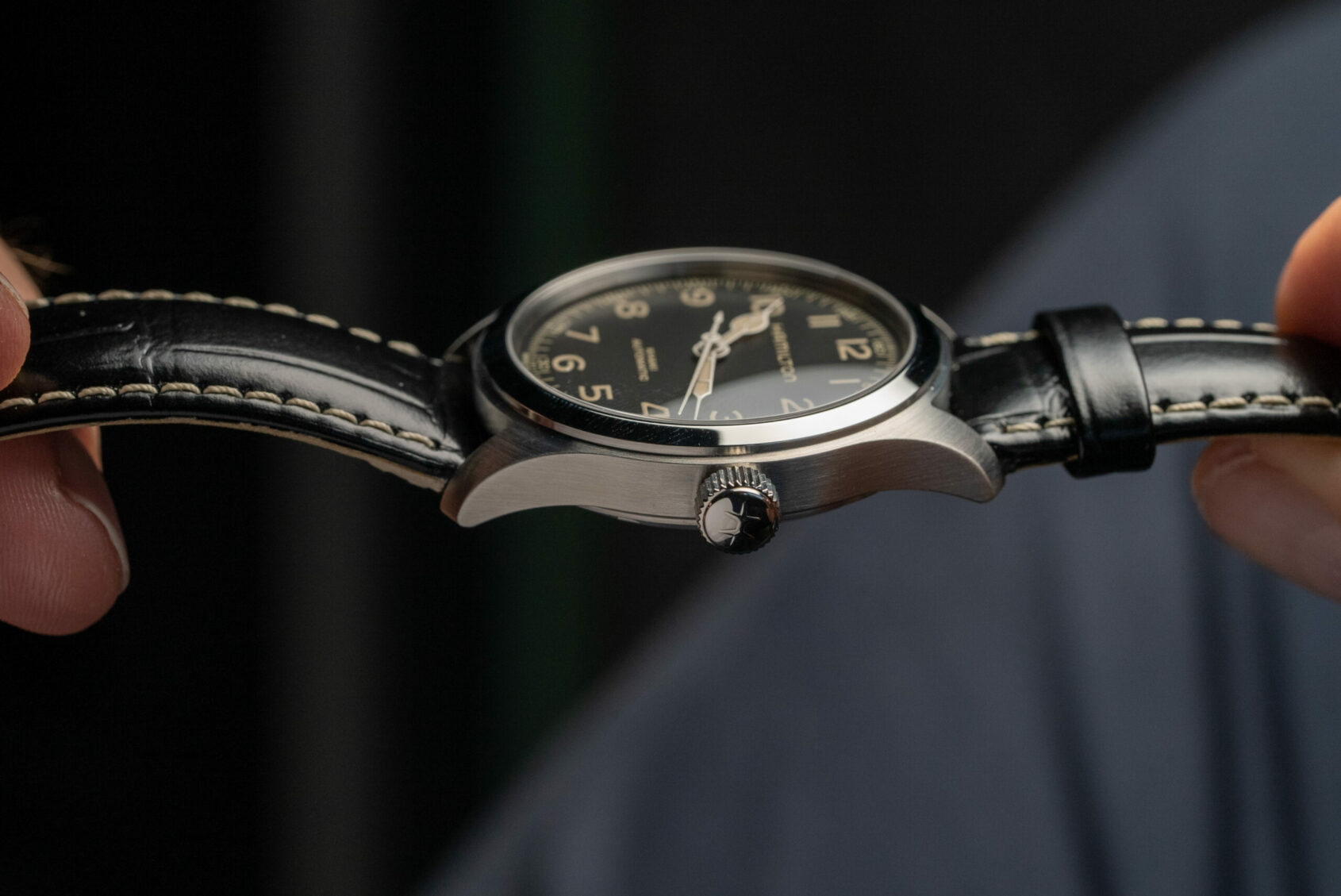 Down from 42mm to 38mm, this modern goldilocks diameter is a much more favourable size for buyers of all genders and wrist sizes to enjoy. With a relatively slender thickness of 11.1mm, and a nicely compact lug-to-lug of 44.7mm, the new Hamilton Khaki Field Murph 38mm, from a size standpoint, will feel more like a Datejust 36 on the wrist than a Datejust 41 for perspective, making it the perfect vintage-inspired sports watch to complement the more modern Jazzmaster Performer series we covered here. This classic size makes the watch feel less brutish on the wrist, yet still has enough presence to uphold its utility-driven inspiration within the film.
The dial
To those less familiar with the original 42mm watch, the Khaki Field Murph 38mm dial will feel identical to the 42mm version. And, to be fair, it largely is, with 99% of its aesthetic exactly the same. You have the same black dial, dial text, Arabic numeral font, cathedral handset, same aged colour for the lume and dial text,  This is a good thing, as we do not want to deviate from the original look of the watch – we ultimately want the watch to be exactly what we saw in the film after all. But, the production 42mm model, as a tribute to the film, had the message "eureka" printed in morse code on the central second hand. Based on the 10 or 20 times I have watched the film – boy, do I love Interstellar – I do not believe the central second hand had the "eureka" printed central seconds hand. So, you may be glad to know that the new Murph 38mm does not have anything printed on the seconds hand either. This means that aside from its scaled-back profile, this new 38mm, at least from a dial perspective, is more film-accurate.
The strap
The strap, visually speaking, has also not changed, with a black leather strap with white stitching and a stainless-steel pin buckle. To remain film-accurate, you will probably want to keep the Hamilton Khaki Field Murph 38mm on its factory pairing. But, with a 100m depth rating and 20mm lug width, it may behoove you to also source a more aquatic-friendly strap option to take full advantage of its water-resistance. And, at 20mm, there are limitless aftermarket options to explore.
The movement
While the watch may be smaller, it remains powered by the automatic H-10 calibre found in the original 42mm version. This movement, exhibited through its sapphire caseback, offers what for the price point is an incredible 80 hours of power reserve. It is a vastly modified descendant of the ETA 2824-2 movement that has long served as a workhorse movement of choice for brands like DOXA. This is the power of being a Swatch Group brand, with robust high-performing calibres readily at their disposal for brand-specific modification.
The verdict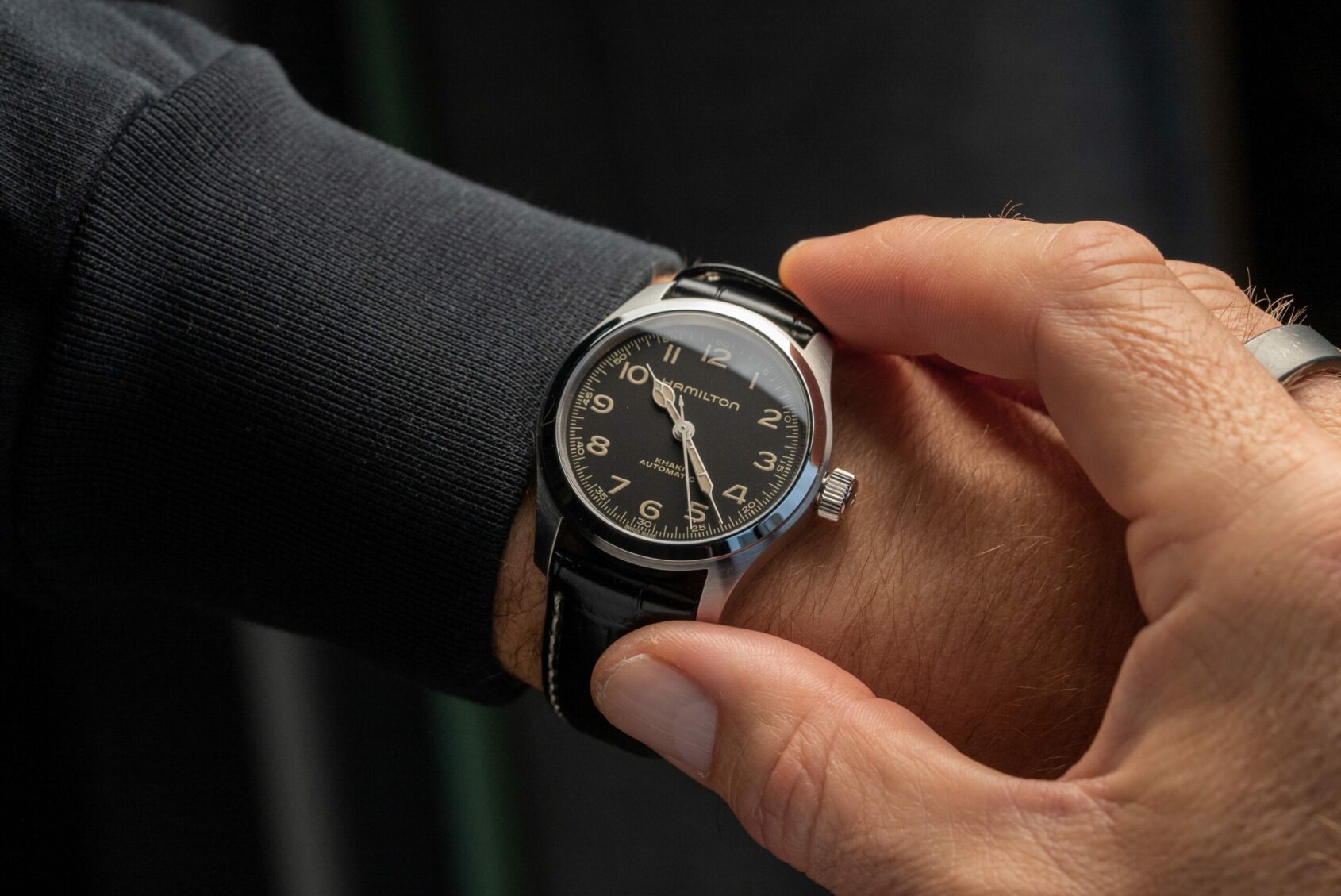 As I mentioned earlier, the initial 42mm size was an obstacle for many buyers – myself included. With Interstellar being such a beloved film, the emotional tie-in between the movie and the watch, both on and off-screen, is such a powerful instigator for its purchase. That being said, nothing trumps fit at the end of the day. So, I am very glad to see Hamilton did not ignore the call for a smaller version of the watch. And considering there are zero specification concessions in its migration to a more compact form, I suspect many will be primed to finally purchase the Hamilton Khaki Field Murph 38mm that, even without its move tie-in, is still an objectively handsome and versatile G.A.D.A timepiece. Truth be told, were I not beholden to the press embargo this watch definitely would have been my pick for our recent under US$1,000 holiday gift guide published last week.
Hamilton Khaki Field Murph 38mm pricing and availability:
The Hamilton Khaki Field Murph 38mm is available now via Hamilton. Time+Tide are an authorised dealer of Hamilton Watches in Australia. Purchase the new Hamilton Khaki Field Murph 38mm here.  Price: $895 USD, $1,375 AUD
| | |
| --- | --- |
| Case | 38mm stainless steel case |
| Thickness | 11.10mm |
| Lug width | 20mm |
| Lug to Lug | 44.7mm |
| Dial | Black dial |
| Hands | Nickeled hour and minute hands with Super-LumiNova®, nickeled second hands with Super-LumiNova® tip |
| Movement | H-10 automatic movement with 80 hours power reserve |
| Bracelet | Black leather strap with stainless steel pin buckle |
| Glass | Sapphire crystals with anti-reflective coating |
| Water resistance | 10 bar (100 m) |