T+T Holiday Picks: The best watches to gift for under $1000 (2022 Edition)
Time+Tide
Editor's note: The holiday season is upon us, which means it may be the time you are looking to buy a watch – whether as a gift for yourself or for a family member, friend or that special someone in your life. To make your life easier, the Time+Tide team has come together with their favourite picks at various price points. To kick things off, we are tackling the best watches to gift for under $1000.
D.C.'s pick: Tissot PRX Powermatic 80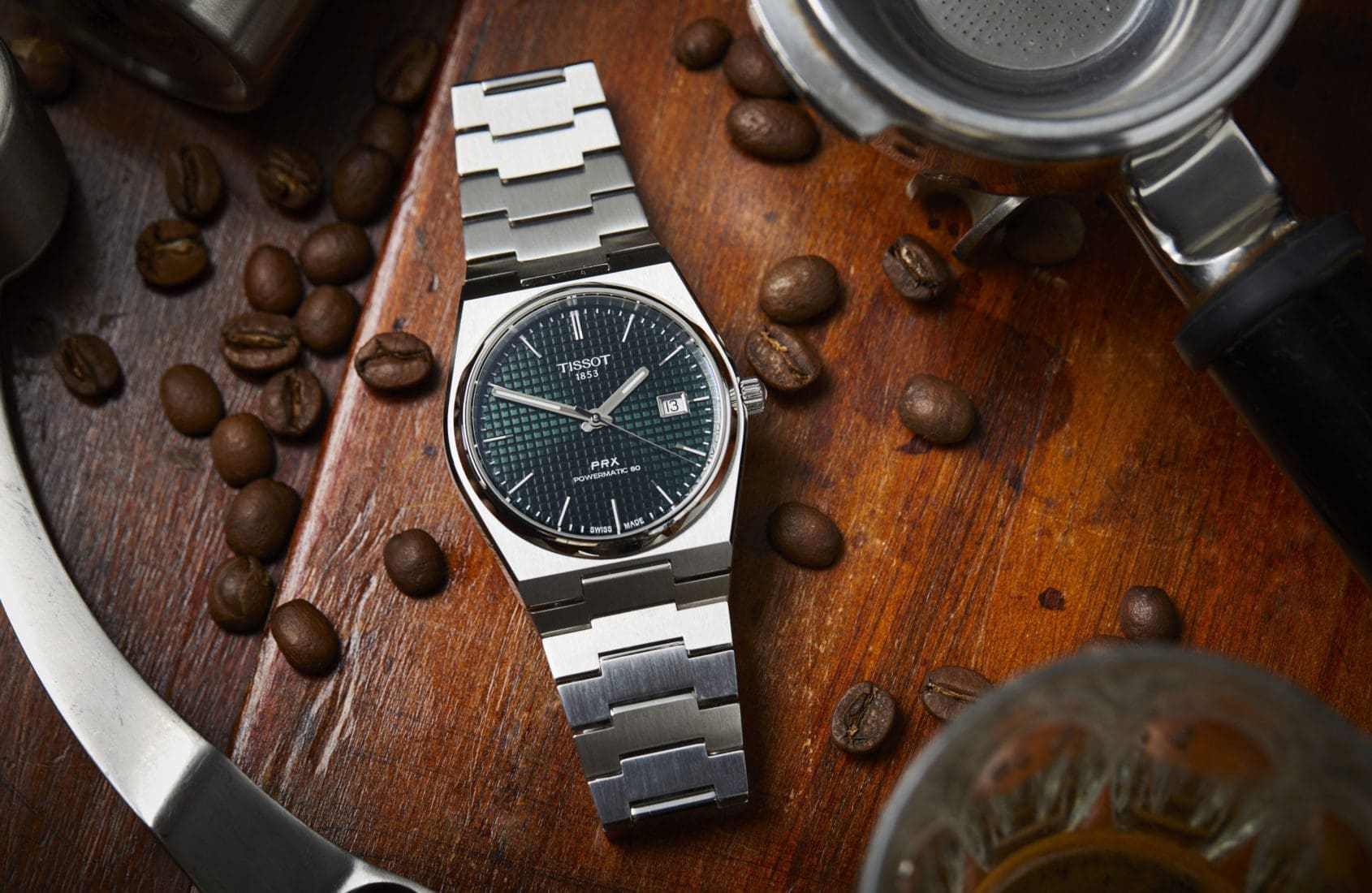 My choice for a great watch gift under $1K comes in well under the price bar, at US$650, and it should be familiar to many as a contender that throws hands well above its financial weight: the 40mm Tissot PRX Powermatic 80. Given the gorgeous integrated-bracelet design, high-spec automatic movement, and an elevated level of fit and finish, the PRX is a walk-off home run. An updated version of the 1978 quartz original, the PRX is the people's choice for those not quite well-heeled enough to drop five or six figures on a Royal Oak or Nautilus. For your US$650, you'll get a truly well-finished bracelet that has no right being this good, a textured dial that evokes the Royal Oak's tapisserie, a sapphire crystal, 100m of water resistance, and the Swatch Group's Powermatic 80 automatic movement, with 80 hours of power reserve. Dial choices are black, blue, green, and silver (with rose gold hands and bezel), but I'm partial to that emerald hue. And if US$650 is too dear, you can snag the quartz PRX for a mere US$375, including a new model with a very Tiffany-adjacent mint green dial. The PRX proves there's absolutely no reason to subject yourself to a waiting list for a legitimately great integrated-bracelet sports watch.
Price: US$650, AUD$1,050. You can purchase the Tissot PRX Powermatic 80 in our Time+Tide Shop here.
Borna's pick: G-Shock "CasiOak" GA-B2100
If we're talking proper affordability and features, there's no beating Casio. You can go the ultra-affordable route of the Royale or the Calculator, or step it up a notch and get a G-Shock like the iconic square DW5600 or chunky DW6900. The one I was most impressed with, however, is the most recent CasiOak refresh. With funky new colours, yellow being my pick of the bunch, Casio has also added Bluetooth connectivity, though that's not its most important feature. The addition of the Tough Solar charging capability gives it extra bang for your buck. Retailing at AU$329, I've seen them go for half that on sale. You can find a full review of the watch here.
Price: US$150, AU$329
Ricardo's pick: Citizen Promaster Dive Automatic NB6021-68L
Interesting material. Classic design. Neat origin story. You get all those things and more in Citizen's Promaster Dive Automatic NB6021-68L. Its origins start with the Citizen Challenge Diver, a '70s reference that was recently found on an Australian beach after being submerged for years. Surprisingly, that watch still worked and it became the inspiration for the Promaster Dive Automatic.
For this version, Citizen decided to use their own lightweight and scratch-resistant Super Titanium as a base. From there, they used the venerable Citizen 9051 movement, which has anti-magnetic properties to withstand interference throughout daily use. And in terms of comfort and fit, the clasp here features on-the-fly adjustment while the 41mm case has been kept to a diver-reasonable 12.3mm thickness.
Overall, whether you go blue or black, the Citizen Promaster Dive Automatic makes a strong case as one of the best divers under US$1,000.
Price: US$995
Fergus' pick: Timex Marlin Hand-Wound 34mm
If you've set the bar at US$1000, there are an almost infinite number of sports watches and divers to choose from that will deliver great value for money, no matter what kind of style you like. If you're looking for something dressier, your options evaporate into a sea of bland mediocrity. Yet for only US$199, Timex have released one of the most authentic vintage reissues of all time, in a slender 34mm case that works on pretty much every wrist with a silver sunburst dial enlivened by characterful numerals. The Seagull movement may not be particularly desirable, but it provides the hand-winding experience so many people crave at a fantastic price.
Price: US$199
Zach's pick: Hamilton Khaki Field Titanium Auto 38mm H70215880
Like the Tissot PRX Powermatic 80, Hamilton Khaki Field watches are a must-include in any watch conversation under US$1,000. Hamilton's new Khaki Field Titanium Auto collection of watches pack a ton of tech for the dollar, offering robust titanium 38mm cases with 100 metres of water-resistance and that utilise their automatic H-10 calibre that offers 80 hours of power reserve. A watch with equivalent specifications from another Swiss brand would cost multiples more, but the quality would basically be the same. In particular within the Khaki Field Titanium Auto collection, a standout for me is the H70215880 with its matte-blackened titanium case and distinctly textured dial that almost looks like gravel or acid rain corroding the side of an army plane hull. Stealthy, powerful, compact and robust, the H70215880 is a sure-fire winner in the under US$1,000 segment that will have strong appeal for anyone who likes military-flavoured watches with style and highly competitive specifications for the dollar.
Price: US$945, AU$1,450. You can purchase the Hamilton Khaki Field Titanium Auto 38mm in our shop here.