Chopard is one of the great secrets of the watchworld. The brand, which is better known for its feminine jewellery collections, produces some truly phenomenal watches, of a style and quality that rivals the best in the business.
Take, for example, the Chopard L.U.C XPS Twist Qualité Fleurier (QF). It's a gorgeous dress watch with a much feted movement, a quirky (but not too quirky) design, and some serious integrity in the production process, thanks to Chopard's ongoing commitment to Fairmined.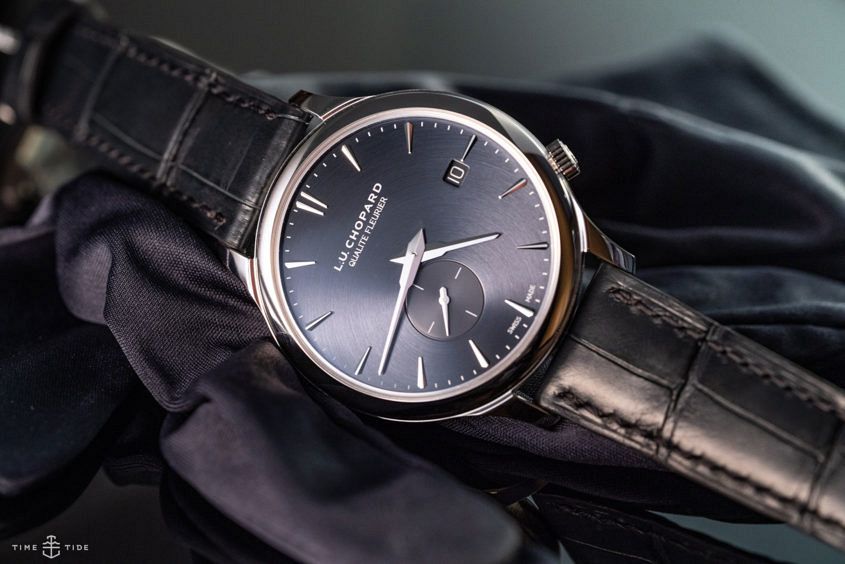 Let's start with design. The watch is very nicely sized at 40mm across by 7.7mm tall, with small seconds, date, and a deceptively simple but quite modern design. The hour markers are arrowheads, the hands are stepped and faceted, with quite an architectural feel. These two details, along with the smooth, polished bezel, ensure there's a lot of pretty reflections to keep you entranced. Also on the entrancing front is the radial brushed polish, which is centred around the sub-seconds dial. Now, you may have noticed that that seconds register isn't aligned neatly, which is where the 'Twist' comes in. The whole movement has been twisted about 15 degrees, resulting in the off-centre seconds dial and the crown at four. It's a cute take on an often staid genre of watch, and keeps this otherwise elegant watch interesting.
The movement is just as noteworthy. It's the L.U.C 96.26-L, an evolution of the original L.U.C movement released in 1996. This thin (3.3mm) micro-rotor movement is an impressive calibre, largely unchanged from the '96 original. The 4Hz movement, with its gold micro-rotor, looks incredible, and thanks to its twin stacked mainsprings, is good for a solid 65 hours of power reserve. The movement also bears the Foundation Qualité Fleurier Quality Seal, an independent (and very rigorous) certifcation (though Chopard was one of the founding organisations), which tests several points, including the usual COSC standards, but also points like movement finishing, as well as accuracy and durability tests based on real world use.
For me, though, the most impressive aspect of the Chopard L.U.C XPS Twist Qualité Fleurier is the commitment to ethically sourced precious materials. Chopard has been an industry leader in this space for some time, launching Fairmined in 2014, and last year commiting that its watch and jewellery collections would use only ethically sourced gold. What this means is that the white gold in this watch has come from smaller, sustainable mining operations.
Chopard L.U.C XPS Twist Qualité Fleurier Australian pricing and availability
Chopard L.U.C XPS Twist Qualité Fleurier, limited to 250 pieces, $27,600