3 watches that prove Elvis Presley was also the King of the unconventional
Andrew McUtchen
When this video, about holding Elvis Presley's diamond-encrusted Omega in my hand, posted just now, the first commenter wrote "so excited". This could be in relation to his own emotional state, or more likely it's a comment about mine, as I beam, grin and awkwardly talk my way through yet another surreal moment that had me questioning: is this true real life? I was excited. So excited, because — hot on the heels of a watch that went to space, and one that ruled the free world for a period — I was now holding a watch I'd seen in movies, on stage, and on the wrist of The King, in my black velvet gloved hand.
It's no secret Elvis was a watch guy. Elvis buffs have amassed archives of watches he has worn over the years, including Rolex, Corum, several Omegas and Hamilton. Elvis had venturing tastes far beyond the norms of the day. The story of this watch is the stuff of legend, but it's less about how he acquired it — that part is simple: it was a gift from his record company, RCA Victor, to commemorate 75 million records sold — but more about how it ended up out of his possession. It is rumoured to have been traded by Elvis to a man for a similarly diamond-encrusted Hamilton. The nephew of this lucky fellow was the beneficiary of the 1.8m CHF (all in) that the watch sold for at auction to Omega, no less than 18 times more than its estimate 0f 50-100,000 CHF.
Tiffany-dial Omega
The beauty of being Elvis Presley, I imagine, is that you can wear whatever the hell you want and if it's not already on-trend, it then becomes very much so. In 1960, Elvis was gifted this watch by RCA Victor, who picked his tastes to be on the flamboyant side. 
Rolex King Midas
The Rolex King Midas hails from an era when the Big Crown made watches worthy of a trendsetting King. The rectangular case, which angles out to a point on the crown side, is made of 18k solid gold, and the integrated link bracelet is polished to a perfectly impractical — and dressy — mirror finish. Elvis received the watch 10 years after the Tiffany-dial Omega, in 1970, from a Texan venue that he had sold out six days in a row. A closer inspection reveals significant water damage to the dial.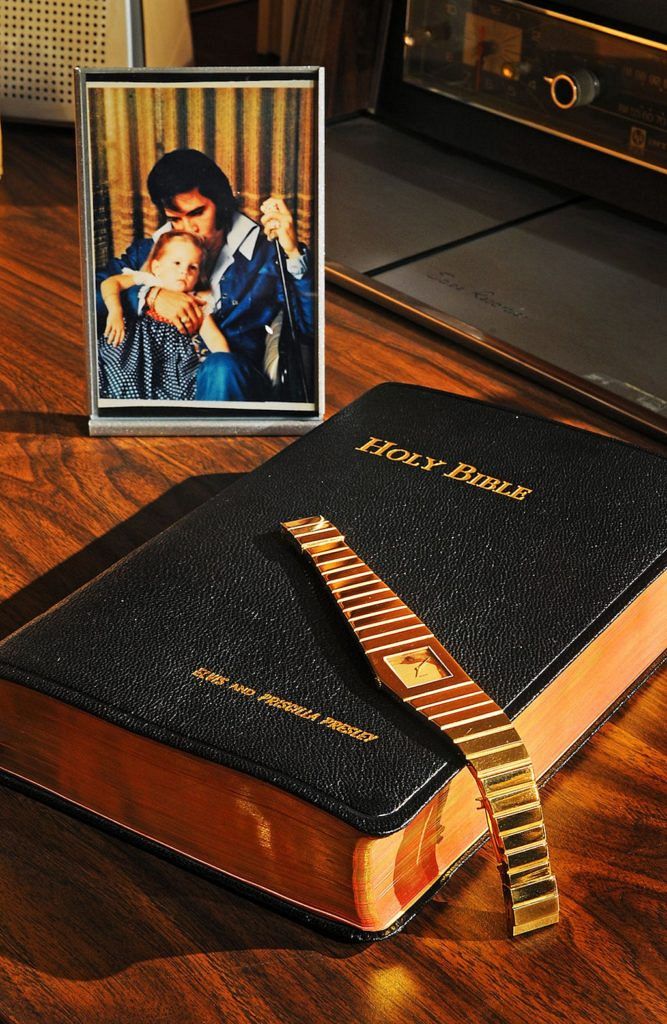 The Hamilton Ventura
Elvis Presley became so synonymous with the world's first electric watch — which used a moving coil system, incorporating a balance wheel with an integrated coil, permanent magnets embedded in the movement plate, and mechanical contacts — that it became known as 'the Elvis watch'. It featured in Elvis' movie Blue Hawaii and many years later on Will Smith's wrist in Men in Black.