We asked Chat GPT to review the Doxa SUB 300 in the voice of Matthew McConaughey
Time+Tide
Once upon a time, when Chat GPT made its debut and artificial intelligence became a point of mainstream discussion, we decided to let former president of the USA Donald Trump take a stab at writing a review of the Rolex Submariner. Well, an artificial intelligence pretending to be Trump that is. We do not have any particular reason as to why we have waited so long to let another celebrity have a try, but we are always here to have a laugh – even within the world of watches. So, today we have enlisted Chat GPT to review the Doxa SUB 300 in the voice of Matthew McConaughey.
Why Matthew McConaughey and Doxa? On the surface it may seem a very random pairing, but there is actually great cause for this match-up. Back in 2005, McConaughey can be seen wearing a Doxa Professional watch in the film Sahara. The watch was not a random choice as the film is based on the 1992 novel by Clive Cussler in which Dirk Pitt – the character played by McConaughey – wears a Doxa watch as he does in all of Cussler's books. This also explains the recent Doxa SUB 300T Clive Cussler watch released back in May. During our Fantasy Watch Ambassador series, where we paired celebrities with brands we felt they would be a good match for, our contributor D.C. actually nominated Matthew McConaughey as a great fit for Doxa as a watch ambassador. Sadly, this is yet to happen. So, for now italicised below, Chat GPT gives us a taste of what Matthew McConaughey might have to say as an Doxa ambassador and why the Doxa SUB 300 is a great watch.
Alright, alright, alright! Let me tell you 'bout the Doxa Sub 300, man. This watch is like a fine, well-aged bourbon – smooth, bold and full of character. Now, when you first lay eyes on this beauty, you can't help but be drawn in. The design, it's like a piece of art, man. The orange dial pops like a fiery sunset over the ocean, and those chunky hands, they're like guiding stars on a dark night.
It's built tough, no doubt about it. This watch can handle whatever adventure you throw its way. Whether you're diving into the depths of the deep blue sea or exploring the rugged wilderness, the Doxa Sub 300 has got your back, man. And the comfort, oh boy! It's like slipping on your favorite old pair of jeans. The rubber strap hugs your wrist like a cool breeze on a hot summer day. You forget you're even wearing it, it's that good.
The bezel, it's smooth like a laid-back groove, and with those bold numerals, you can time your moments just right. The lume, man, it shines like stars on a clear night, making sure you're never lost in the dark. Now, I gotta say, this watch ain't for everyone. It's got that unique Doxa charm, you know? You gotta embrace its quirks, its individuality. But if you're a free-spirited soul who craves adventure, then this is the watch for you, my friend.
So, to sum it up – the Doxa Sub 300 is like a wild ride on a vintage Harley, a true rebel with a cause. It's got style, it's got substance, and it's got that unmistakable cool factor. Just like me, it's a no-nonsense, genuine and straight-up winner. So, go ahead, dive in, and experience the Doxa Sub 300 for yourself. You won't be disappointed, man!
Chat GPT certainly realised a facet of McConaughey's personality, albeit while exaggerating his considerable Southern charm. While the artificial intelligence did not really dive deep into the technical specifications, it did pick up some key surface notes we would be inclined to agree with. Firstly, the orange dial definitely does pop in its bold hue. And, to be clear, we did not specify a dial colour or particular model of the SUB 300 to Chat GPT in our prompt. So, clearly the AI thinks the Professional with its orange dial is the icon within the collection – a very fair summation to make. Secondly, we agree that Doxa's rubber straps are some of the best you can find. They are robust, rugged, and perfectly match the colours of the dials. They are also really comfortable and conforming on the wrist. Lastly, Chat GPT is accurate in assessing the watch as legible and having strong lume, that the design has recognisable character, that it has all the qualities of a tough daily wearer, and that is not a watch for everyone due to its unique charm.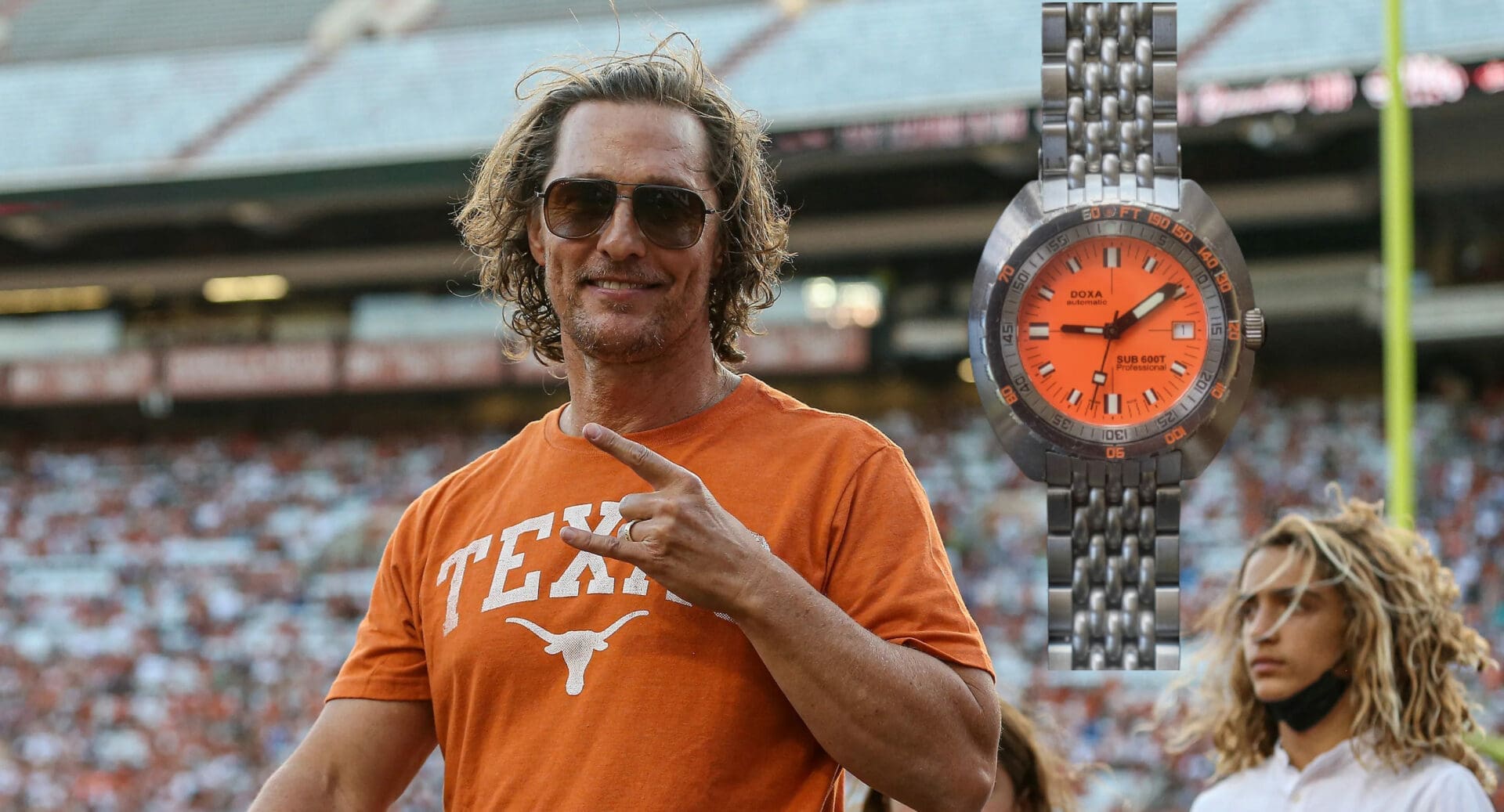 We only wish Chat GPT had made a reference between the orange colour of the dial and the burnt orange signature colour of the University of Texas at Austin. But, perhaps Chat GPT has more dad joke restraint then we do.
For a real watch review, from an actual watch journalist, you can check out our hands-on review of the Doxa SUB 300 right here.