Fantasy Watch Ambassador: D.C. reunites Matthew McConaughey with Doxa
D.C. Hannay
Editor's Note: When Nicolas Cage recently gushed over his Grand Seiko on the red carpet, many of you in the comments noted how he should become an ambassador for the brand – and we agreed it would definitely be a fun pairing. This then got us thinking what other ambassador match-ups we would want to see. So, we decided to pick our fantasy watch ambassadors. The only rule: the nominee cannot already be an ambassador for a watch brand. We've covered Greta Thunberg and Jason Momoa so far. Next up, D.C. reunites Matthew McConaughey with Doxa in his Fantasy Watch Ambassador matchup.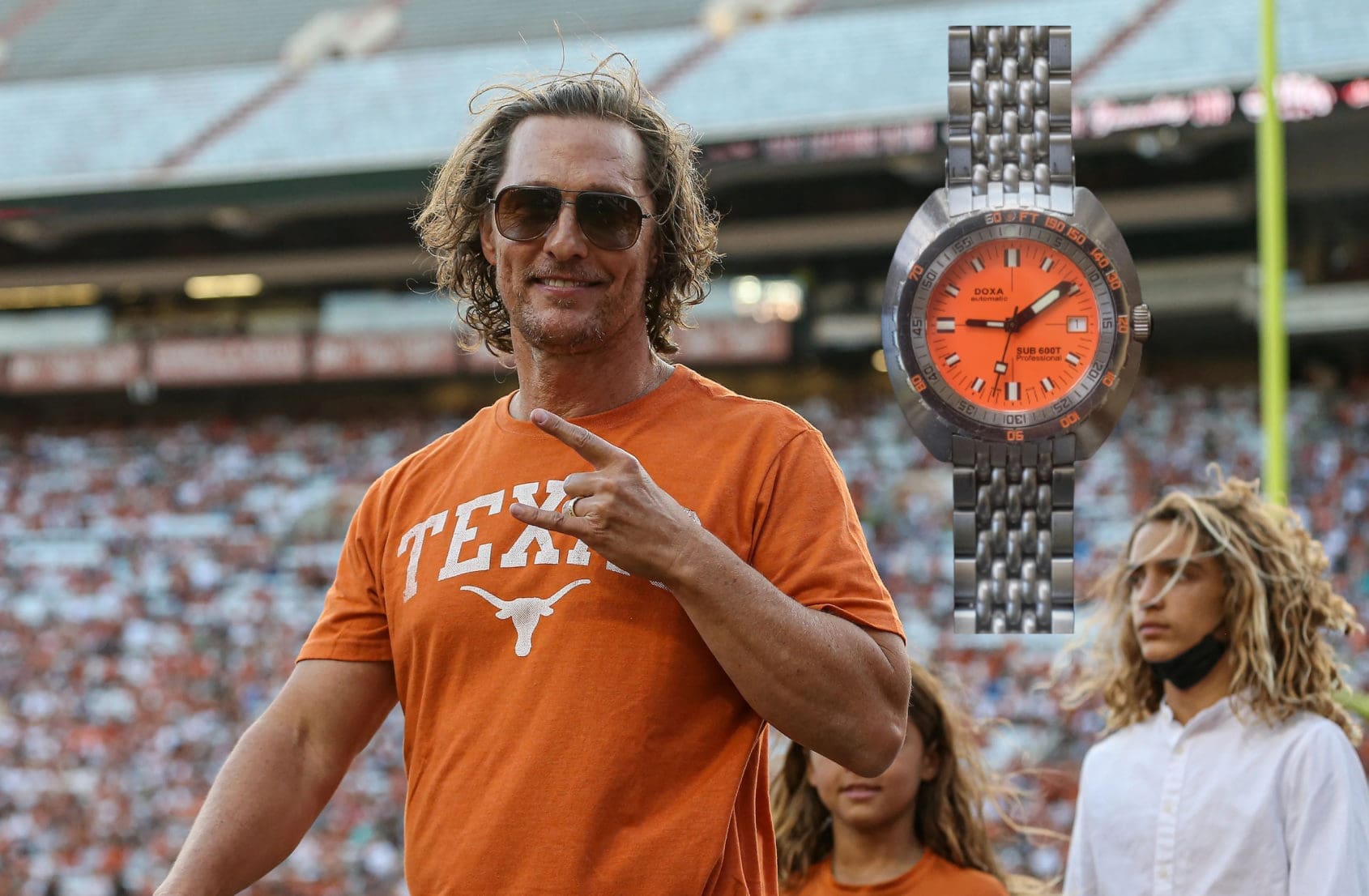 Matthew McConaughey has just about done it all. Oscar-winner, author, family man, philanthropist, he's accomplished quite a bit in his 52 years. There have even been rumblings of a run for political office. But surprisingly for someone at his particular point in life, there's one thing he's currently not: a watch brand ambassador. Many of McConaughey's peers from the acting world are bold-faced names attached to luxury brands: Brad Pitt, Benedict Cumberbatch, Idris Elba, George Clooney, the list goes on. And McConaughey himself is no stranger to endorsements.
He's the current face of Lincoln (he was The Lincoln Lawyer, after all), bringing his uniquely laid-back brand of Texas Zen to the automaker. He's also the creative director of Wild Turkey bourbon, going so far as to put his stamp on their collaborative Longbranch brand. In addition, he's endorsed both Stetson and Dolce & Gabbana colognes, so despite his past enthusiasm for unclothed bongo jams, he isn't afraid to dress up when the occasion calls for it, and that includes strapping on a luxury watch.
He's been spotted on the town with a variety of tasty timepieces, including Rolex, Chopard and Bulgari, and onscreen as well. Some of his wristwear in film include a TAG/Heuer Grand Carrera in The Lincoln Lawyer, a note-perfect two-tone Rolex Datejust in The Wolf Of Wall Street, and a Khaki Pilot Day Date in the Hamilton-heavy Interstellar. Suffice to say, he's clearly a fan of fine timepieces , but surprisingly, isn't currently attached to a watch brand. We're here to fix that.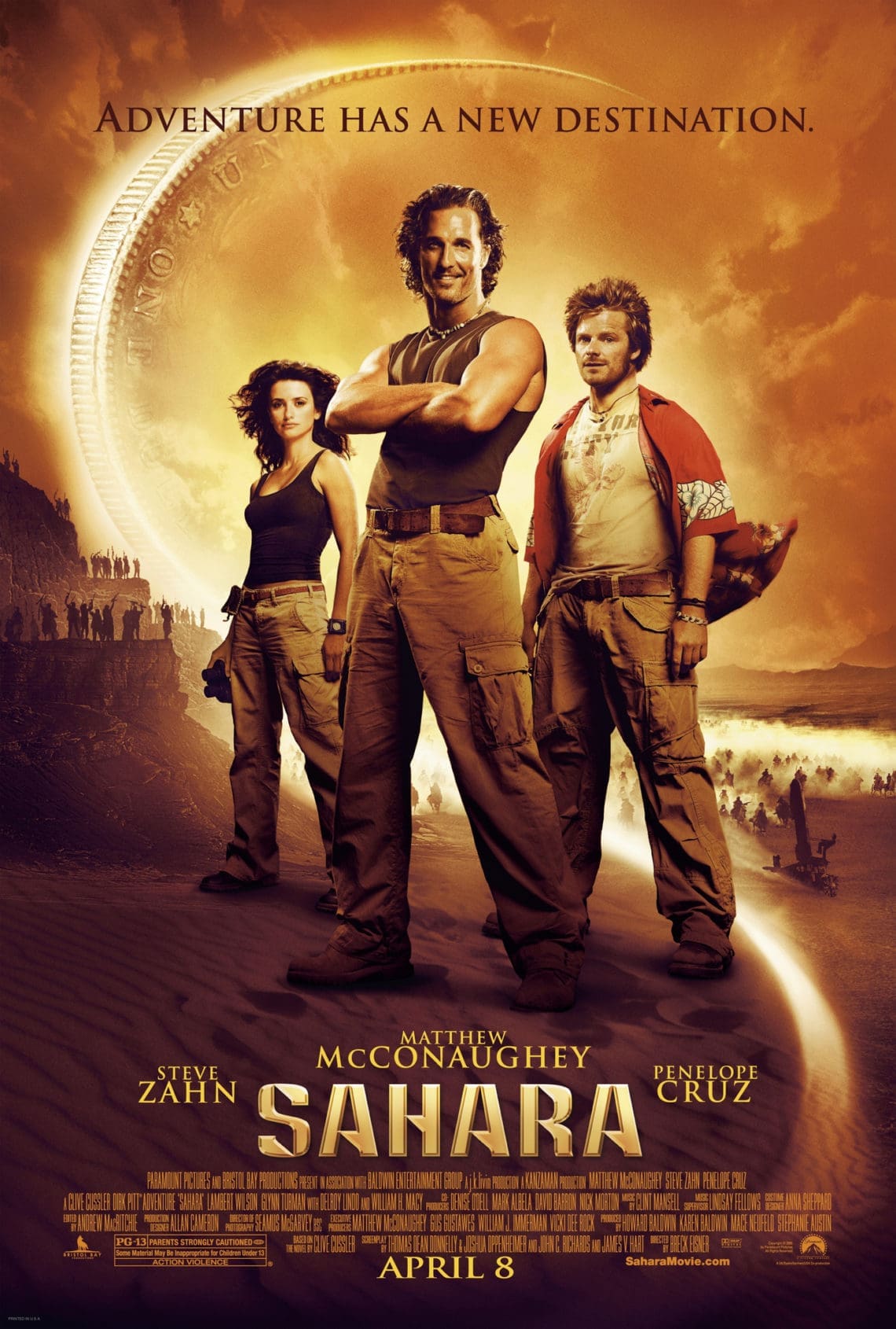 If there ever were some no-brainer brand ambassador synergy, it's Doxa/McConaughey. The iconic dive brand would be a perfect fit for McConaughey, and I'll tell you why. For one, he's already worn Doxa on screen.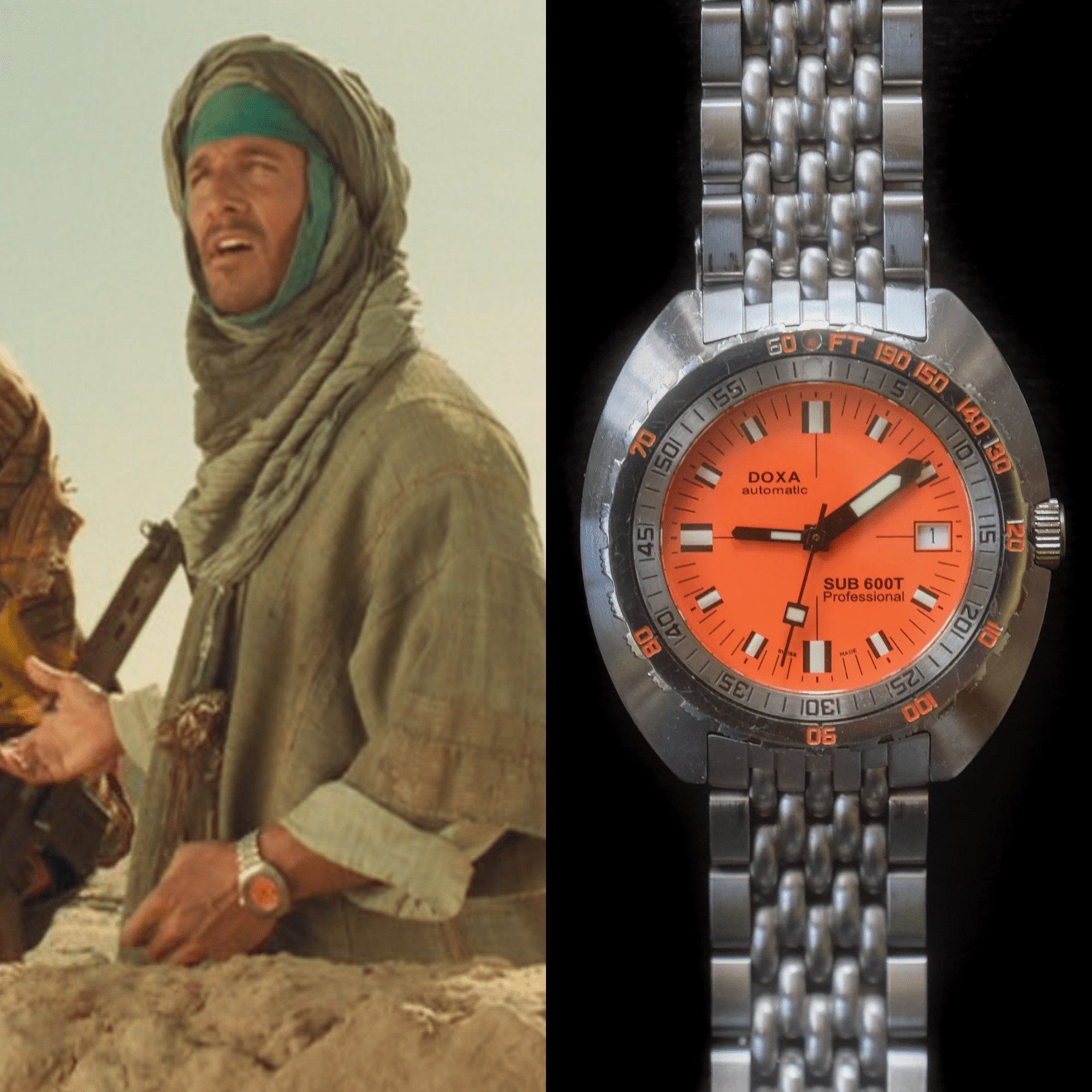 Sahara in 2005 may have been a critical and commercial flop, but damn, did McConaughey wear the hell out of a Doxa 600T Professional with that signature orange dial. As Clive Cussler's leading man, Dirk Pitt, McConaughey was on the verge of becoming the face of a high-visibility franchise, were the production not fraught with endless budget overruns and bitter arguments between author Cussler and the screenwriters. It was doomed from the start, but the watch on Matt's wrist? A stone-cold winner. There was even a limited edition.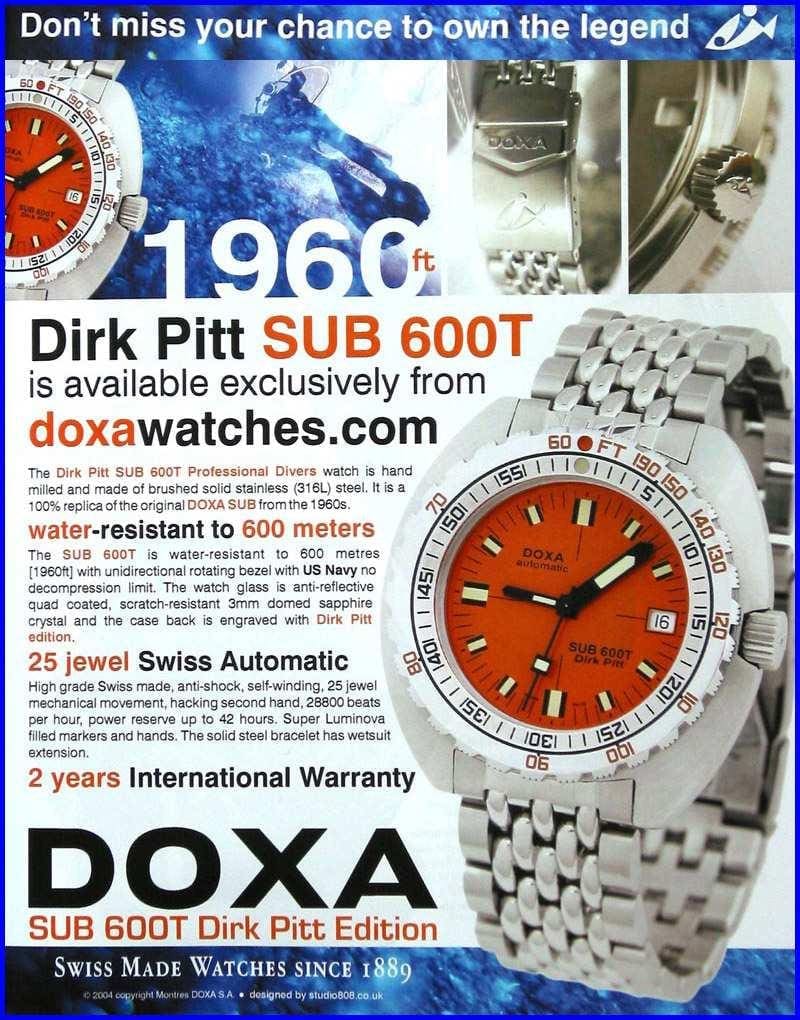 Besides, McConaughey's always been the outdoorsy type, and has a special affinity for scuba diving. What better brand to align with than one of the most legendary names in the dive watch space? It's gotta be Doxa. I'm talking Jacques-freaking-Cousteau, orange Aqua Lung dials, the whole seafaring enchilada. It's a perfect fit, and Matt's naturally sunny disposition would be right at home rocking pretty much anything from Doxa's colorful lineup. Now admittedly, they might not be known as a true luxury watch brand, but quite frankly, any brand, toolwatch or upscale, would fall over themselves for a little of that "alright alright" action. McConaughey exudes authenticity above all else, and that's something you can't manufacture.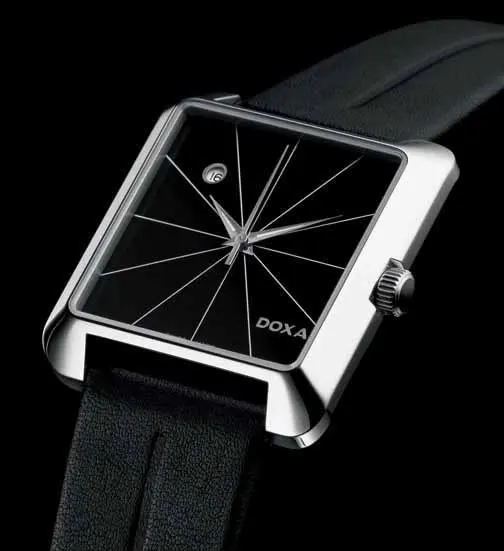 I'm just spitballin' here, but if the red carpet is calling, Doxa would be wise to dig into its archives and relaunch one of their lesser-known vintage dress watches for the occasion. Another Oscar would be a pretty high-profile bit of placement.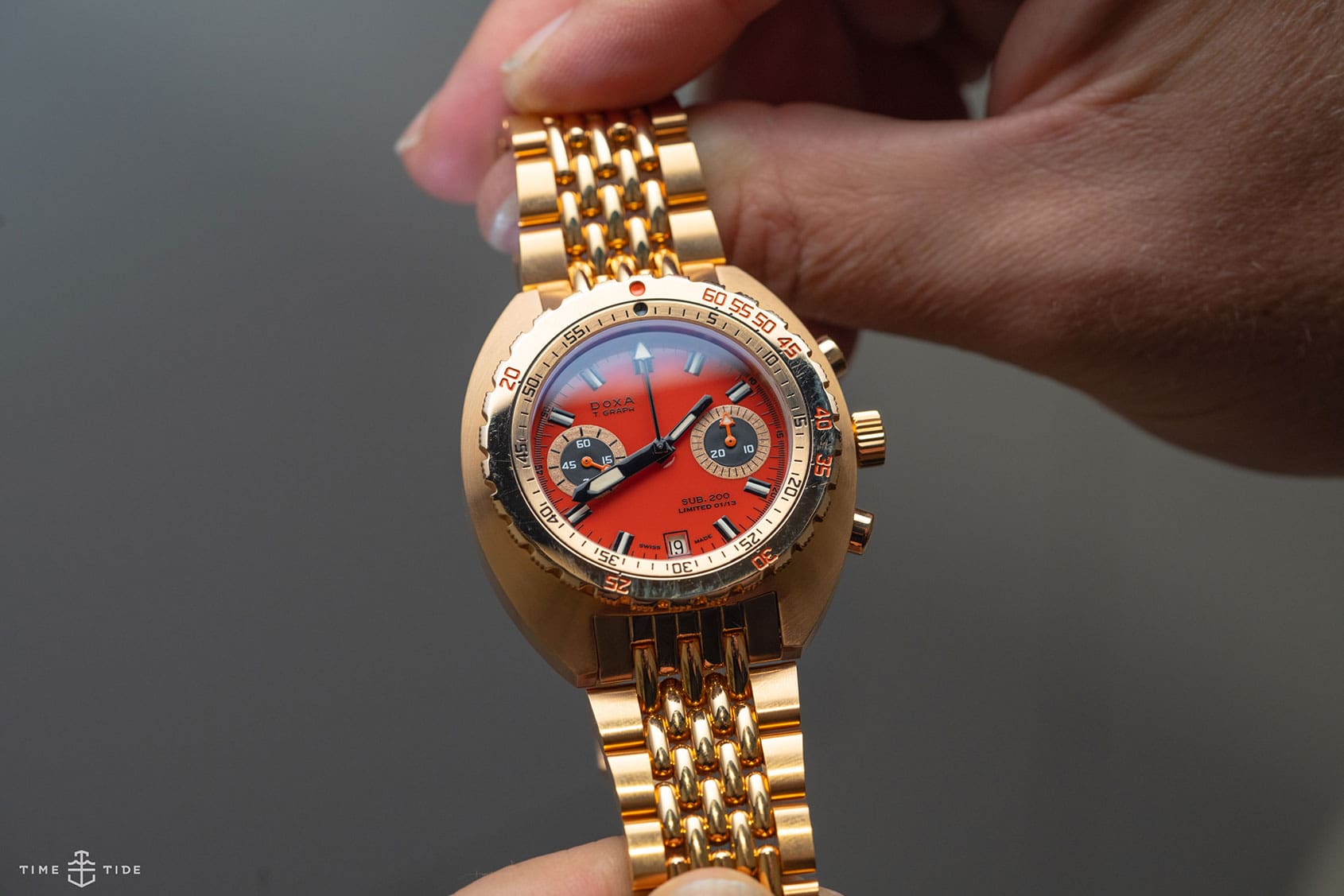 And if a dress watch isn't in the cards, they could always just dig up one of the solid gold limited editions that I'm sure are kicking around the office. Done and dusted, Doxa. This team would be a win/win for both McConaughey and the brand. Let's make it happen. It'd be a lot cooler if you did.