WATCHSPOTTING: YouTube millionaire Logan Paul just bought his first Rolex
Andy Green
This morning, as I sipped my morning coffee and perused YouTube, I noticed a video in my 'suggested feed', titled 'I just bought a 3,000,000 watch'. Obviously, I was intrigued, and couldn't resist clicking through. As I skimmed through the video, it was apparent that YouTube star Logan Paul, who posted the video, didn't actually buy a $3 million dollar watch – he just tried it on (it was a very impressive Patek Philippe Grandmaster Chime, ref 6300 FWIW). He did, however, purchase his first Rolex, and a rather nice one at that.
Now, quickly – for those of you wondering who Logan Paul is – pull your head out of the sand and ask anyone you know who's under the age of 25. Pegged to be the first 'social media billionaire', he boasts over 13 million YouTube subscribers, 15.4 million Instagram followers, and 16 million Facebook 'likes'. He's a social media juggernaut, a 22-year-old college dropout who's worked out how to capitalise multiple social media platforms, and is nailing it.
So, what did he buy? Well, during a promotional trip to Dubai, Logan treated himself to a Rolex Day-Date II, in platinum with an ice blue dial, and Roman numerals. I hate to say it, but I'm kind of jealous; it's a pretty classy timepiece.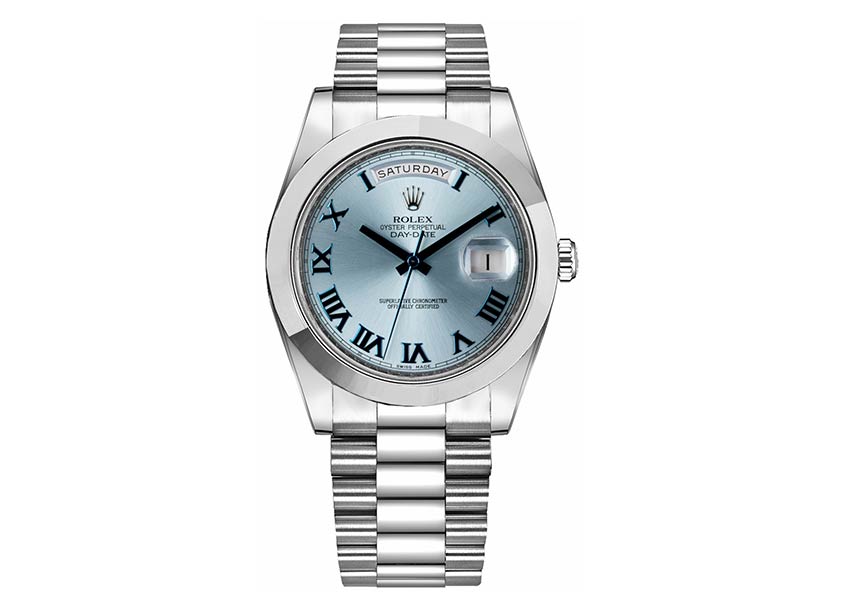 So, is this a sensible choice or the flamboyant Logan Paul? Well, in some regards, yes. Those who've watched even five minutes of his content will know he loves attention – it's how he makes his living. But, to be fair, the platinum case is quite elegant, and overall, it's about as subtle as it's possible to get for a platinum Rolex. To your average punter this is just another Rolex, and the majority of the population would have no idea it's platinum, let alone what that means in terms of dollar value.
Considering what else he could have purchased for the money (in the video he states he paid $40,000 USD), it's relatively low-key – I'd have expected diamonds, and a lot of them. However, all that 'stealth wealth' cachet is pretty much cancelled out when we remember that the purchase was broadcast to his 13 million YouTube subscribers.
Whether or not you're a fan, it's hard to knock a guy who at 22 years of age bought a platinum Rolex with cash, earned through his own hard work. Although it's clear his watch knowledge is limited, Logan's got plenty of time (and money) to develop his watch habit into something legitimate.