These watches couldn't evoke the spirit of a '70s bachelor pad any louder (unless their dials were made from shagpile carpet)
Luke Benedictus
Much has been written about the untimely death of the bachelor pad, a form of residence described by The Telegraph as "a rite of passage for young men who had flown the nest and wanted to enjoy single life undisturbed". The reason for the bachelor pad's demise is the increasingly prohibitive state of the housing market. Eye-watering prices in even semi-desirable major cities now prevent the modern generation of young bucks from getting a toe-hold on the property ladder – unless they have generous relatives with very deep pockets.
All of which is bad news for the bachelor pad. To picture what such a domicile is meant to look like, just think of Hugh Hefner's bedroom combined with a James Bond villain's secret lair. Necessary elements include a circular bed (with built-in refrigerator), mirrored ceiling, shagpile carpet, wall-to-wall gadgets, a glass coffee table, a Scotch-filled decanter and a black leather couch. Black, in fact, should dominate the overall colour palette, albeit sexed up with liberal dashes of chrome.
But while the days of the bachelor pad may be over, you can still capture something of their louche spirit on your wrist. Essentially, we're talking about watches that evoke a knowingly tongue-in-cheek sense of macho swagger with their black and gold colour schemes. These are not horological wallflowers but brazenly conspicuous watches with a devil-may-care glint in their eyes. Once on the wrist, they're best accessorised with a gratuitous display of chest hair and an oversized moustache.
TAG Heuer Carrera in yellow gold
The polished case of the latest edition Carrera Chronograph is chiselled with sharp facets and this combination of high sheen and glinting edges are made to flaunt the glorious lustre of 18k gold. Meanwhile the two-register golden panda layout give this watch a sporty edge befitting the man-about-town whose lack of serious responsibilities mean that he really doesn't need more than two seats in his sports car.
The John Player Special black and gold colour scheme meanwhile is heavily redolent of Team Lotus F1 cars from the 1970s and 1980s, neatly feeding into our specified era of interest. Presented on a glossy alligator-leather strap with a gold pin buckle, this watch simply reeks of decadence and good times. Read our full review here.
Price: AU $31,150 
Bulgari Octo Finissimo Automatic Rose Gold and Brown dial (ref. 103637)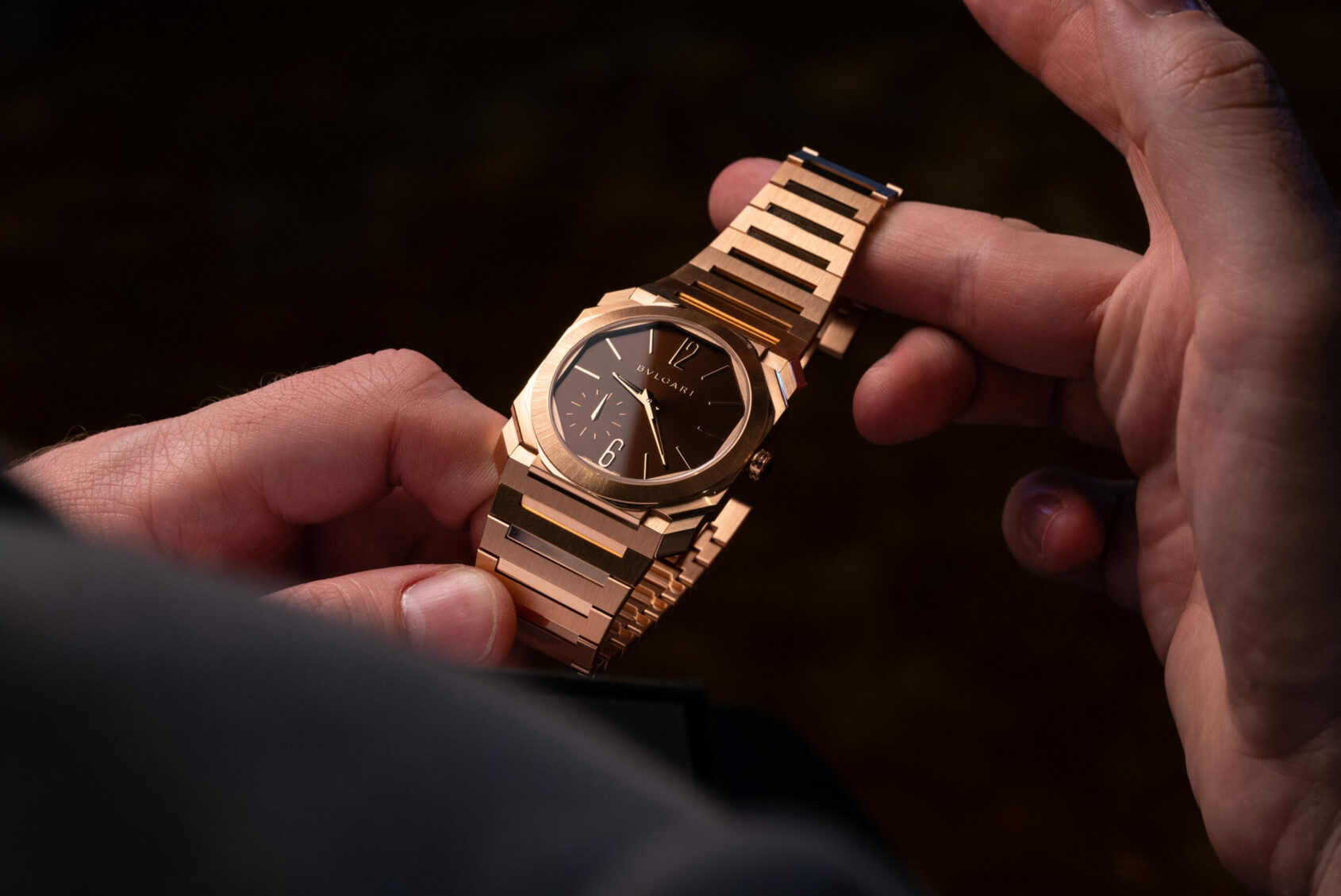 The denizen of a '70s bachelor pad is not afraid of a bit of gold jewellery. Whether it's a medallion revealed by his excessively unbuttoned shirt or meaty rings on his fingers, such items express his untrammelled joie de vivre. For me, the Bulgari Octo Finissimo feels like a winning hybrid between a watch and a piece of jewellery, thanks to its head-turning looks and general air of slinky panache.
It is perhaps true that this specific piece doesn't really tick the '70s box so well. The Octo Finissimo is, after all, rightfully hailed as a modern classic and doesn't radiate any overt retro leanings. We get around that, however,  thanks to the deep chocolate sunburst dial that here brings out the warmth of the rose gold while offering a backward wink to the era of Studio 54. Read our full review here.
Price: US$44,800 (103637)
Audemars Piguet Royal Oak Jumbo Extra-Thin ref. 16202 
This is really the '70s bachelor-pad watch par excellence. It's partly the gorgeous hues of that smoked yellow-gold dial. It's partly the fact that tactile luxury is a real component of the BP experience (think shagpile, leather etc) and the Jumbo Extra-Thin is a sensual delight on the wrist.
Finally, given its steep price and your chances of ever getting hold of one (even if you could stump up the cash), this Royal Oak is likely to reside firmly in the realms of male fantasy, much like the bachelor pad in the modern age.   (Read our full review here)
Price: $70,500 USD