The new Swatch Bioceramic What If? collection reimagines their round 1983 debut as square
Fergus Nash
The new Swatch Bioceramic What If? collection imagines their 1983 debut was square instead of round.
It merges '80s style with modern eco-friendly materials such as bioceramic.
Four watches are available in green, black, grey and beige.
The exploration of alternate and parallel universes has definitely become one of the most interesting pop culture trends in the last few years, even though comic books have been ahead of the curve for decades. Everyone from movie studios to Time+Tide have got in on the 'What If?' trend, and now one of the biggest players in watchmaking has joined the fun. So what if back in 1982 the executives of Swatch Group had decided to release their affordable and quirky watches in square cases instead of round? That's exactly what they ask with the Swatch Bioceramic What If? collection.
Staring into the chasm of the quartz crisis, Swiss companies were forced to come up with creative solutions to compete with the affordable quartz watches coming out of Japan. It wasn't enough to just release their own quartz models, they needed to create a new identity. Swatch Group was a powerful conglomerate of several luxury companies, but the watches they'd print their name on was something made of plastic. The first collection was released in 1983 in black, blue, red and green, but they quickly expanded to include even more bright colours and whimsical designs. They were a fantastic success, making ideal gifts for children and becoming highly collectible among older watch enthusiasts. The new Swatch Bioceramic What If? collection simply takes that existing story, but imagines how a modern 2023 release would look if their 1983 models had been square.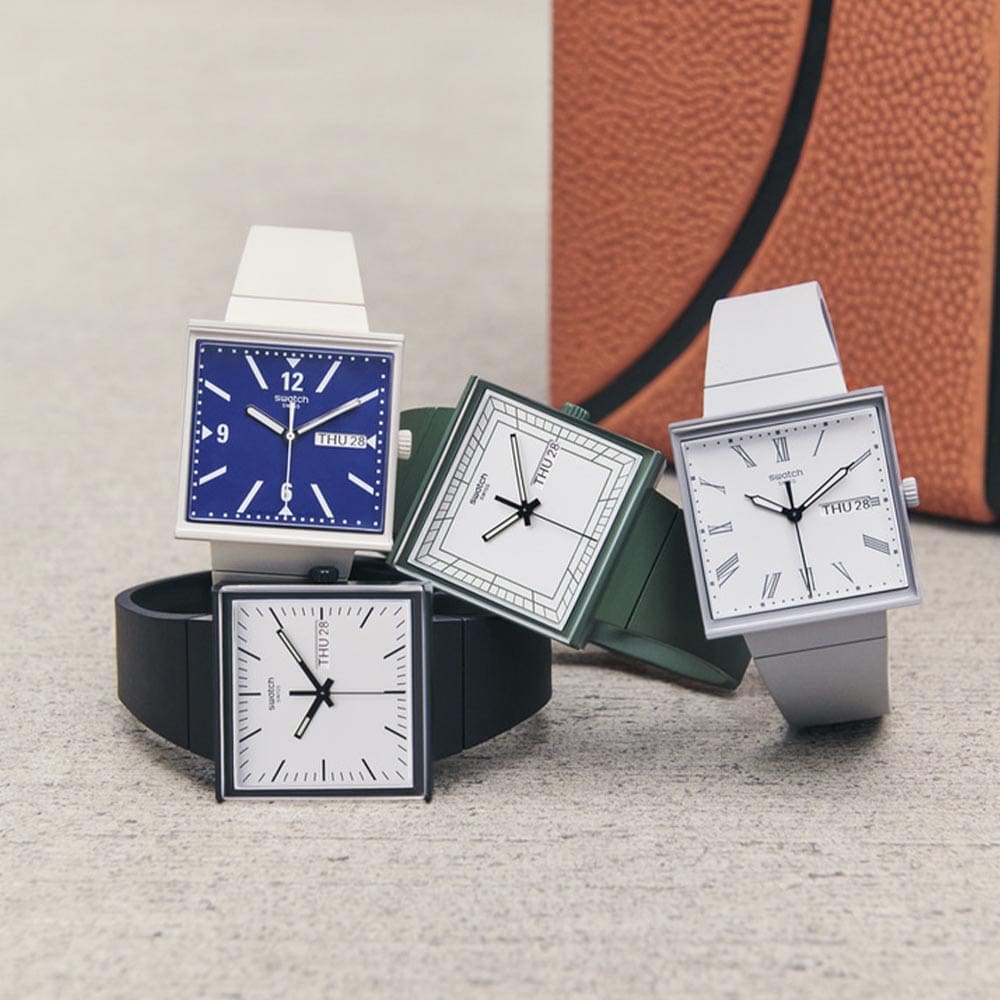 Right off the bat, these new square watches would feel right at home in 1983. Every model is very different, but they all have those fine details and a charming slight-awkwardness which typifies a lot of quartz watches from that time. The case measures 33mm squared, which wears much larger than the dimension suggests due to the nature of a square silhouette. There is a slight illusion of the watch appearing wider than it is long, thanks to the edge-to-edge crystal which is only framed in on the top and bottom, leaving an interesting open-sides view. The lugs integrate almost seamlessly with the biosourced plastic strap thanks to a smooth taper and exact colour match. Powered by a quartz movement, the battery cover on the caseback depicts one of the original round dials from 1983.
The most modern feature of the watch is the fact it's made out of Swatch's bioceramic materal, the same as their MoonSwatch. Sourced partially from castor oil and blended with ceramics, it's an eco-friendly material that's lightweight, robust and soft to the touch. The four colours available in the initial Swatch Bioceramic What If? collection are black, grey, beige, and green. The black and green models are close in their embrace of minimalism, with just printed indices for minutes and hour markers. They have baton hands to finish of the classic look. The grey model is a bit more traditional with grey and italicised Roman numerals, paired with syringe hands for more of an early 20th century flair. The beige ensemble is perhaps the boldest as the only one with a coloured dial, contrasting the sandy case with a deep navy blue. Arabic numerals punctuate the large hour markers at 6, 9, and 12, and dots serving as the minute markers.
The Swatch Bioceramic What If? collection pricing and availability:
The new Swatch Bioceramic What If? collection is available now from Swatch's online store and retailers. Price: AU$165
| | |
| --- | --- |
| Brand | Swatch |
| Model | Bioceramic What If? |
| Case Dimensions | 33mm (D) x 41.8mm (L2L) x 10.5mm (H) |
| Case Material | Bioceramic |
| Water Resistance | 20m |
| Crystal(s) | Biosourced glass |
| Dial | White or blue |
| Strap | Biosourced plastic |
| Movement | Quartz |
| Power Reserve | Battery life |
| Functions | Hours, minutes, seconds, date, day |
| Availability | Available now |
| Price | AU$165 |