The new Speake-Marin Academic Rouge offers their entry design in a new hue
Zach Blass
Speake-Marin offers their entry-level Academic in a new Rouge configuration.
The distinct red of the dial is achieved through 14 layers of Pantone 188C-coloured lacquer.
Grade 5 titanium cases in two sizes, 38mm and 42mm, and neither is a limited edition.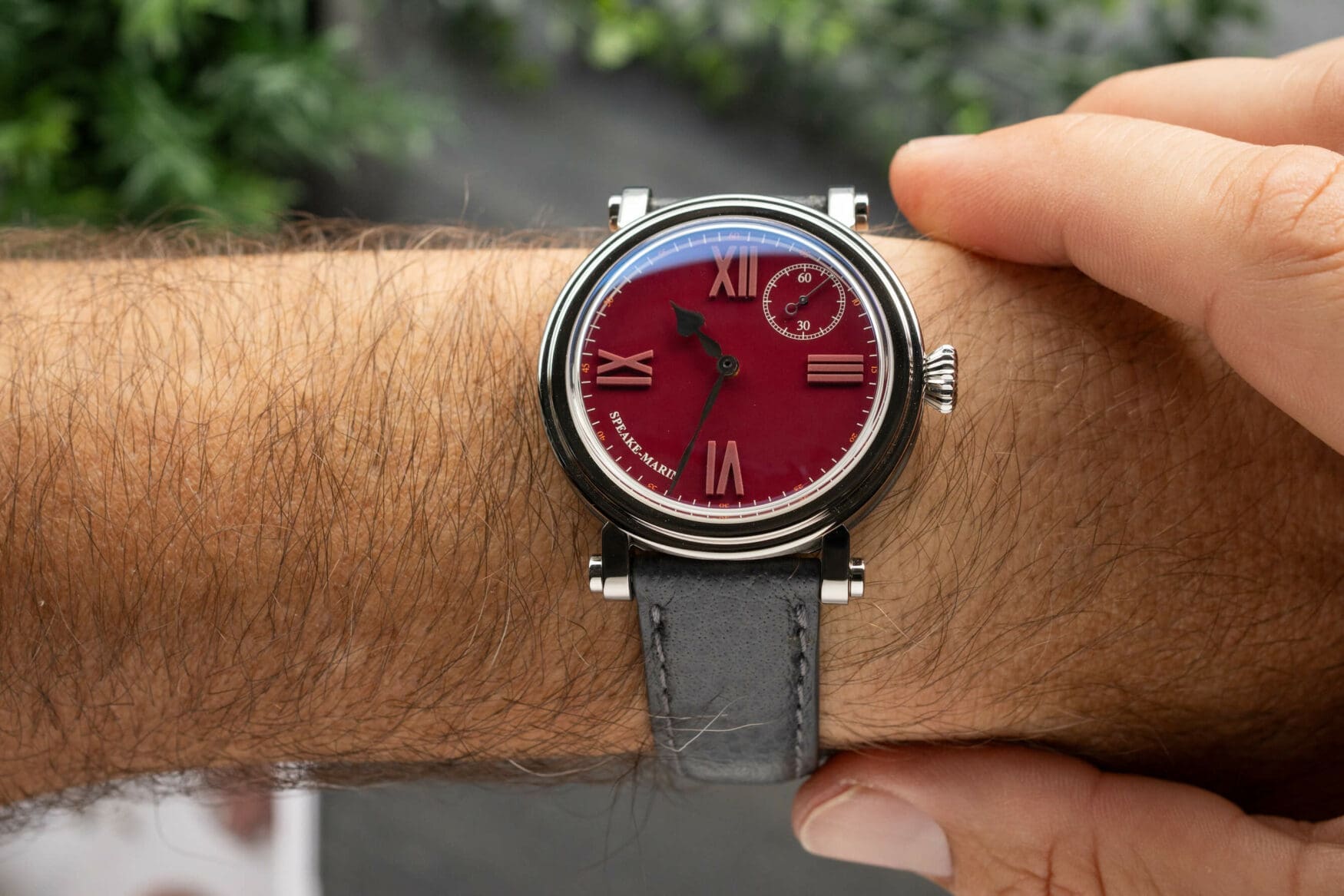 Dressier timepieces have been overshadowed in an era where sports watches reign supreme, an era where people are tracking their steps, heart rate, and more at all times. Many try to justify their activewear in formal situations, God forbid the separation anxiety from their fitness tools. We get it, today's society aspires to be more active – and that is certainly not a bad thing. Snobbish as it may seem though, no collection is truly complete without a dressier watch. To get your black belt in watch wearing, you should not turn to your watch box of divers when you are suiting up – unless it is a wetsuit. To a modern individual, the trope of the conventional circular gold watch with a porcelain white dial and black Roman numerals may not be exciting enough – fair enough. The Speake-Marin Academic collection has long presented an opportunity for watch buyers to smarten up their wrist without feeling stuck in the past, and the intoxicating new dial colour of the Speake-Marin Academic Rouge may be the glass of red you have been waiting for.
The cases
Geometrically, the architecture of the Piccadilly case style does have a classic sensibility. As of late, however, the Academic watches using this case turn to titanium – giving it a much more modern feel. From the front, the case exhibits a full mirror polish. The perimeter of its channeled baseband, however, is richly brushed. If the case was rendered in a full polish, it would feel too traditional in feel. The contrasting satin finish, while offering the elegance of mixed finishes, also makes the case feel more youthful and sporty. Speaking to the modern market as well, you have case size options for everyone. Larger wrists can work well with the 42mm option, that extends 48.6mm lug-to-lug across the wrist, and smaller wrists will have no trouble with the 38mm size due to its forgiving 46.3mm lug-to-lug span. Both sizes, however, have a rather slender thickness of 10.5mm. Of course, titanium is robust and lightweight, and while the 30-metre depth rating does not encourage a dip in the ocean, this is a watch you can wear and roll up your sleeves in spontaneous night-out moments where dinner and drinks lead to ten frames at your local bowling alley. Putting it more directly, you do not need to baby this watch – so long as you keep it dry.
The dial
The novelty of this new Academic Rouge is its Pantone 188C red dial, with its strong bordeaux hue achieved through 14 layers of lacquer. Let me be clear, this is totally of Speake-Marin's own design, but looking at the Academic, past and present, it always reminded me of how Apple would approach designing a dress watch dial. The result, as Speake-Marin themselves would describe, is a casual chic look that has one foot in the past and one in the present. While tone on tone, the Roman numeral blocks at the cardinal directions are ever so slightly a different shade of red where it blends into the dial for a sense of monochromatism while also being very legible. Furthermore, these three-dimensional Roman numerals are coated with matte red SuperLuminova. Oddly, however, the hands do not incorporate luminous fillings or coatings. Lastly, you of course have the signature Speake-Marin placement of the small seconds between the 1 and 2 o'clock position. It may be a bit jarring for dial purists who require symmetry, but I cannot deny that it offers a sense of distinct personality. It is their signature, take it or leave it.
The strap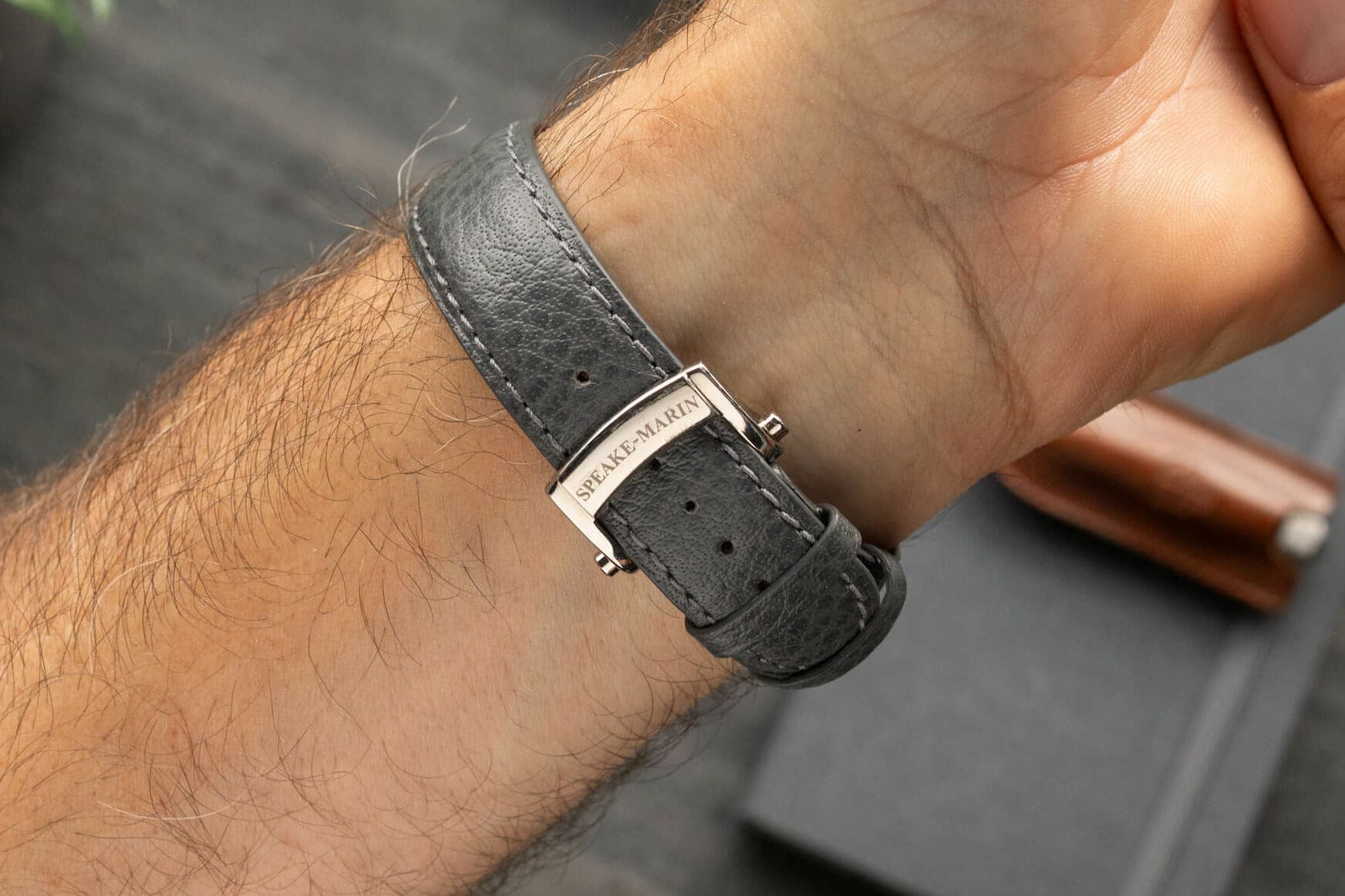 With the objective being smart casual, it makes sense that Speake-Marin has opted for a textured grey leather strap. I personally love grey leather straps as it is a neutral colour that both allows bolder dials to remain the star of the show as well as working well with any wardrobe. Some stylists may have given permission to break this rule, but the thought of wearing a watch with a black leather strap with a brown belt and shoes is a no-go for me. This is why I believe blue and grey are the strongest strap colour options in terms of versatility. I think many of you will also appreciate the fact that Speake-Marin goes beyond the standard pin buckle closure with a full titanium folding clasp for the strap. I sometimes worry folding clasps add bulk or thickness to the wear experience, the antithesis of what you want with a dressier watch. For one, this folding clasp does not really add bulk, and the majority consider a folding clasp for a leather strap to be a more luxurious solution. Finally, folding clasps theoretically extend the life of a leather strap. Also, do not be fooled by the screws within the lugs. On its underside, you will not only find a pop of blue, but also quick release tabs that allow you to remove the strap without any tools.
The movement
Inside both size configurations is their SMA03 micro-rotor calibre, one of eleven movements Speake-Marin have developed. As a more recent calibre of their design, the SMA03, as with their other calibres since 2015, was developed and assembled in-house within Le Cercle des Horlogers located in La Chaux-de-Fonds, Switzerland. It is finely hand-decorated with rich côtes de Genève and thin hand-beveling across the edges of the bridges and the signature Speake-Marin wheel micro-rotor. It offers 52 hours of power reserve – very solid for a watch in this segment. To put it simply, it is a handsome movement more than worthy of exhibition.
The verdict
Being encased in titanium, the Academic line is able to offer, within the context of this level of watchmaking, a more price-friendly means of bringing a higher-end timepiece into your collection. Finished akin to entry models within the Holy Trinity, for a starting price of CHF 14,500 it is certainly distinguished from its competitive set which can find themselves at nearly twice the price in their typically precious metal cases. I would go as far as saying this is one of the best red dials I have personally seen, and red, while it has had its moments, I would say is overdue for its place as a certified colour of the year. Ultimately, the Speake-Marin Academic Rouge is both sensible and quirky. So, if a pinky-up Calatrava is not your speed, but you are looking for a strapping smart casual watch to split the difference, this is a watch I would recommend.
Speake-Marin Academic Rouge pricing and availability
The Speake-Marin Academic Rouge is not a limited edition in either size, and they are both available now for purchase. Price: CHF 14,500 (38mm), CHF 14,900 (42mm)
Brand
Speake-Marin
Model
Academic Rouge
Reference Number
413817030 (38mm)
414217030 (42mm)
Case Dimensions
38mm (D) x 10.5mm (T) x 46.3mm (LTL)
42mm (D) x 10.5mm (T) x 48.6mm (LTL)
Case Material
Grade 5 titanium
Water Resistance
30 metres
Crystal(s)
Sapphire crystal front and exhibition caseback
Dial
Pantone 188C red lacquer
Strap
Grey leather, titanium hardware
Movement
SMA03, Le Cercle de Horlogers developed, micro-rotor
Power Reserve
52 hours
Functions
Hours, minutes, small seconds
Availability
Now
Price (excluding tax)
CHF 14,500 (38mm)
CHF 14,900 (42mm)