10 of the best watches for small wrists under US$15K (and 46mm or less lug-to-lug!)
Zach Blass
When it comes to watches, size matters. Precious millimetres can make or break a fit, and those who regularly tune into my stories know that I have a below-average wrist. It is such a part of my #watchfam identity, that on the Killing Time podcast with Brynn and Malaika my wrist got a shout-out. Dubbed a "slender wrist king" – a badge of honour I humbly accept – I wanted to curate a guide for other slender-wristed members of the watch community with timepieces they may want to explore for their wrists. As I have stressed before, lug-to-lug, among other things, is a crucial measurement that provides greater certainty of whether or not a watch will fit your wrist before you even have the chance to try it on. So, here are 10 of the best watches for slender small wrists at various price-points – all under US$15K USD, 46mm or below lug-to-lug, and, crucially, that are not "unobtanium" at retail.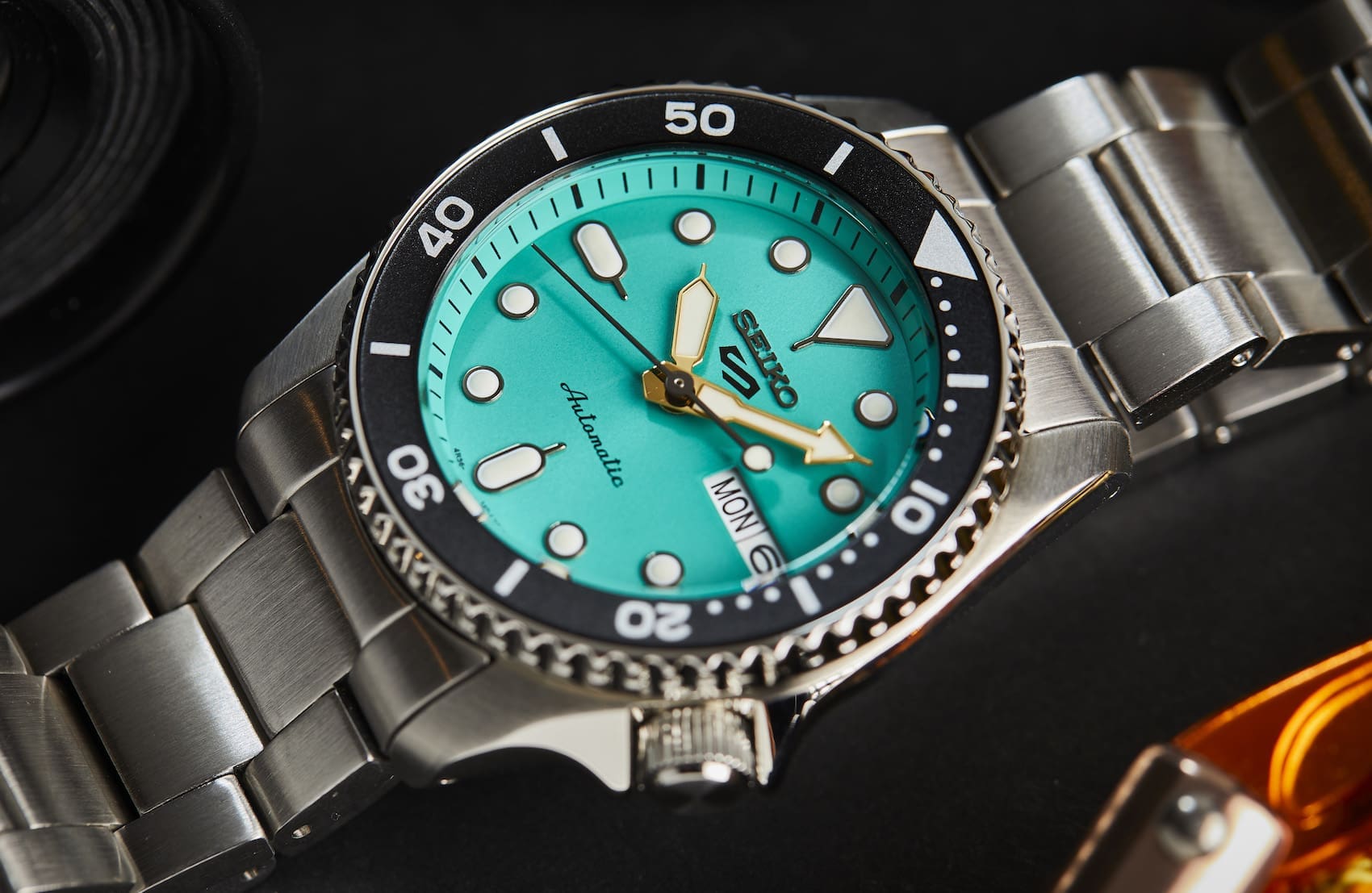 Seiko 5 Sports SRPK29, SRPK31, SRPK33, & SRPK35 (44.2mm lug-to-lug)
Seiko's popular 5 Sports line recently grew with four new references. But, ironically, it grew by shrinking with the four new watches (a black dial SRPK29, champagne dial SRPK31, teal dial (SRPK33) and orange dial SRPK35) presented in a new 38mm case size – a sizable drop down from 42.5mm. And, of course, a drop in diameter typically means a drop in lug-to-lug span across the wrist. With a lug-to-lug measurement of 44.2mm, and a price of under $500 USD and AUD, these four divers are not only wrist-friendly, but also budget-friendly as well.
Price: A$495 / US$325
Tissot PRX Powermatic 80 (44mm lug-to-lug)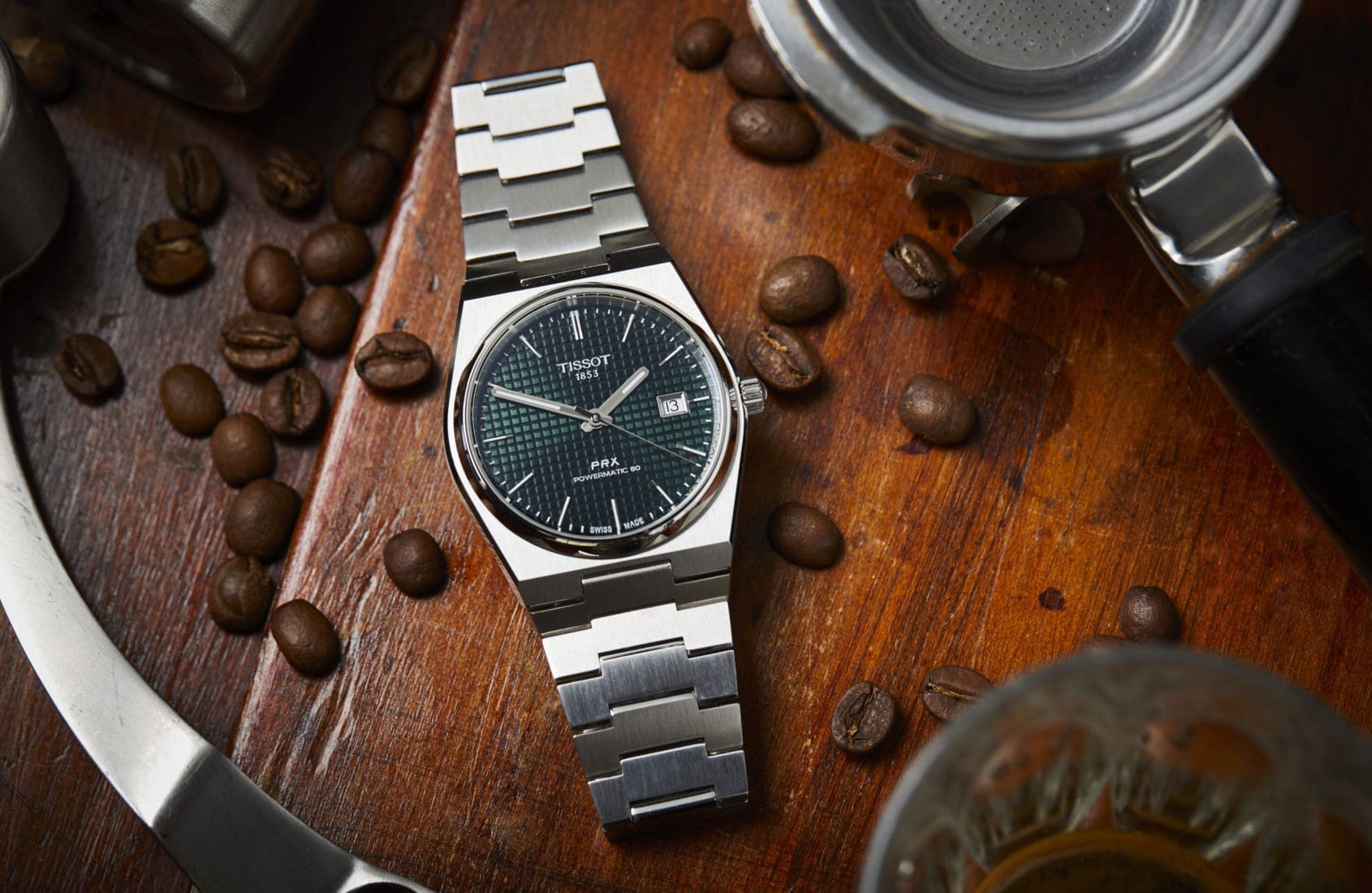 The debut of the PRX Powermatic 80 rightfully threw the collecting community into a frenzy. Upon its release, it was clear that, for anyone being asked what the best first watch to purchase under $1,000 USD was, the PRX Powermatic 80 had to be a contender. Its design has strong appeal, offering up the ever-popular integrated steel sports look at an unreal price point. With 100 metres of water-resistance it is a sporty-elegant daily driver. And, for horological nerds, the Powermatic 80 movement, with a silicon hairspring and 80-hour power reserve, is a huge draw. At 40mm in diameter and 10.9mm thick, it's a great modern slender size. While the end link to end link length was calculated by Borna to be 51mm, the case lug-to-lug is 44mm and the remaining 7mm will camber nicely around the wrist. If you find it too big still, no stress – there is a 35mm quartz option as well that also has a lot of appeal and there are now rubber strap options for the PRX as well.
Price: US$650. You can purchase this watch in the Time+Tide Shop for deliveries in Australia here.
Studio Underd0g Chronographs (44.5mm lug-to-lug)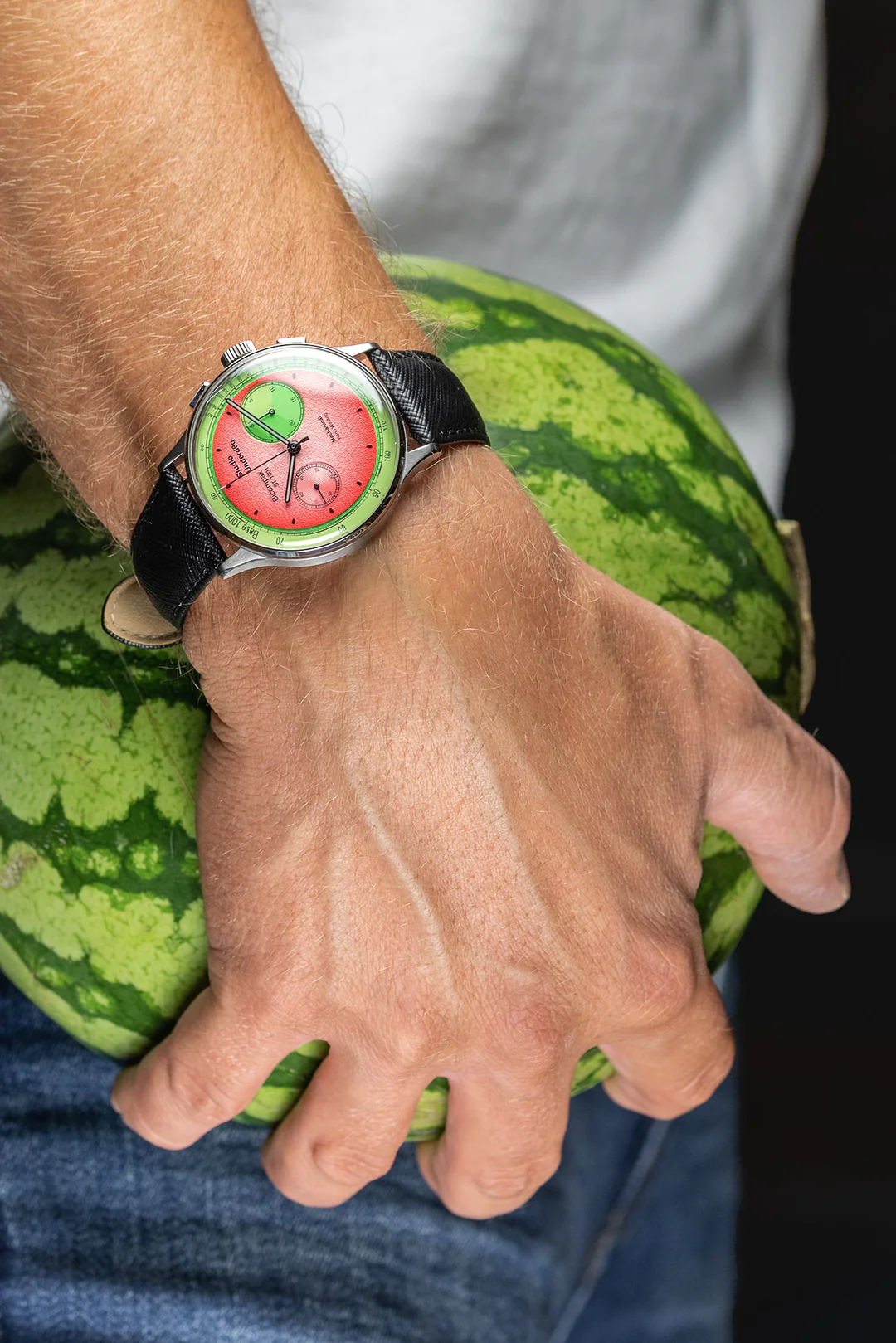 Studio Underd0g has made a name for itself due to their price-approachable chronographs with incredibly flavourful and playful dials. At 38.5mm x 13.6mm x 44.5mm lug-to-lug, you get a modern presence that takes up little real estate across the wrist. Ton of bang for your buck due to their distinct aesthetics and their usage of a Chinese Seagull Manual Winding ST-1901 column wheel chronograph movement which is a cost-effective clone of the venerated Swiss Venus 175 calibre.
Price: £500.00 (~US$624 at the time of writing)
Hamilton Khaki Field Murph 38mm (44.7mm lug-to-lug)
With Interstellar being such a beloved film, the emotional tie-in between the movie and the watch, both on and off-screen, is such a powerful instigator for its purchase. That being said, nothing trumps fit at the end of the day. Unfortunately the initial 42mm size was an obstacle for many buyers – myself included. Fortunately, Hamilton paid attention to the feedback they received on social media. From the outset fans of the film, and the watch, were begging for a smaller version of the watch to be made as well. And Hamilton, taking notice, quietly began working on a smaller version behind the scenes. Some brands would ignore such feedback, but not Hamilton. They gave the watch community exactly what they were waiting for in a 38mm case that spans 44.7mm lug-t0-lug (all while still offering the same H-10 automatic movement with 80 hours of power reserve and a 100 metre depth rating).
Price: A$1,375 / US$895. You can purchase the Hamilton Khaki Field Murph 38mm in the Time+Tide Shop here.  
Tudor Black Bay 36 (44mm lug-to-lug)
I love my Rolex Datejust 36, but access to the model at retail is not always guaranteed to come quickly. At Watches & Wonders Geneva 2022 though, Tudor made a significant upgrade to their Black Bay S&G lineup – offering the watch in a variety of sizes (31mm, 36mm, 39mm, and 41mm), switching to an in-house calibre, and revamping the Jubilee bracelet to include their T-Fit micro adjustment technology. This past Watches & Wonders Geneva 2023, the range expanded even further with full steel models.
More versatile than Rolex's Datejust issued easy link, rather than simply extending the length of the watch by the length of a link T-Fit is a middle ground proposition between easy link and glidelock. Through a pull/slide system underneath clasp, you can adjust the size of the bracelet up to 8mm in five notched positions – all without removing or adding a link. With 70 hours of power reserve and 100 metres of water-resistance it is a ripe daily wearer, and a more affordable means of getting into two-tone territory if you are bi-metal curious. And, if not, the steel only model is a sure fire winner.
Price: US$3,825 (36mm steel configuration seen above), US$5,025 (36mm S&G configuration seen above)
Tudor Black Bay 54 (46mm lug-to-lug)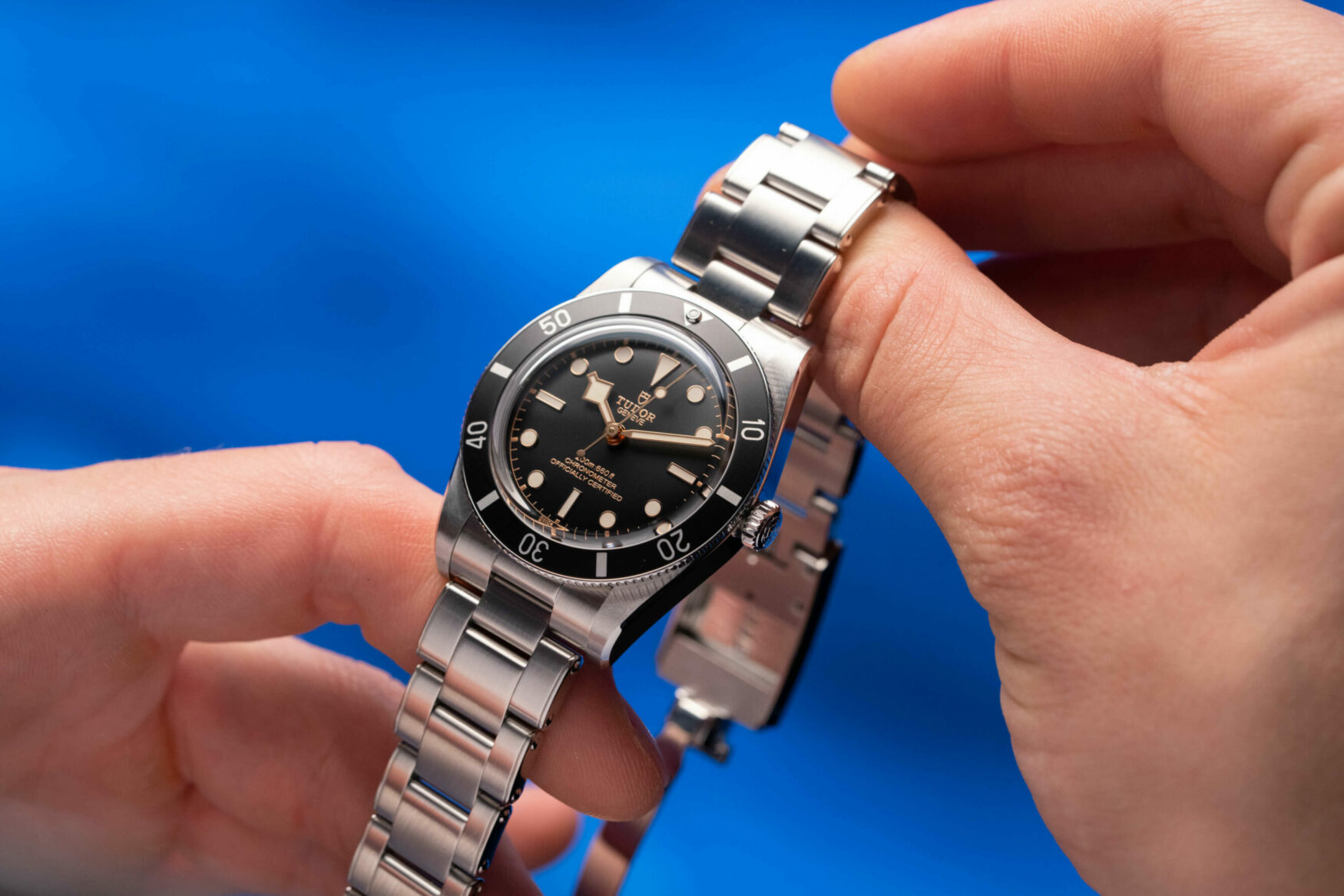 I know, doubling up on Tudor. But, the new Black Bay 54 is just too darn good to ignore – especially for smaller wrists. With its slightly shaved down diameter of 37mm (in comparison to the Black Bay 58's 39mm diameter) and 46mm lug-to-lug measurement (in comparison to the Black Bay 58's 48mm lug-to-lug), the Black Bay 54 proves just how make or break a few precious millimetres can be to a fit. The BB58 was by no means large, but the BB54 perfectly encapsulates the original dimensions of the Submariner with no comprise on spec at 200 metres water-resistant and powered by the Tudor MT5400. And, with a T-fit faux-rivet bracelet, there is a case to be made that the BB58 may be obsolete until it gets an update of its own.
Price: US$3,625 (on rubber), US$3,850 (on bracelet)
Grand Seiko SBGW291/SBGW293 (42.1mm lug-to-lug)
Speaking of the Datejust 36, Grand Seiko unveiled their own rival contender with a new mid-size 44GS case. It first came in the form of a limited edition with a cherry blossom Kira-zuri dial, which sold out very quickly. Fortunately two standard production models entered the fold, allowing more people to enjoy a 36.5mm x 11.5mm x 42.1mm stainless steel 44GS case that offers the same 100 metres of water-resistance as its larger siblings. Inside is the manually wound 9S64, with 72 hours of power reserve and a Grand Seiko Standard regulation of +5/-3 seconds per day.
Price: US$5,200
Omega Seamaster Aqua Terra 150M 38mm (45.1mm lug-to-lug)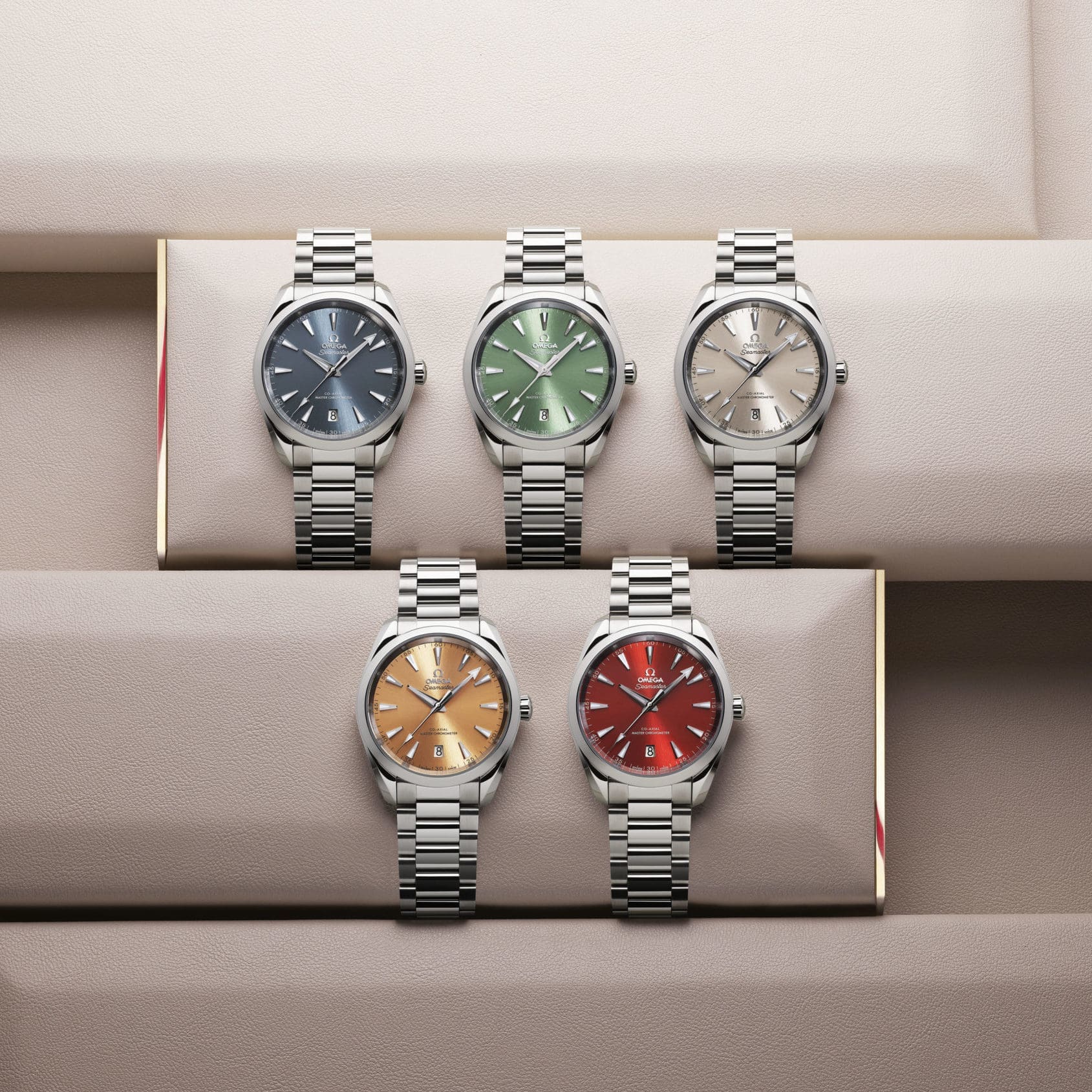 If your collection, and slender-wrist, is missing colour and Co-axial technology, look no further than the Omega Seamaster Aqua Terra 150M 38mm collection. A lot of Datejust talk, I know, but this really is Omega's rival to the Rolex's Datejust 36. Sure its 38mm, but the stainless-steel cases are only 45.1mm lug-to-lug – a superb measurement for slender wrists. Five beautiful dial colours, 150 metres of water resistance, elegant mixed-finished cases and bracelet, and a powerful METAS certified automatic Co-axial movement, this is a very hard watch to beat.
Price: US$6,000
Cartier Santos Medium Blue/Green/White (41.9mm lug-to-lug)
The it-boy/girl/person of the list, the Santos has been a main staple of Cartier's collection for decades. Originally a pilot's watch, the Santos has become the go-to choice of fashionista's who also like horological substance. It has never been more functional as it is fashionable, bundled with a quick-change strap and bracelet (which features quick change links that can be added or removed simply with your fingers). There are multiple sizes to explore, but the Medium will appeal to the slender wristed in favour of the large – which only has the extra feature of a date complication at 6′. Dateless, however, it has a more pure dial aesthetic. With a measurement of 35.1 mm in diameter, 8.3mm in thickness, and lug-to-lug of 42.1mm, it is incredibly wrist-friendly and, armed with a heightened 100 meters of water-resistance, has never been more ripe for daily wear. And, with new green and blue dial options at your disposal, the offering is that much more compelling.
Price: US$6,800
IWC Ingenieur Automatic 40 (45.7mm lug-to-lug)
Finally IWC gave the debatably neglected, or perhaps misguided, Ingenieur collection a much needed refresh. The design had strayed quite a bit from Gerald Genta's original aesthetic and proportions, but now it is has been brought back as close to the original 1976 design as it has ever been in the modern era. That being said, the new Ingenieur Automatic 40 collection is by no means a time capsule. It equally speaks to modern sensibilities as well with a five-day power reserve automatic calibre, interesting Aqua dial colour option, and a titanium model that really brings the Ingenieur into the future. Oh, and very important, this sporty integrated design carries a lug-to-lug just under 46mm – making it very wrist-friendly to all.
Price: A$17,300 / US$11,700 (stainless steel), A$21,700 / US14,600 (titanium)