Remember our cultural analysis of the spectacle that is the booths of SIHH? Well, strap in for the conclusion of our comprehensive analysis of the power plays, marketing ploys and grand statements that characterize the best booths of SIHH 2015.
The Richard Mille booth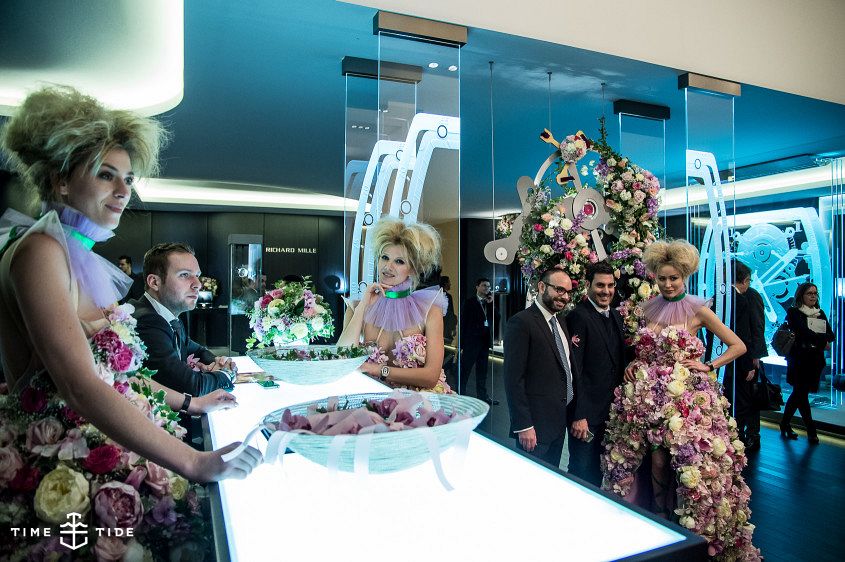 In a landscape dominated by big and bold, Richard Mille are at the top of the food chain. Their exclusive, masculine and hi-tech watches are worn (and coveted by) rappers, runners and the richest of the idle rich. So it was a bit of a surprise to see the Richard Mille booth looking like an ultra high-end florist, manned by beautiful women wearing impressive dresses made from real flowers, handing out corsages to visitors. These floral staff uniforms were (unsurprisingly) much talked about, and of course they linked into Richard Mille's impressively blinged out floral novelty, the RM19-02 Tourbillon Fleur. The RM booth story is strongly tied into their hero product, and was one of the best examples of organic (#punalert) marketing at the fair.
The Panerai booth
Officine Panerai has an incredibly strong brand story and identity, a story linked to their historical ties with the Italian Navy, and told more recently through on-screen legends and early adopters Sly and Arnie. The Panerai booth told this story very well. Upon entering the booth you were overtaken by the rich textures and warm tones – it's pretty much the closest thing you can get to walking into a humidor, sans cigars. But what dominated the space is the giant slab of oxidized, riveted metal, presumably torn out of the hull of a WWII destroyer, emblazoned with the Panerai name. That display tells you everything you need to know about the brand and their watches.
The A. Lange & Söhne booth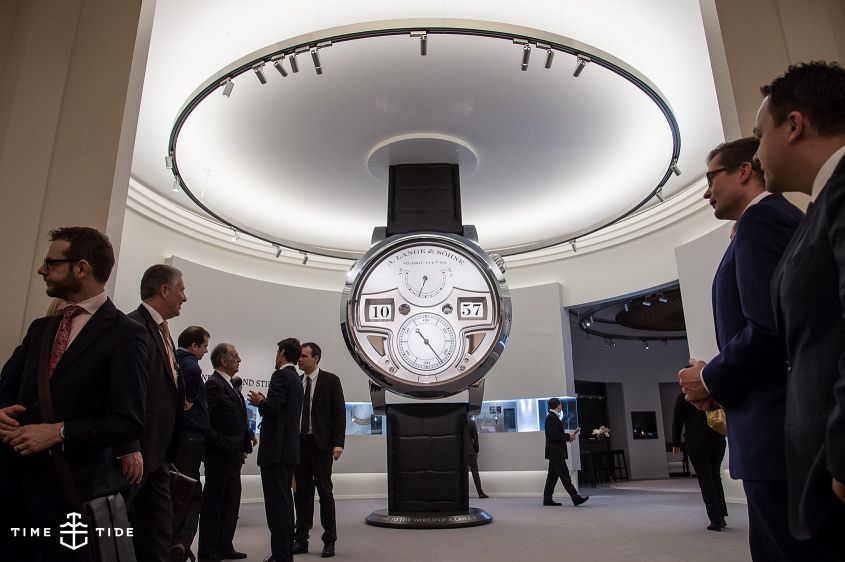 German powerhouse A. Lange & Söhne can honestly say they had the biggest watch of the fair. Anyone entering their territory couldn't help but marvel at the towering model of the Zeitwerk Minute Repeater. As a blunt statement about where you stand in the marketplace it's hard to beat your watch towering head and shoulders above everyone else. But is it also an ironic statement about oversized contemporary watches? Turns out that like art, SIHH booths can be subjective.