Marie-Laure Cérède, creative director of watchmaking at Cartier, is our eloquent tour guide for the 2019 Cartier collection, with a focus on the new faces and physiques of the Santos family.
The 2019 Santos-Dumont
T+T: What is the logic behind the new quartz movement-powered and smaller-sized Santos-Dumont?
MLC: Since we relaunched the Santos last year we have a new generation of Santos lovers, and we wanted the Santos-Dumont to also address the expectation of the new generation. For me, it really completes the family. You have the style and the quality of the higher range, but you have a new price point too, of 2900 (EU). It is a new quartz movement with an autonomy of six years, twice the standard of the traditional one.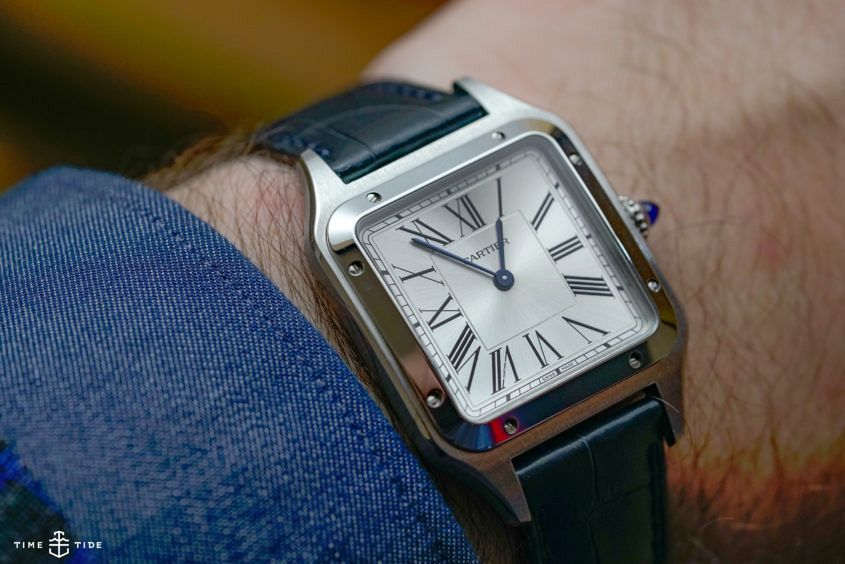 When we created the Santos-Dumont we wanted it to be the first watch, especially for this young generation. It's an access to the brand and an access to the Santos family. I think it has the same values as the millennials. It's very thin, it's smooth, it has the trend of vintage pieces and I am convinced now that people are looking for something different. Maybe they will not start their journey with a round watch.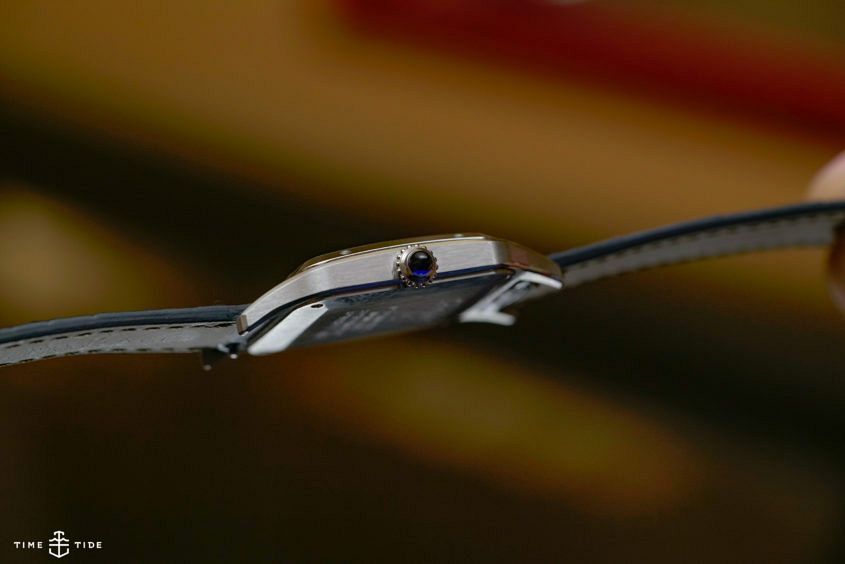 The 2019 Santos Chronograph
T+T: The Santos Chronograph is a lot heftier in height and weight than the 2018 Santos; it seems a very different ergonomic proposition?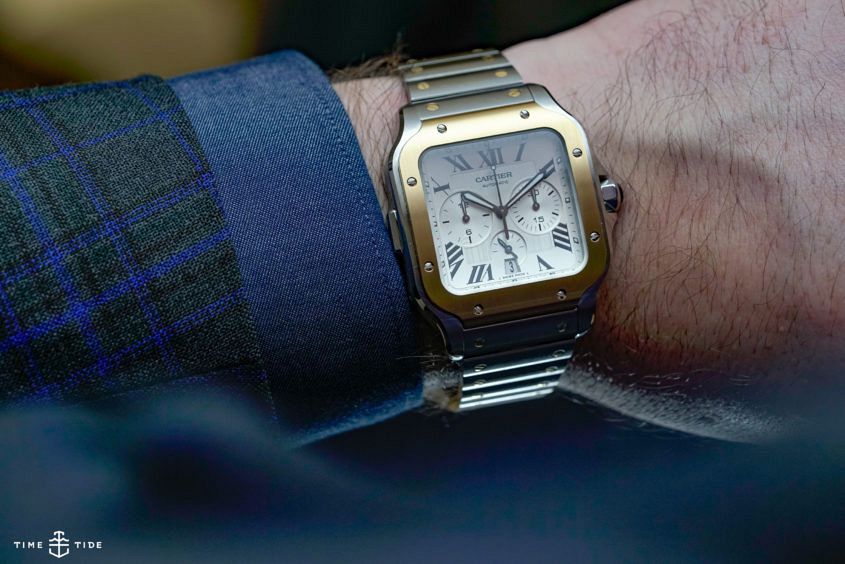 MLC: If I may, the idea of the new chronograph is to be in the same vein as the Santos last year. I am sorry, I disagree a bit with you. This is why we have been customising this chrono in a single push, because we wanted to be very close to the 2018 relaunch. Which is sober, which is ergonomic. To me it's the same vein. At the end the important thing is that you don't choose one version or the other, but you eventually buy both of them depending on what you will wear, your social etiquette, your mood.
It's very demanding to revamp icons, because everybody knows about them, everybody is waiting for them, so you need to not alter the original design, to stick true to the heritage but also to infuse the values of today. This combination is very hard to find. And it's a very difficult exercise. A very demanding one.
The 2019 Cartier Santos Noctambule
This is more urban. It's more monochrome. It's like we have pushed this model to the maximum. Cartier is about surprise and emotion too.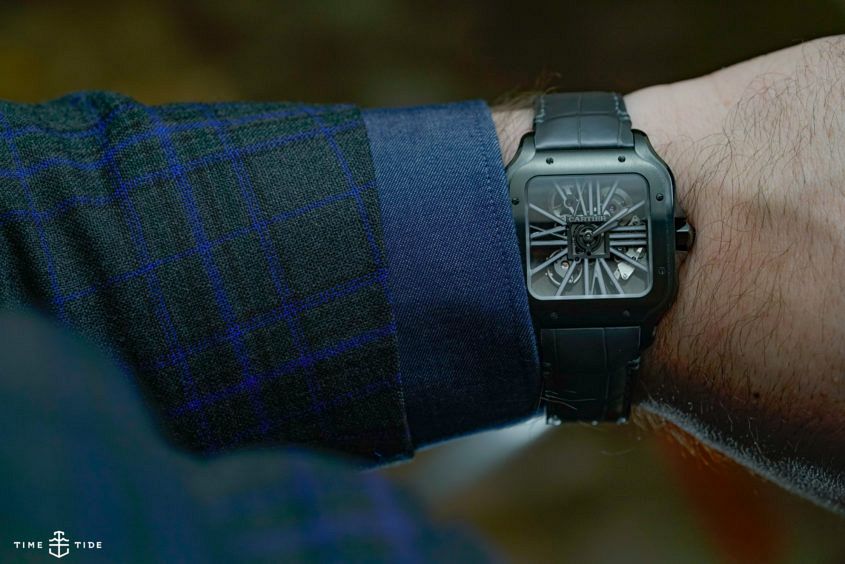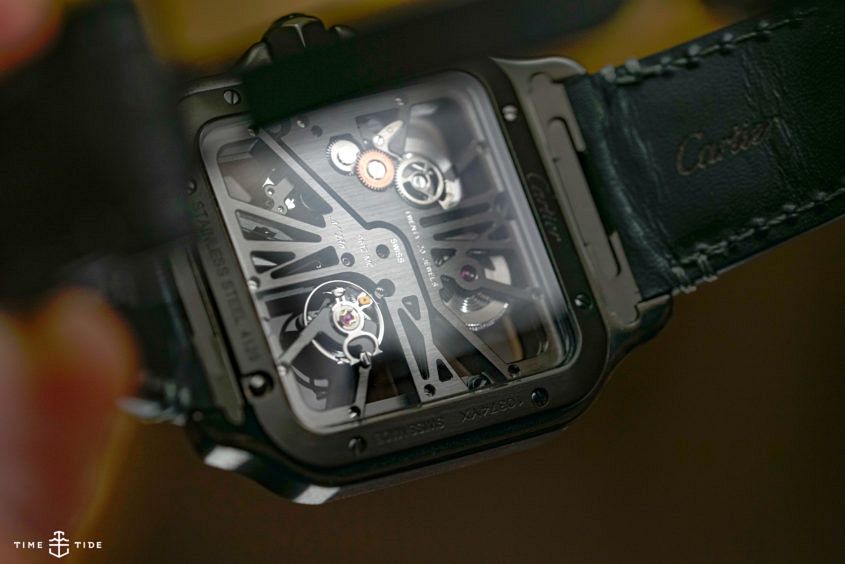 Marie-Laure Cérède's personal favourite watch from the Cartier 2019 Collection?
I like very much the Santos-Dumont because it's the perfect elegant and convenient watch. When you achieve this balance your product is good. It's easy to have a very beautiful product, or to have a very ergonomic product but to have both of them is more complicated.