INTRODUCING: The Dior VIII Grand Bal Plume 2017 Chinese New Year Edition
Ceri David
Ready to shake your tail feather? Let's hope so, seeing as today kicks off the Chinese year of the rooster. Luckily, there's a way to get into the spirit of things without having to hire a head-to-toe cockerel costume, and for that, we have Dior to thank.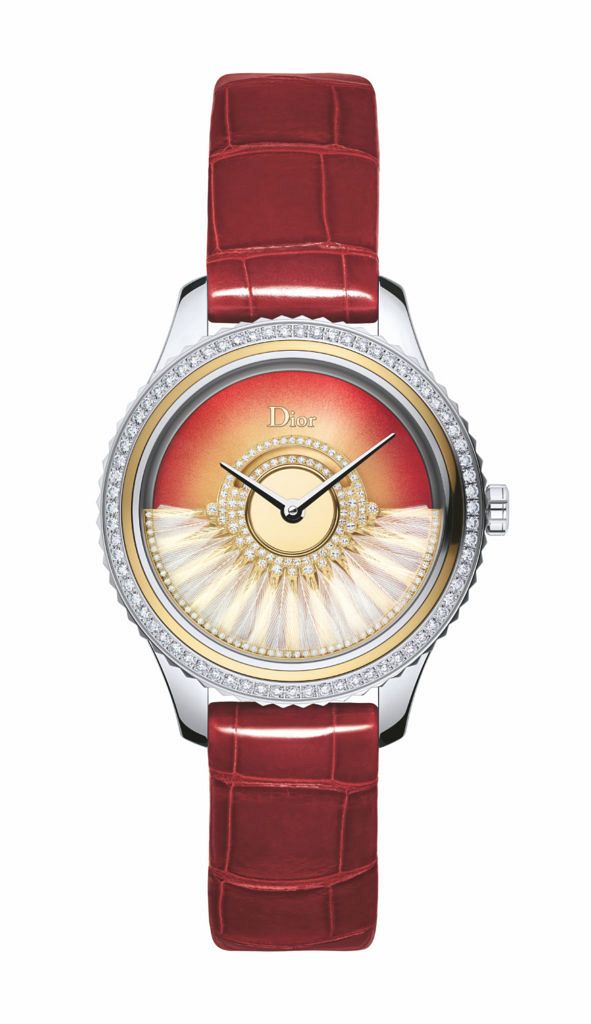 A vision in red, the Dior VIII Grand Bal Plume 2017 Chinese New Year Limited Edition is the perfect marriage of haute couture and horlogerie. Think of all the Dior gowns in luxuriant fabrics and cunning construction you've seen on A-listers at awards ceremonies over the years. They're showstoppers – and this is no different. See that oscillating weight (in prime position on the dial-side of the watch), with its diamond-embellished feathers? That constantly moves, like the swish of a hoop skirt at a ball. (And yes, those are rooster feathers. What else did you expect?) There are yet more diamonds set into the buckle. And if that weren't bold enough, the red alligator strap is really no wall flower. (The crown, meanwhile, is engraved with CD – and yes, we know it's for Christian Dior, but why not also Ceri David?)
And yes, we did also use the word 'horlogerie', so this isn't just a piece of jewellery. The 36mm steel and gold timepiece is powered by the the Dior Inverse 11 1/2" automatic calibre, which you can ogle through the transparent sapphire crystal case-back.
Limited to 88 pieces, you'd better hope you're high enough in the pecking order to get your wings on one.