I bought four of my friends Seikos in 2019 – here's how much they're worth now
Fergus Nash
I'll admit that 2019 was a fantastic time for me personally. Not only was I blissfully unaware of the oncoming pandemic, but it was also the first time I was earning an expendable income. It may have only been minimum wage, but I decided that it was time to reimburse some of my close friends for years of missed birthday presents with a watch each. Seiko was an easy choice, with heaps of models to suit each of their personalities, attractive price points, and mechanical movements. Little did I know that Seiko would discontinue a huge portion of their old catalogue, creating a nice little bubble around their values.
Seiko SNZH57 "Fifty-Five Fathoms"
One of the most popular Seiko homages is the "Fifty-Five Fathoms" — named for its passing resemblance to the Blancpain Fifty Fathoms. There are heaps of modded dials and bezel inserts available to make it even more like the real thing, but the SNZH57 is an awesome looking watch in its own right. The black and gilt balance is on point, and the case lives by those 'big case, short lugs' rules we all love about Seiko. The 7S26 movement is a bit of a downside, as hand winding and hacking seconds is a convenience that can't be understated, but that just makes these watches even more desirable considering how easy it is to upgrade the movement.
Bought for in 2019: $216.79 AUD
Sells for in 2022: $500-700 AUD
Seiko SNZF15 "Sea Urchin"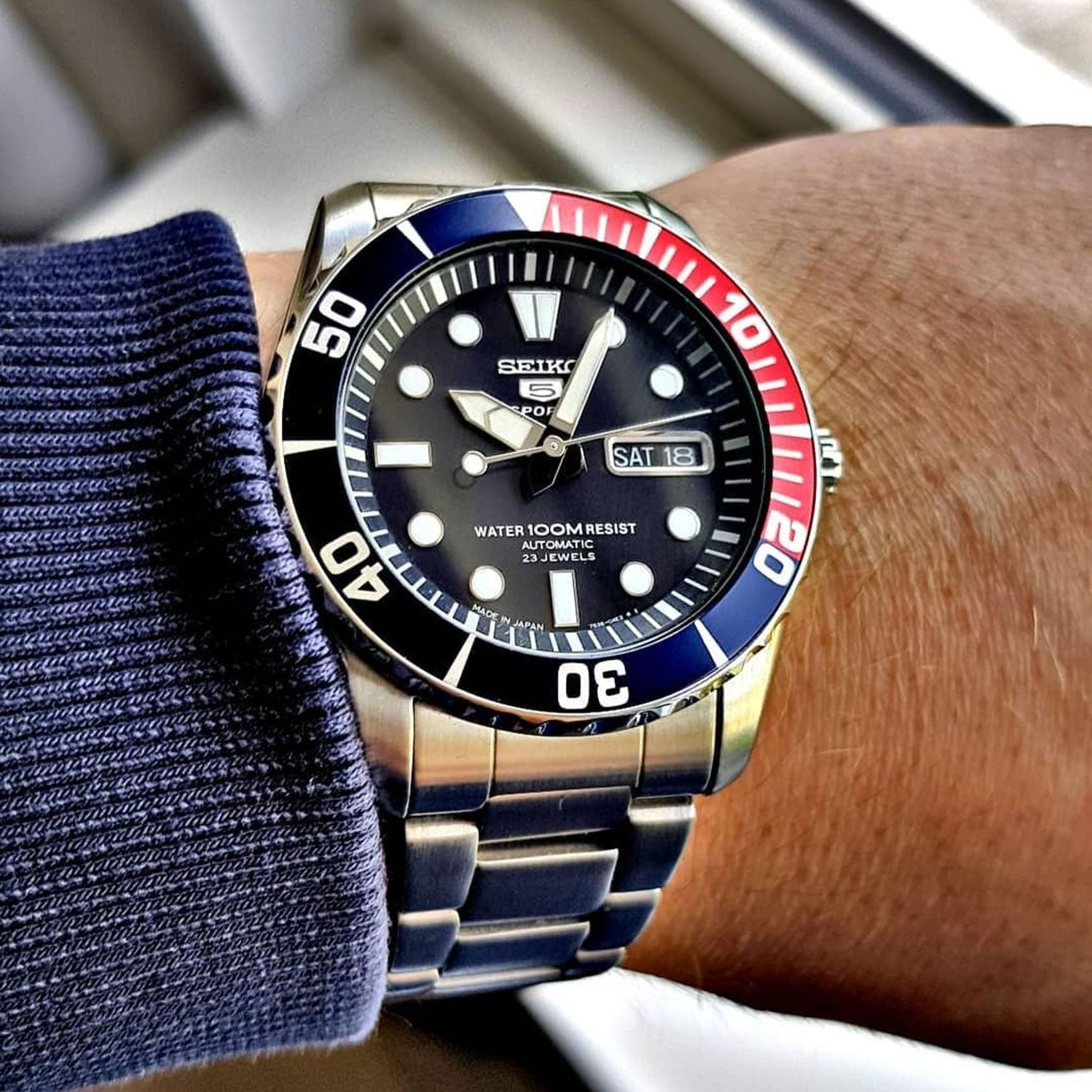 For a long while, the Sea Urchin was one of Seiko's cheapest mechanical watches, and often cropped up in conversations alongside the SNK80X series for which watches you could buy for gifts. The friend I gave this to is a huge fan of the colour blue, so the Pepsi colour scheme was an obvious choice. Overall, it's a classic Seiko design that isn't too derivative of anything, but isn't strange enough to alienate anyone either.
Bought for in 2019: $211.19 AUD
Sells for in 2022: $375-400 AUD
Seiko ReCraft SNKP27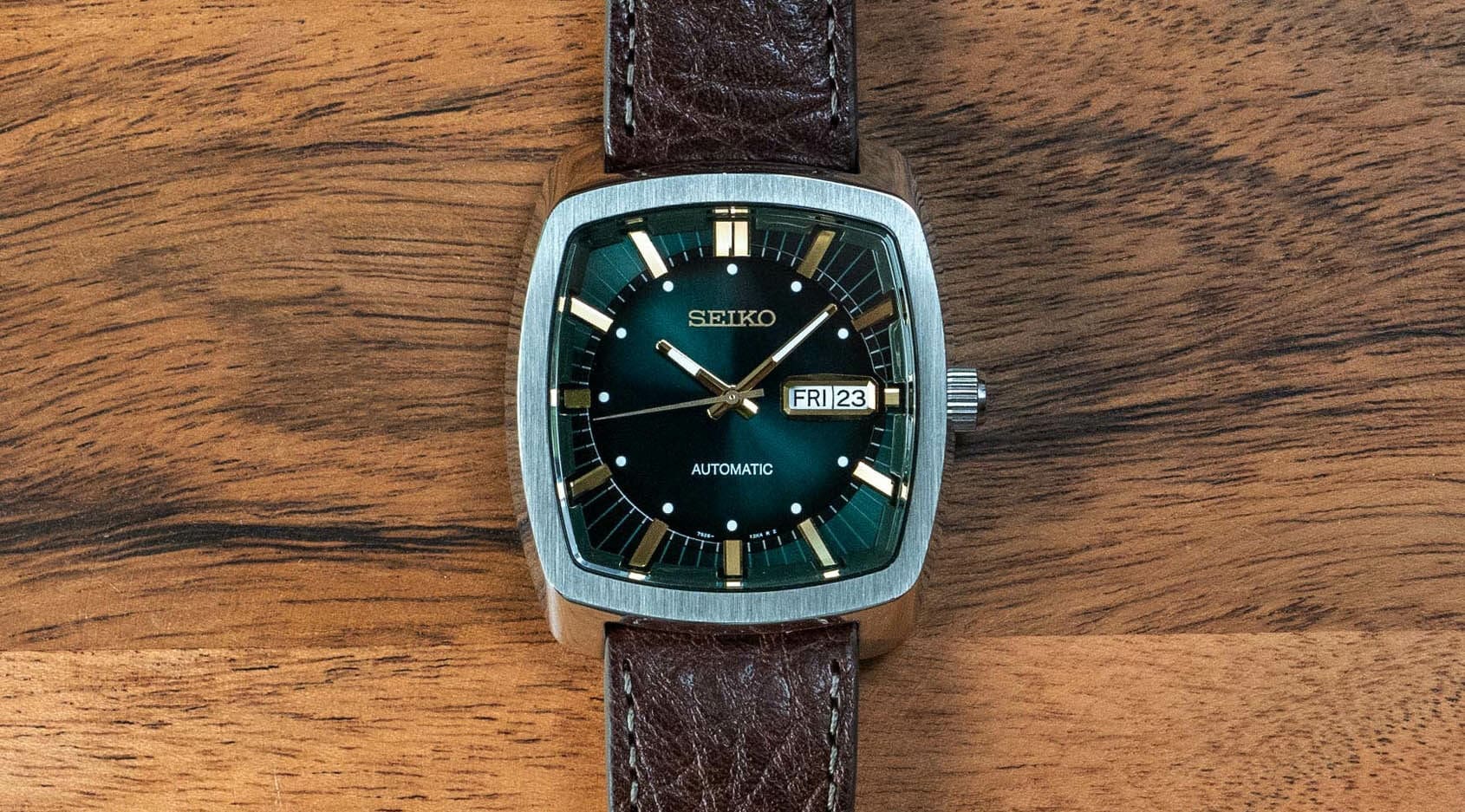 The ReCraft series was an odd one for Seiko, embracing some kitschy 1970s designs way before it became cool for microbrands to do the same thing. They certainly found a cult following, but never quite reached widespread popularity. Another trend that the ReCraft series was early for was green dials, and they were some of the best green dials of the time. The SNKP27 was especially rich, with a deep forest green. Photos do not do it justice, and with the gold indices and brown leather strap it is full of 1970s cheesy charm. Although a few crop up as new-old stock for cheap every now and again, they can command a decent premium second hand.
Bought for in 2019: $261.54 AUD
Sells for in 2022: $350-900 AUD
Seiko Prospex SRPB59
Funnily enough, the one watch that hasn't increased very much in value is the one that has the best specs of the lot. Part of the Prospex line, which was right on the cusp of becoming Seiko's flagship sports watch range, the SRPB59 seems to be quite a neat time-only homage to the Breitling Navitimer. The bezel and chapter ring offer a whole load of markings for in-flight calculations and navigation, but the real draw is the classic military heritage look. The friend I bought this for has huge wrists, so the 44.7mm case was a great fit. It's also loaded with the calibre 4R35, complete with hacking and hand winding.
Bought for in 2019: $280 AUD
Sells for in 2022: $399-700 AUD
If anything, this list shows two things. The first is that you don't need to spend thousands of dollars to get a slice of the re-selling action. It's not about scalping, but if you can buy a watch and enjoy it for a few years before selling it for the same amount or even make a small profit, then that's living the dream. Secondly, it goes to show how Seiko have really moved away from that lowest end of the value market, instead releasing various references of the same key models to replace their scattershot approach. If you're looking for some of that old Seiko attitude, some other great brands to check out include Orient, Citizen and Dan Henry.