Effectively a new dial and case metal of an existing reference, initially launched in white gold with a blue dial, what makes this new version of the Calatrava Pilot Travel Time really interesting is the way it was unveiled, and the sister piece that accompanies it. It's hard to believe, but Patek Philippe finally joined the modern world of social media in the week leading up to Baselworld 2018, and their first big announcement through the channel was this new release, alongside a "ladies version" measuring 37.5mm in diameter, which has been dubbed the ref. 7234R. Both sizes are powered by the same caliber, and, quite frankly, both are within a conservative size range that could be worn by either gender without the faintest question. Because the duo of chocolate brown gems are so similar other than in diameter, we're focusing our attention on the bigger of the two pieces: the Ref. 5524 Calatrava Pilot Travel Time.
Vital statistics
First things first, when images were released of the new Calatrava Pilot I wasn't quite sold. There was quite a bit of debate out there when the initial Calatrava Pilot surfaced, and what business Patek Philippe really had in getting into this segment at all. The brand did produce a few pilot's watches back in the day, but nothing on the scale seen by the likes of Zenith, IWC, and even Breguet. Setting the lineage debate aside for a moment and looking only at product execution, the brand has done an excellent job with the new release. The combination of its bright and reflective sunbrushed brown dial and warm pink gold case works very nicely in person, standing out as a much better brown/gold combo than we saw from Rolex with the Everose GMT that was just launched. From a functional standpoint, the caliber 324 S C FUS is still one of the more usable/thoughtful dual time calibers on the market right now, with quick-set local time that can be advanced or retarded using the pair of push-pieces on the left side of its case. That said, its power reserve remains a bit on the low side of current industry standards, coming in at between 35 and 45 hours.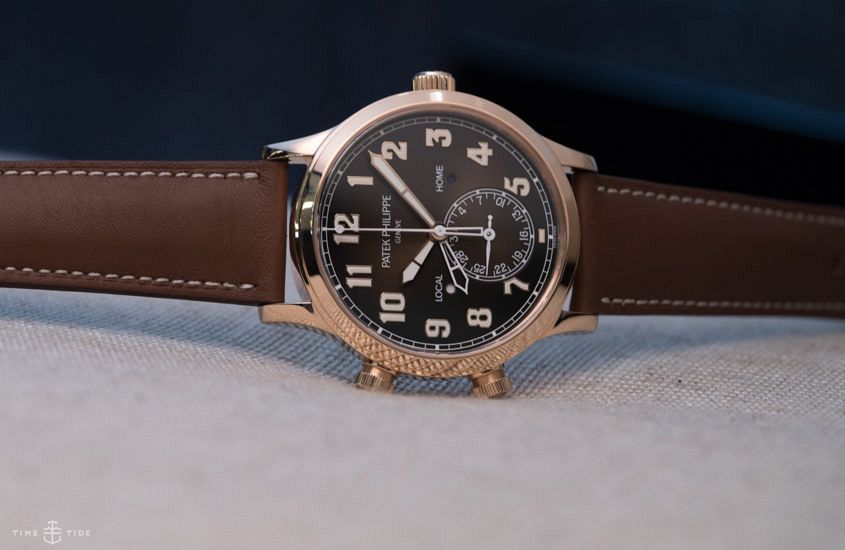 On the wrist
I'll be blunt, I really wasn't expecting to like the Calatrava Pilot Travel Time on the wrist, but having strapped it on for a quick few moments during my press appointment, the new piece turned into a pleasant surprise. At 42mm across and a reasonable 10.78mm thick, it's certainly a bit chunky compared to much in the Patek catalogue, but for a pilot-style piece it's still on the more modestly sized end of the spectrum. People love drawing parallels between this and the Zenith Type 20 models; however, other than its numerals and hands, these watches are miles apart. In my experience, my biggest stumbling block with every Type 20 is how flatly and awkwardly they wear on a smaller wrist — a total non-issue with the Calatrava Pilot. That said, the pieces are also miles apart in terms of finishing (and pricing, for that matter), so only a fool would ever consider cross-shopping the two.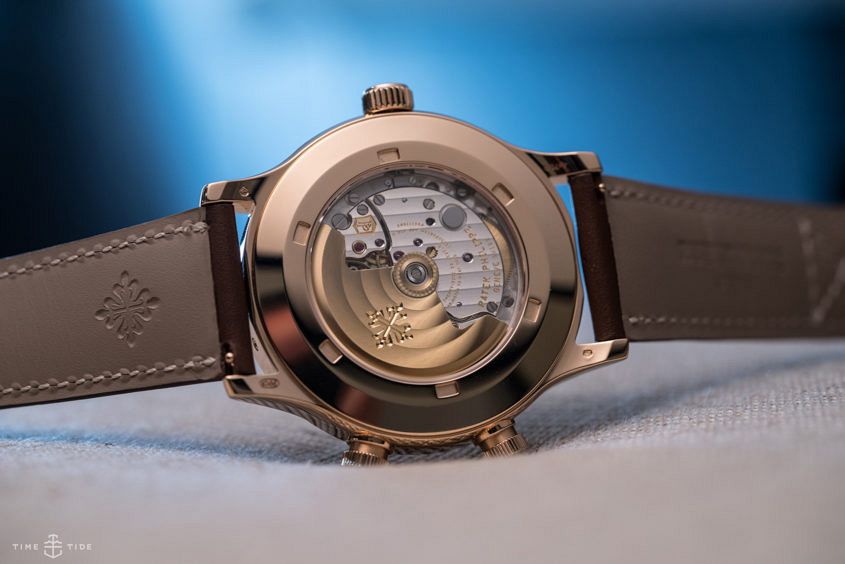 Who's it for?
Fans of the brand that want something properly casual and functional. Oh, and brown. You really gotta love brown.
Any surprises?
The matched pair of releases in two sizes was a real shocker, though the brand would have been better served avoiding direct reference to gender when announcing them.