A handmade watch for $2.5K USD? The Levenaig Lakeland 38 makes this a reality
Zach Blass
Handmade. That term, alongside hand-finished, is often thrown around in watchmaking, but the term is often misleading. It is very rare that a watch is 100% handmade, and those that are even predominantly handmade usually command incredibly high price tags due to the time-intensive process of fabrication. But what if I told you that a handmade watch was available at a starting price a little above $2,500 USD – would you believe me? I wouldn't blame you for being sceptical, but the fact of the matter is Swedish watchmaker Holme Finnilä, founder of Levenaig Watches, has truly done just that.
Holme's background is in precision engineering and marine technology, which explains his hands-on approach to watchmaking and maritime influenced designs. Rooted in the teachings of his own father, Holme believes that if you have the skills required to make a certain component yourself, you should do it yourself and he takes personal satisfaction from each completed project by his own hand. Due to the nature of the "handmade" claim, I decided to chat with Holme to have him elaborate on what exactly is and isn't handmade –  I think you'll be pleasantly surprised.
ZB: Can you elaborate on the handmade aspects of the watch? How much of the watch is truly handmade?
HF: This is a very interesting and important topic. As we know, terms such as handmade and in-house are used quite generously all over the place and sometimes in a rather misleading way. Most, if not all, watch brands buy at least some parts. In some cases it may just be the jewels for a movement, getting them very close to 100% in-house production. And then there are those who claim to offer handmade watches just because they attach the watch hands in-house (but all components have been ordered from China). So, how much is done in-house at Levenaig Watches?
I make the following parts from scratch: the case, caseback, dial, all other parts needed to hold the movement in place (different models have different solutions), crown (both screw-down and more traditional types; even the tiny compression springs inside the screw-down crowns), watch hands, and the wooden watch storage box that it is packaged in.
I buy the following parts: the movement, crystals, o-rings, and spring bars. It would be ridiculous to make these standard parts in-house when there are suitable quality products available. I also made my own straps for a while but I had to accept that they were never going to be as good as the ones I can buy. I am currently looking into the possibility of going 100% animal-free on the strap side, so that may become an option in the future. In regard to the movement, manufacturing my own would greatly raise the cost to the consumer. Levenaig's watches are not intended as symbols of financial status. If my watches had personalities, they would be kind and modest.
In production, I use hand tools and manually operated machines. The only exceptions are a tiny CNC milling machine which I occasionally use for engraving or rough cutting of more complex shapes, and a laser which is sometimes used for marking/engraving. But I still program those two machines and do not use them in a "mass production way".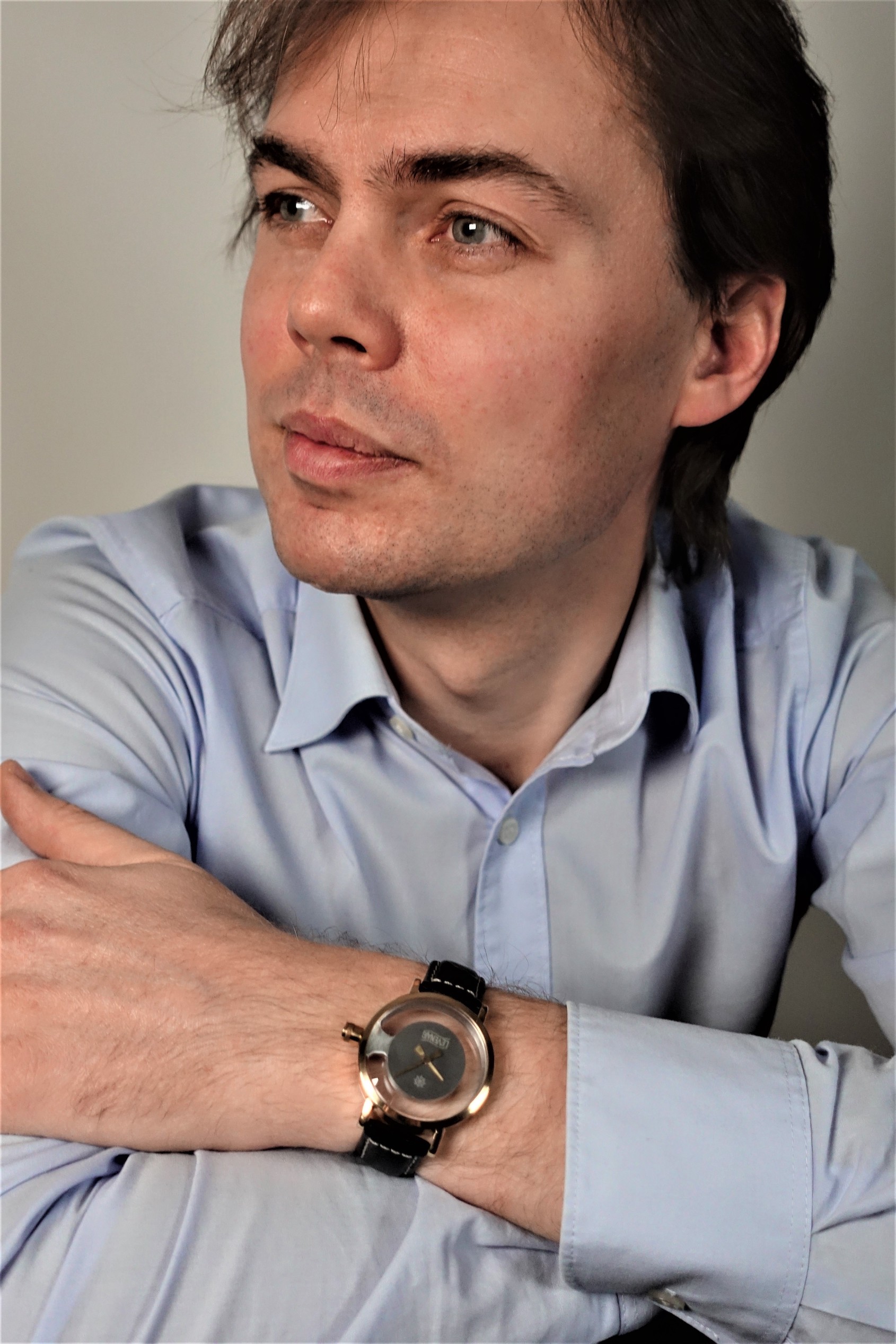 ZB: How much time does it take to fabricate each watch by hand? 
HF: The time spent on a watch varies, depending on which model we are talking about. I need at least a week to make a watch and its wooden box (design work not included). I would estimate that about 30% of the time is used for finishing, 5% for assembly or test assembly, and the rest for making the different parts. Developing a new watch design and preparing equipment for manufacturing obviously takes a bit of time as well. 
Now that we have a better understanding of Holme, Levenaig, and the process of manufacture let's dig into what I consider to be one of his most intriguing creations: The Levenaig Lakeland 38 handmade watch.
The handmade case can be made of either brass or bronze at the preference of the purchaser, but both will have titanium casebacks. The unisex watch is 38mm in diameter and 11mm thick, with a polished finish throughout the brass or bronze. The lugs, soldered onto the case, are on the compact side – ensuring its measurement across the wrist lug-to-lug is more manageable for a variety of wrists. Holme has left clear evidence of the lug soldering as a reminder that the watch lives up to its handmade claim. The crown is on the larger side, engraved on its front with a maritime ship wheel and has knurling to aid with the grip. It is important to note, however, the standard model watch is water-resistant to 30 metres and therefore is a maritime watch that is safer on deck than below the shore.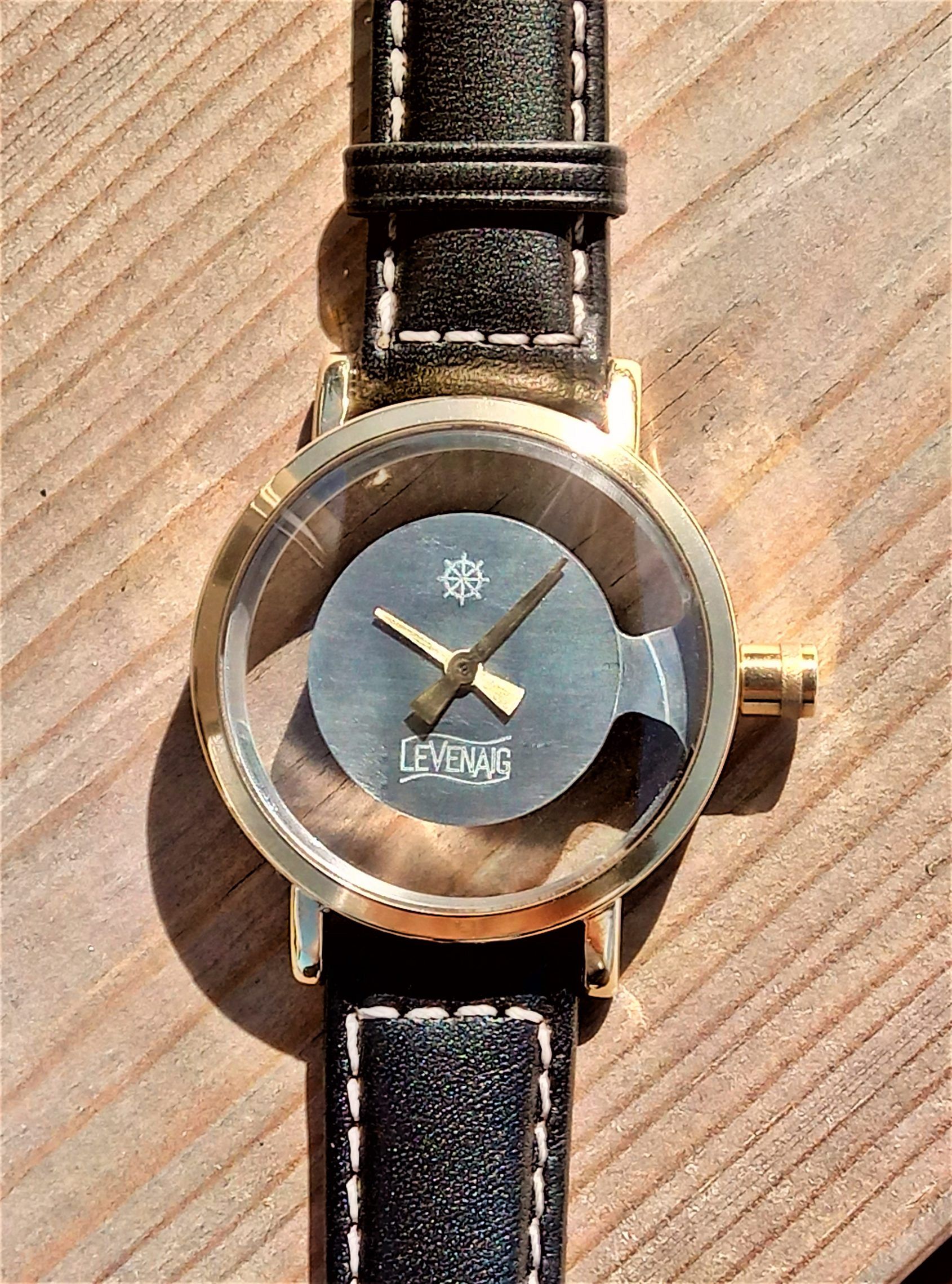 Holme really wanted to deliver a clean and simple dial, but with added intrigue. What really catches the eye is the seemingly floating dial, comprised of an aluminum dial plate suspended only by an aluminum arm that houses where the movement meets the crown. The dial has no hour markers or minutes track. To keep a clean aesthetic, the Lakeland 38 has only brass central hours and minutes hands that are inspired by manometer hands and are handmade by Holme himself. The ship wheel logo of the brand is engraved at 12′, with the Levenaig branding engraved at 6′. Beyond the dial in the centre, the crystals on the front and back of the case allow you to see through the watch – again creating that floating effect. The inner mid-case has a horizontal brush around the perimeter of the dial.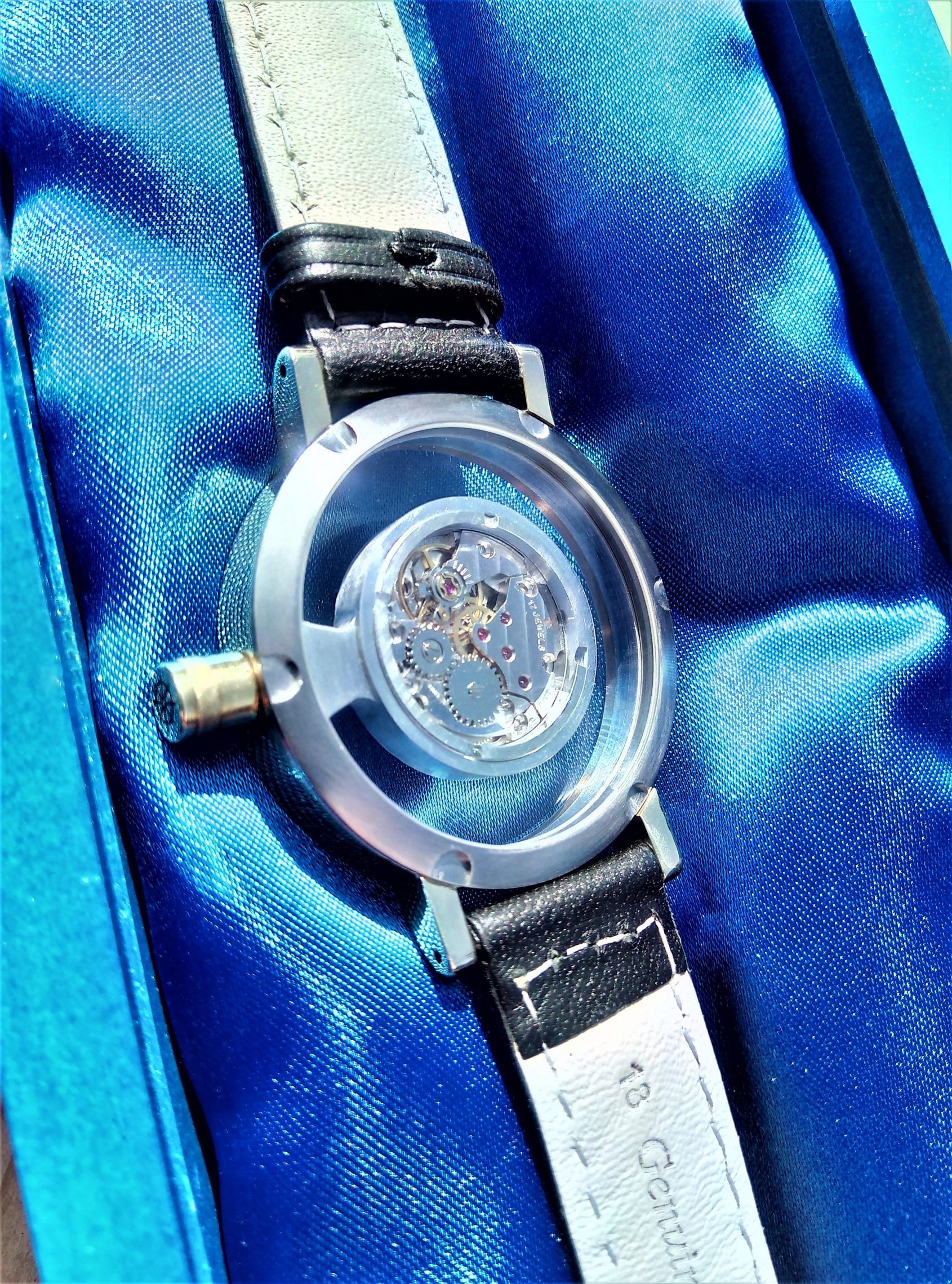 The Levenaig Lakeland 38 is outfitted on an 18mm leather strap that is not produced in-house. The example pictured above is a pebbled calf-leather strap in black with white stitching. On the reverse side of the watch, visible beneath the exhibition caseback sapphire crystal, you'll find a ETA 2660, ETA 2671 or Sellita SW10 movement that is industrially decorated. This allows the the watch to perform reliably without increasing the price point of the offering. Buyers can also choose between manual or automatic configurations depending on their preference. For reference, the ETA 2660 pictured above has a power reserve of 45 hours.
Overall, I think what Levenaig is offering, particularly the Lakeland 38, is really intriguing and value driven. It allows a wider range of consumers to explore handmade watches, with the ability to insert bespoke modifications that will inevitably raise the price tag. That being said, the starting price is definitely on the approachable side. You'd be hard pressed to find a watch with as many handmade components as the Levenaig Lakeland 38 anywhere close to its price point.
Levenaig Lakeland 38 pricing and availability:
The watch (including strap, manual and certificate of authenticity) comes in a handmade wooden box.
Since Levenaig Watches manufactures both serial and custom watches, you are free to suggest design changes. Such design modifications may however affect the price.
Price: Starting at 20,990 SEK (inc. VAT), which roughly converts to around $2,520 USD & $3,2oo AUD (inc. VAT).
Please note: currency conversion is subject to fluctuate
To learn more about Levenaig and the Lakeland 38 click here.
Made in partnership with Levenaig. However, the opinions expressed in this article are our own in accordance with our Editorial Policy.