BREAKING NEWS: Rolex shuts down production for 10 days, closing three factories
Nick Kenyon
Rolex Chief Executive Jean-Frédéric Dufour has today informed Rolex staff that they will be shutting down three factories in response to the increasing threat of COVID-19, from 5pm today.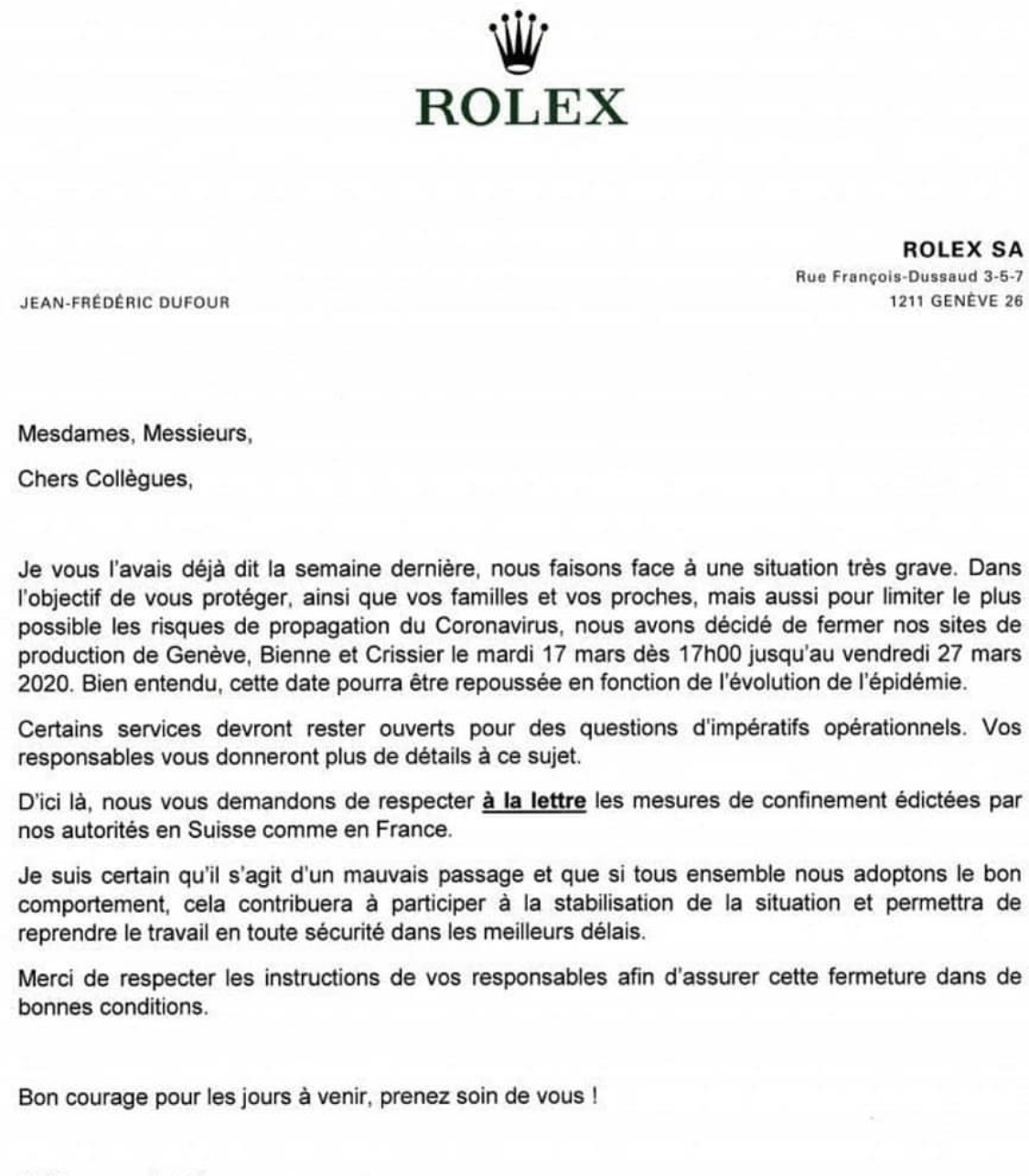 First reported by WatchPro USA, the news of the shut down was shared to Rolex employees in a letter, indicating the shut-down is set to last 10 days. Factories will look to reopen on March 27, should the danger of Coronavirus been seen to have reduced during that period.
In an environment where many Rolex models, specifically stainless steel Professional models, are very difficult to purchase at retail due to immense demand, this is sure to exacerbate the situation where waiting lists are measured in years, not months.
The full transcript of the letter shared with Rolex employees (originally in French), is below:
Like I have already said, we are going to face a very serious situation. With the objective to protect you, your familes and those close, but also to limit risks of propagation and the spread of Coronavirus we have decided to close our sites of production in Geneva, Bienne and Chirst from Monday 17th of March until Friday 27th of March. 

This date is subject to change based on the evolution epidemic.

Certain services will stay open to answer imperative operational questions.

We will send more details on the subject.

From here we ask you to respect the letter, and the measures of confinement specified by the authorities in Switzerland and in France.

I am certain this bad passage in time will pass and we will adopt composure and contribute to stabilising the situation and permit work in the best fashion.

Thank you for accepting the instructions of your managers to ensure this closure in good conditions. I hope it all ends, good luck for all the days to come and take good care of yourself.