Timewarp treasures – 8 totally tubular watches from the 1980s
Tom Austin
The 1980s are often referred to as a decade of decadence and excess. With the rise in consumerism, along with the explosion in everything in pop culture from movies to music videos, and the golden age of the celebrity, many cult classics were made legends in the '80s. Gordon Gekko was prowling Wall St with his golden Cartier, the mustachioed Tom Selleck speeding in his Ferrari, Pepsi GMT flashing in the Hawaiian sun. We all wanted to be Magnum PI, George Michael or Madonna, and those old photos you have tucked away prove it. The fashion trends shifted faster than ever before, and this happened in watches too. We saw wristwatches become an even stronger aspect to accessorising, and designs shifted from the retrofuturistic wonders that dominated the '70s, to bold, vibrant colours and digital screens. In between the rolled-up blazer sleeves, the permed, bouffant hairstyles, and the dubious amount of spandex, there were some seriously cool watches that emerged in the 1980s, and we've picked out 8 of the best that made a huge impact in their day. Of course, they'll all go great with your shell suit.
Hublot Classic Original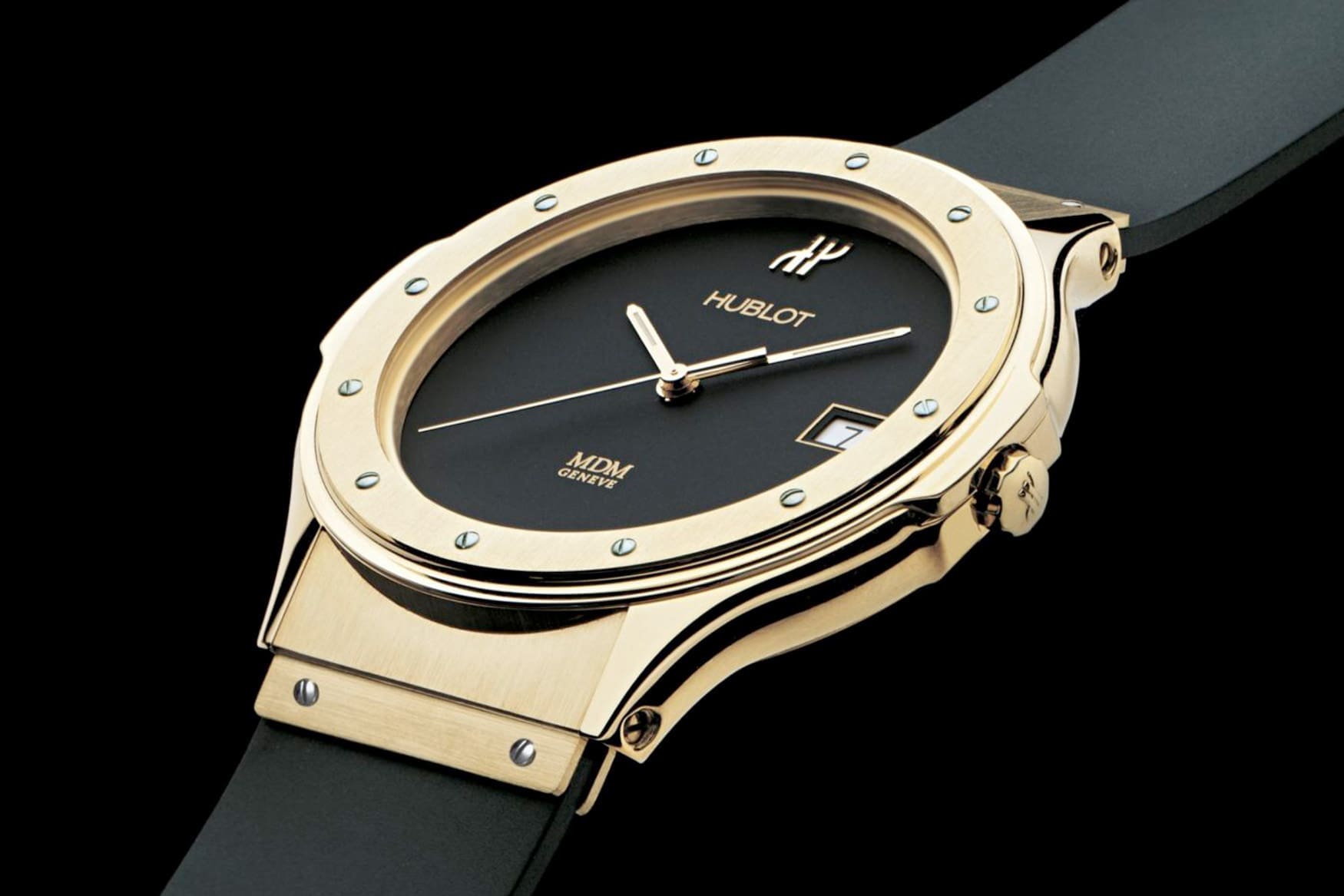 Hublot defied convention in 1980, when a young upstart by the name of Carlo Crocco combined Swiss craftsmanship with Italian design and produced something wholly unconventional for its time. The Hublot Classic Original was a watch like no other, and became the bad boy of the watch industry, with plenty of success – it's said that even the Prince of Monaco was a huge fan of the quartz Hublot. In fact, "Hublot" was the original name for the watch, with the brand at the time called MDM Geneve, and the model name chosen for its characteristic bezel design resembling a porthole. This bezel was affixed with 12 evenly spaced screws, serving as functional hour markers as well as being decorative. Available in 18k gold, two-tone, and steel, the watch shocked everyone as the first precious metal watch to be paired with a rubber strap, a trend that is still in full force today and shows no sign of losing momentum. Hublot are proud of their audacity, and rightly so. The Classic Original took the sports watch and turned it upside down, upsetting the old guard and introducing new concepts to the fold that appealed to the more open-minded watch enthusiasts.
Swatch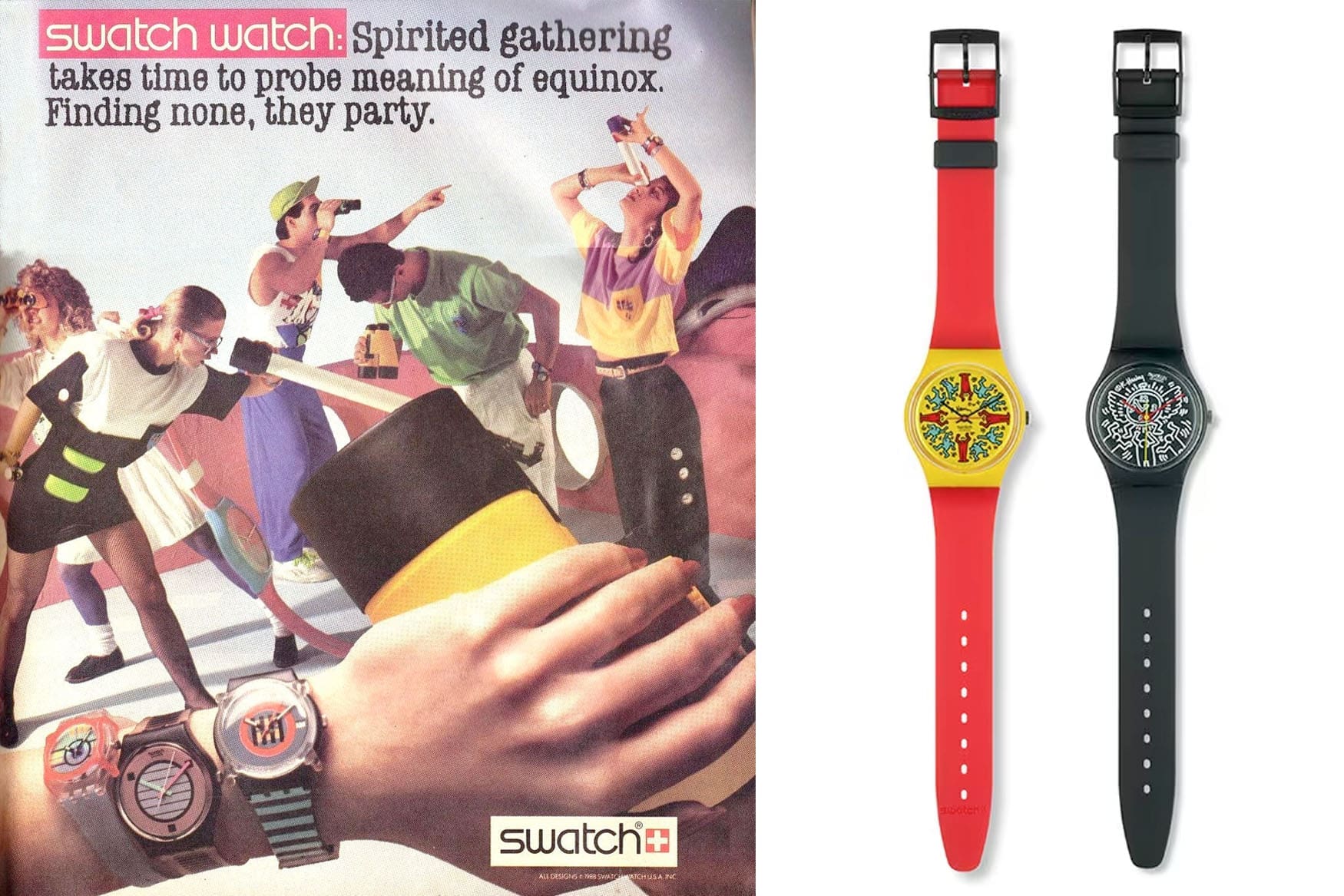 The '80s were a time when commercialism was off the charts . People today think that sell-out releases, queues and those hard-to-get items are a relatively new thing, but no, it's been happening for decades, and the 80s were where it all began. One of the original brands to kick off this culture shock was Swatch, a contraction of the phrase "second watch", producing pieces which were intended for casual and disposable use. And what a hit they were, priced at around $20, the quartz Swatch Watch became so prevalent in '80s culture that it became a status symbol, and even went as wearing multiple at the same time became a trend. The wilder the designs, the better. Queues formed, stock sold out and more and more came in their place, each design crazier than the last. Swatch also used their watches to do what had never truly been done before, introducing pop-culture figures for collaborations with artists like Keith Haring and Kiki Picasso. This meant the watches were no longer throwaway gimmicks, but the hottest thing around. The Swatch Watch was cool, accessible, and bathed Swiss watches in a new light, breathing fresh air into what was to many at the time, a stiff and dusty industry.
Omega Seamaster Polaris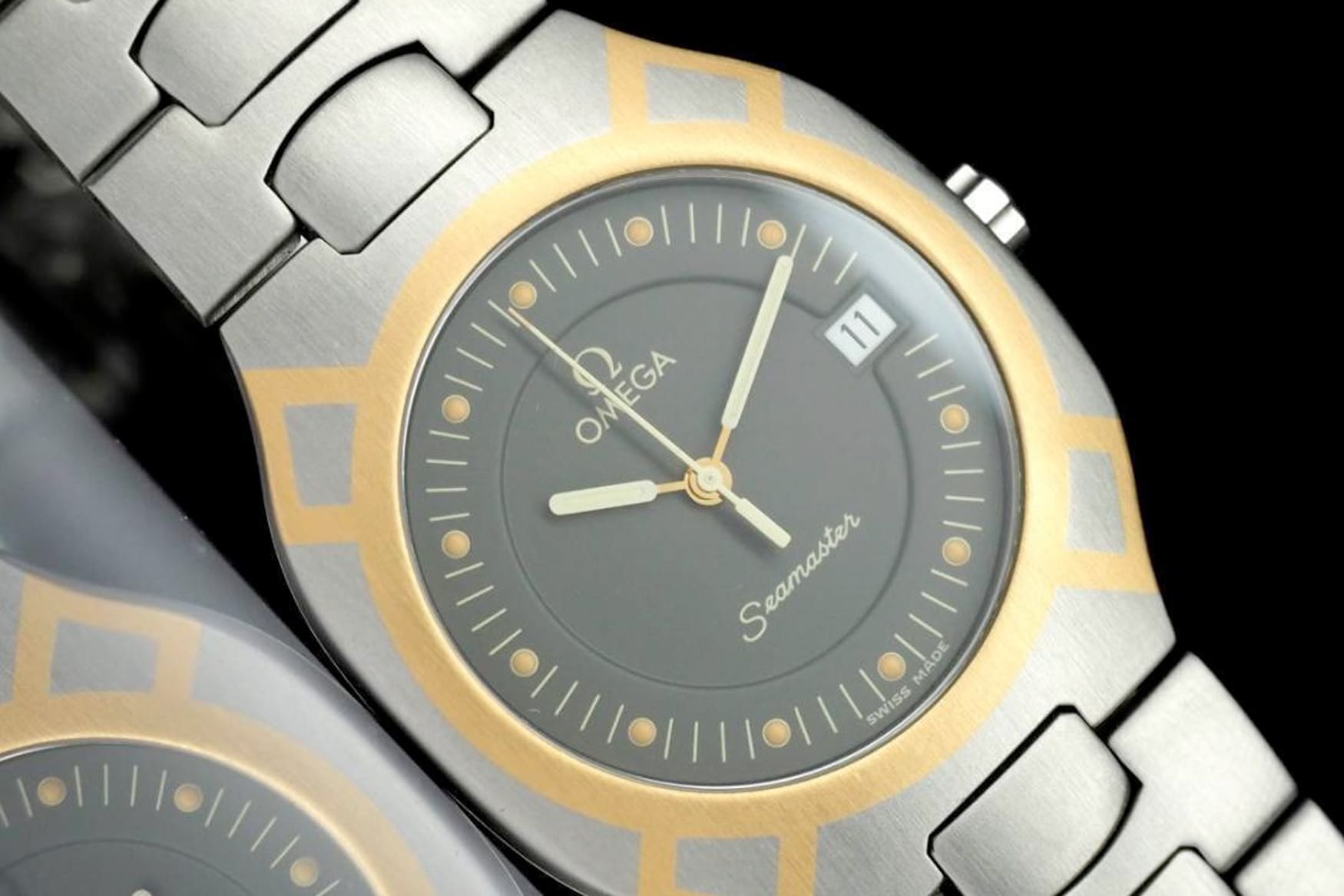 Omega dive watches are legendary. From the tool watches of the late '50s, to the wrist of everyone's favourite spy James Bond, the Omega Seamaster is a cornerstone of the brand's heritage. That aside, dive watches all kind of have the same appearance, right? Rotating timing bezel, legible dial with bright lume – it's all there. In 1982, however, a Swiss watch designer by the name of Gérald Genta had other ideas – wonder if anyone's ever heard of him? The mind behind the Nautilus, Royal Oak, Polerouter, and Ingenieur also designed the Omega Seamaster Polaris, a dive watch with a difference. Present was his signature integrated bracelet case, formed in titanium, but with something never seen before – a seamlessly integrated 18k gold inlay set into the metal itself, a construction that still remains an Omega manufacturing secret to this day. Famously worn by '80s tennis ace John McEnroe, the gold and titanium pairing was an ideal match for McEnroe's steely temper amongst the dignified formality of tennis. The Polaris exists in different sizes, calibres and dials, and even in rare palladium cases, but the original quartz-powered titanium and gold model has gone on to be a somewhat forgotten, but certainly legendary Seamaster.
Casio Databank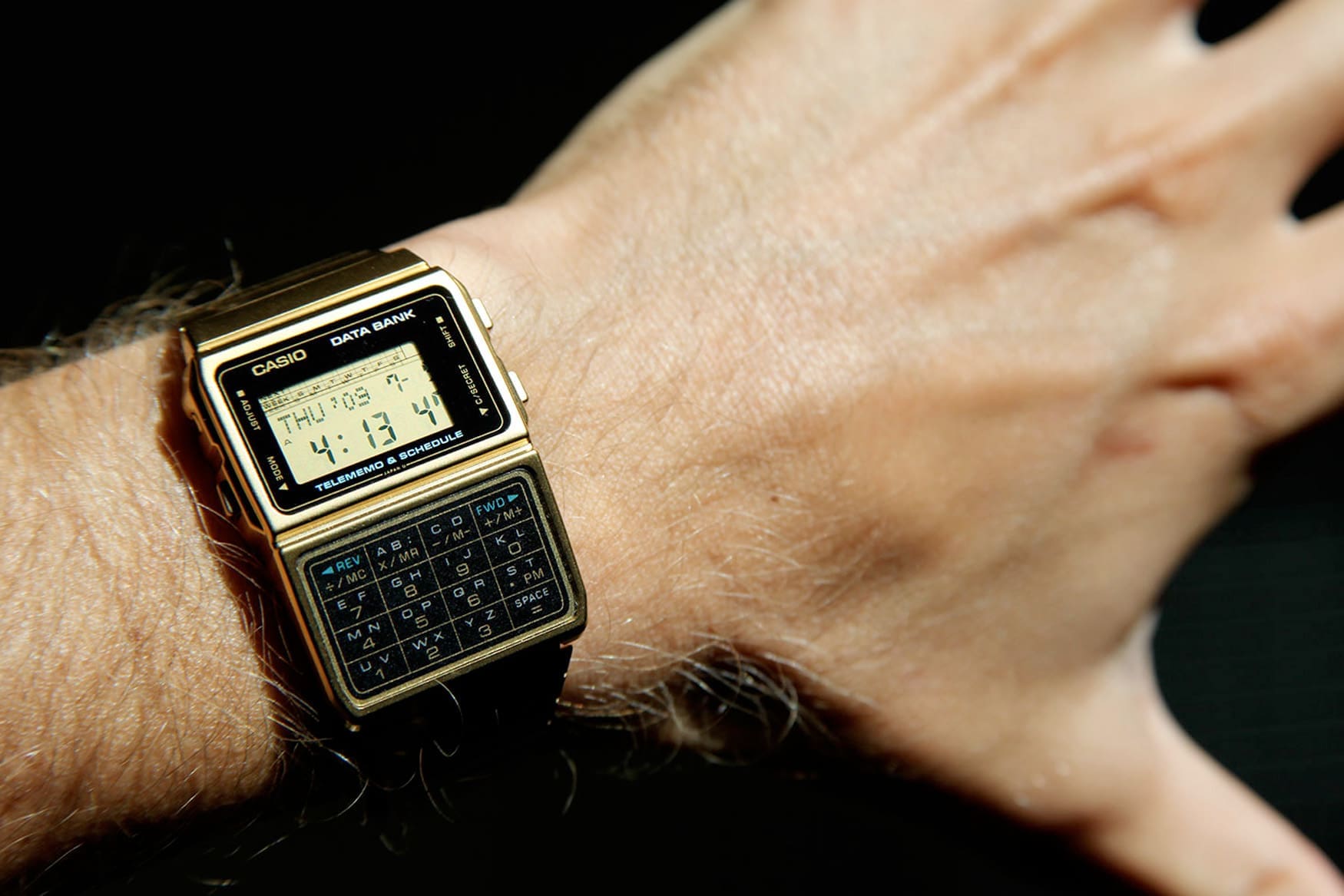 I don't think I've come across a watch where more people have said: "Oh I had one of those as a kid", than the Casio Databank. Rather than an individual watch, the Databank covers a series of digital watches that featured things like calculators and electronic personal organisers. Why did these become so popular? Well in the '80s, we had the rise of the yuppie, a word chosen to describe what was at the time a young professional living in the fast-paced business world. They were usually found sitting in their brand new BMW M3 thanks to their rapid monetary success, which came considerably faster than their taste could keep up with. I know you had red trouser-braces too, don't worry…
Anyway, every yuppie wanted the next big thing, and to be able to condense your Filofax containing your all-important contacts into the watch on your wrist was a pretty sexy proposition when showing off how important you are in the local wine bar. And so, the Casio Databank was born. The precursor to the smartwatch, it was capable of holding all your critical information and pivotal mathematic calculations, all on your wrist. However, there was a slight issue. The buttons were a tad on the small side, and as a result, became hugely popular with kids such as me, who of course had one. So many of us had these that they've since gone on to be iconic, and they were available in a multitude of styles and colours. Plastic for the kids, or gold-toned steel for the high-flying yuppies to go with their briefcase-size mobile phones.
Seiko Quartz Chronograph 7A28-7000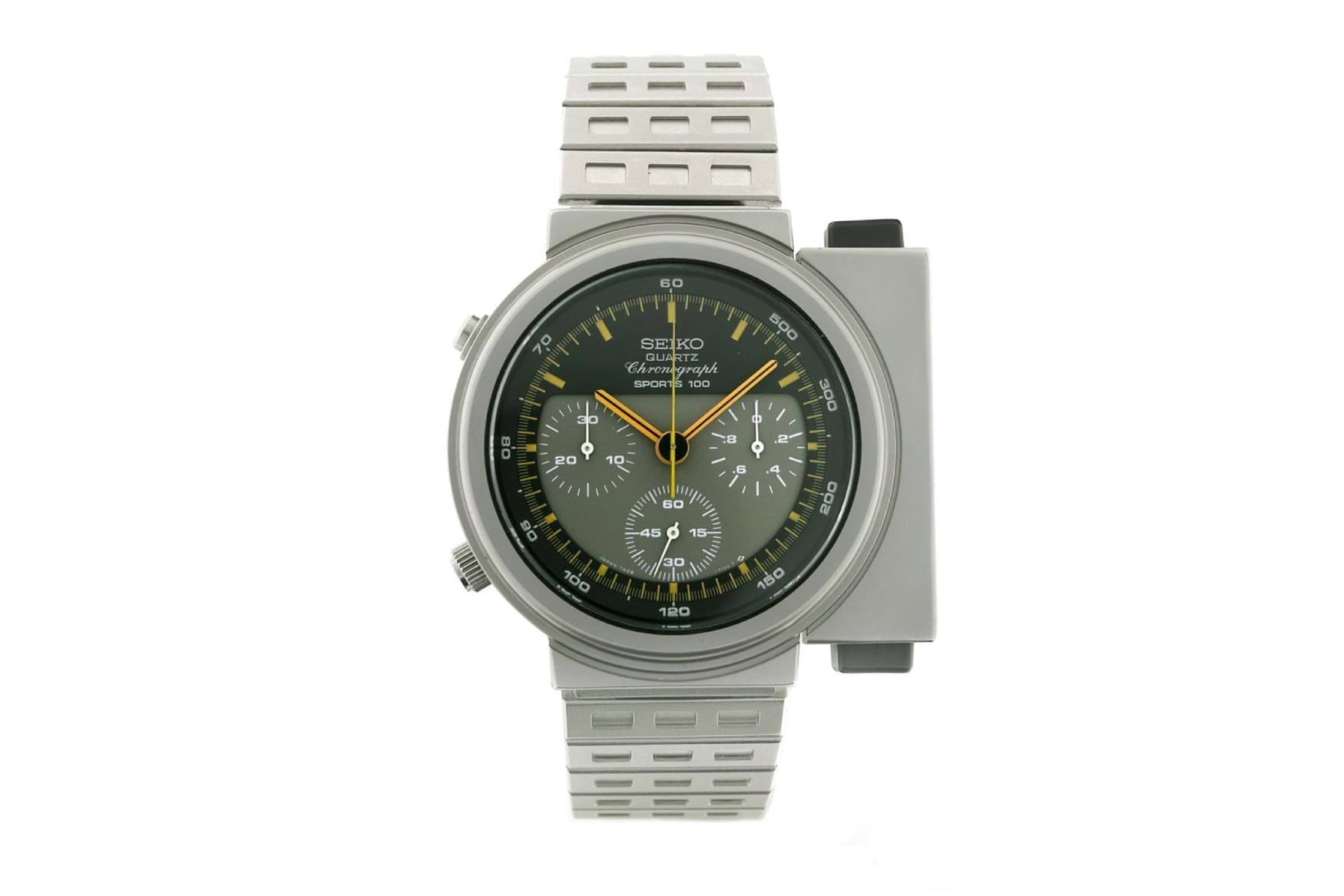 The '80s were a period where we saw arguably some of the greatest films ever made come to life, and if you're a sci-fi buff, you'll know this one all too well. The Seiko Quartz Chronograph was featured on the wrist of Sigourney Weaver's protagonist Ripley in the 1986 James Cameron sci-fi sequel Aliens. I can't think of a watch that would have suited Ellen Ripley better for the movie, it's an excellent piece of prop selection from the crew, or perhaps even Cameron himself, as he's known to be a watch guy. It's arguably one of Seiko's most famous watches, and the design captures the era perfectly, being a combination of analogue-meets-futuristic, with an industrial and military feel. The gunmetal grey steel against the black, grey, and orange-detailed dial suits the watch perfectly, along with the bracelet which fits the aesthetic of the Aliens movie and looked at home aboard the USS Sulaco. Responsible for its unique design was Giorgetto Giugiaro, a legendary automotive designer, whose portfolio comprises some seriously iconic cars -the BMW M1, Volkswagen Golf GTI Mk1 and the DeLorean DMC-12, to name a few. If you needed any more proof, Giugiaro went on to be named Car Designer of the Century in 1999. Among the hundreds of designs he's worked on, the Seiko 7A28 is one of only two watches he has ever designed. This watch isn't so much inspiration in that it served as inspiration for watches going forward, but it did become an icon in its own right as a unique piece of '80s nostalgia.
G-Shock DW-5000C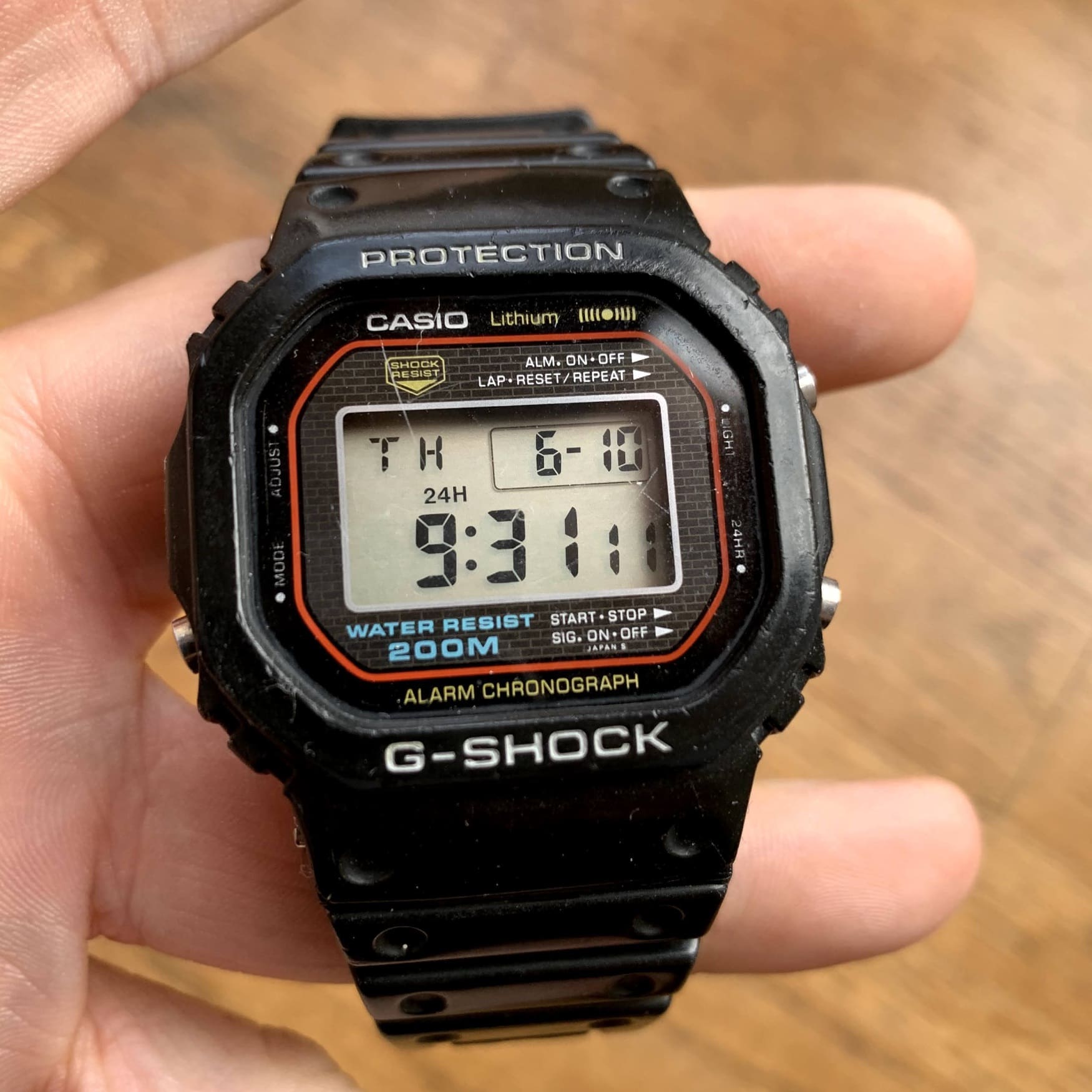 In 1981, three individuals working at the Japanese electronics company Casio were selected by engineer Kikuo Ibe to form Team Tough, tasked with solving the problem that arose when Ibe's mechanical watch accidentally fell off his wrist and was destroyed. Team Tough had one goal, to produce a wristwatch that would have what they called "Triple 10" resistance, which equated to having a battery life of 10 years, a 10-bar water resistance, and was able to survive a fall of 10 metres. Around two years and 200 prototypes later, the G-Shock DW-5000C was launched, a watch with a unique shock protection system with a "floating module" system for the quartz movement to sit in, to allow it to absorb the shocks of heavy-handedness. The watch gave birth to one of the most successful lines of watches of all time, with over 100 million G-shocks sold worldwide. The DW-5000C was where it all began, probably still the coolest G-Shock of them all with the clear and simple LCD display, urethane rubber case and strap, and a myriad of features we now expect as the norm for all G-Shocks. It's the kind of watch that you'll see anyone wearing, from young kids to seasoned watch collectors alike. In fact, I'm sure you've seen some of the most serious watch nuts wear a G-Shock, despite owning some of the greatest watches imaginable – I know I have – they're just that good.
TAG Heuer F1 Professional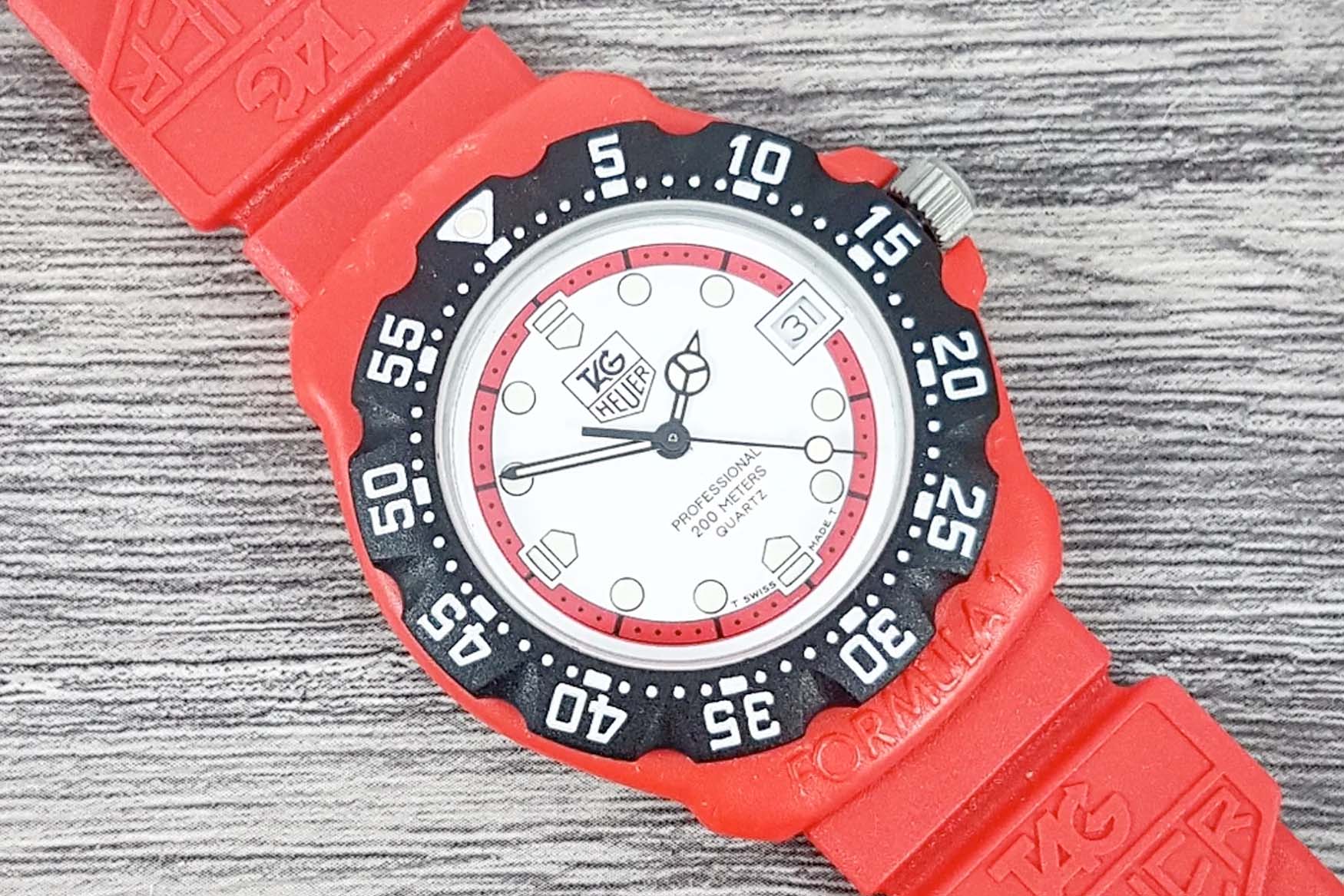 Despite some of the exciting watches in this list, the late '70s and early '80s were a particularly difficult time for Swiss watch brands. They were desperately clinging onto relevancy in the aftermath of the quartz crisis as inexpensive Japanese quartz watches had given them the runaround, and for some of these brands it was the collective kick up the backside they needed. For Heuer, things started to look up in the mid-'80s, once Techniques d'Avant Garde had bought them out and introduced the Formula 1 Professional, a watch that would see TAG Heuer on the road to recovery. This was peak Swatch time, with everyone going crazy for brightly coloured watches, so the F1 Professional was perfectly aligned, releasing in a range of vivid colours with fibreglass bezels and rubber straps. The F1 Professional, despite being only 34mm with a quartz movement, went on to be highly collectable, as it only ran in production for around four years. These days, they don't command huge prices on the vintage market, but make for amazingly quirky additions to one's collection.
Patek Philippe Calibre 89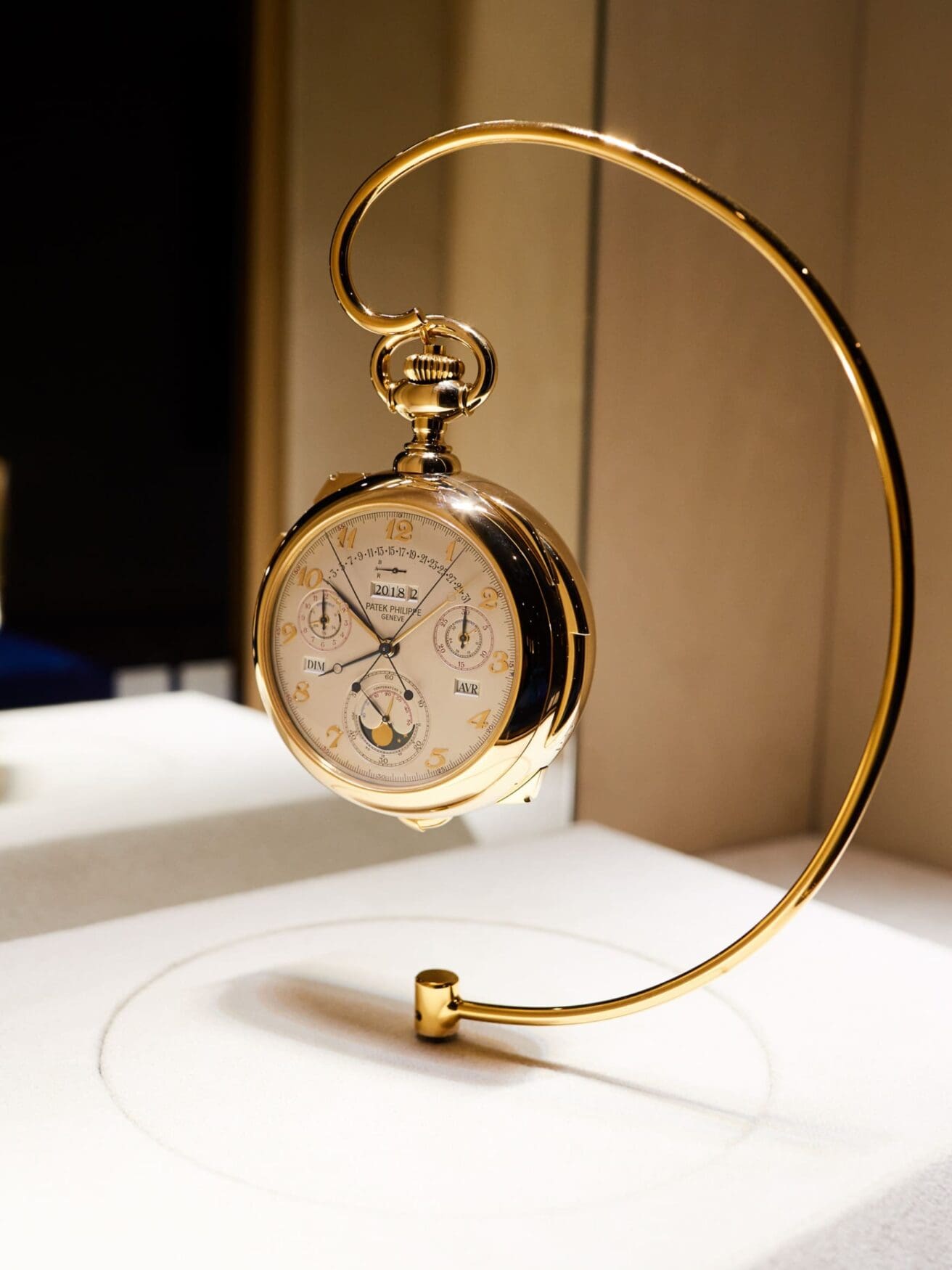 Throughout its history, Patek Philippe has created an abundance of extraordinary watches, and 1989 marked its 150th anniversary, so what better tribute than to create the most complicated watch the world has ever seen? And so, that's exactly what they did. Planned well in advance, the Calibre 89 took nine years to complete, containing 1,278 components and weighing a whopping 600 grams. It features no less than 33 complications in total, including (deep breath): world time for 125 cities, a secular perpetual calendar, a season display, a lunar orbit, a split-seconds chronograph, a minute repeater, an alarm, power reserve indicators, a thermometer, barometer, altimeter… oh, and it tells the time as well.
The watch, which perhaps is too large to be called a pocket watch, is 88.2mm wide, and crafted in yellow gold, with its three-barrel, tourbillon movement boasting three German silver mainplates with 126 jewels. It held the title for the most complicated watch in the world until 2015, when Vacheron Constantin took over with the Reference 57260, but it still remains Patek Philippe's most complicated timepiece they have ever made. The Calibre 89 is an incredible piece of history which is not only beautiful, but a smorgasbord of fascinating complications and fine craftsmanship, exemplifying Patek Philippe's history and showcasing how far they came in 150 years. We have 16 years to wait until their 200th anniversary, and I would bet my bottom dollar they're planning that bicentennial piece right now.