Borna's 5 favourite Only Watch 2023 lots
Borna Bošnjak
There are those rare times when the watch industry seemingly comes together to do something great, causing even the most devoted online trolls to retreat beneath their virtual bridges and save us from their dubious wisdom. One such occasion is the Only Watch charity auction, running since 2005 and created to benefit those affected by Duchenne muscular dystrophy. It serves as an opportunity for brands to gain some brownie points by creating and donating a piece unique to the auction, while giving fervent (and deep-pocketed) collectors a chance to own a truly unique piece from some of the most revered makers in the business. Read on to find out my favourites of the 2023 auction, before checking out the rest of the T+T team's selections.
Honourable mentions – Rexhep Rexhepi, Petermann Bédat and Auffret Paris
View this post on Instagram
Even though their creations have not been fully revealed yet, I am fairly certain that at least one, if not both, of Rexhep Rexhepi's Chronomètre Antimagnétique and the Chronomètre d'Observatoire by Petermann Bédat and Theo Auffret would've made my list of favourites.
Rexhepi's take is a tribute on scientific-dialled (also called sector dials) watches of the past, also sporting an anti-magnetic steel case made by legendary case-maker Jean-Pierre Hagmann. It will also sport a new movement, protected by two casebacks, one of which can be unscrewed by the wearer to reveal an inner sapphire one, in turn providing better anti-magnetic protection. (Estimate: CHF 100,000 – 150,000)
View this post on Instagram
The collaborative effort between Gaël Petermann, Florian Bédat and Theo Auffret takes a Zenith 135 observatory chronometer base and outfits it with signature elements of both makers. Only the gear train of the original calibre remains, with stunning charbonné decoration of the plates and the unique, Auffret shape of the click and ratchet wheel show off that the two distinct house styles pair very well.
View this post on Instagram
The dial is hewn of a pure silver blank, fully engraved and whitened using the old Breguet technique, according to Auffret, before having gold markers applied. (Estimate: CHF 50,000 – 100,000)
F.P. Journe Chronomètre Furtif
F.P. Journe continue their long-standing partnership with the Only Watch charity auction with the traditional introduction of a brand-new calibre, specially made for the event. While previous iterations of the auctions saw unique astronomical complications and a funky automaton, the F.P. Journe's Only Watch 2023 contribution comes cased in a complete tantalum case and bracelet – a world first. Taking inspiration from Journe's integrated-bracelet LineSport collection, the Chronomètre Furtif takes a blue enamel dial with more than a whiff of Chrono Bleu and gives it unique frosted numerals, visible only when the watch is facing the wearer directly. Though it takes a supporting role to the tantalum case and stealthy dial, the new 18k rose gold, hand-wound calibre 1522 is no slouch, sporting two additional complications visible through the caseback in the form of a power reserve indicator and moonphase.
Estimate: CHF 200,000 – 400,000 
Atelier de Chronométrie AdC30
Hardly any watch made by the Barcelona-based artisans could be called a regular-production model, though it is just a tad more special when a brand like this produces a true one-off. The AdC30 is equipped with Atelier de Chronométrie's in-house M284 calibre, complete with unique, hand-made frosting that sets it apart from other M284-equipped models. Developed with the help of Luca Soprana, creator of the Jacob & Co. Astronomia, this 30mm diameter calibre has all the hallmarks of vintage, manually wound movements, and my favourite feature must be the four internal angles along the anglage of the barrel plate. The case is 18k grey gold, an alloy of gold and palladium, with the grey tones echoed in the sandwich construction of the dial.
De Bethune DW5 Seeking Perfect
De Bethune's bread and butter are retro-futuristic, sci-fi inspired designs the likes of wouldn't look out of place in the original Star Wars trilogy, minus the janky but loveable special effects. The DW5 Seeking Perfect further plays on that trope with its Damascus-steel case forged with the ores found near the brand's headquarters. Even cooler is the fact that head De Bethune boffin Denis Flageollet employed ancient smithing techniques to create it – and we didn't even talk about the movement yet. The calibre DB2149 sports a high-beat, ultra-light silicon and titanium tourbillon, four-day power reserve, self-regulating dual barrels patented by De Bethune, and many more patented features, though most are hidden by the space-age case. Thankfully, De Bethune leaves a porthole at the back of the watch that allows a glance at the flat terminal curve balance spring-equipped tourbillon.
Estimate: CHF 220,000 – 270,000
Furlan Marri x Dominique Renaud x Julien Tixier Secular Perpetual Calendar
Furlan Marri's Secular Perpetual Calendar shows just how far a Miyota-derived, time-only movement can go. That is, if you can get a little help from your friends who happen to be leading designers and complication makers to create a custom, patented secular calendar module just for you. The first friend you've likely heard of – it's only Dominique Renaud, co-founder of Renaud & Papi, working reviving A. Lange & Söhne with the 1994 Tourbillon Pour le Mérite, the first wristwatch with a fusée and chain. While Monsieur Renaud was responsible for its design, the execution came down to the expertise of Julien Tixier, previous collaborator with Renaud on the Tempus Fugit, one of the most brilliant pieces of watchmaking I've ever seen (for your watching pleasure, courtesy of Watches TV). Owing to its secular nature, the movement will need no adjusting for the next four centuries, all corrected by a single pusher and cased in rhodium-plated steel beneath a titanium dial that's openworked to give a small insight into the calendar module. Quite a way to enter your first-ever Only Watch, especially for a brand mostly concerned with value-proposition pieces, incidentally, all of which you can find here 🙂
Baltic Experiments Premier Quantième Perpétuel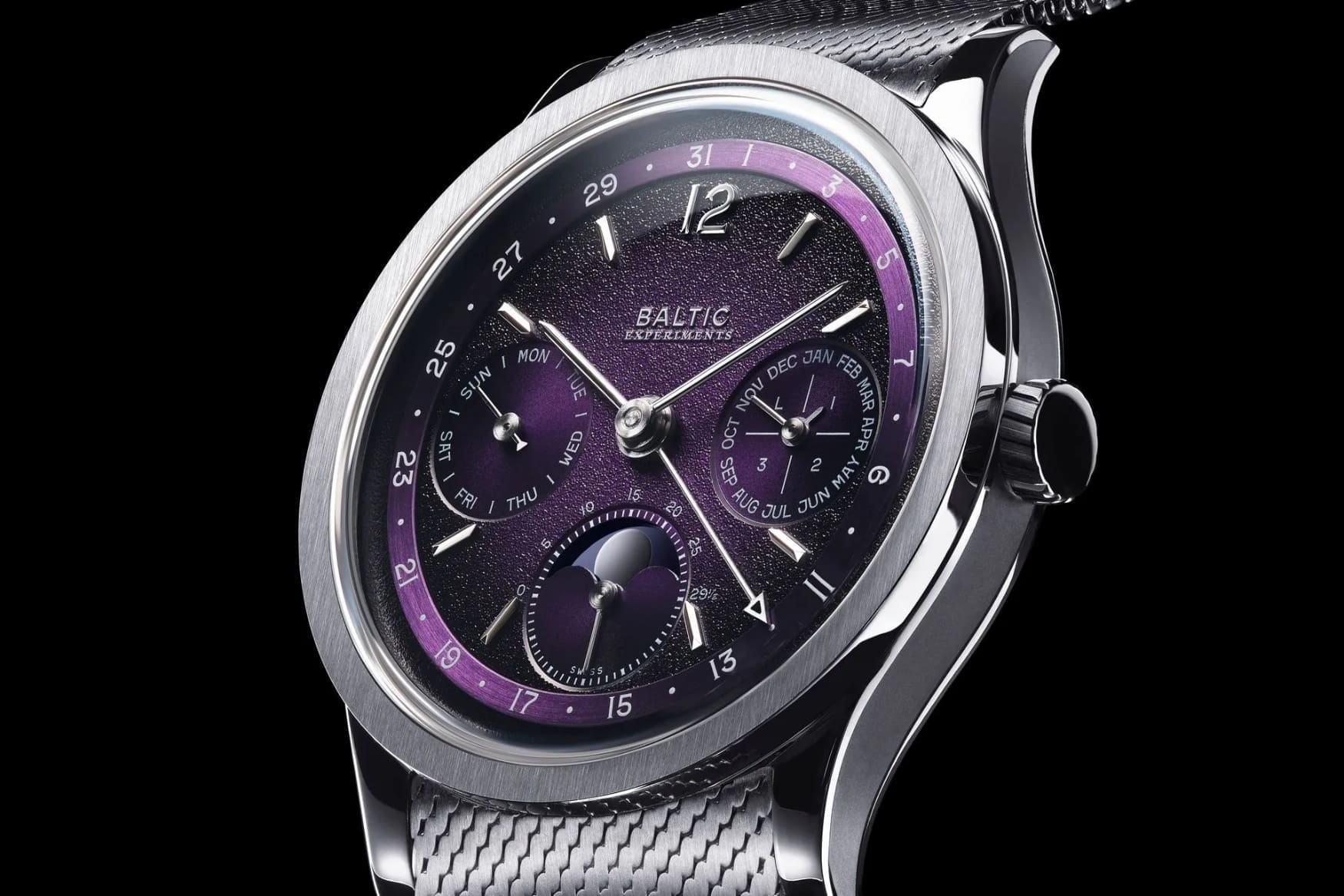 From one small independent brand to the next, Baltic is launching a new division concerned with fine watchmaking named "Baltic Experiments". For their second Only Watch entry, the brand has been developing an in-house perpetual calendar module, helped by the specialist manufacture of Maclef. The result is a very purple, very legible perpetual calendar with moonphase powered by a micro-rotor Vaucher 5401 calibre, which has been previously used for a perpetual calendar base in the Baume & Mercier Clifton Perpetual Calendar ref. 1830. It's wonderfully thin at only 2.6mm, allowing the overall case to sit at 9.8mm in height – in spirit with the brand ethos when paired with the 37mm diameter and 44mm lug-to-lug measurements. While we won't stock this particular model, you can find the entirety of the brand's catalogue in the Time+Tide Shop.