Nicholas Alexander Kalikow is a producer, director, screenwriter and photographer. He loves being on set and working with talented people to make films and take photos.
Hi Nicholas, what's your daily watch and why?
Right now it's a Patek 5167A Aquanaut. I like it because most people don't know what it is and I can wear it with jeans and a T-shirt or a tux. And a Rolex 16710 GMT II Pepsi. I think the Pepsi GMT is the coolest watch around and incredibly useful if you travel a lot or have business in multiple time zones (like I do).
What else is in your collection? Have you got a favourite?
I have a few Tudors, Heuers and Rolex watches from the '50s to the early '80s. Highlights include a Tudor Snowflake Sub, an Omega Speedy 321, and a Rolex 5513 and 1016 (both of which I bought before the prices shot up). Right now my favourites are my 1969 Rolex 1675 GMT and a Heuer 2446C Autavia GMT.
How did you find yourself collecting watches? Do you remember your first piece, and do you still have it?
Like many kids with dyslexia, I had a hard time learning my left from my right, so my mother bought me a Casio, put it on my left wrist and said, "Whenever you get confused, the watch is on the left." We also had a family friend who wore a GMT (probably a 16750) that I thought was cool. The 16710 Rolex was my first nice watch. After a brief interest in Panerai, I started selling them and bought my 5513 Sub (for maybe 50 per cent of what they go for today). That was how the interest got started.
How did you find yourself writing/directing/producing? Was it something you always wanted to do?
When I was a kid, my parents took me to see Return Of The Jedi. I had popcorn, a Coke, M&M's … and Darth Vader was 20-feet tall! I was the happiest kid on Earth! I still love films, both blockbusters and tiny indie films. After college, I worked at Miramax briefly but left to go to law school, but before I applied, I produced a short film and law school never happened. I would've been a terrible lawyer.
How important is good timekeeping to your work?
It's actually really important. My work takes me to Canada, NY, England and Italy, so watches with a GMT function are a huge help. But for table reads and when I'm actually on set, a chronograph is really useful. The watch I mainly wear is an Omega Speedy I bought new about seven years ago. The chrono lets me keep track of how we're doing on lighting changes, lens swaps, how long an actor takes to cross a set, etc. Stanley Kubrick was often seen wearing a Heuer Monaco, and I assume it was for the same reasons I wear a chrono.
Tell us about what you're working on at the moment?
So right now my film Carter & June is in theatres in the US. It's also available on iTunes, Hulu, Amazon Prime and just about every other streaming service (not Netflix, that's a separate deal). A car documentary I produced called The Mirage is playing on a few services, but you're going to have to hunt for that one. The first film I directed, Concrete Blondes, is also available on iTunes. I have a few projects in the works, but right now I'm focused on commercial work.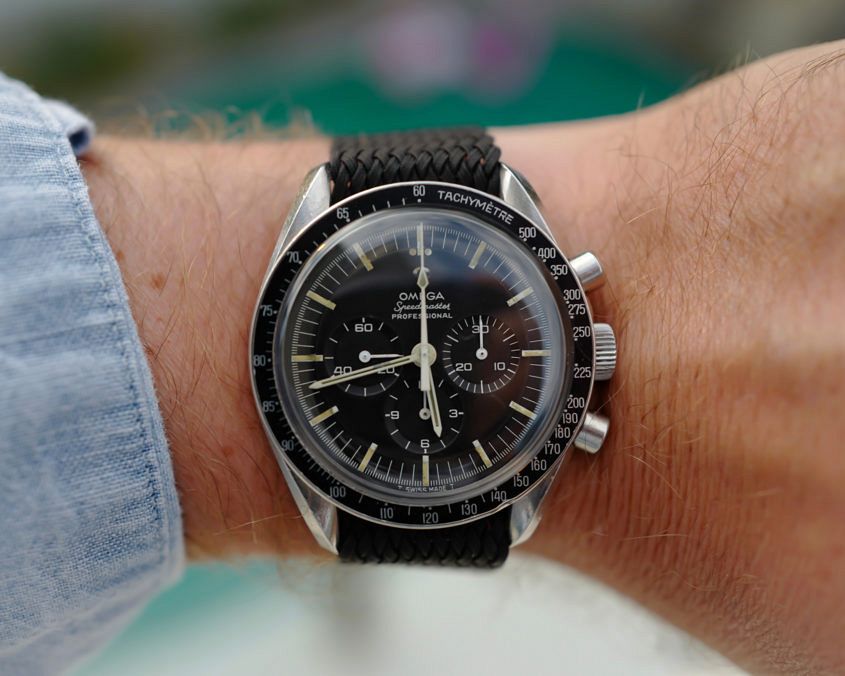 Have you noticed any unusual or memorable watches on set?
Hmm, I learned the chronograph thing from my 1st AD who had been an Olympic rower for Germany; needless to say, that set ran flawlessly.
Lastly, do you have any cool 'prop watch' stories? These days, whenever a watch is used in a big film as a prop, we see the watch media go crazy. Being a watch connoisseur, have you ever found yourself giving this area extra attention?
In Carter & June, Carter wearing his grandfather's Omega Seamaster was a thing, but that got cut from the script. We gave Michael Raymond-James the watch as a 'wrap gift'. In Concrete Blondes the character Tara (played by my friend Samaire Armstrong) is a lesbian and wears a Rolex GMT as a nod to Pussy Galore from Goldfinger.