Ulysse Nardin are helping save the oceans with the Diver Net Azure and Diver X Skeleton Azure
Mitchell Barber
Environmentalism and luxury are two things that don't really fit perfectly together in my  brain. An industry that creates so much waste yet promotes a lifestyle surrounded by beauty just doesn't add up. I grew up in a small beach town and was in the ocean every day after school, surfing and swimming with turtles…. I know, sounds idyllic. I was pretty lucky to be that close to nature, and I've gained an appreciation that I think a lot of my fellow city-dwellers miss out on. We need to look after our oceans. It's on-trend these days to care about nature, so many companies are jumping on the environmental bandwagon, but how serious are they? To celebrate World Oceans Day, Ulysse Nardin have launched two ocean-inspired versions of their Diver Net Azure and Diver X Skeleton Azure. Both are connected to the ocean in aesthetics, but the sentiment is more than skin-deep for these two uber-luxury divers.
Here's how it usually goes. A brand wants to appear more "green" so they slap a logo on their product, pledge to take some tokenistic amount of rubbish out of the ocean and call it a day. Hoping that no one will notice that they haven't actually done anything. So when a luxury brand like Ulysse Nardin releases a product that claims to support ocean conservation, I'm more than a little sceptical. If it sounds too good to be true, it typically is. I am, however, constantly impressed with Ulysse Nardin and their commitment to doing things properly. So, let's see if that translates from watchmaking to environmentalism.
The case is trash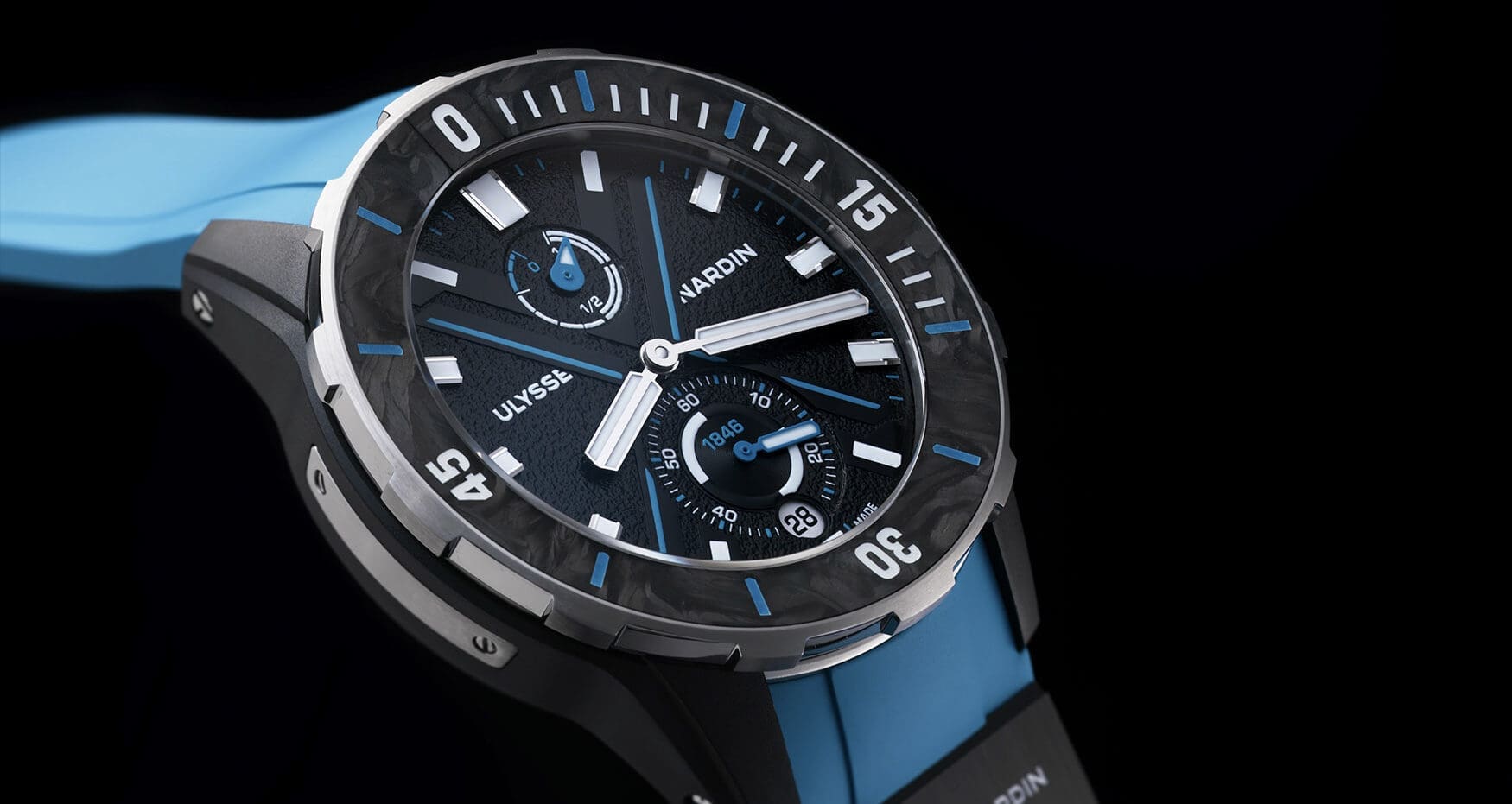 Of the two 44m cases, the Diver Net's version is the most interesting. It's made up of components crafted from Carbonium® (40% lower environmental impact than other carbon composites), Nylo® (recycled polyamide from fishing nets), and 95% recycled steel. What's fascinating about the Diver Net and Ulysse Nardin as a whole is that they are continuously reiterating what they have done in the past. Recycled steel is nothing new, but with this new edition they have increased the recycled content from 80% to 95%. This is a change that has very little practical impact for the wearer but proves to me that they are serous about improving their sustainability credentials moving forward.
The Ulysse Nardin Diver X Skeleton Azure comes in a more conventional DLC-coated titanium case. You still get a touch of Carbonium in the bezel, but this one misses out on the recycled fishing nets. This feels like a missed opportunity to me, it would have been great if they could use the same case as the Diver Net. I would be remiss to write an article about dive watches and not mention water resistance. The Diver Net Azure is water-resistant to 300m and the Diver X Skeleton Azure comes in at 200m. 
To skeleton or not to skeleton
The Diver Net is powered by the UN-118 Manufacture calibre and features hours, minutes, small seconds, date, and a power reserve indicator. Made up of 260 well-finished components, it's a great looking movement that fills out the case well. The Skeleton X, on the other hand, is a little more exotic. As the name suggests, the  UN-372 Manufacture calibre is generously open worked, to the point where you can see so clearly through it that it reminds me of a glass–bottom boat. Both watches feature extensive use of silicon within their movements. This is something that I've come to expect from the brand, as they were the first to commercialise the material, after all, first using it in the renowned Freak.
Dials, or lack thereof
Where the two watches differ most is in their dials. The Skeleton X has beautiful openworked architecture that is all about the negative space. You can see straight through it, and although it's an effect that is most noticeable when it isn't on the wrist (do we really want to see our sweaty wrists through a watch?), it's still an impressive spectacle. I especially love the silicone balance wheel at six and the carbonium-capped barrel at 12. With the diver net, you're getting an intricate sandblasted finish with a little more functionality thrown in. A power reserve is present at 12, plus the small seconds and date indicators are nestled at 6. Both dials offer impressive balance both vertically and horizontally, but my pick has to be the Skeleton for its sheer drama.
The impact 
Ulysse Nardin's affinity with the ocean is more than skin deep. The manufacturer started producing marine chronometers all the way back in 1846, and have since focused much of their marketing and watchmaking efforts on ocean-themed watches – the sharks on their website are a dead giveaway. With these two pieces, they are directly supporting ocean conservation via a partnership with shark expert Mike Coots and OCEARCH, a non-profit organisation that conducts research on great white sharks to promote innovation in science, education, and policy. Ulysse Nardin's contribution to the partnership extends to putting their expertise in innovation and timekeeping towards the cause. They are actually getting their hands dirty. With the impressive use of sustainable materials, plus their support of a worthy cause, I think Ulysse Nardin have earned the right to call themselves environmentalists. Although no company is perfect, I'm glad there are some in this industry that are taking the steps towards positive impact. 
To close out, the most sustainable thing any of us could do is to stop consuming, but at the end of the day, that's just not realistic. Instead, we should be focussing on bringing our 'net' impact down to a sustainable level, while still living our lives. We all love watches, and don't want them to go away, but with an increasing awareness of sustainability from consumers, brands are going to need to innovate to stay ahead of the curve. It's up to us as consumers to make the right choices that will encourage brands to innovate and improve themselves.
Ulysse Nardin Diver Net Azure & Diver X Skeleton Azure pricing and availability
The Ulysse Nardin Diver Net Azure are Diver X Skeleton Azure are available now from Ulysse Nardin. Price: US$12,600, €12,700 (Diver Net Azure), US$26,400, €26,800 (Diver X Skeleton Azure)
Brand
Ulysse Nardin
Model
Diver Net Azure
Diver X Skeleton Azure
Reference Number
1183-170-2B/3A
3723-170-2B/3A
Case Dimensions
44mm (D)
Case Material
Carbonium, Nylo and stainless steel (Diver Net Azure)
DLC-coated titanium (Diver X Skeleton Azure)
Water Resistance
300 metres (Diver Net Azure)
200 metres (Diver X Skeleton Azure)
Crystal(s)
Sapphire crystal front and back
Dial
Sandblasted black or skeletonised
Strap
Blue rubber strap with ceramic and titanium folding clasp
Movement
UN-118, in-house, silicon escapement (Diver Net Azure)
UN-372, in-house, Carbonium barrel cover, silicon components and escapement
Power Reserve
60 hours (UN-118)
96 hours (UN-372)
Functions
Hours, minutes, small seconds, date, power reserve (UN-118)
Hours, minutes, seconds (UN-372)
Availability
Now
Price
US$12,600, €12,700 (Diver Net Azure)
US$26,400, €26,800 (Diver X Skeleton Azure)