Tom Brady continues on an absolute tear with his exponentially growing watch collection
Zach Blass
Editor's note: We published a story on retired NFL quarterback Tom Brady last month and how he was on a retirement Rolex bender. He was spotted with heavy hitting rare Arabic dial Day-Dates, and funky W&W 2023 debuting celebration and jigsaw dial Rolex watches all in just a short few months. This alone was a Rolex rampage, but it turns out the horological Tom Brady tear was just getting started. So, we have updated this list with one spot we missed in May along with five new hot spots from this month alone. And, no, they are not all Rolex…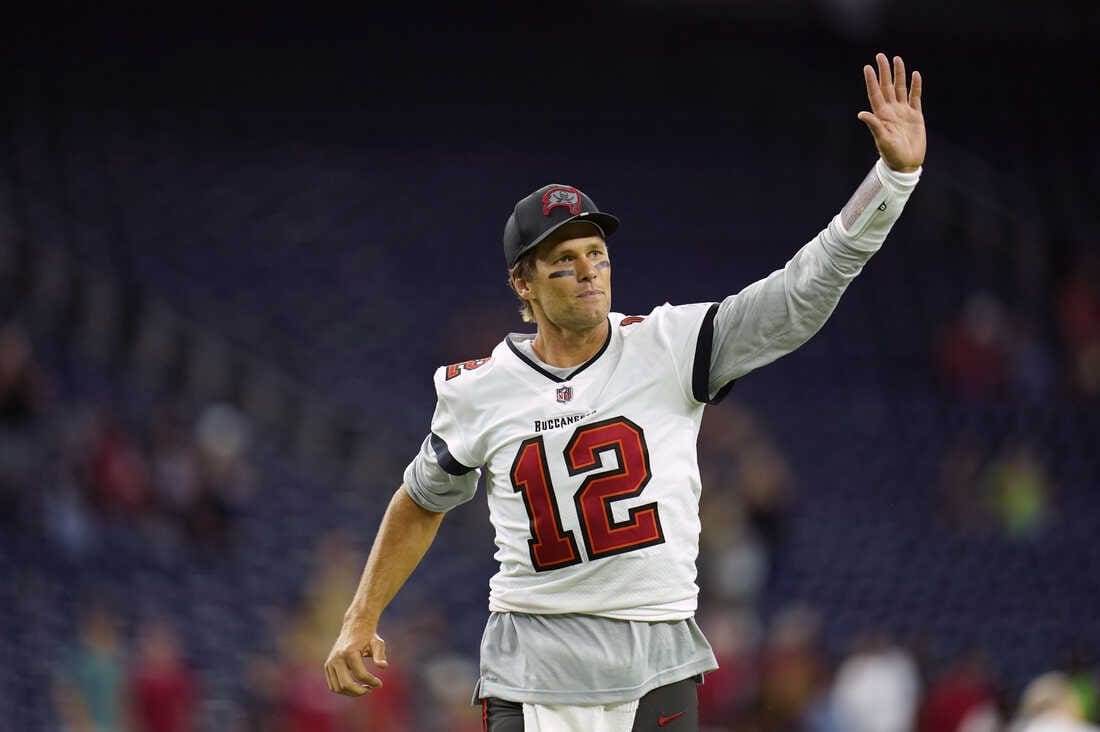 In the watch collecting community, the idea of a 'retirement watch' is a well-known concept. Frankly, these days, collectors will look for any excuse to dub something a milestone worthy of being commemorated with a watch. The idea of a retirement watch, however, is as legit as they come. Whether retirement, or years of service, many horological fans celebrate with a Rolex – a symbol of success and prosperity. Tom Brady, one of the greatest NFL quarterbacks of all time, which pains me to write as a New York Giants fan, officially retired from American football in February 2023. Now, Tom has long had ties to watches, whether through his former ambassadorships for both TAG Heuer and IWC, or his continued status as a stakeholder in Hodinkee. Now free of the shackles of ambassadorship, he can wear whatever he wants, and in his retirement and with more time on his hands, the 46 year has been going on an absolute horological bender – bringing in new timepieces to his rapidly growing collection.
April 2023: Rolex Day-Date 40 platinum with ice blue Arabic dial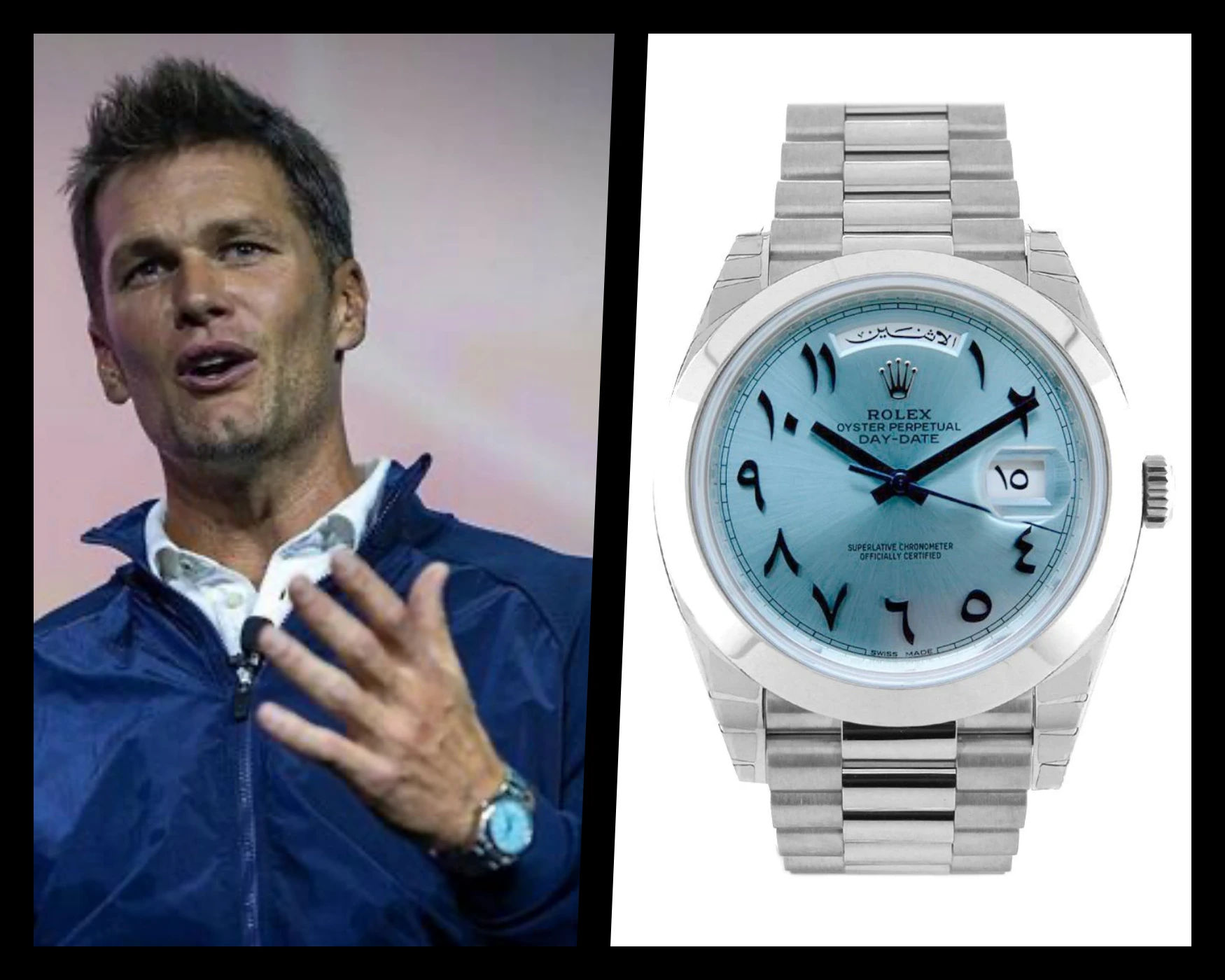 Watch-spotters started paying more attention to Tom Brady in April this year, when he delivered keynote remarks in Miami at eMerge Americas 2023 – an annual event centred around tech companies, start-ups, and more. Yes, Brady is primarily known as an athlete. But, according to eMerge Americas: "Brady's serial ventures include Autograph, a first-of-its-kind, experience-driven NFT platform that brings together the most iconic brands and biggest names in sports, entertainment fashion, and pop-culture to create unique digital collectibles, and his namesake next generation apparel brand, BRADY. He is expanding his portfolio with his global, multi-platform content company 199 Productions, which already boasts numerous high-profile projects including a partnership with ESPN, Disney, and Religion of Sports to produce the tentpole docuseries Man in the Arena, to tell the story of Brady's iconic NFL career." His savviness off the field is clearly paying dividends, as the Rolex Day-Date 40 in platinum with a rare ice blue Arabic dial typically sells on the secondary market for 'price upon request', with more transparent listings offering the watch for anywhere between US$130k – US$400k.
May 2023: Richard Mille RM 11-03 Flyback Chronograph in titanium
View this post on Instagram
In may, during a lunch with Michael Rubin, an American businessman who is the world's leading provider of licensed sports merchandise, Brady flexed his success with a Richard Mille RM 11-03 Flyback Chronograph in titanium worth around US$280K on the secondary market. The watch carries the signature tonneau case and openworked mechanism that reveals the complexity of the robust chronograph calibre.
June 2023: Rolex Day-Date 40 white gold with green Arabic dial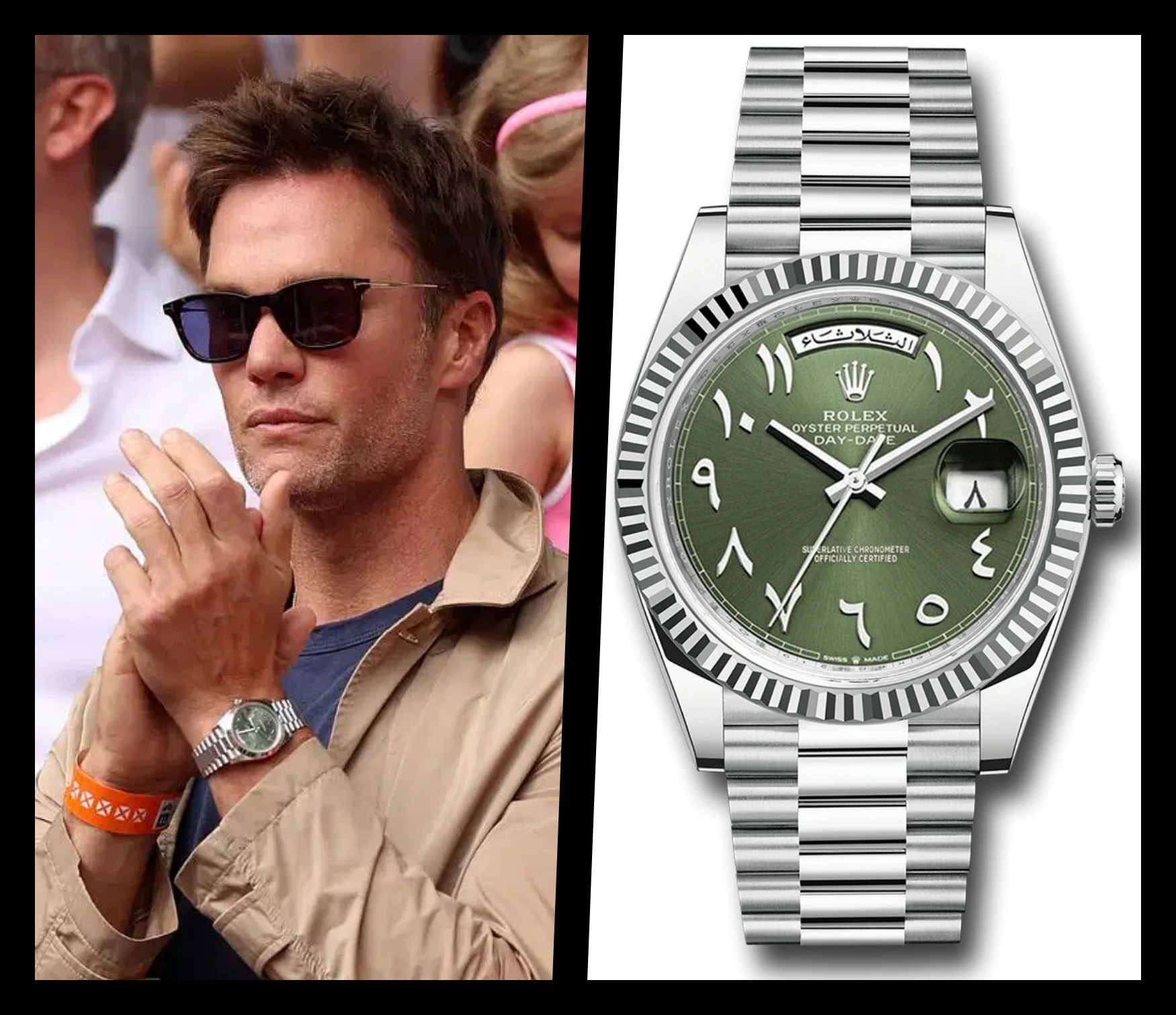 A few months later, Tom Brady would be photographed at Roland Garros spectating the French Open final between Hublot ambassador Novak Djokovic and Fleming ambassador Casper Ruud, seated next to Djokovic's wife Jelena. Confoundingly, Brady, known as a conservative in America, once again finds himself wearing an Arabic-dialed Day-Date – but this time with a green dial and case and bracelet in white gold. As we have established he is in a rather investor phase of his life, I am inclined to believe he is well aware of the value of these rare Rolex watches and that this aspect is the big draw for him.
August 2023: Rolex Oyster Perpetual 'Celebration Dial'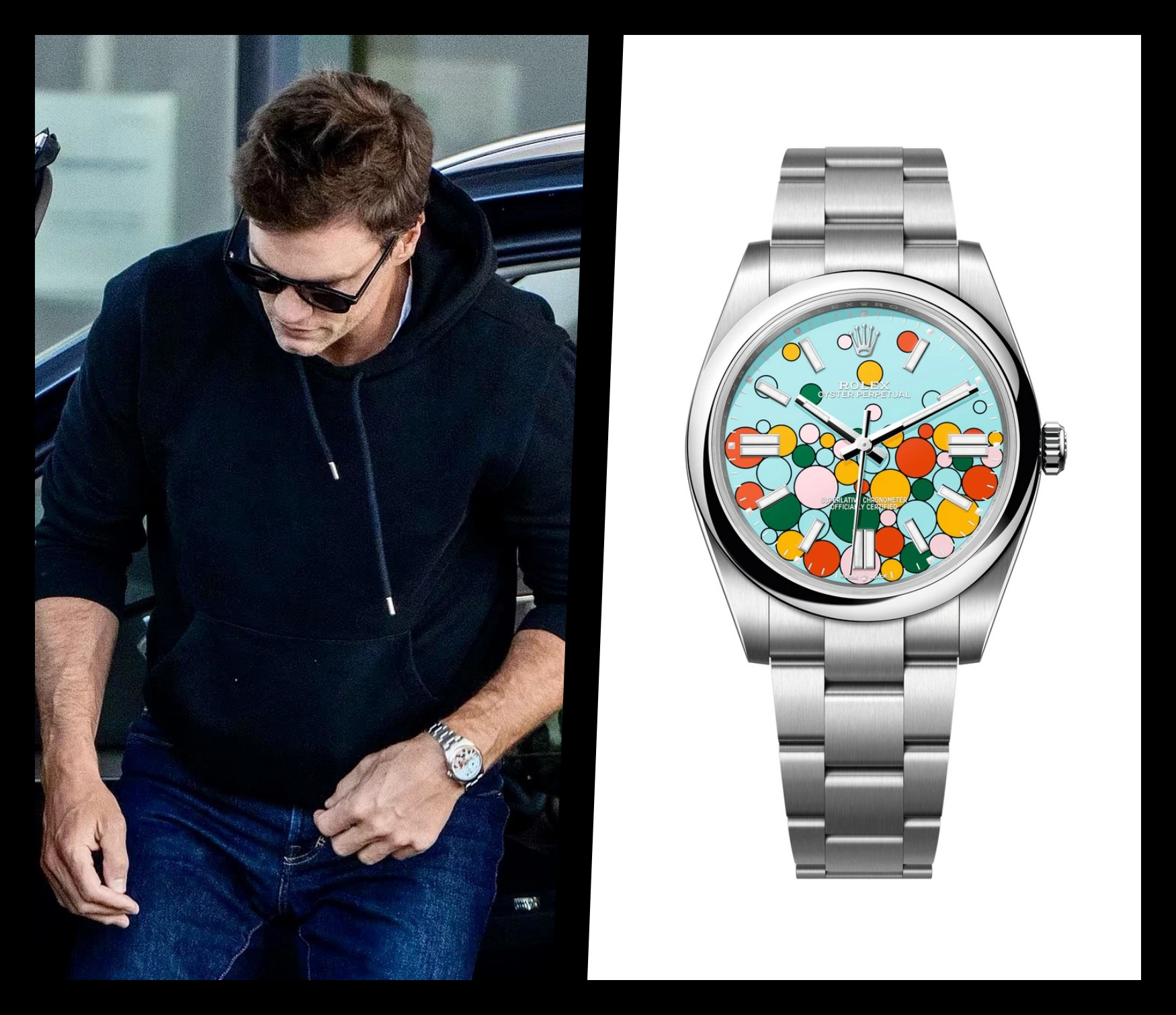 This month, however, he has been spotted wearing not one, but two of the most surprising Rolex releases of Watches & Wonders 2023 – watches that led us all to believe Rolex designers went on an acid trip retreat, before coming up with these weird and wonderful (in my opinion) novelties. The first of the two was captured while Brady was in London, seen leaving a boutique hotel after allegedly spending two days with Russian model Irina Shayk who he is currently rumoured to be romantically linked with.
On his wrist was the Rolex Oyster Perpetual 'Celebration Dial', a remix of the 2020-debuting turquoise Oyster Perpetual that is covered with a motif of balloons floating up the dial. The the balloons themselves are coloured in line with the other Stella-inspired lacquer dial OPs from 2020. It does not seem like a watch that would be an American footballer's first choice, but then again, the watch and its rarity have it set to be a rather strong investment. The other possibility is that the 46-year-old clearly likes to have fun with it – especially after seeing the Rolex he was most recently spotted wearing.
August 2023: Rolex Day-Date 36 'Jigsaw' in Everose gold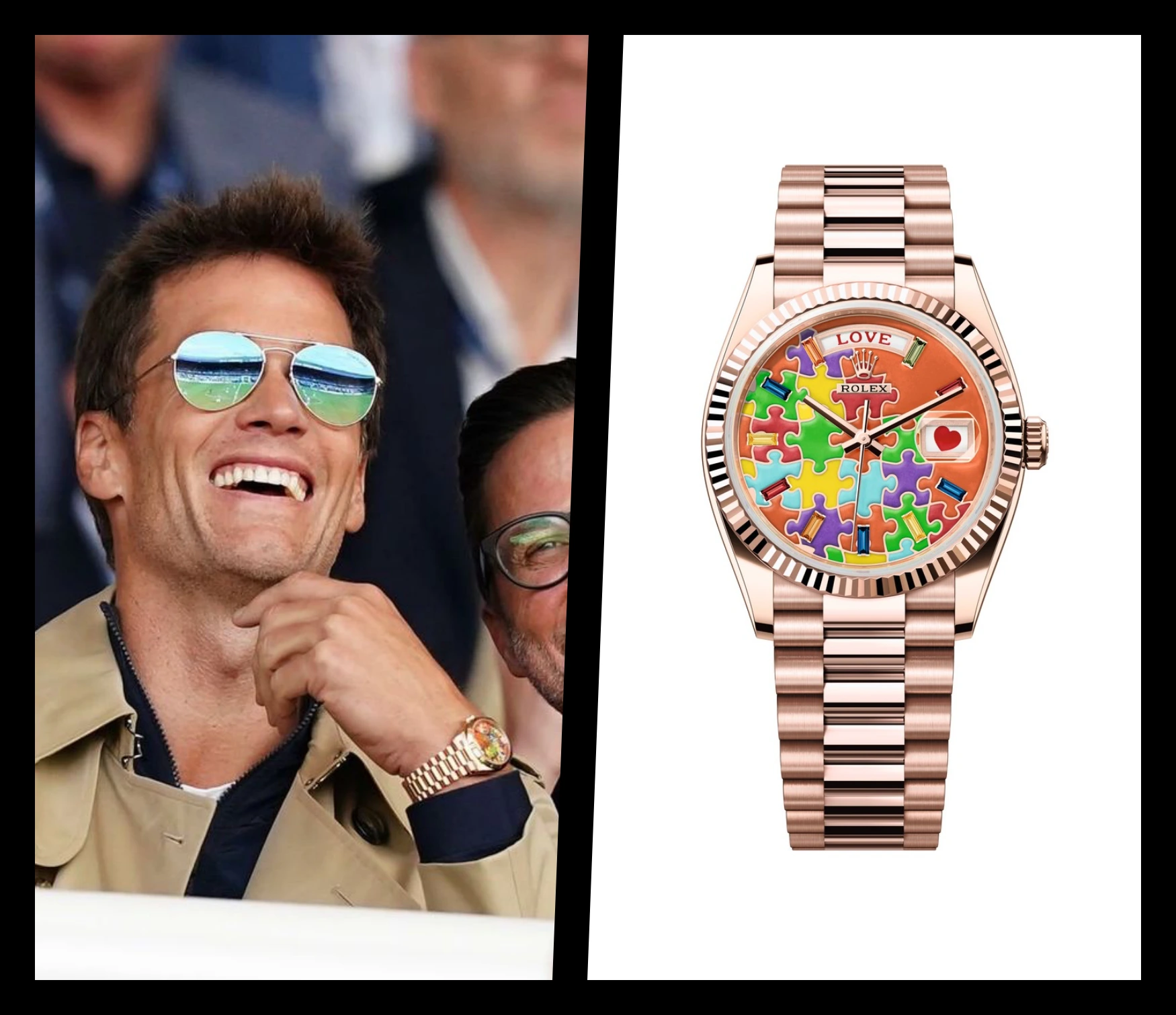 Last week, Tom Brady became the second celebrity seen wearing the incredibly out-there-for-Rolex Day-Date 36 'Jigsaw' in Everose gold, following in the footsteps of John Mayer who opted for the white gold configuration. Brady wore the watch while attending a match of what the rest of the world refers to as football, visiting St. Andrew's stadium to watch Birmingham City FC who he recently became a minority investor in.
The puzzle motif, executed in colourful cloisonné enamel, is already indicative of Rolex running a bit wild, but the day and date apertures being replaced with affirmations and emojis, rather than their standard indications, certainly had us all pinching ourselves.
September 2023: US Open: Rolex Daytona "Le Mans" Special Edition in white gold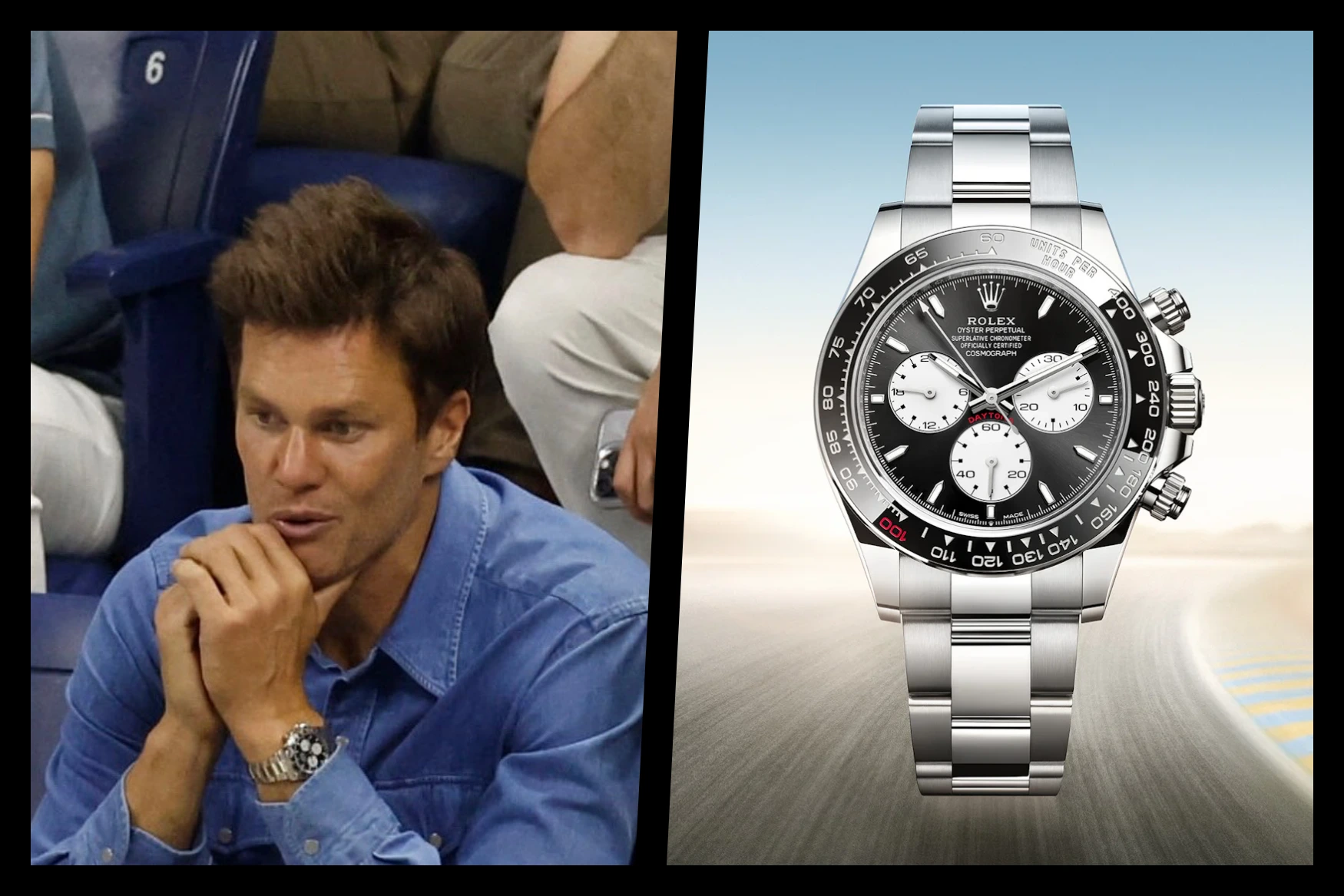 Two people were first spotted wearing this prized latest entry into the Rolex Daytona catalogue: mega-collectors Mark Wahlberg and Tom Brady. The Daytona Le Mans Centenary Special Edition made huge waves with its vintage-inspired aesthetic cues – a rare move from Rolex. Taking after the reverse-panda ref. 6263 and 'Paul Newman' ref. 6240 Daytona watches, everything about this white gold chronograph speaks to vintage Rolex lovers. Brady was seen debuting his on his wrist at the US Open 2023 final, again showing his support for his friend Novak Djokovic. His cache, both as an NFL G.O.A.T. and high net worth individual with a strong purchase history, clearly puts him first in line for new Rolex models.
September 2023: Richard Mille RM 012 in platinum
View this post on Instagram
Not long after, Tom Brady would go on to flex his Richard Mille RM 012 in platinum. The limited edition watch of 60 pieces was released 17 years ago in 2023, today a prized deep cut of the catalogue also known to have been on the wrist of Rafael Nadal. The watch can be found listed today on the secondary market for an asking price of US$525K.
September 2023: Audemars Piguet Royal Oak Perpetual Calendar in blue ceramic
View this post on Instagram
Whether a celebrity or major watch fan, of which Brady is clearly both, a Royal Oak is a must-have. But Tom was not spotted with a more common steel model. He was seen wearing the rare Royal Oak Perpetual Calendar in blue ceramic that made its debut just last year. An interesting choice considering the electric blue hue of the ceramic is evocative of the jersey colours worn by the New York Giants – an arch-nemesis of Brady's New England Patriots. Then again, in retirement, I would put the rivalry in the past to enjoy such a killer watch.
September 2023: Rolex John Player Special Daytona in yellow gold
View this post on Instagram
At the beginning of this horological bender, the watches were all modern pieces. But, Brady recently flexed his love for vintage with a coveted 'John Player Special' Rolex Daytona ref. 6264 in yellow gold on his wrist while being honoured at the Patriots season opener – inducted into the team's hall of fame. The watch, effectively a gold 'Paul Newman' Daytona, is always a high profile lot when it comes to auction. It recently hit a record CHF 2.2M hammer price at Sotheby's back in May, so you can expect Brady paid a hefty sum for his. Interestingly though, his JPS Daytona is on a yellow gold Jubilee bracelet rather than the more common Oyster.
September 2023: Patek Philippe ref. 2499 in yellow gold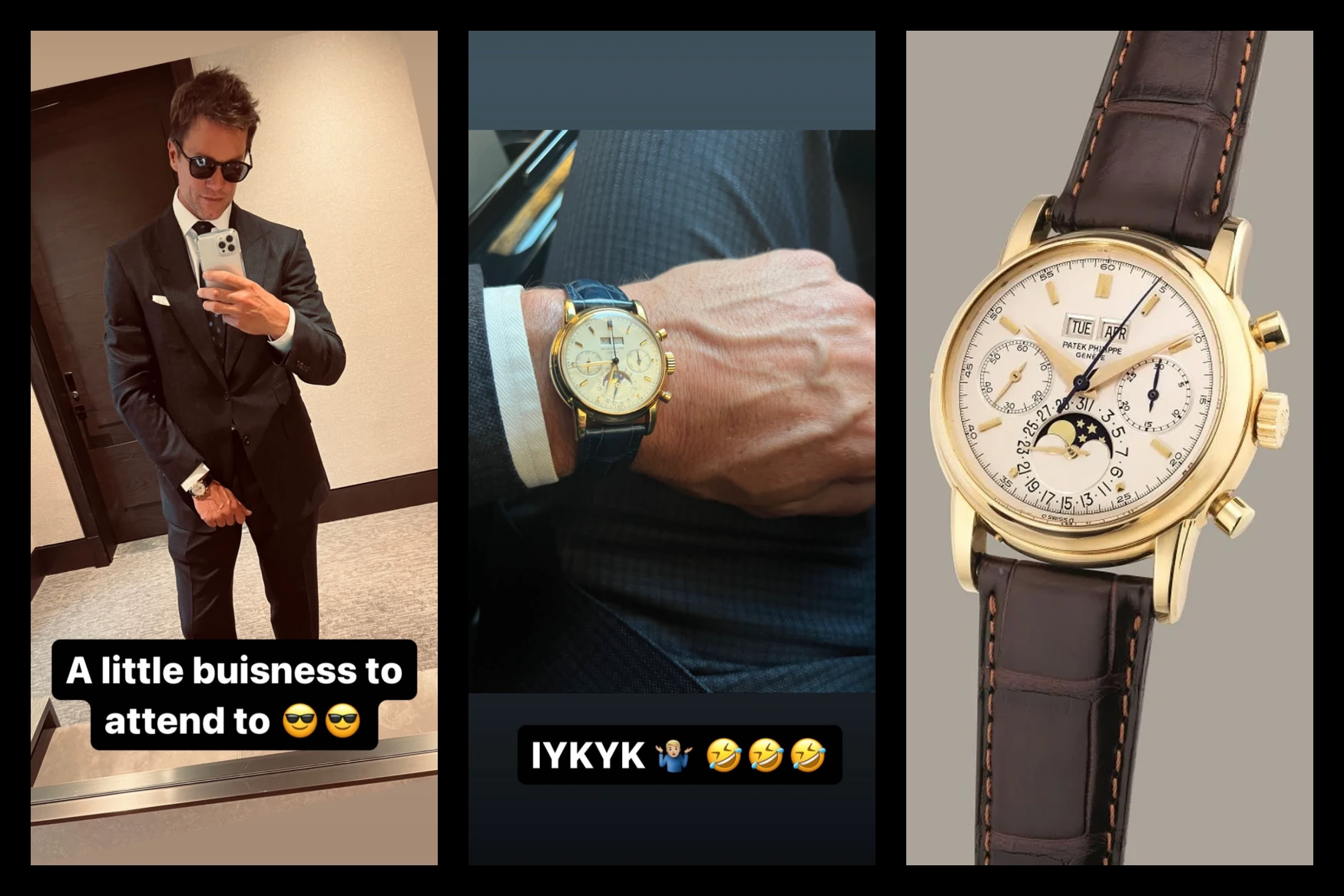 The latest watch spotting moment with Brady reveals yet again his appreciation for vintage, but more importantly shows he is keenly aware of what he is buying. Suited up for "a little business to attend to", he captions the next slide of his instagram stories, a clear wrist-shot of his Patek Philippe ref. 2499, with "IYKYK" (meaning if you know, you know). Like the JPS Daytona, the ref.2499 is another constant-draw at auction for high-profile collectors – which has hit around the US$1M at auction. Brady is accurate in saying it is an "if you know, you know" watch, by no means the hype-piece like a Nautilus. But keen-eyed collectors like Jay-Z know just how much of a flex this perpetual calendar is.
Look, I can jest that he is on watch bender due to the freedom of his divorce, lack of a watch ambassadorial role, or simply in the throws of a midlife crisis. But, at the end of the day, I am just immensely jealous. Brady clearly has the pick of the litter and has definitely caught 'the sickness' with multiple purchases in recent months. Considering he seems to be first in line for any new Rolex watch, snagging the special Le Mans Daytona, celebration dial OP, and jigsaw day-date immediately upon their release, I cannot blame him. If I had the money I certainly would.