CELEBRITY WATCH DEATH MATCH: Kevin Hart Vs. Mark Wahlberg, a Patek and Rolex-only battle for the ages
James Robinson
This week's CWDM is going to be controversial and it's going to be subjective. There's no way around it. These guys are Hollywood's high-end horologists. Their collections are pure class. So get ready for some of the craziest watches on planet earth and prepare for opinions, because we all have them, and when it comes to this selection, I certainly have mine. It's a throwdown for the ages. It's Kevin Hart Vs. Mark Wahlberg in the biggest Celebrity Watch Death Match ever staged so far. Soundtrack suggestion: *Hey Siri, play Eye of the Tiger*.
These two leviathans of the silver screen have got some of the rarest, most expensive watches on the planet, and there's a common theme amongst almost all of them: diamonds. And these are legit drippy delights – ain't no aftermarket timepieces in these collections. If it's icy, it's coming straight from the factory's freezer. So buckle up, because things are about to go turbo…
Dress watch to die for:
Kevin Hart – Patek Philippe 6102R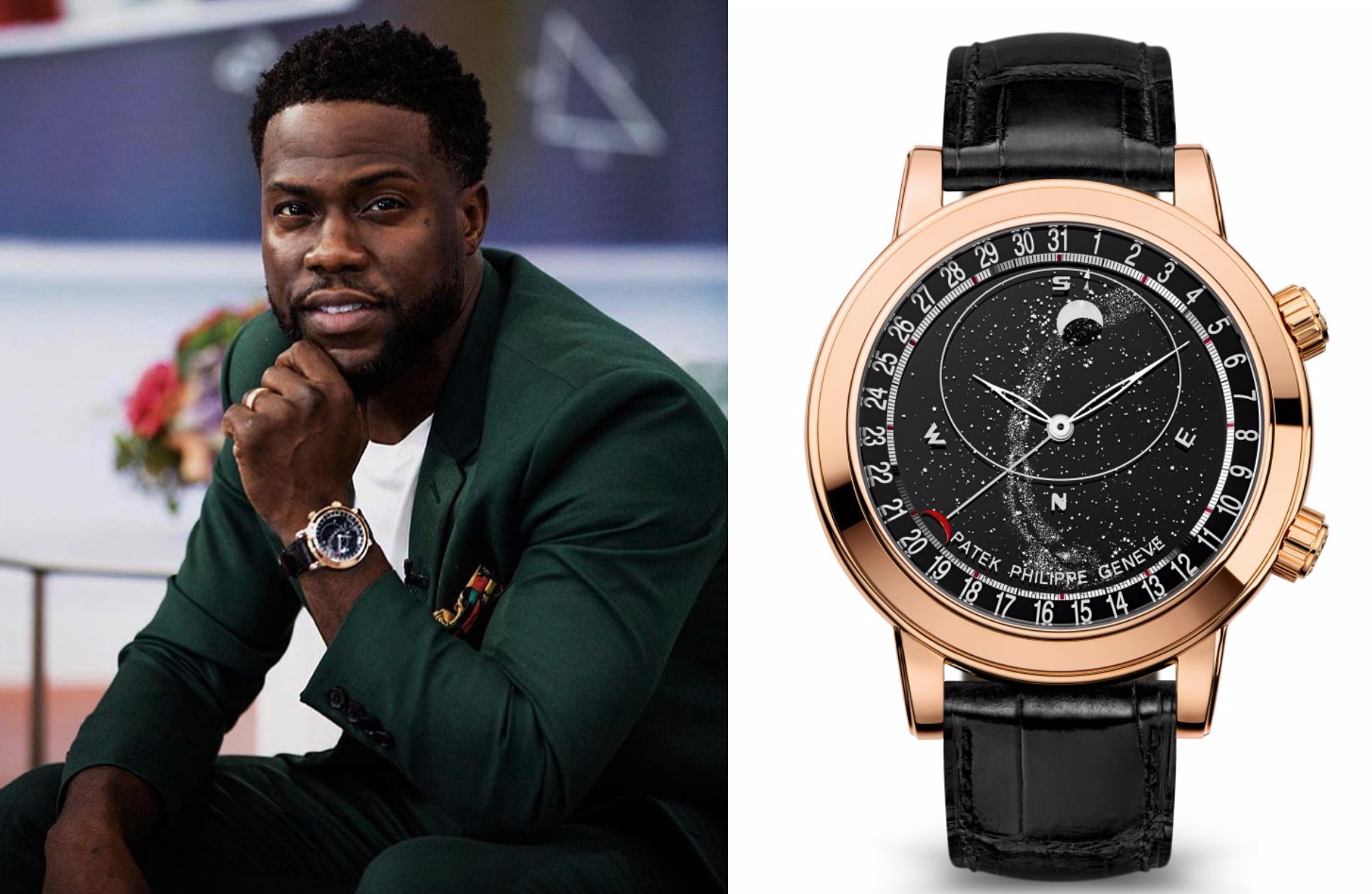 Woah … we've always known that Kevin Hart has got an insane assemblage of timepieces, but damn! This is a major flex for a dress watch. For those who don't know, the Patek Philippe 6102R Celestial is part of the fabled watchmaker's Master Complication collection, which means it's handcrafted, by one person, from start to finish. This watch's complication truly is astronomical, as it essentially mimics the starlit night sky in the northern hemisphere. It is a bonkers bit of kit, and when shrouded in a 44mm, solid 18k rose gold case, it makes for a dress piece that oozes class and appreciation for the art of horology.
Mark Wahlberg – Patek Philippe 5207G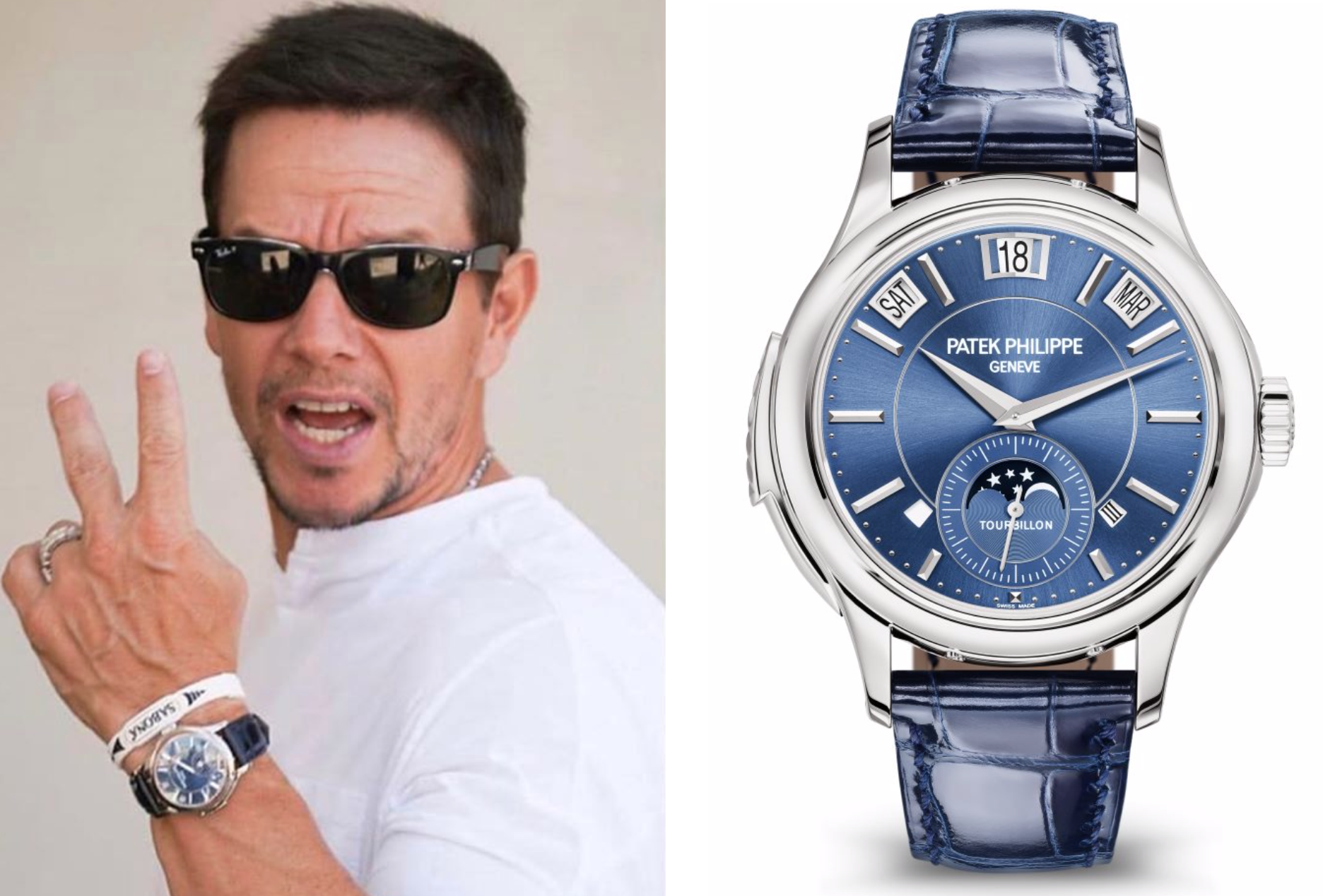 Ouch, Wahlberg is having absolutely none of it with this counter. What. A. Clapback. Also hailing from Patek Philippe's Master Complication collection, the 5207G is, no offence to Hart's 6102R, the superior watch. In terms of complications, this watch possesses the holy trinity – tourbillon, perpetual calendar and a minute repeater. That's an unreal combination, but then again, Caliber R TO 27 PS QI is nothing short of a work of art. In fact, it could easily be argued that the movement has more in common with the Mona Lisa than a contraption used to tell time. The 18k white gold case is also a thing of pure beauty, measuring a modest 41mm across and just 13.81mm thick, which is absurd considering the complications. And it features some of the nicest hand-engraving we've ever seen. Then there's the sunray blue, which is just perfection. We could go on about this watch for days, but suffice to say, Wahlberg has definitely drawn first blood.
Winner – Mark Wahlberg's Patek Philippe 5207G. Come @ me.
Chrono killer:
Kevin Hart – Patek Philippe 5271P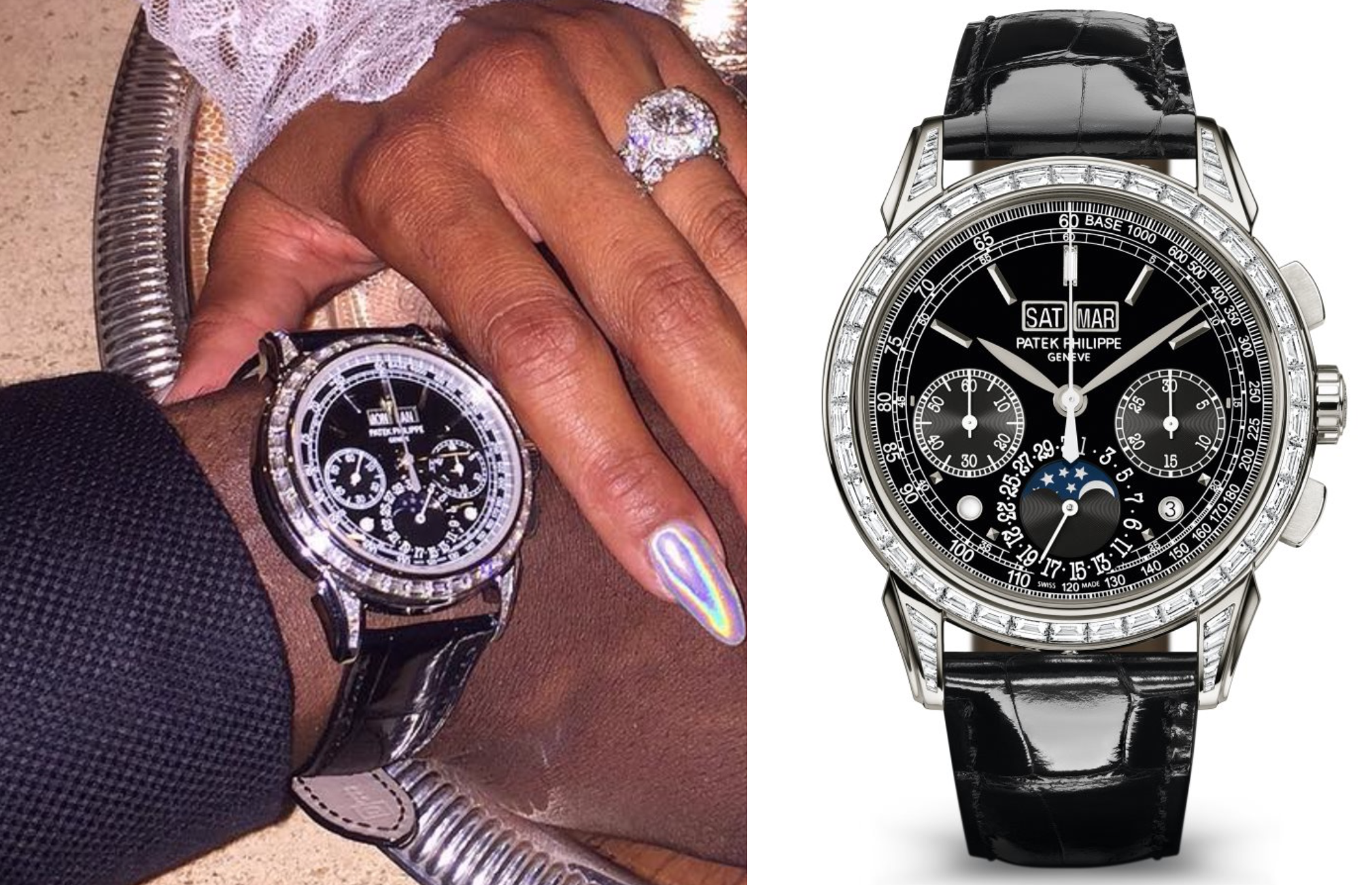 Another category, another PP GC from Mr Hart – the man may be a comedian, but his watch collection is no joke. This stunning, solid platinum piece is a bit of a staple among the glitterati, with many celebs, including PP fanatic Ellen DeGeneres and Drake, also owning the complicated wonder. Don't for a second think that this watch has only got chops because of its icy baguette bezel and lugs. 5271P is another masterpiece of horology from the best watchmaker on planet earth. Hart rocked this timepiece when he tied the knot and, as far as wedding watches go, they don't get much better.
Mark Wahlberg – Rolex Daytona 116576TBR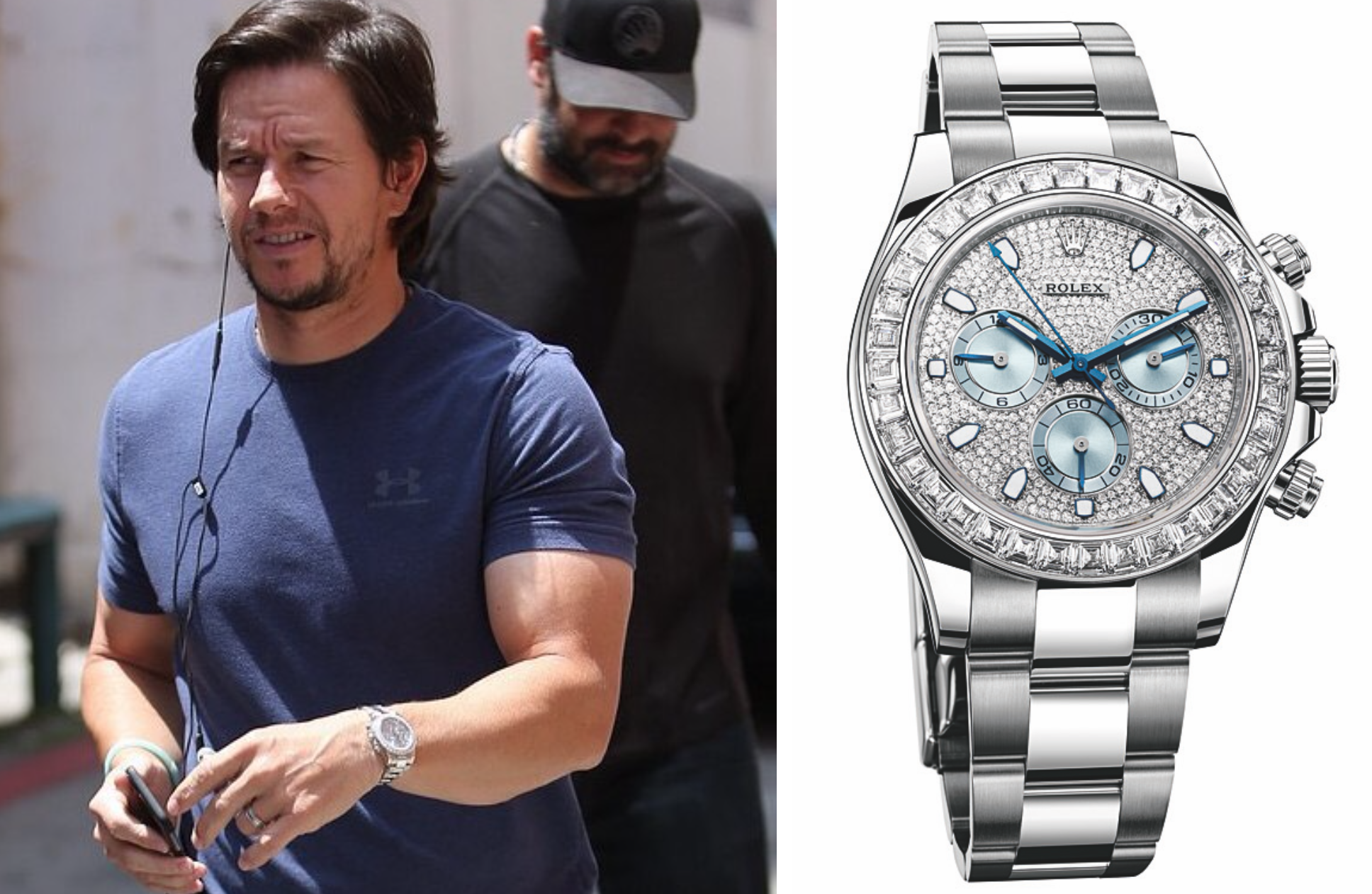 Marky Mark's affinity for the Big Crown has been well known for a long, long time. The man is nothing short of a devotee. Which makes an awful lot of sense, because this iced-out "Playtona" is rarer than seeing a photo of Wahlberg where he doesn't look completely jacked. In other words, he's obviously got a very close relationship with the Hans Wilsdorf Foundation, because they don't sell these watches to any old punter. You only get invited to purchase one of these glorious chronos after years of appreciation and dedication to the brand. It may not be for the faint-hearted, but as far as modern Daytonas go, this is the crème de la crème.
Verdict – Mark Wahlberg's Rolex Daytona 116576TBR. Hart's Patek is probably the better watch, but hey, the heart doesn't want what Hart wants…
Weekend warrior:
Kevin Hart – Rolex Day-Date II 218398BR-83218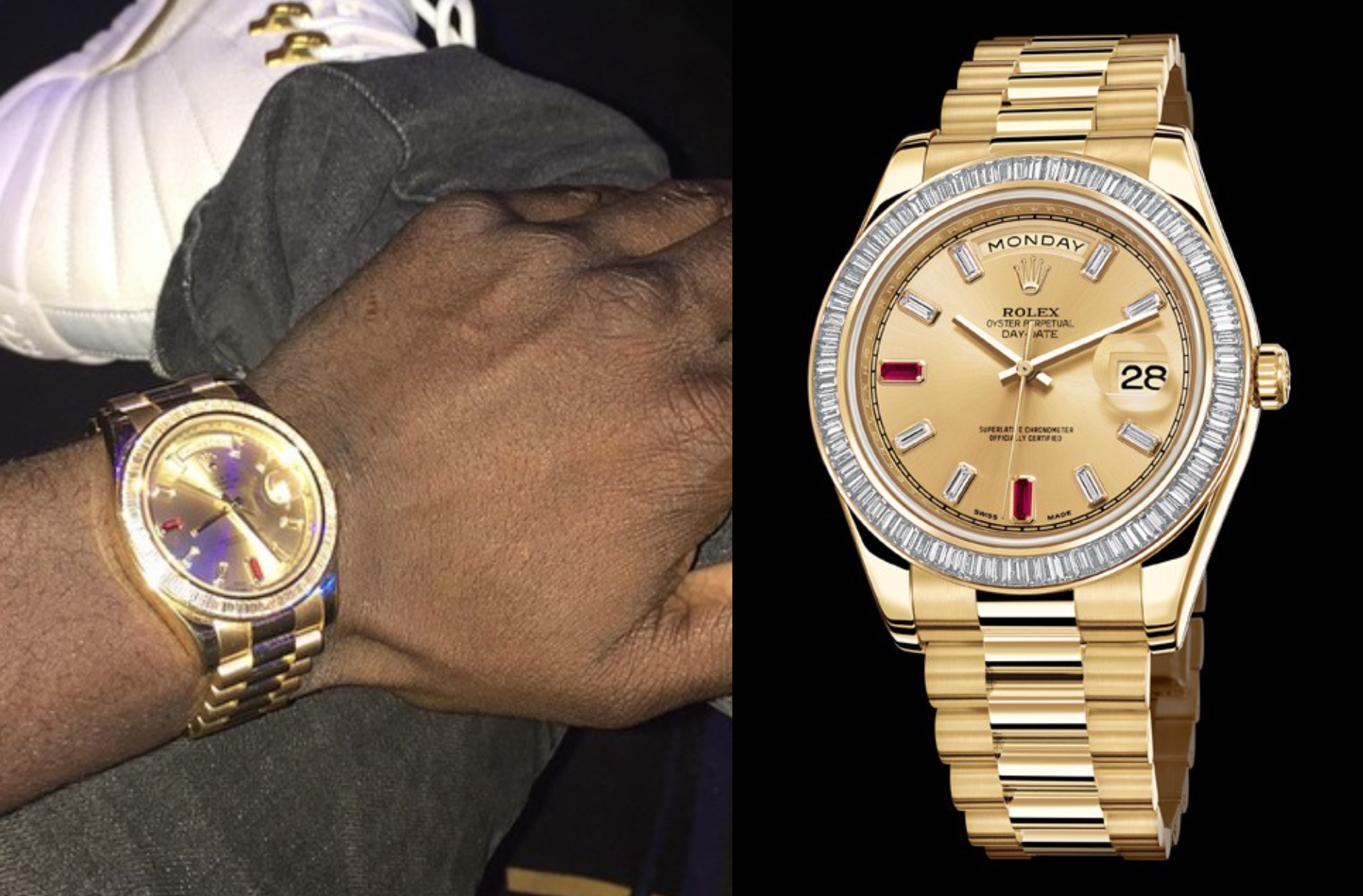 Day-Dates epitomise the weekend wristwatch aesthetic of the A-lister echelon. That's why Hart has been spotted wearing this gorgeous solid 18k yellow gold timepiece almost exclusively while wearing T-shirts and jeans. Nothing says baller like denim and Day-Dates. This particular variant of the now discontinued Day-Date II is uber-rare, thanks to the factory baguette diamond bezel and diamond and ruby hour indices. Props to Hart — who wouldn't like 200 grand's worth of solid gold swagger swinging from their wrist on a lazy Sunday?
Mark Wahlberg – Rolex Day-Date 40 228396TEM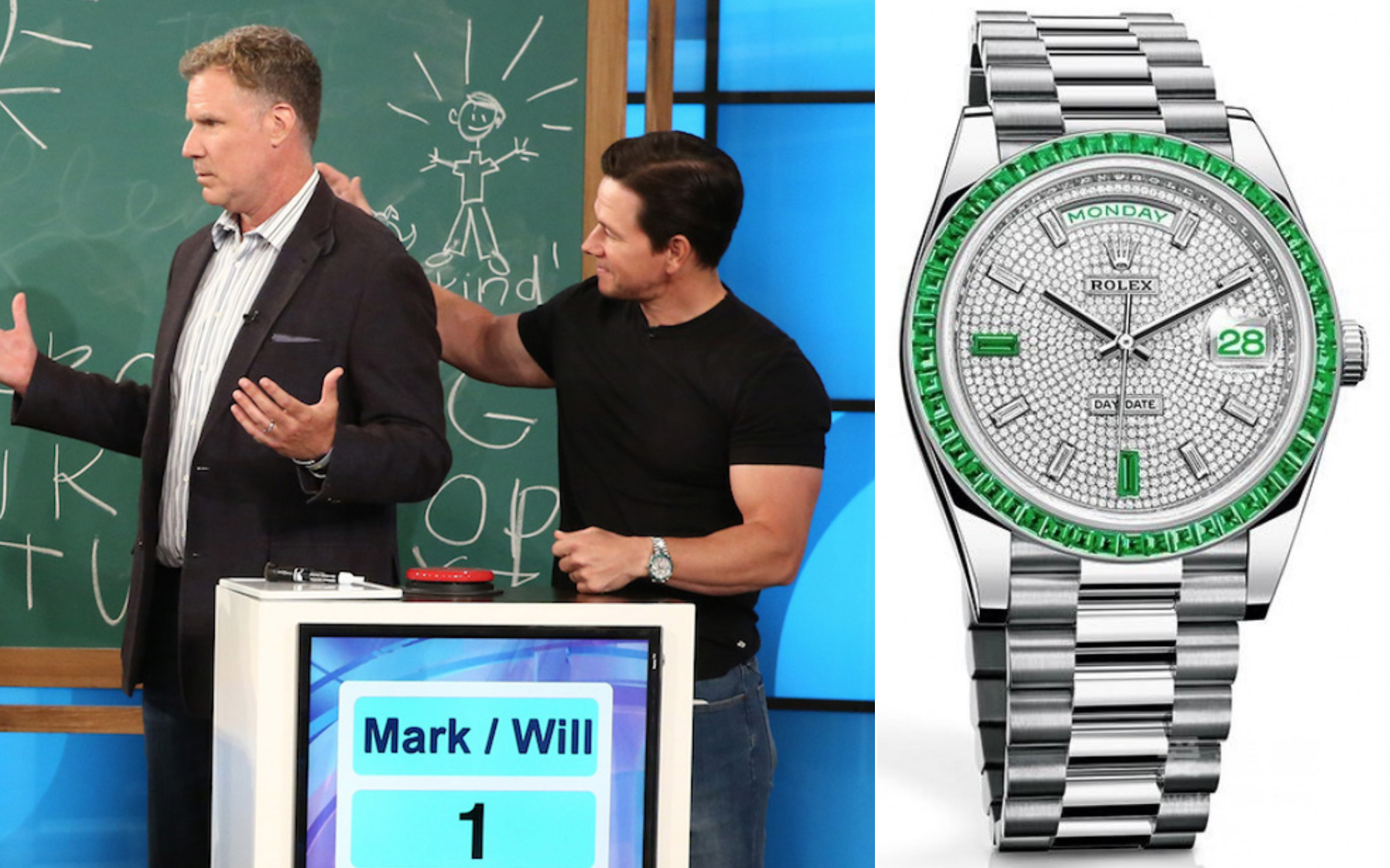 Wahlberg has gone so hard in the paint with this watch. The Rolex Day-Date 40 228396TEM is pure, unadulterated BDE, plain and simple. Not only is it worth a cool mill, it's probably one of the nicest looking gem-set timepieces ever to come out of the legacy watchmaker's workshop. Much like Wahlberg's drippy Daytona, this solid platinum variant of the Day-Date is pretty much impossible to purchase … unless you're married to Roger Federer.
Verdict – Mark Wahlberg's Rolex Day-Date 40 228396TEM because green reigns supreme. Come @ me. 
Erryday eviscerator:
Kevin Hart – Rolex Daytona 116500LN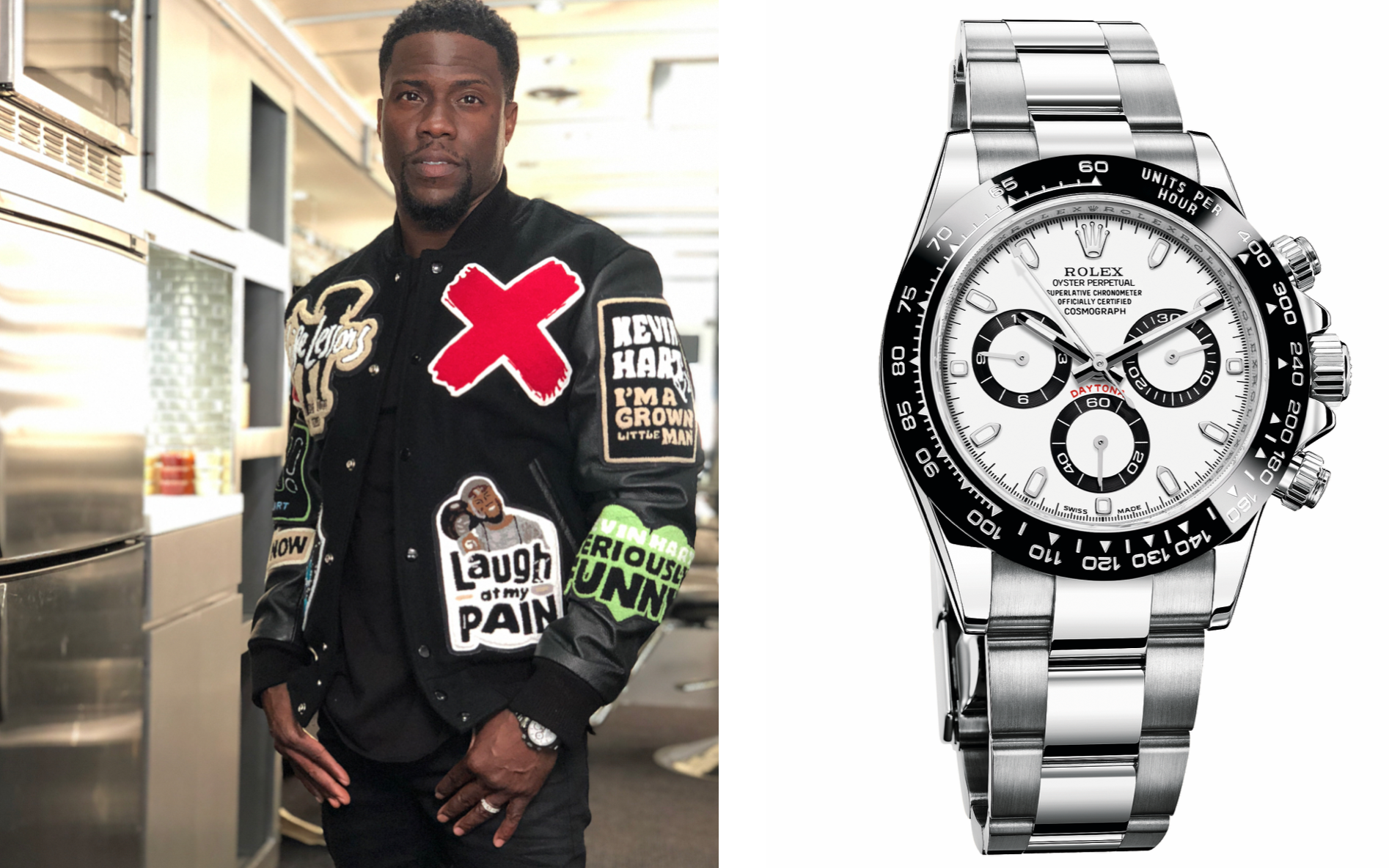 Look, I get it: out of context, a watch with a recommended retail price of $18,500 AUD is not your average person's everyday beater. But you've got to remember that K-Hart's got an estimated net worth of $200,000,000.00 USD ($320 million Aussie dollars). So, the plain-old Panda Oystersteel Daytona would be a drop in the ocean for the Jumanji star. But it shows that — despite its relative lack of value compared to the rest of his collection — the base Daytona is still one of the most desirable timepieces in existence.
Mark Wahlberg – Rolex Daytona 116500LN
And, wouldn't you know it, the ringleader of the Funky Bunch has got one too. Once again, the notion of a Rolex Daytona being a daily wearer is faintly absurd to us mere mortals. When you realise that Wahlberg's worth near-as-makes-no-difference half-a-billion AUD though, it's kind of surprising that the partial founder of Wahlburgers would let something so inexpensive touch his wrist. Just one of the 20 different Daytonas in his wristwatch stable.
Verdict – Tie.
Deathblow, the ultimate flex piece:
Kevin Hart – Patek Philippe 6104-001 Platinum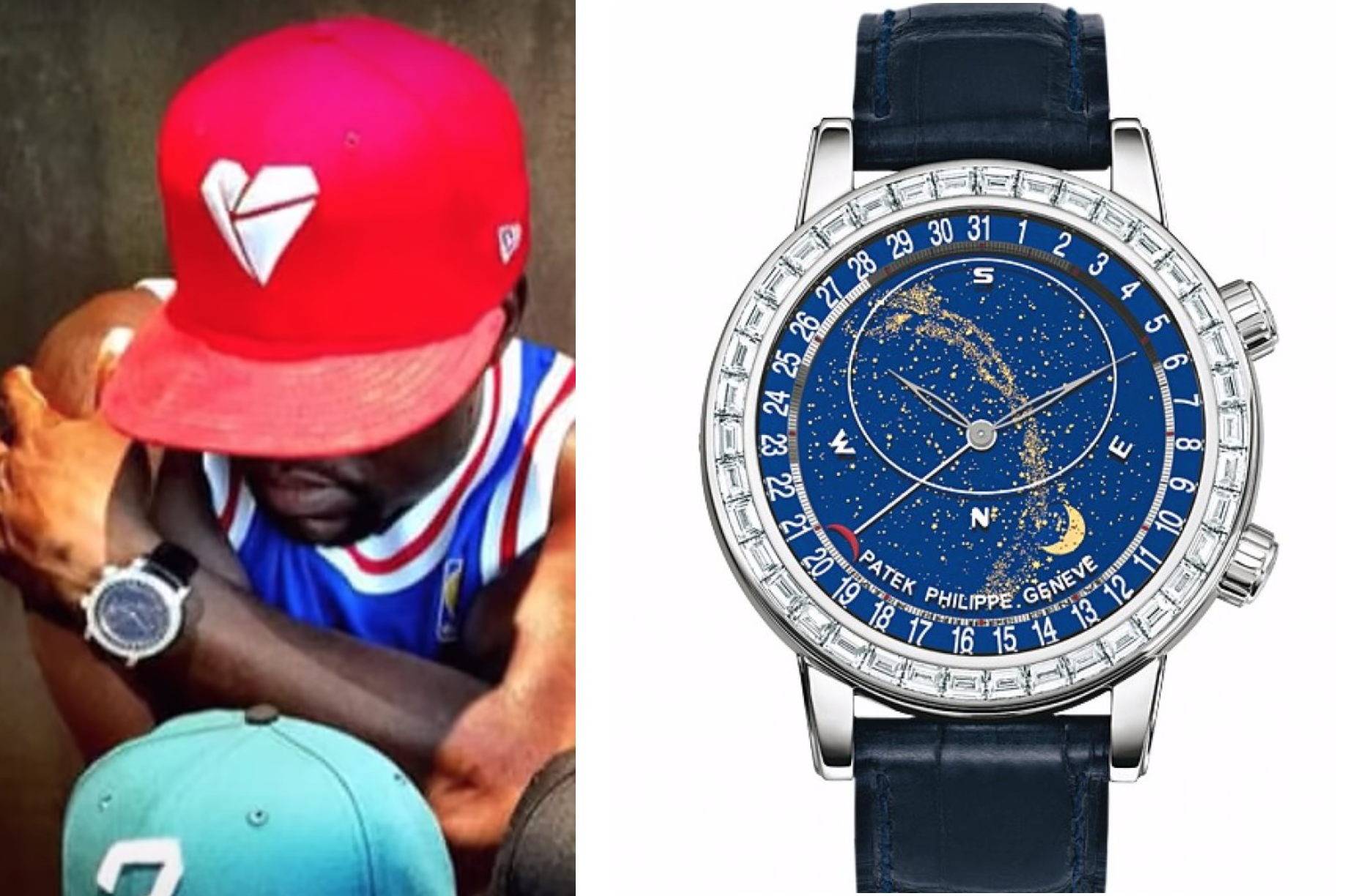 Hart's Deathblow is a swan song to the man's unbelievably distinguished collection of timepieces. It doesn't get much better than this. In fact, in the eyes of many, including my own, this celestial stunner represents the magnum opus of all of Hart's watches. Solid platinum, factory baguette diamond bezel and one of the most impressive complications ever fitted to a timepiece to boot. Well played, Hart, well played.
Mark Wahlberg – Patek Philippe Nautilus 5990/1400G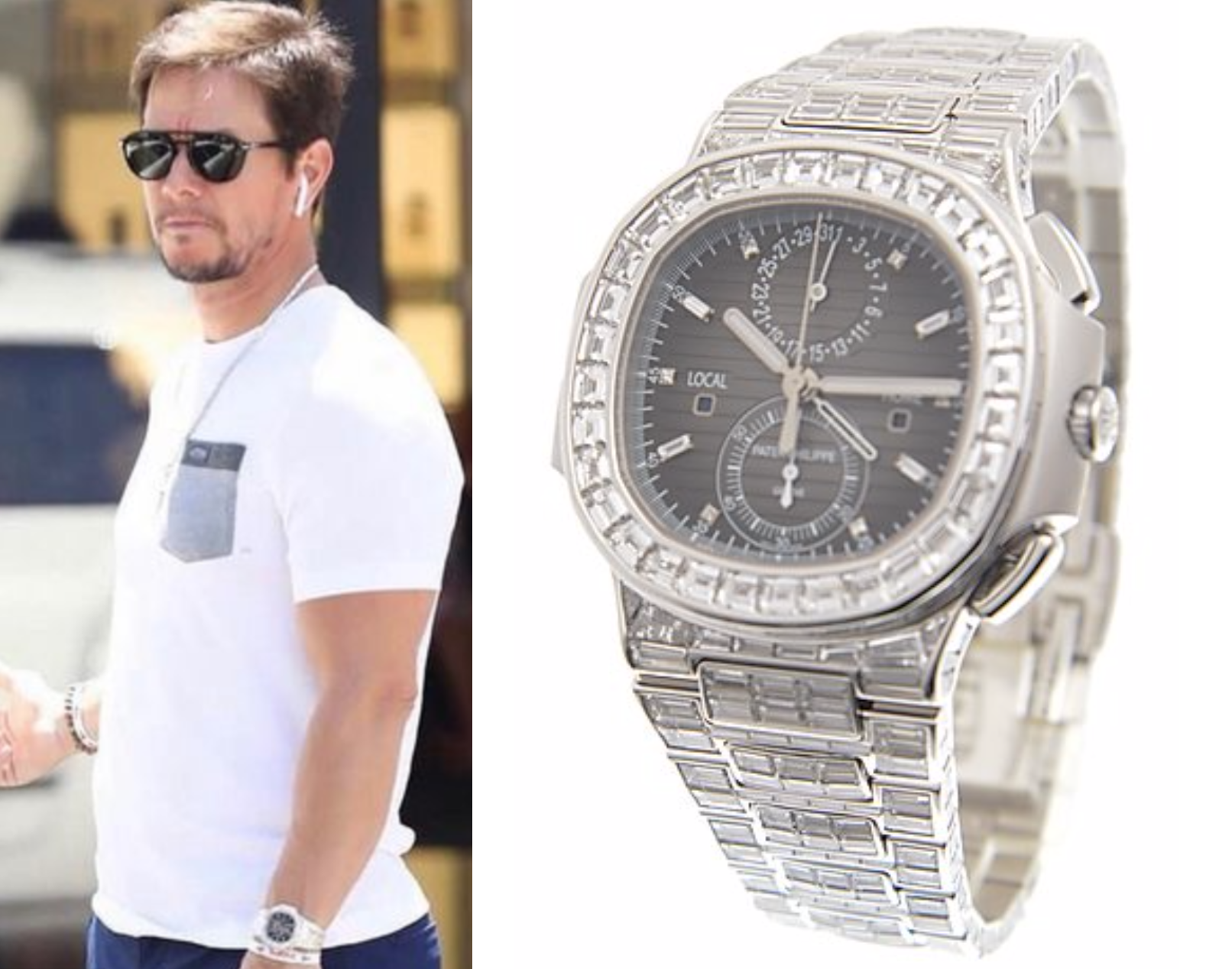 This is a controversial one, because while Hart's Deathblow is unquestionably a stratospherically cool watch, Wahlberg's Patek Philippe 5990/1400G Nautilus Travel Time is, to my eyes, just better. This timepiece shows off Patek's gem-setting prowess like no other. Just look at it! It's got more baguettes than a patisserie on Bastille Day. It's also worth no less than $2,000,000 AUD, which is hard to fathom, until you see it. This watch is the definition of haute horology, luxury and art, sculpted and moulded into one exquisite showing of craftsmanship that is nothing short of awe-inspiring. And Wahlberg rocks it with a white tee and a pair of jeans. The cojones on this guy are off the charts.
Verdict – Mark Wahlberg's Patek Philippe Nautilus 5990/1400G
Well, we're spent. The toughest death match we've witnessed to date. But we ain't here to wave a white flag. By my reckoning, Wahlberg has walked this in. Both these celebs have watch collections worth more than you and I will most likely earn in our entire lifetimes. There's not a bad watch between them. However, in this encounter, Wahlberg wins, easily.