Fast-forward 30 years into the future. You're being chauffeured by your robot valet in your flying car on a trip to buy another pair of underpants made from laser-beam holograms (you're not entirely convinced by them, but your cyborg wife thinks they look sexy). But when you glance at the watch on your wrist – yes, you will still be wearing one – what will it look like? Going by the vast bulk of watch releases over the last decade, the answer to that question is probably not that different. Not only does watch design move at a truly glacial pace, but vintage reissues and throwback homages have become ever more prevalent. In fact, if you try to think of a truly contemporary mechanical watch then it's surprisingly hard.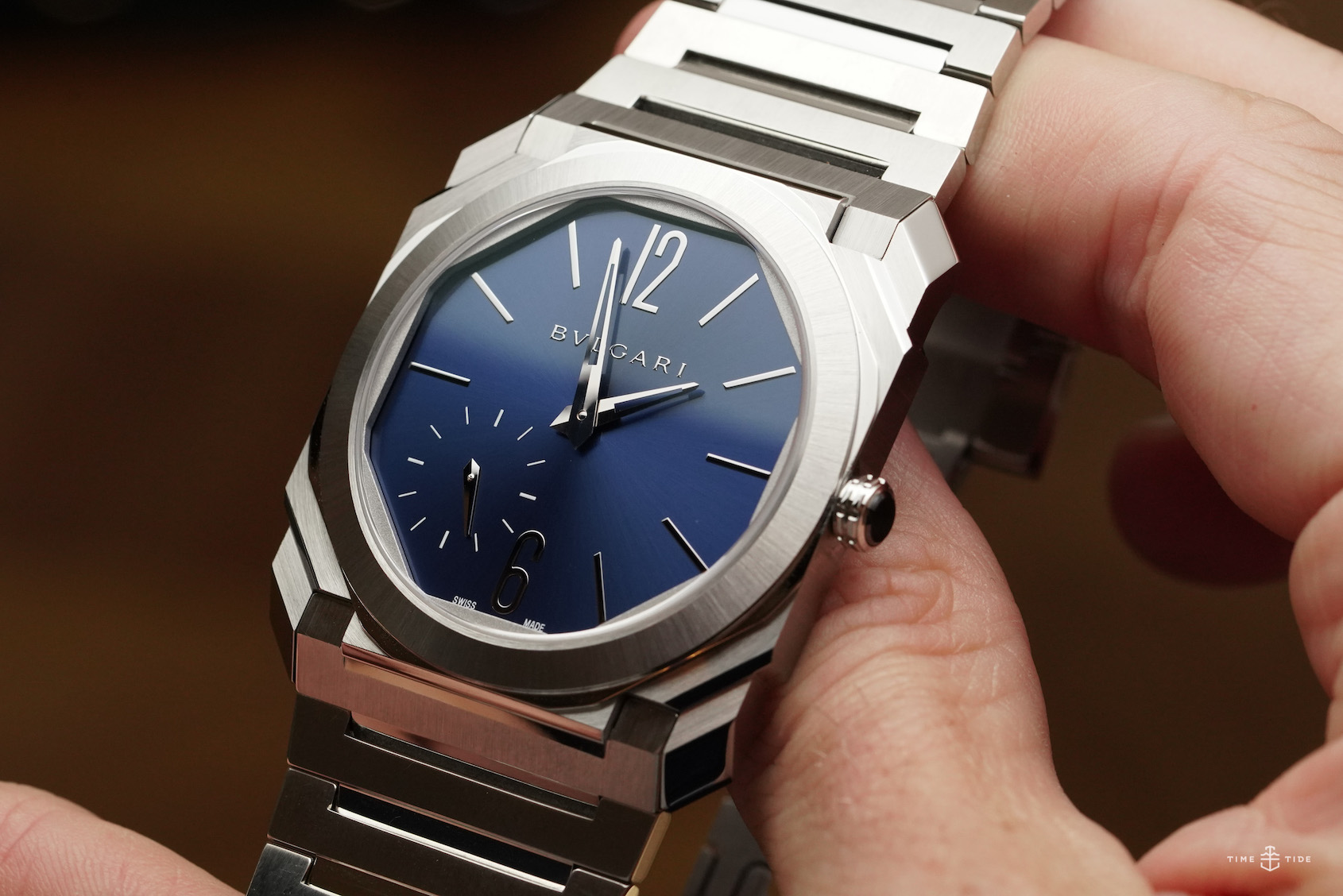 I was reminded of this fact recently speaking to Bani McSpedden, the venerable Watch Editor of The Australian Financial Review. "Nostalgia has been increasingly keeping the traditional watch industry alive," he pointed out. "If you took away nostalgia, there are not a lot of people making a thoroughly modern product."
Bani conceded that some brands – Rolex and Omega, for example – remain tremendously progressive in terms of their horological engineering and technical advancements. Yet few watches offer truly modern designs. Reflecting on the most contemporary mechanical watches currently on the market, Bani suggests two standouts: the offerings from the niche Belgian brand, Ressence and the Bulgari Octo Finissimo. "You look at those watches," he said "And know they couldn't have been designed at any other time."
Antoine Pin, Managing Director of the Bulgari Watch Division, acknowledges that his team have achieved a truly singular design with the Octo Finissimo. But he insists that modernity was a fortuitous by-product rather than the original goal. "Our design team are always looking for a way to challenge the limits of watchmaking," he said. "That's not just from a performance perspective but from an aesthetic one."
The Octo Finissimo is, of course, known for its ultra-thin looks that have achieved a clutch of world records including the thinnest tourbillon watch (the Octo Finissimo Tourbillon Automatic), the thinnest chronograph GMT (the Octo Finissimo Chronograph GMT Automatic) and the thinnest tourbillon chronograph (the Octo Finissimo Tourbillon Chronograph Skeleton Automatic).
But again, Antoine insists, creating slimmer watches than anyone had before was more of happy accident than a driving goal. "Was it a strategy from day one to say: 'We are going to rebuild the complete trend about very thin watches?' No. What was a very conscious move was to say: 'We want to make something very elegant.' And sometimes bulky is not so elegant."
Antoine has worked in the watch industry for more than 20 years for a range of brands including Boucheron, Zenith, TAG Heuer and Bulgari. After being involved with the launch of literally hundreds of watches, he fully appreciates the true significance of the Octo Finissimo.
"How often does a really special and unique watch design like the Finissimo come along?" he asks. "I would say very rarely. And that's why we are so proud of it.
"If you think of products that have really made a design difference over the last 20 years, you could name a handful over the last 20 years. I would probably name the Big Bang by Hublot. Somebody mentioned the [Chanel] J12 the other day. But the J12 is more than 20 years old already. So it's very rare that you see designs that are really standing out."
Game-changing designs, in other words, are a genuinely big deal for the watch world. When they do occasionally come along in the form of, say, the Cartier Tank or Audemars Piguet Royal Oak, they possess the staying power to charm watch lovers for generations.
"There is a lot of design creativity in watch shapes and so on," Antoine concedes. "But to really pop out and then build up over their life and become an icon… That's very rare. But this is why we praise and want to protect the Octo. We really want to try to nurture this collection."