EDITOR'S PICK: Tennis player Gael Monfils has a watch collection as thrilling as his tennis
Time+Tide
EDITOR'S NOTE: Playing with his spaghetti-legged exuberance and freakish athleticism, Gael Monfils is one of the joys of modern tennis. So it was disappointing to see him slump to a second round exit in the French Open last week. He seemed utterly crushed by the defeat, too. "I am honest in telling you that I have no confidence," Monfils said at the press conference. "I don't feel good, it shows."
Despite the "negative spiral" that the player admits he's battling to arrest, Monfils does, at least,  have one of the most jaw-dropping watch collections on the circuit. Here's hoping that he'll soon bounce back and be able to reward himself with some brand-new timepieces to celebrate. As you'll see from the pieces below, the man certainly has an eye for a wildly impressive watch.

It is no secret Gael Monfils is an absolute superstar on the tennis court. He is known for his lively and exciting matches where his acrobatic and daredevil style really entertains fans of the sport. We recently covered his bonkers experiment with Greubel Forsey, where he was enlisted by the brand to wear their GMT Sport watch during practice and even smash a few serves full speed directly at the $500,000 timepiece and its front-facing sapphire crystal. A lesser-known fact about the top-ranking tennis player is that he is a fully-fledged horology addict and watch enthusiast who even has a dedicated Instagram profile to share his passion for the hobby. With his success in the ATP, and various brand sponsorships, Gael has a fair amount of dough to allocate towards his watch addiction. As a result, the watches he owns and shares are some serious high-level creations – think Patek Philippe, Blancpain, Breguet, Audemars Piguet … the list goes on and on. Here are my top three he has shared so far.
MB&F LM Thunderdome
Adding this watch to your collection is the perfect wrist-statement to proclaim your love for watches. MB&F creations are self-admittedly works of mad genuis and refuse to take the form of conventional and mainstream high horology pieces. You really have to be immersed in watches to truly appreciate these works of art from Max Büsser and his friends. The LM Thunderdome is a slightly more conservative case shape than we usually see from the brand, but the dial and the highly domed sapphire crystal that houses it is anything but normal.
The platinum watch is 44mm in diameter, and 22mm thick due to the domed crystal – but to be fair this is not a timepiece that should hide under a shirt cuff.  This girth accommodates the display of a dial plate tilted at 58 degrees for easy viewing and provides enough space for the gyro-tourbillon in uncompromised form. The movement was co-designed with horological legends Eric Coudray and Kari Voutilainen. Coudray helped design and assemble the crazy-cool gyro-tourbillon proudly displayed on the dial, while Voutilainen aided in the movement architecture and its top-class decoration, bevelling, and other embellishments. The result: 413 components of sheer horological awesomeness.
Audemars Piguet Royal Oak Jumbo Extra-Thin "Honey Dial"
A more simple watch, this white gold Audemars Piguet Royal Oak Jumbo Extra-Thin is less a statement of horological complexity than the LM Thunderdome. The watch, however, is an incredibly rare and elegant timepiece to own. Royal Oak case finishings are the work of true master artisans who spend hours embellishing the case and bracelet to the brand's standard.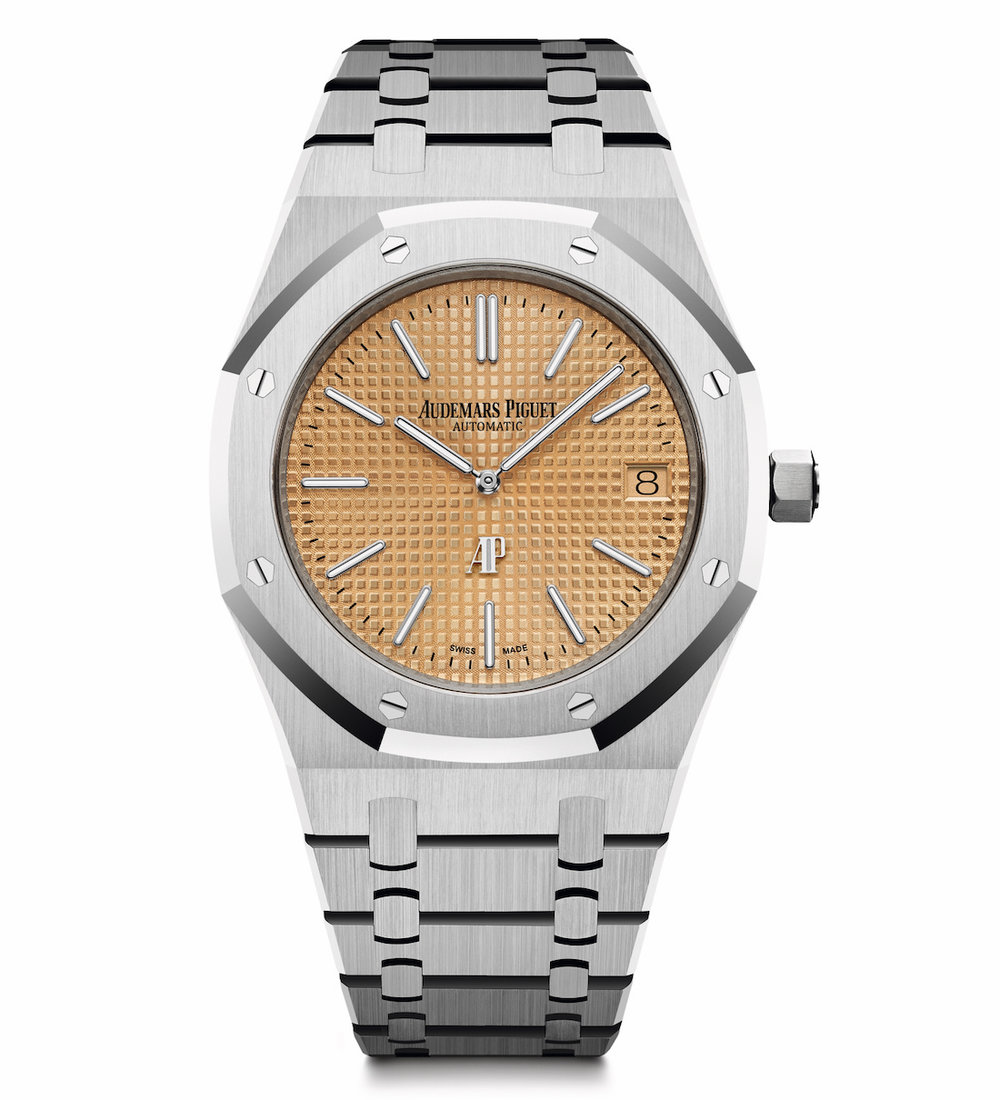 While the white gold of the externals and its glorious heft on the wrist alone make for an extremely compelling watch, it stole the show at the 2019 SIHH fair for its salmon adjacent "honey" tapisserie dial made of pink gold. The colour tone is both playful and formal, and can be worn both by the pool or in the boardroom. On the watch's rear, the in-house caliber is decorated in a manner expected of a holy trinity brand – making this a beautiful timepiece inside and out.
Kari Voutilainen GMT-6 Piece Unique
I wanted to avoid repeating two dial colours, or even two watchmakers, but how can I ignore a piece unique from Kari Voutilainen? According to both Gael's post caption and the Voutilainen website, "The GMT-6 watch with exclusive movement made in the Voutilainen workshop presents classical watchmaking at his highest level with pure design and solid construction. While inspiration for this movement comes from the Vingt-8 movement, it is a new caliber which means that the mechanism of the GMT is entirely integrated inside of the movement. There are more than 70 new components compared to the Vingt-8 movement."
The watch is made of 18k white gold with a movement that utilises both German silver and rose gold for its components. While the movement decoration is obviously among the best in the business, it cannot be understated how much there is to appreciate about the mechanism and the way in which the complications translate onto the dial. The GMT indicator is a 24-hour rotating disc within the running seconds sub-dial of the watch. In most cases a sub GMT dial would replace the running seconds complication to cut corners, costs, and time to fabricate.
Voutilainen, however, refuses to compromise – offering a predominantly hand-made watch masterfully executed in all of its facets. Every hand-finishing technique you can think of is performed, including guilloche, bevelling/chamfering, frosting, black polishing, hand blueing and more. Also, have you ever seen a watch with a rose gold balance and gears in its movement? Now you have.