Studio Underd0g launch the Field collection, and the sequel is just as good as the original
Borna Bošnjak
It's often said that sequels are rarely better than the original, and that's exactly the challenge that British independent brand Studio Underd0g faced. Enjoying great success with their quirky chronographs built on an affordable Seagull base calibre, their follow-up model would truly show off SU's design chops. Finally, here it is – the new Studio Underd0g Field collection – resplendent in four cheekily named colourways and with a unique twist that we've all come to expect from the brand. Even though they may not look it, the new Field pieces were imagined as Studio Underd0g's take on a brief by the British Ministry of Defence. Having said that, I wouldn't expect the MoD to ever put these into service, courtesy of the fun Studio Underd0g tend to have with their designs – but that's exactly why we love them. Let's get into some details.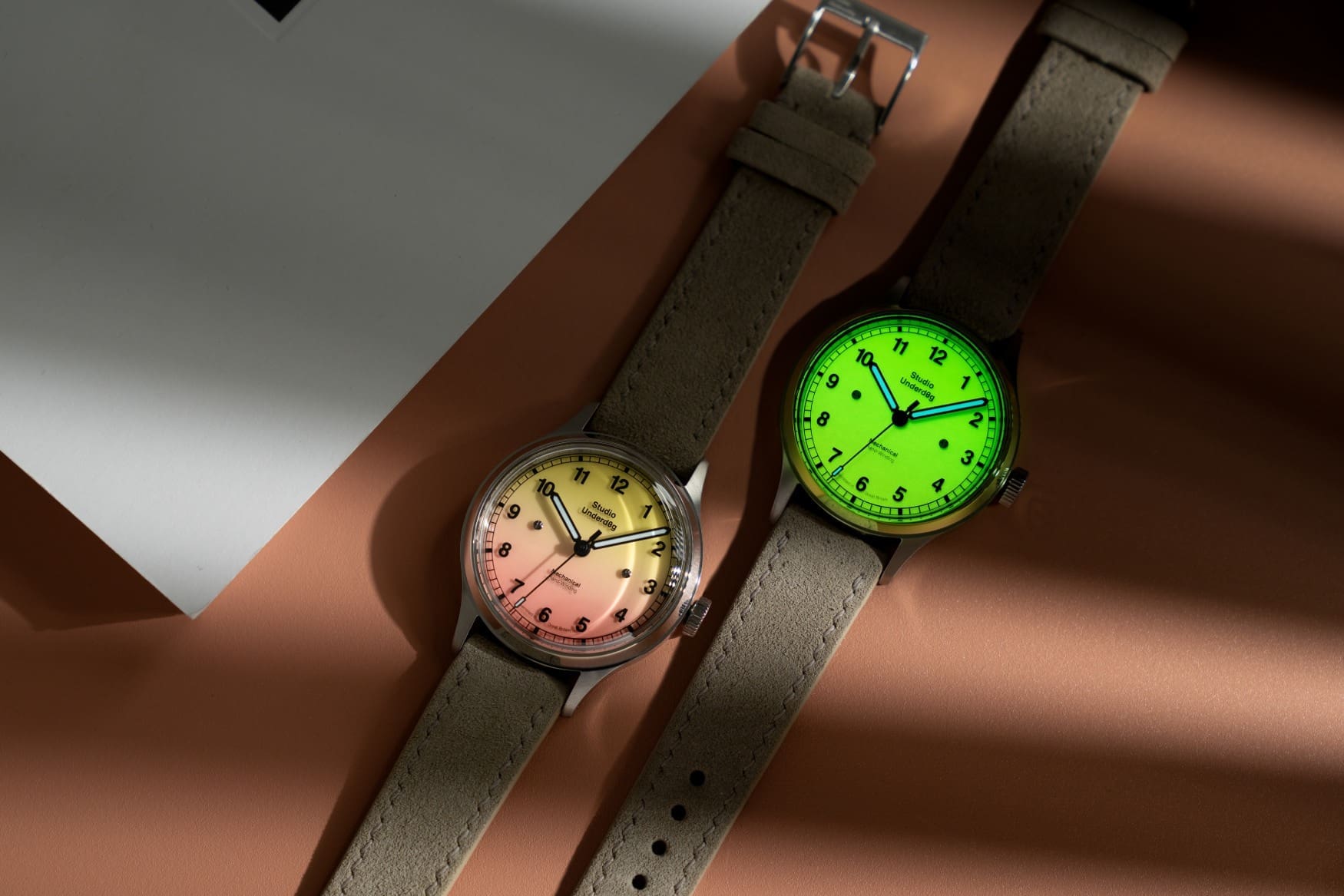 Even though obvious fruity inspiration has been left to the chronographs, the new Field can't not tribute the models that built the brand's underpinnings. The brightest of the lot, the Pink Lem0nade, also happens to be the most eye-catching of the lot, with what the brand believes to be an industry first. The dial isn't just fully lumed, but it also sports a yellow-pink gradient. Can't say I remember seeing anything like it, either.
A field watch may seem like an odd choice for a brand known for their bold designs, but this is exactly where the Studio Underd0g genius shows best. You will have read that these are sandwich dials, but not in the way we've come to know them from the likes of Panerai. The sandwich construction comes from a sapphire disc printed with the numerals and branding, affixed via two dial screws to the coloured, lumed (with seven layers, to be exact) base layer. This creates the illusion of floating numerals, as they cast shadows and add depth, with an even more spectacular showing in the dark.
Apart from the aforementioned Pink Lem0nade, Studio Underd0g's new Field will be available in Tiff… sorry, Steffany Blue, Full Mo0n and Midnight colourways. The Midnight colourway is arguably the most conventional here, with an all-black base dial layer and lumed indices printed onto the sapphire disc.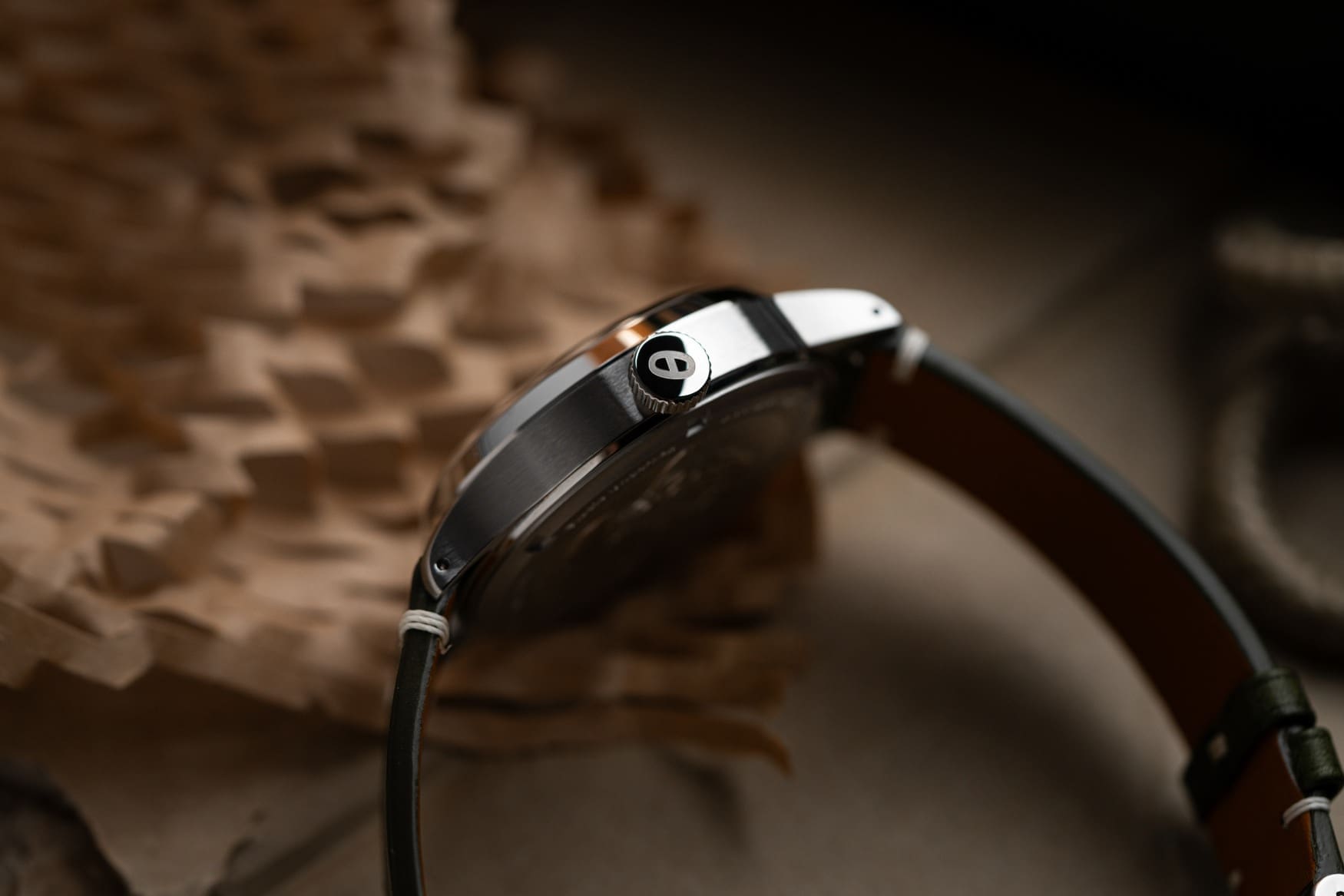 In terms of case construction, the Field is remarkably similar in style to the chronograph collection. Shocker, I know – it's like it's the same brand or something. Jokes aside, it's nice to see that SU have paid attention here too, despite it being a completely new model. The midcase is finished with a horizontal brush, while a high-polished bezel and signed crown zhuzh it up a bit. The steel case measures in at 37mm in diameter and 46mm lug-to-lug, with a height of 12mm inclusive of a 2.2mm-tall domed sapphire crystal.
The last dimension worth noting is the 18mm lug width. As seen with previous Studio Underd0g models, the Field collection will be equipped with quick-release leather straps made by The Strap Tailor, as well as a single-piece pass-through fabric strap. For those pesky non-quick-release spring bars, the lugs are drilled for your strap-swapping convenience.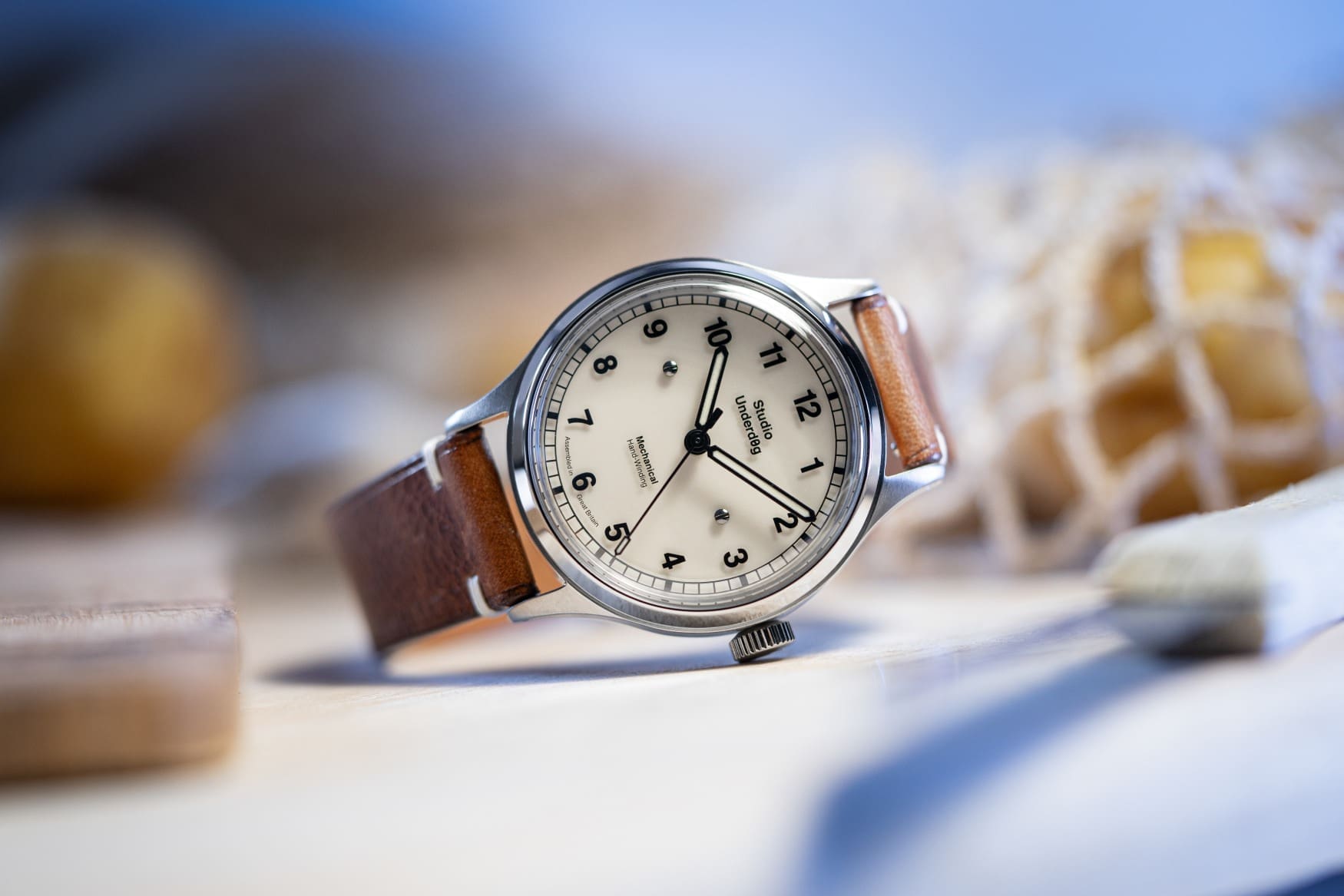 Finally, the movement. The Field collection sports a manually wound Sellita SW210-1, which is a great fit for this type of watch, helping it retain a slimmer profile thanks to the lack of a winding rotor.
The choice of an entry-level Swiss movement also signals Studio Underd0g's confidence in charging significantly more, which can only mean that they're also confident in having a great product on their hands. With the unique dial construction, Swiss movement and a choice of two straps, I think it's confidence well-placed.
Studio Underd0g Field pricing and availability
The new Studio Underd0g Field collection opens for pre-orders on the 2nd of November at 02:00 AEDT (1st of November, 14:00 GMT). Pre-orders will be available via Time+Tide in the Melbourne Discovery Studio only, with deliveries beginning in 2024. The watches will be displayed in the Studio in November, as a worldwide exclusive physical preview. Price: A$1,750, US$900, €850, £800
Brand
Studio Underd0g
Model
Field
Reference Number
02FSBE (Pink Lem0nade)
02BLB (Steffany Blue)
02BEBR (Full MoOn)
02BKG (Midnight)
Case Dimensions
37mm (D) x 12mm (T) x 46mm (LTL)
Case Material
Stainless steel
Water Resistance
10 ATM
Crystal(s)
Sapphire
Dial
Gradient pink, light blue, cream (full lume dials)
Black (lume indices only)
Lug Width
18mm
Strap
Taupe, black, brown or olive leather strap, steel hardware
Pass-through strap, fabric, steel hardware
Movement
Sellita SW210-1, manual winding
Power Reserve
42 hours
Functions
Hours, minutes, seconds
Availability
Pre-orders from 02/11 02:00 AEDT
Price
A$1,750, US$900, €850, £800