AGREE OR DISAGREE: You shared your thoughts on whether or not solid casebacks should make a comeback…
Zach Blass
To solid caseback, or exhibition caseback, that is the question. Or at least it was the question Fergus raised when they wrote the latest Making the Case column, arguing for solid casebacks to make a comeback. We thought the solid versus exhibition caseback dilemma would be very divisive, and after taking the query to Instagram it is abundantly clear we were correct. Polling our followers with the prompt "agree or disagree: solid casebacks need to make a comeback", in just 24 hours we received nearly 300 comments all weighing in and fighting for or against more solid casebacks. Here are some of the key points you all raised.
View this post on Instagram
Absolutely not: Always exhibit the movement
The argument for exhibition casebacks stems from a core part of what pushes people down the rabbit hole of watch collecting. An exhibition caseback is a window into the world of what makes a watch tick and the centuries old micro-engineering whose strength and existence today stands defiant in a world consumed by all things digital. As John suggests above, an exhibition caseback is a watch enthusiast's greatest tool for infecting their friends with the watch-bug.
Watch collectors often remark on their wish to wear a watch backwards, or for a skeletonised dial, in order to keep this mechanical heartbeat in full view at all times. For some, having a solid caseback is too stale – no matter what engraving or motif it may carry.
Watch brand Farer Universal snuck into the comments with an excellent point as well. I would argue that in a world where external watch design has become homogenised at times, movement decoration and finishing, even at varying levels, can be an opportunity for brands to further distinguish themselves. In modern manufacturing, new means and tools are available to create different textures, finishes and colours used on various components.
Case by case: Some watches are better suited for solid casebacks, others exhibition casebacks
A commonly held stance in the comment section is the notion that the answer depends on the category of watch. @bcm.va broke his stance down nicely, which many shared as well. Considering the objective of a sports watch is to be a "tool" and offer utility, if a manufacturer is trying to fully play into the essence of a sports watch there is not necessarily a need to exhibit the movement. Rolex, until recently, largely held this rule of solid casebacks on all of their Oyster Perpetual watches. On the other side of the coin, dress watches with high-end finishing to their movements are better served with exhibition casebacks rather than solid ones. These, typically speaking, more artistic pieces can feel incomplete without their movements on display. Just imagine if a Credor Eichi II or Philippe Dufour Simplicity had closed casebacks. It would be absolutely criminal, no? In the comment above, the sentiment is echoed from earlier that more affordable mechanical watches, regardless of the level of finishing they have on their movements, should have exhibition casebacks to offer the experience of seeing a mechanical movement in action – allowing those just getting into the hobby to have a greater connection with the wonders of watchmaking.
That being said, some, like Alexander above, pointed out that the level of finishing offered on a movement does dictate whether or not they would want a solid or exhibition caseback. When the novelty of seeing a "workhorse" movement ticking away through a caseback fades, the question becomes what advantage does it provide. In most cases, once you have seen an ETA 2824 movement you have seen them all. The only likely difference would be what brand name is engraved into the rotor.
Solid casebacks can keep a watch a tad thinner
The reason why I bring up the novelty factor of seeing a less decorated movement is touched upon in the comment above. While it is only a difference of a millimetre or so, exhibition casebacks add a tad more thickness to a case, in most instances, then a solid caseback. So, for those who no longer find pleasure necessarily in seeing their less glamorous mass produced calibre, they would prefer to save those precious microns and millimetres in thickness instead.
Seeing the movement can help identify counterfeits

An interesting point that was raised is that exhibition casebacks allow for the opportunity to DIY determine whether or not a watch is real or fake. If you are looking at an eBay listing, priced suspiciously attractively, the first thing you would want to do is take a look at the movement. For example, years ago I once saw an Omega Seamaster 300M Diver on eBay for a shockingly low buy-it-now price. While the seller claimed it was genuine, they were disingenuous for doing so. Looking at the movement, you could clearly discern it was a fake with the balance wheel in brass rather than silicon. Just one small tiny wheel and its golden hue, rather than black, gave it away. And, I only was able to sleuth that out because it was an exhibition caseback.
Exhibition casebacks hold brands accountable

Danny above also raised the point that exhibition casebacks hold brands accountable. This is only a point of contention connoisseurs would make, but transparency does ultimately leave everything on display. Like a singer's voice unshielded during an acapella moment, an exhibition caseback means you cannot hide anything from the trained eye. Therefore, exhibited movements allow collectors to call out mislabelled in-house movements or determine subjectively whether or not the retail price of a watch is justified based on the level of finishing performed.
How about the best of both worlds?
@whinewhiskywatches importantly points out the fact there is a style of case in which you do not have to choose between one or the other.
A hunter case denotes when a caseback has a hinged element where solid metal covers and protects an exhibition caseback beneath. It is a really neat means of offering an on-demand view of the movement, while also offering the benefits of a solid caseback. The only downside is that this can add thickness to a case, so the watch will need a thinner movement to compensate for the additional caseback elements – or risk ultimately being just a tad thicker than it would were it just a solid or exhibition caseback.
Another solution, as Eric raises, is simply to allow buyers to choose for themselves at the point of purchase.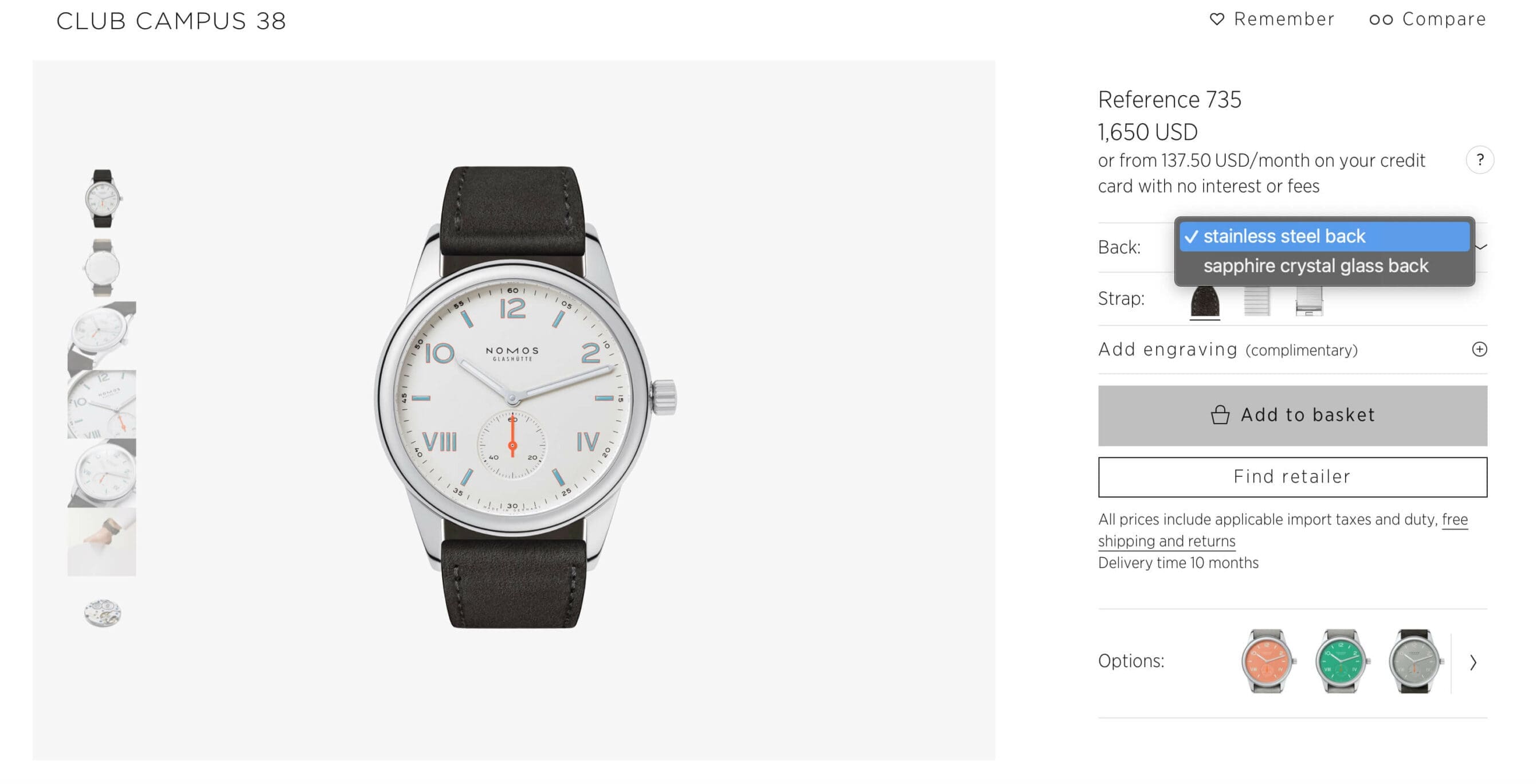 NOMOS is a great example of a brand who provides such a service. With NOMOS watches, buyers are able to plump for a solid caseback, or for a slight price increase, make the jump to an exhibition caseback. This means buyers have the agency to pick whichever they want.
Personally, I would say I am aligned with the idea that watches should have exhibition casebacks when there is something worthy of being on display. But, I also get that this is a bit snobbish in perspective. I feel this way based on where I am in my watch-collecting journey, so I recognise there is not a one-size-fits-all approach here. Therefore I cannot offer up a winning or losing verdict for either side of the debate. There is no wrong answer. I guess, if there is any winner in this discussion, it is brands like NOMOS who at least let the customer decide.