Rugged tool watches at surprising prices – D.C's five favourite watches of 2021
D.C. Hannay
Given the unprecedented events of the past two-ish years, the worldwide market for wristwatches has done surprisingly well. Chalk it up to lots of free time in lockdown for internet window shopping, and extra discretionary income (for some) that wasn't spent on things like travel and hotels. In 2021, I think the watch industry learned a couple of important things. Firstly, no one actually needed the Baselworld convention, at least not in its most recent incarnation. When the show was put on ice, brands adapted quickly, putting on their own events, or banding together to showcase new releases both online and later, in person. Secondly, consumers are perfectly okay with buying high-end watches online, something that I think surprised a lot of manufacturers. If anything, this is an industry in transition.
All things considered, I personally think that 2021 saw some really strong releases. But which ones spoke to me? Anyone who knows me knows I love tool watches from the '50s through to the '80s, so the new watches that brought the vintage heat are what resonated for me. Tudor had a pretty great year, and both the Pelagos FXD and the silver-cased Black Bay Fifty-Eight 925 could have easily made my list, along with the Breitling Chronomat Frecce Tricolori and pistachio green-dialled Premier B09 Chronograph 40, and the Daytona-killing Zenith Chronomaster Sport. And on the polar opposite side of the watch world, I must make special mention of the rainbow wonder that is the Chanel J12 X-Ray Electro Caliber 3.1, who really took it to Hublot in the full-sapphire department. The bracelet, and even parts of the movement are mind-blowingly constructed of sapphire, along with the stunning rainbow bezel. And although jewelled watches are not quite my jam, you have to admire the craftsmanship.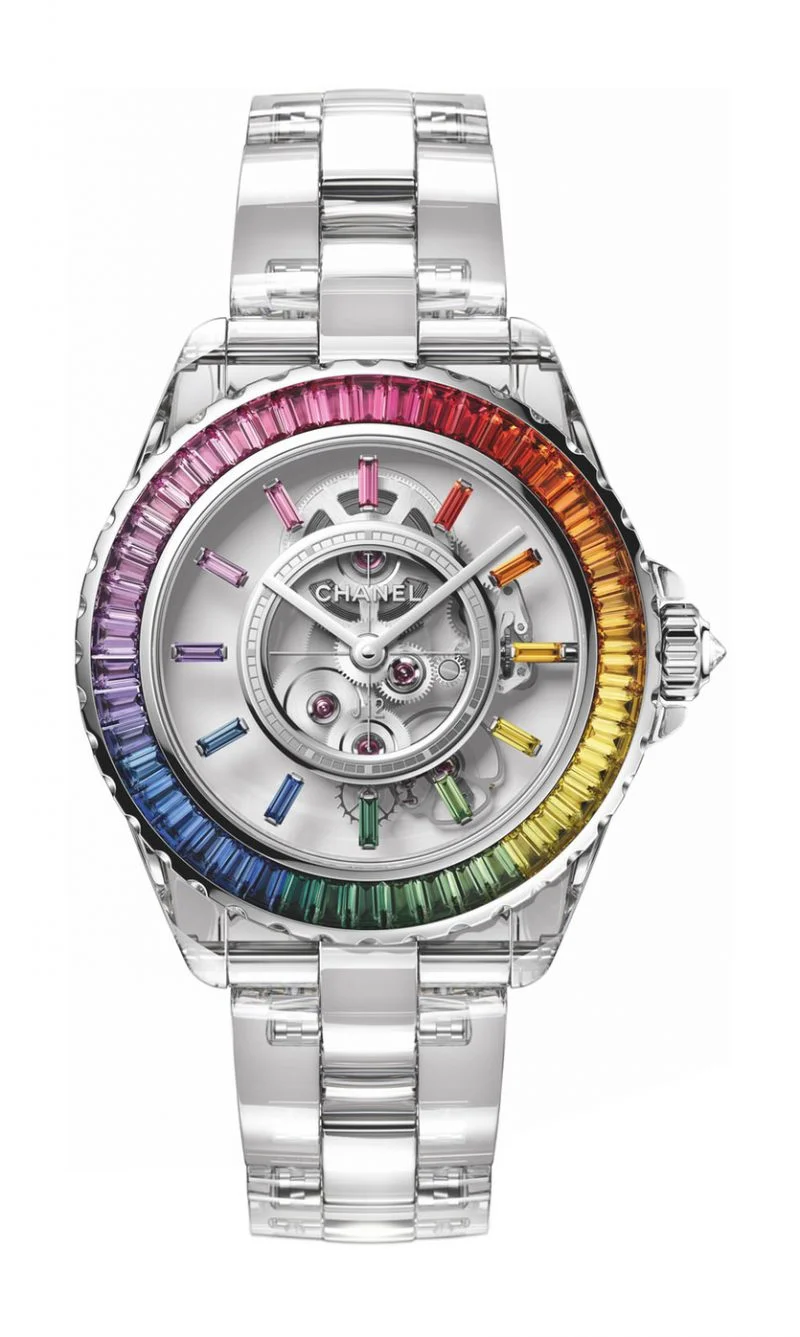 Serica 5303-1 
This diver looks like it was discovered inside a time capsule from 1965, such is its gorgeous mid-century perfection. Now, there are plenty of new watches riffing on the vintage vibes of the past, but perhaps none so successfully. A French microbrand, Serica has done a marvelous job of distilling classic design elements of the 60s and 70s into a cohesive masterpiece of a tool watch.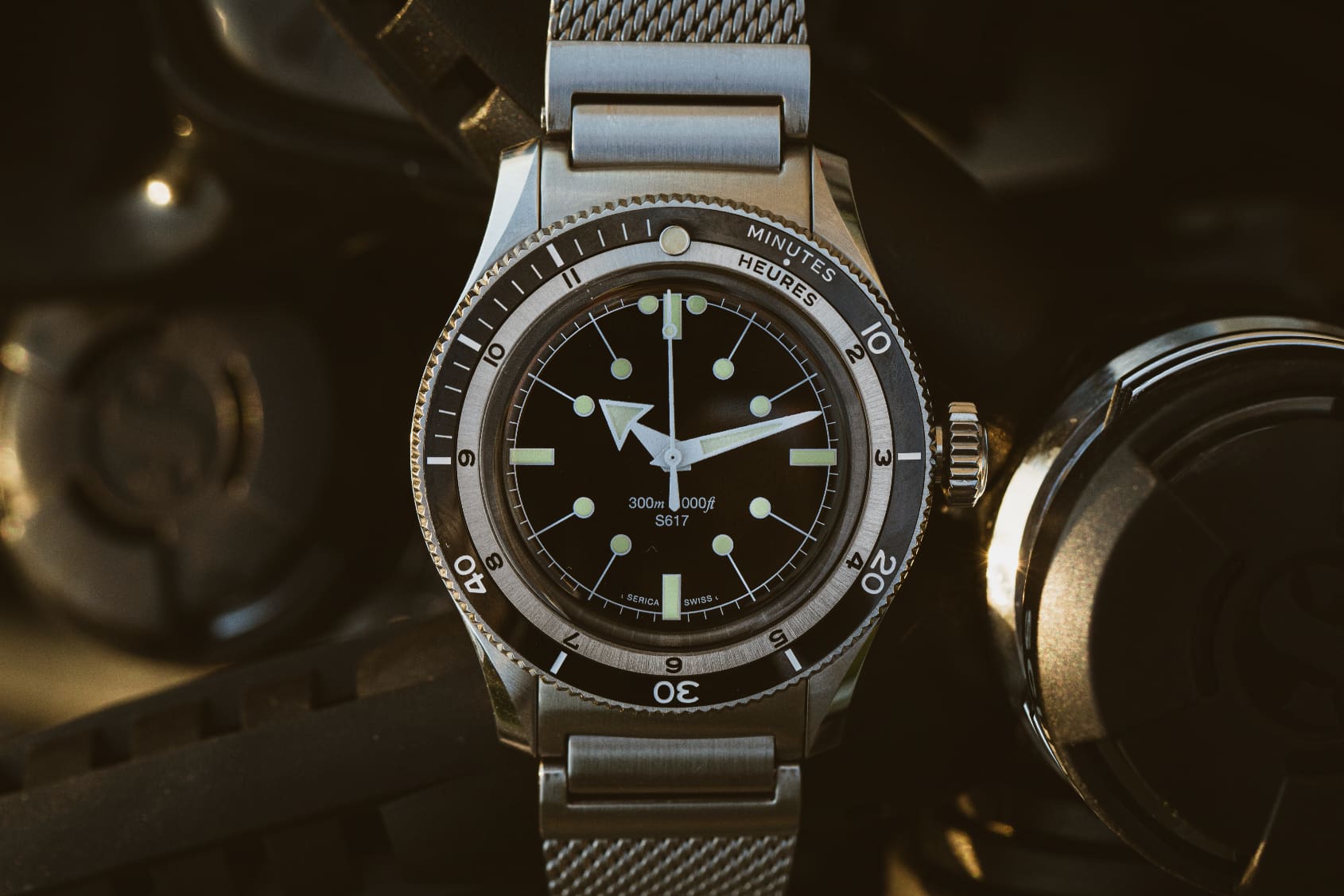 The dual purpose ceramic and steel bezel is a thing of beauty, allowing the wearer to track a second time zone. The dial, available in silver or black, has mallet-like markers that could have easily been part of the cover artwork on a 1950s Blue Note jazz album. The 39mm case, lyre lugs, and broad arrow handset evoke the best of vintage Omega, and the tapered mesh bracelet is a work of art. Best of all, none of it comes off as ersatz or phony. I could happily wear this one every day. Read more
Tissot PRX Powermatic 80
This one really surprised me. Tissot absolutely killed it in democratizing the integrated-bracelet steel sports watch for those of us not quite well-heeled enough to drop five or six figures on a Royal Oak or Nautilus. The case and bracelet finishing are a revelation at this price point (about $650 USD). Frankly, the workmanship is remarkable for a mass-market watch brand. A reissue of sorts, the PRX comes in both quartz and automatic flavours, but trust me, go with the auto. Not only do you get the highly rated Swatch Group-sourced Powermatic 80 movement with, you guessed it, an 80-hour power reserve, but the texture of the tapisserie-style dial is way more interesting, with a depth that isn't there on the sunray dial of the quartz version. The blue dial is likely the most popular, but the black or white/rose gold versions are equally fetching. The PRX is undoubtedly the bargain of the year, and isn't it nice not to put up with the absurdity of a waiting list? Read more
Aquastar Deepstar II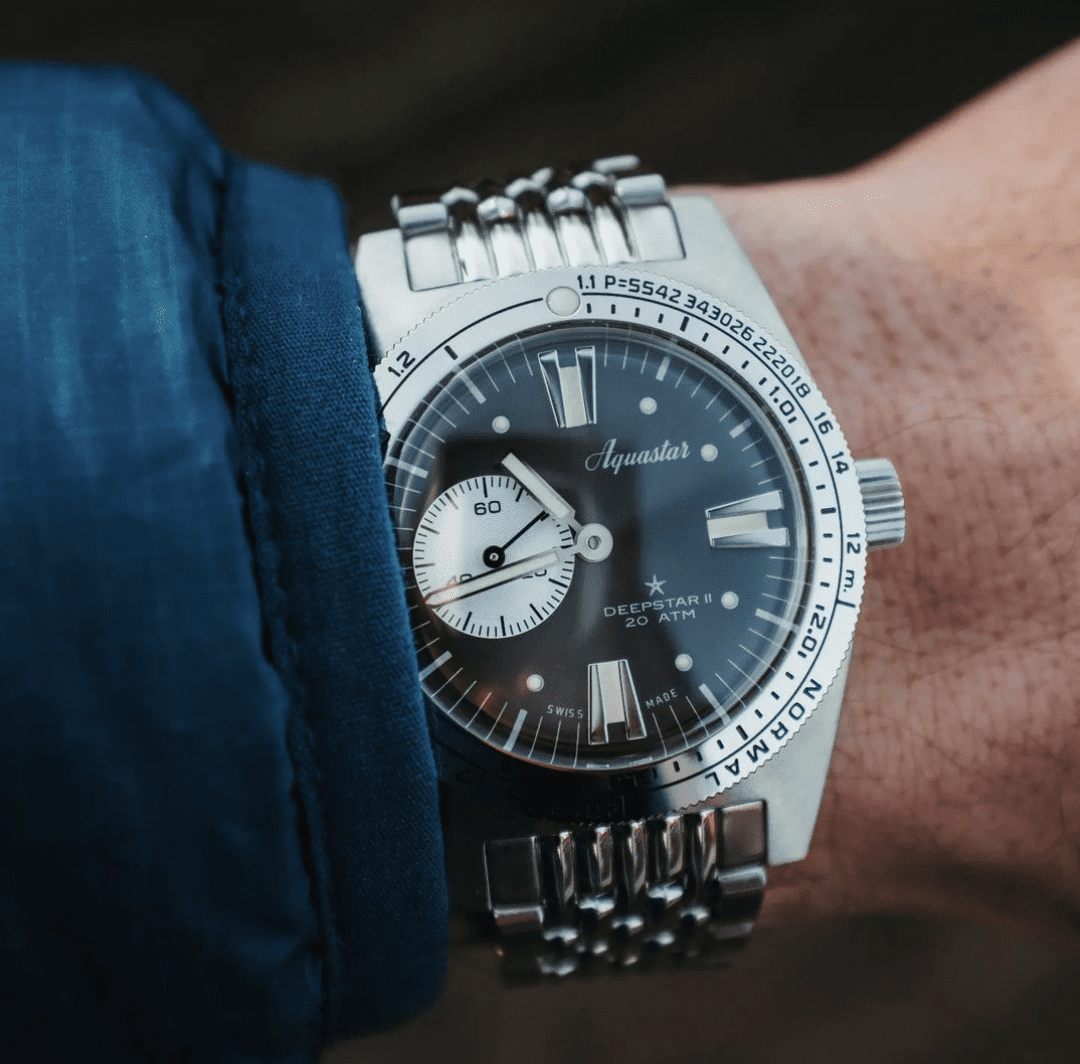 I love the purity of the skin diver case shape. Its simplicity cuts a very strong profile, without the dimensional clutter of some more unnecessarily complicated case designs. One of my favorite pieces in my collection is a vintage 36mm Douglas skin diver with a world time bezel, a very humble, utilitarian watch, but one with loads of retro charm, and I've been looking for a modern watch with that same visual language. Well, I found it, and this one's in a class by itself.
Last year saw the reintroduction of the historic Aquastar name with the release of the Deepstar Chronograph, and although I was totally smitten when I first saw the pictures, I was crestfallen when I tried it on, as the case was just a touch too big for my wrist, especially in the lug-to-lug length of 50 mm. That boi was thicc too, at 14.8mm, and try as I might, it just wouldn't work for me. Apparently, Aquastar heard my anguished thoughts, and released the Deepstar II this year, and it's nearly perfect. A time-only diver with a sub-seconds dial at nine, the Deepstar II has set the wayback machine to awesome, and it's perfectly proportioned at 36.7mm in diameter, with a lug-to-lug of 47mm. Not a reissue, but a "greatest hits" of design elements from Aquastar's storied past, it's available with your choice of black, grey, or blue sunburst dials, and is one of the most beautiful tool watches you're ever likely to see. The good news? You can buy one for under $2000.
Tudor Black Bay Chronograph
Tudor just had to make the list this year, with a slew of strong releases, but my favourite is the new Black Bay Chronograph, specifically the panda dial version on the bund strap. Truly, Tudor is producing the watches some of us wish Rolex still made. As Rolex slides further into "jewel" and away from "tool", Tudor is taking up the slack in a big way. This bicompax beast has an in-house COSC-certified chronometer movement, 200 metres water resistance with screw-down crown and pushers, and that Newman-approved bund in black leather with white stitching. The strap looks so good, I started wearing a similar one on my vintage Navitimer 806. The whole package is gorgeous, and there's nothing even remotely this retro-cool in the blingy Rolex Daytona lineup (as if you could actually buy one), so ¯\_(ツ)_/¯, amirite?
Doxa 600T
And finally, we come to one of my favourite surprises of 2021, the reintroduction of one of the most distinctively different dive watch cases in history, the Doxa Sub 600T. The watch debuted during the peak of Punk and New Wave in the 1980s, and the brutalist tonneau case lines and brightly coloured dials perfectly encapsulate the spiky, angular aesthetic of the day. But make no mistake: the 600T is a serious tool watch, with that sharply sculpted stainless case, water resistance of 600 metres, great legibility, a screwdown 4 o'clock crown, and an ultra-grippy sawtooth bezel. They're also fairly affordable with prices starting at AUD $2,145 / CHF 1,350.
Colourways include all six of the usual Doxa suspects, including the orange Professional, the black Sharkhunter, and my personal favourite, the brilliant teal Aquamarine because Daddy ain't gettin' no Tiffany Nautilus for Christmas. And in one of the coolest limited editions of 2021, Time & Tide put out their very own version of the 600T, the pacific, in titanium with a unique shade of blue on the dial.
Read more