Ricardo's Top 5 from Geneva Watch Days 2022
Ricardo Sime
Welcome to Geneva Watch Days 2022. Slotted perfectly as a summer send off just as we start coming back from those much needed vacations, this year's fair has lived up to it's "last treat before returning to the real world" timing. Dozens of brands have come packing new heat as well as some much wanted upgrades. Here are my five favourites from this year's fair.
Quai Des Bergues Sapphire Blue L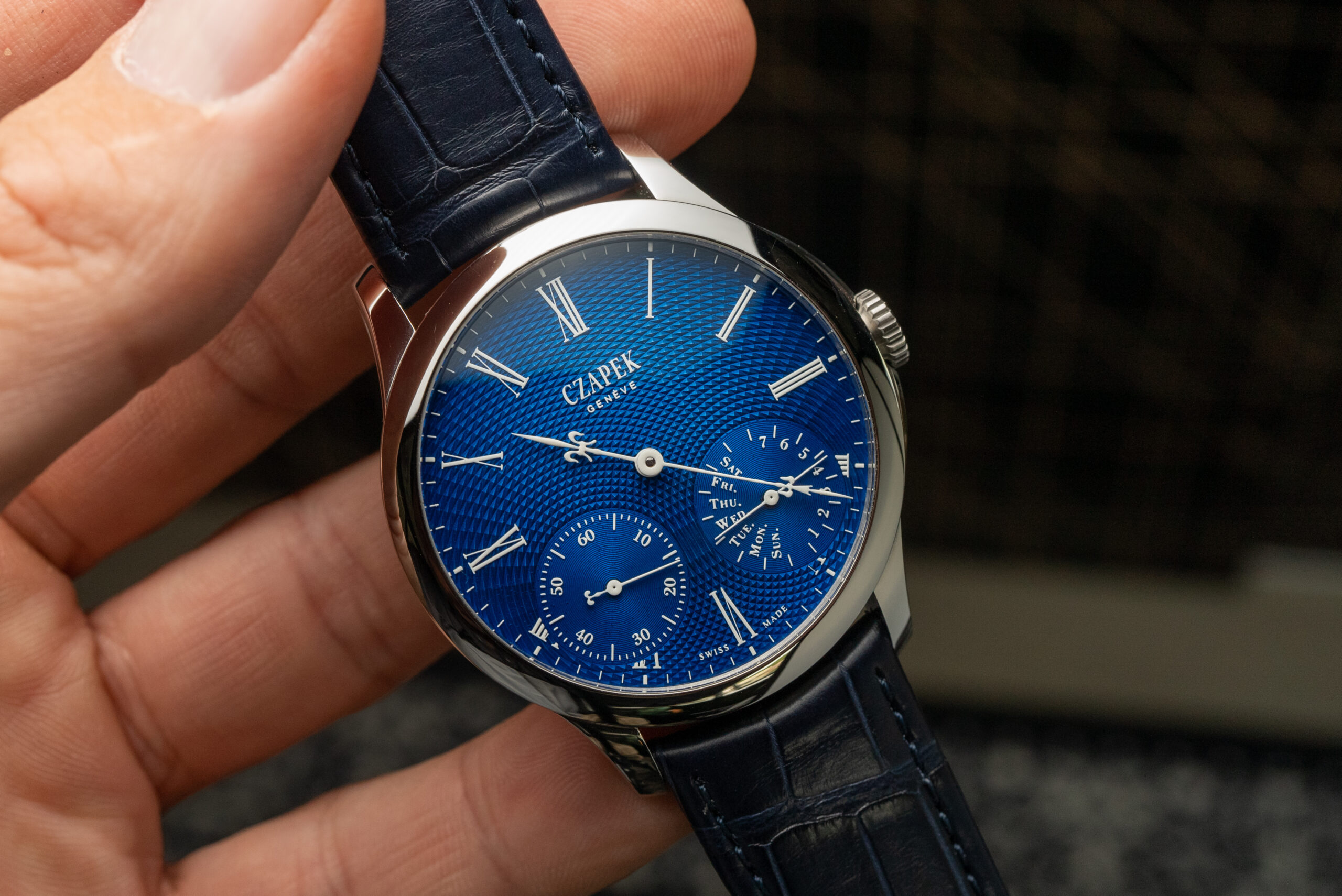 Who doesn't love new? That's something we are getting a ton of this fair. However, I'm always fond of a brand that takes a line and through a few changes, makes the offering better. That's exactly what Czapek did with this Quai Des Bergues Sapphire Blue L.
First there is the amazing new guilloche dials, that are 'flinqued", with enamel placed upon the pattern. It gives the appearance that the subdials are vibrating a pattern out onto the dial. This isn't the first time it's been done, yet in this larger (L) 42.5mm version, the pattern truly stands out.
Second is the re-worked SXH1 calibre. The skeletonizing and deeper chamfers elevates its appearance. It turns a previously spartan looking movement into a feast for the eyes. That is something myself and many Czapek fans definitely appreciate.
Frederique Constant Classics Heart Beat Manufacture Limited Edition
I've always had love in my heart for Frederique Constant and their tireless work to bring high complication to the masses. What stopped me taking the leap and adding one to the collection was their aesthetic. With the Classics Heart Beat Manufacture Limited Edition, they have taken a step in what I feel is the right direction.
From the use of the "heart" and "leaf" hands instead of Breguet to the perfectly circular, large aperture used to display the escapement. And even the 39mm case. These are all design cues, that when combined, create one of the best looking dress offerings I've seen from the brand.
Oris Diver 65 Caliber 400 12H
From the moment I slipped the Oris Diver 65 Caliber 400 12H on my wrist, I fell in love. The Sixty Five is already one of my favourite lines from Oris, presenting a more vintage diver aesthetic than it's super popular Aquis line. Yet, I always hoped Oris would give the design a more "everyday wear" appeal.
That's exactly what they've done here by adding the 12-hour bezel and equipping the watch with their marquee Calibre 400. It turns a vintage diver into a very smart casual watch. With endless future possibilities.
With it, Oris has laid the foundations for what could soon be their most popular line of watches.
Hautlence Linear Series 1
I never forget the moment I first laid eyes on the TV shaped Hautlence HL Sphere. It was such a bold, interesting design that I wanted to make sure I always kept tabs on the brand. Fast forward nearly four years and their latest offering, the Linear Series 1 elicits that same joy I felt in that first encounter.
There is the integrated rubber strap, which actually makes sense on a watch with 100 metres of water resistance. An interesting time display, which makes use of one of my favourite mechanisms in it's retrograde hours. And the icing on the cake? The beautifully displayed tourbillon, with it's mixture of blue and gold.
I'd take this over a certain super-hyped, funny money, skeletonised brand, every day of the week.
Bulgari Aluminium Sorayama Special Edition
Rounding out my top five for Geneva Watch Days is the Bulgari Aluminium Sorayama Special Edition.
My favourite collaborations between artist and brand are the ones where the artist takes the brand's classic design and adds their mark. Whether it be a change in the material or the dial. the overall DNA of the watch should still be readily identifiable.
That's what we get with this watch. The dial perlage elevates it and creates an aesthetic that is hard to tear your gaze from. It makes you wonder why Bulgari never did this in the first place. Which is the highest praise a collaboration can get in my eyes.