Nomos flex their muscles with their new Club and Tangente Sport models
Felix Scholz
Since their inception in 1990, Nomos Glashütte have had a remarkably clear visual and stylistic aesthetic. Clean and refined. Utilitarian, leaning towards the dressy. Unmistakably German. Or, to use the shorthand — Bauhaus.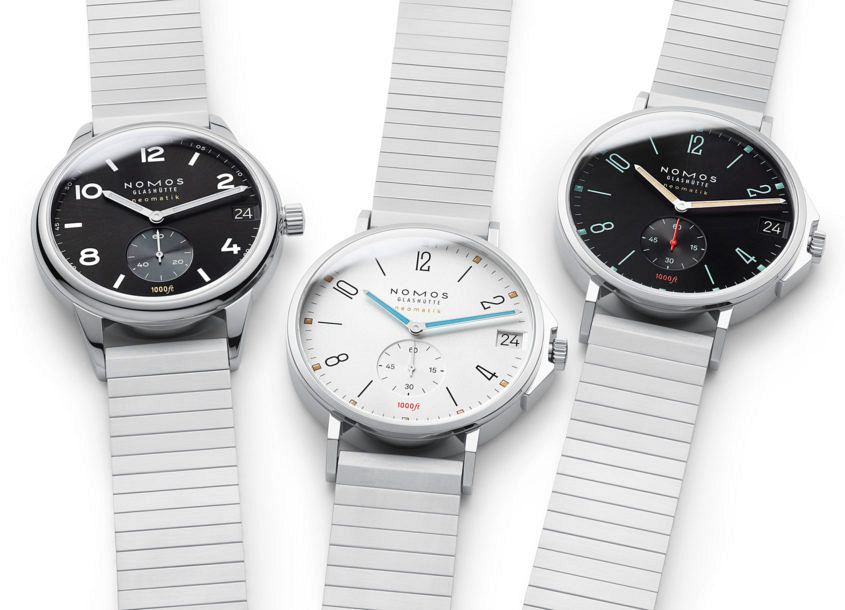 In the earlier years of Nomos, this distinctive styling was paired with some solid watchmaking, and a very strong value proposition. All this combined to earn Nomos a cult following. But Nomos wasn't content to rest on these laurels, instead embarking on a quiet, and quite deliberate quest to expand their product offering and, in industry parlance, expand their key verticals. So a few years ago we started seeing new lines, like the upper-echelon Lux and Lambda, the sporty Ahoi and the modern Metro. Then came neomatik and swing system, impressive new in-house calibres that represented a significant investment and also independence. But the new offerings didn't end there; Minimatik and Autobahn added to the family even further. 
All these new lines are very much Nomos, but they stretch the comfort zone of the brand's design language. There's more colour, more playfulness, and greater complexity in construction. Of course, the core is still that round steel watch, like the Tangente and Orion, with a pared-back design. But there's also the Nomos take on a diver (Ahoi), a drive watch (the Autobahn), and pure dress watches (Lambda). We're also seeing a greater diversity of straps — from a brief dalliance in Perlon, to a new, more robust nylon offering. 
Which brings us to Baselworld 2019, which saw two new models, the Tangente Sport and the Club Sport. Both beefed-up versions of existing models that, in quite a surprise move, came equipped on a bracelet. On the surface, these are 42mm steel watches with solid build, 300 metres of water resistance and a bracelet. It might not sound very Bauhaus, but look closer and it kind of is. 
The bracelets are unique: flat, full-length links that give the watches an almost '70s Twist-O-Flex Speidel look, which is quite a nice association. Make no mistake, though, these bracelets are solid, made in-house, from 145 individual parts, secured by a single fold deployant. These bracelets are definitely sporty — solid rather than supple, and possess straight end links, which is in keeping with that Nomos look. 
A few years ago, a Nomos on a bracelet would have been unthinkable, but it's 2019 and the landscape is very different, as is Nomos, who are continuing to grow and evolve, while remaining true to their roots. 
Nomos Tangente Sport and Club Sport Australian pricing
Nomos Tangente Sport on bracelet, $7070; Club Sport on bracelet, $5730 
[tt_in_content_assets]