Fancy a vintage Daytona or Calatrava? This watchmaker is selling his magnificent collection…
Zach Blass
All too often we discuss watches as assets. Usually when we hear about people selling pieces from their collection it is part of an effort to fund the next watch – something I am well documented in doing. But when you reach a certain collection tier, or have the right references, moving such watches can fund significant purchases such as a house or a wedding. Australian watchmaker Nicholas Hacko is now selling 11 interesting watches from his private collection to subsidise a new five axis milling machine for his workshop. Since we are huge fans of his work and documented restorations, we wanted to put a spotlight on his sale and showcase the watches he is now saying goodbye to. Plus, there are some pretty nice watches to check out…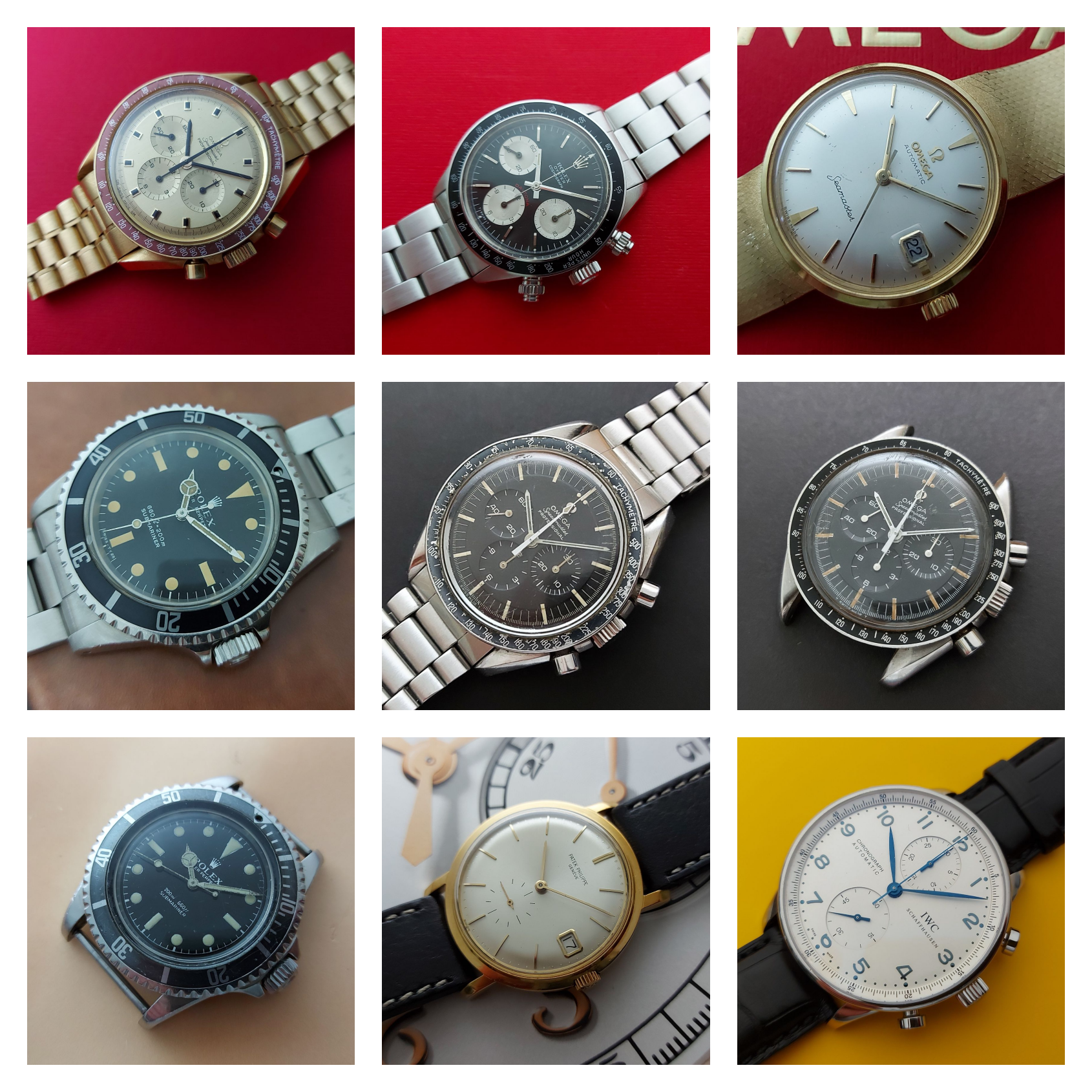 Below is the original message from Nicholas….
As some of you already know, three months ago we commissioned a new five axis milling machine. A 30% upfront deposit has been put down, with the remaining balance due in December. The mill is expected to arrive in February, and it is to be installed in March 2022.
Obviously, the new machine is a major capital investment to a small business like ours. Actually, it is our largest single acquisition – ever. The software alone cost more than an average German car! As always is the case with acquisition of such magnitude, self-finance is out of the question.
In order to minimise the amount to be borrowed, some of my private watches are now on sale. You will find them listed below.
Here is the deal: your offers are welcome. Feel free to submit your offer by July 1. On July 1 I will consider all offers. If your offer is accepted, and we shake hands on the deal, you will have two options:
1. To settle the amount in full on July 1 or 2. To go 'frugal': pay the watch off in 6 installments (July 1- December 1).
I strongly recommend that you make an appointment and check the watch in person before committing. Keep in mind that the watches are NOT KEPT ON OUR PREMISES, so an appointment is essential. A word about watches on offer: as said before, this is my private stock. Some of them were bought 20 years ago, and I have kept them stored in a deposit box. Most of them were one-off deals, and I kept them knowing that I wouldn't have another chance in years – if not decades, and certainly not at the price they were originally purchased.
I am not a desperate seller so please no low ball offers. There is a price guide on each watch with lower figure indicating the minimum offer considered. Thank you for your support.
Editors Note: all pricing is in $AUD, GST will be added to final price.
1. IWC Portugieser "To Nobel Peace Prize J Ramos Horta"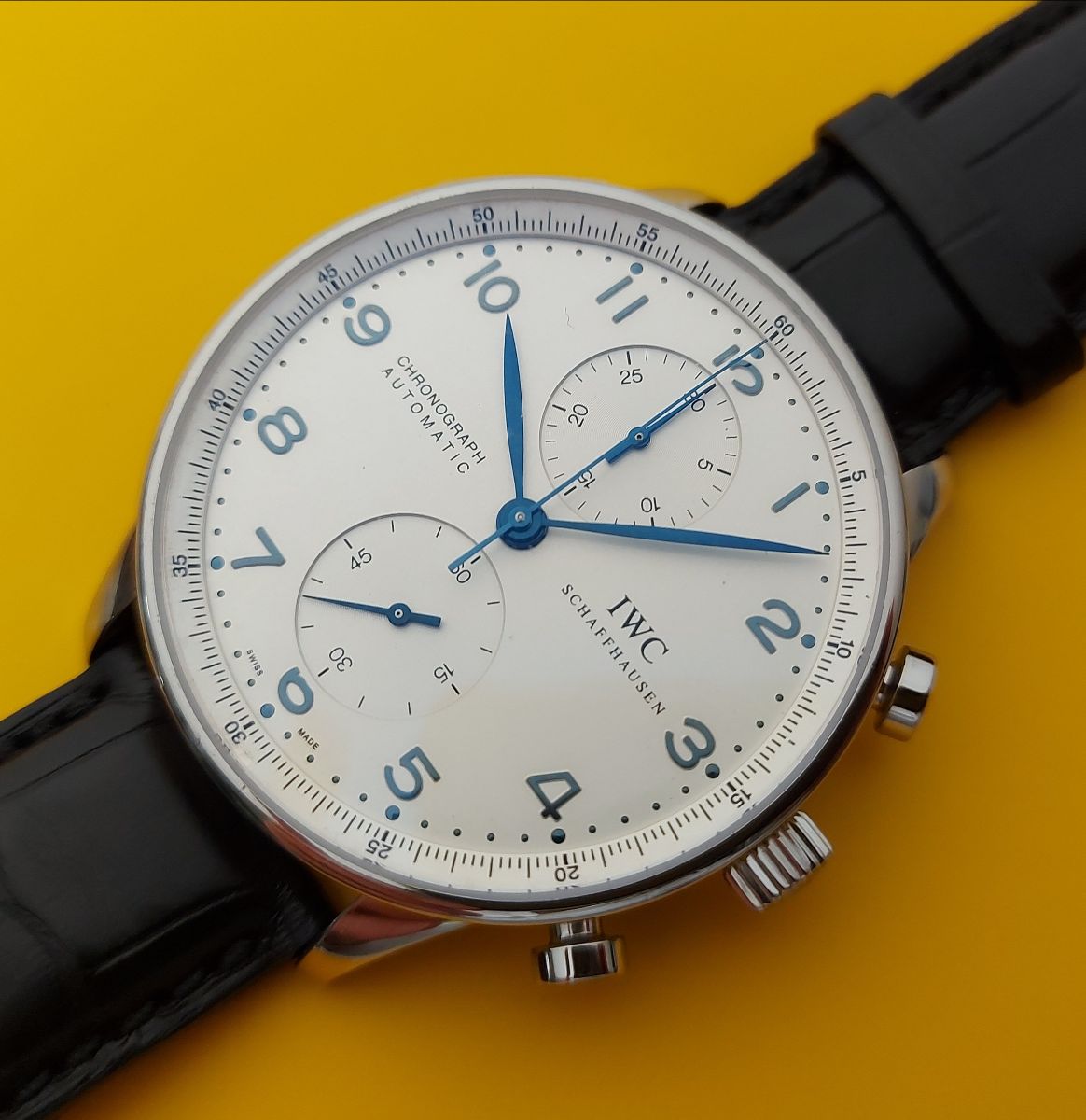 This interesting IWC Portugueser watch was directly acquired from the President of East Timor. As Nicholas explains: "How many presidents' watches are out there? How many presidents are also Nobel Peace prize winners?". The watch presents an opportunity to own a familiar and iconic reference, but with a superbly rare backstory that heightens the emotional appeal of ownership.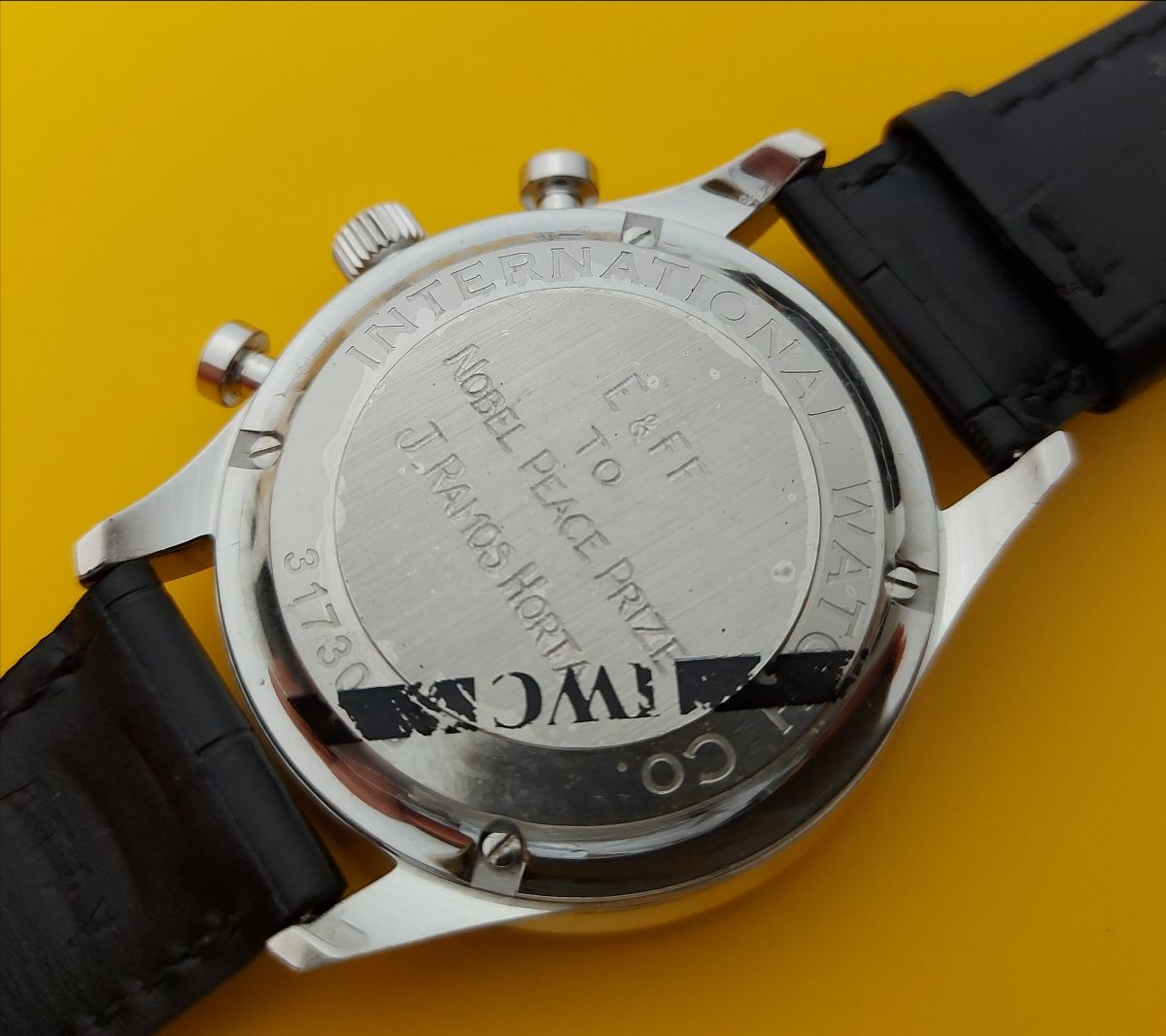 In terms of its condition, the watch has been overhauled by IWC.
Offers: $12,000 – $26,000.
2. 1964 Patek Philippe Calatrava Wristwatch ref. 3445
Nicholas' 1964 Patek Philippe Calatrava Wristwatch ref. 3445 was acquired from the guardian of the estate of the original owner. The watch has spent a great deal of time safely preserved, with a clean case and original and unrestored dial and hands. Its 18K yellow gold case is 35mm in diameter and has an engraved caseback and inside the ref. 3445 is the venerated automatic calibre 27-460M – one of the best automatic movements of the golden Swiss era. It is a true purist's timepiece.
Offers: $18,000-$26,000
3. 1963 Omega Seamaster Automatic ref. 14770SC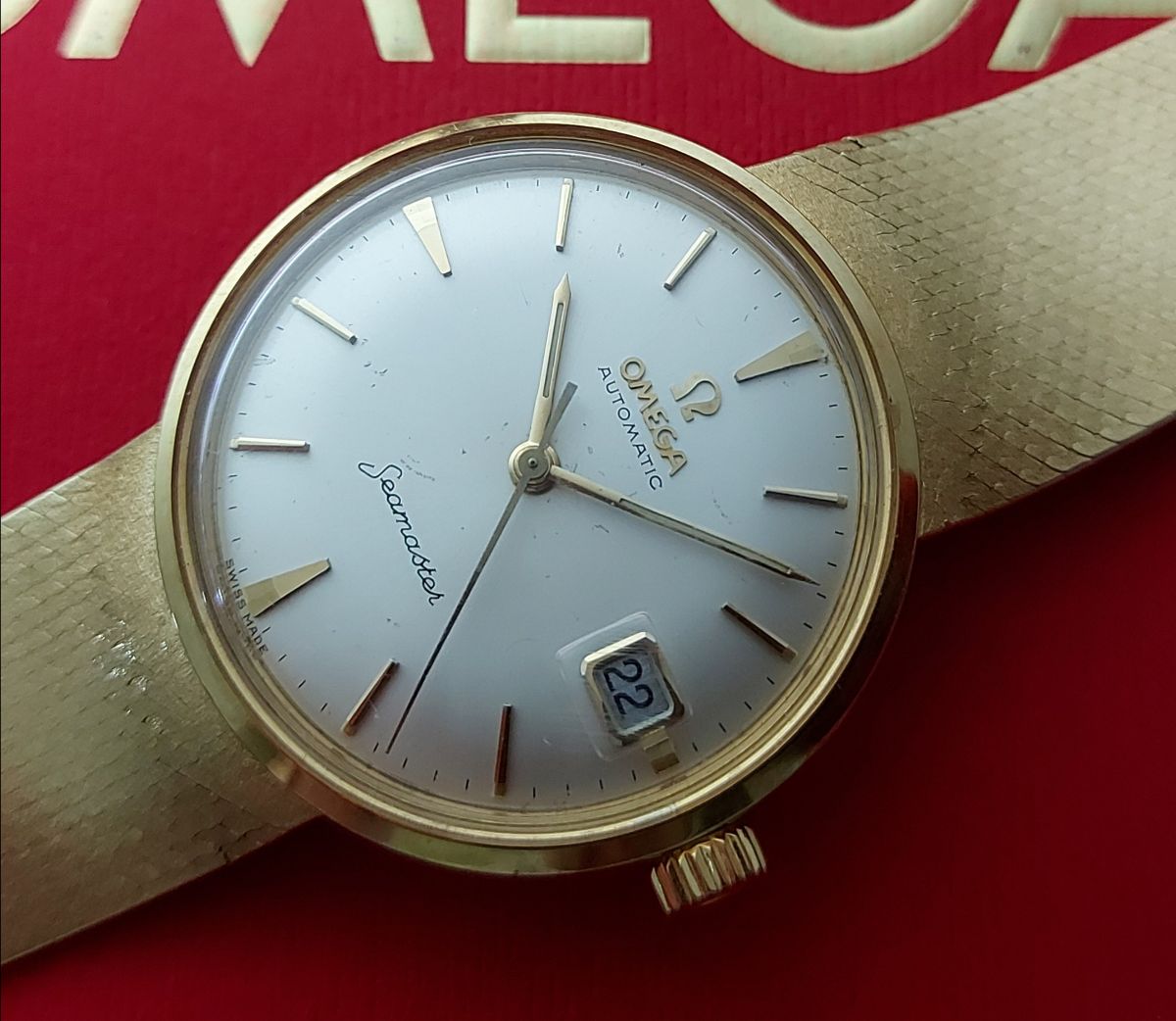 His 1963 Omega Seamaster Automatic ref. 14770SC is 34mm in diameter, with an 18K yellow gold case and integrated Omega bracelet that will currently fit a 19cm wrist. Bracelets of this era may need to be cut to size, which can be a bit tedious, so definitely confirm if it will be necessary as well as what your wrist size is. If it does meet your wrist specifications it is a classic and precious Omega Seamaster that's well worth adding to your collection.
Offers: $6,000-$9,000
4. 1967 Patek Philippe ref. 2591
This 1967 Patek Philippe ref. 2591 embodies a more elegant era of timepieces. Inside is a very nicely decorated manual wind Cal 23-300 (the same movement in my old Patek Philippe Golden Ellipse ref. 3548). It is housed in an 18K yellow gold attached to a 18K yellow gold bracelet, which like the Omega above may need to be cut to size and cannot be enlarged. As of now it will currently fit a very large wrist (21.5-22cm).
Offers: $9,000 – $14,000
5. 1968 Omega Speedmaster pre-moon ref. 145.022 68ST
This 1968 Omega Speedmaster pre-moon ref. 145.022 68ST has clearly been loved in its lifetime, outfitted on its bracelet in original condition. Based on the image, it would appear a DON (dot over ninety) bezel is present – a more coveted collector configuration. Inside is the Albert Piguet designed cam chronograph Calibre 861, the successor to the also Albert Piguet designed 321 column wheel movement. Vintage Speedmasters are always in demand, the iconic Moonwatch a reference all watch and space enthusiasts encounter due to its rich history.
Offers: $15,000 – $22,000
6. 1967 Omega Speedmaster pre-moon Ref 145.012 67ST
Complementing his 145.022 is the highly desirable 145.012. This example dates to 1967 and utilizes the famed column wheel chronograph caliber 321. The watch is described as in original condition, its case untouched and movement clean, but it would appear the bezel may have been replaced with a service replacement as it does not have a DON configuration. Before making an offer I would confirm this detail, but the one thing I am certain about is its attractive patinated dial with a sandy pumpkin colour emerging out of the tritium.
Offers: $18,000 – $25,000
7. 1969 Omega Apollo XI Ref 145.022 69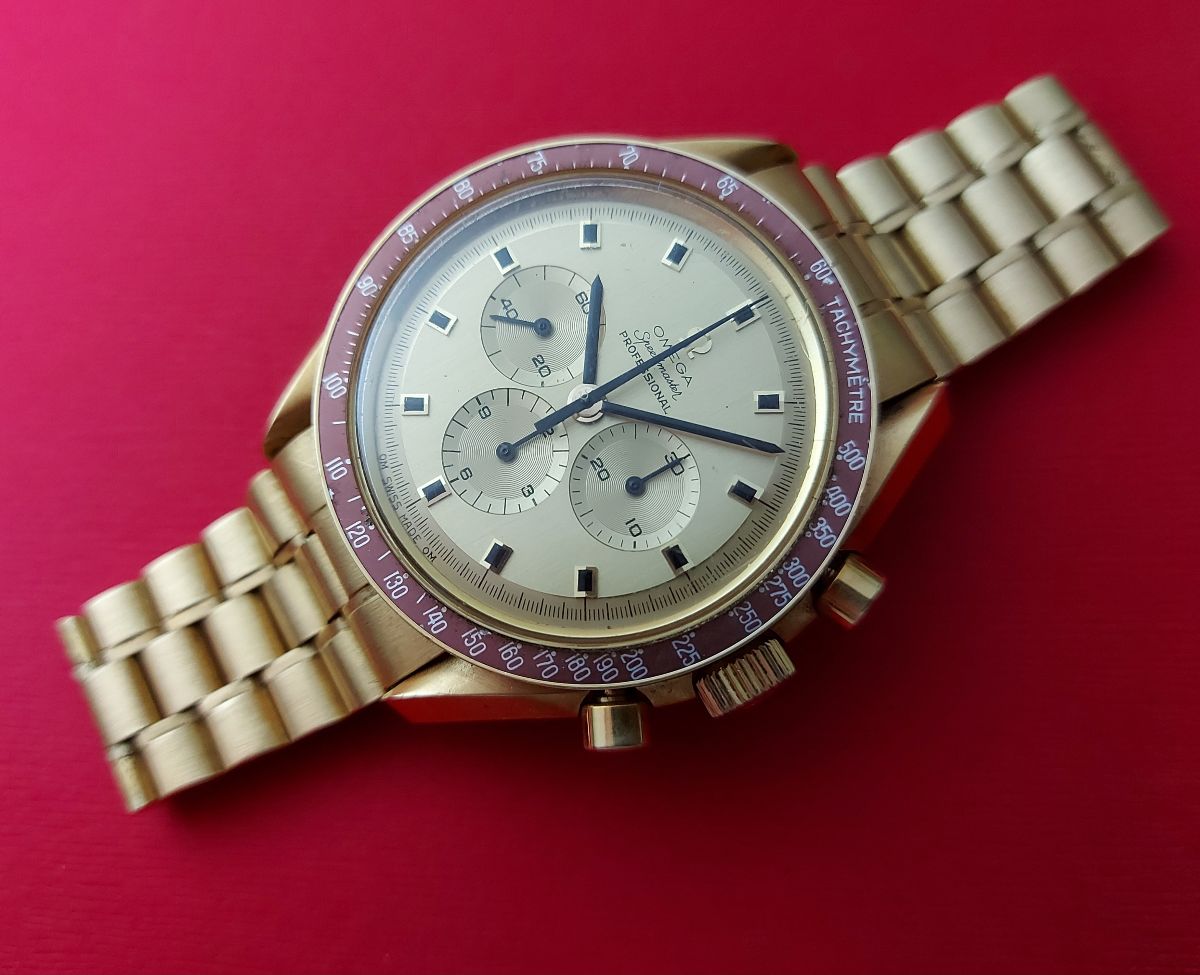 Rounding out the Speedmaster collection is his 1969 all original 18K gold Omega Apollo XI Ref 145.022 69 with long bracelet and burgundy DON bezel. While the watch was re-issued with the new co-axial 3861 caliber in a moonshine gold case, it is hard to top the original commemorative watch. According to Sotheby's the watch was "limited to 1014 pieces, created to commemorate the successful moon landing. A selection of the 1014 pieces were given to personalities. Number 1 was presented to President Richard Nixon and number 2 was gifted to Vice President Spiro Agnew. Thirty-four pieces were given to astronauts, including Walter Schirra (no. 9), Ed White (no. 10), Neil Armstrong (no. 17) and Buzz Aldrin (no, 21). Furthermore, numbers 29 and 32 were presented to Swiss politicians as well as the managers of Omega and Lemania. The remaining pieces were sold to the public."
Offers: $75,000 – $125,000
8. 1974 Rolex Daytona ref. 6263 Red Chronograph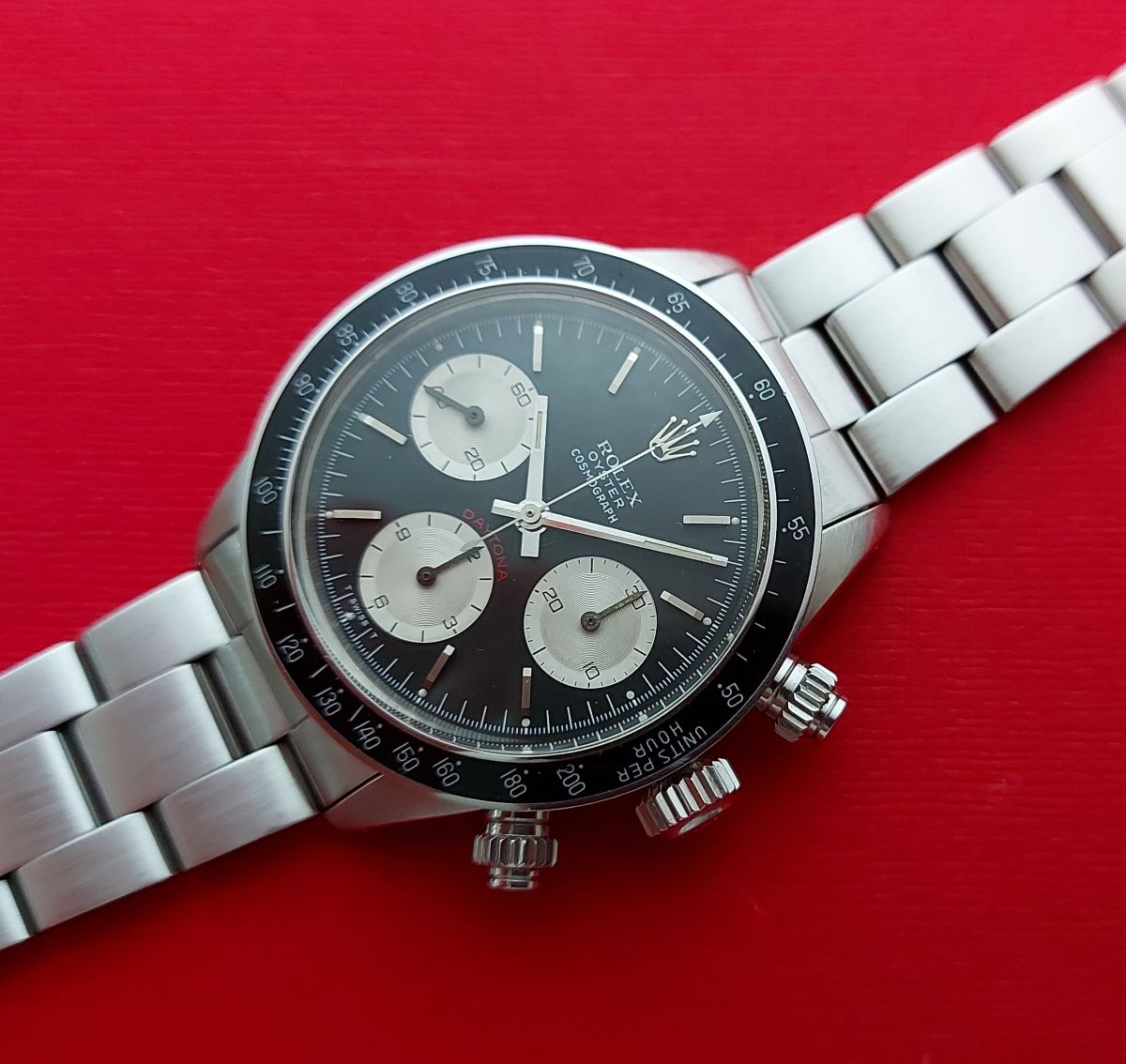 The Rolex Daytona ref. 6263 is one of the most desirable Daytona references in the world, and that is really saying something considering we are in the full throws of Daytonamania. The example offered is clean and classic with a black dial and red Daytona text. Inside is the historic Valjoux Cal. 727 and the watch was carefully overhauled in September 2020, the video of which can be seen here.
Offers: $150,000 – $225,000
9. 1959 Rolex Submariner ref. 5512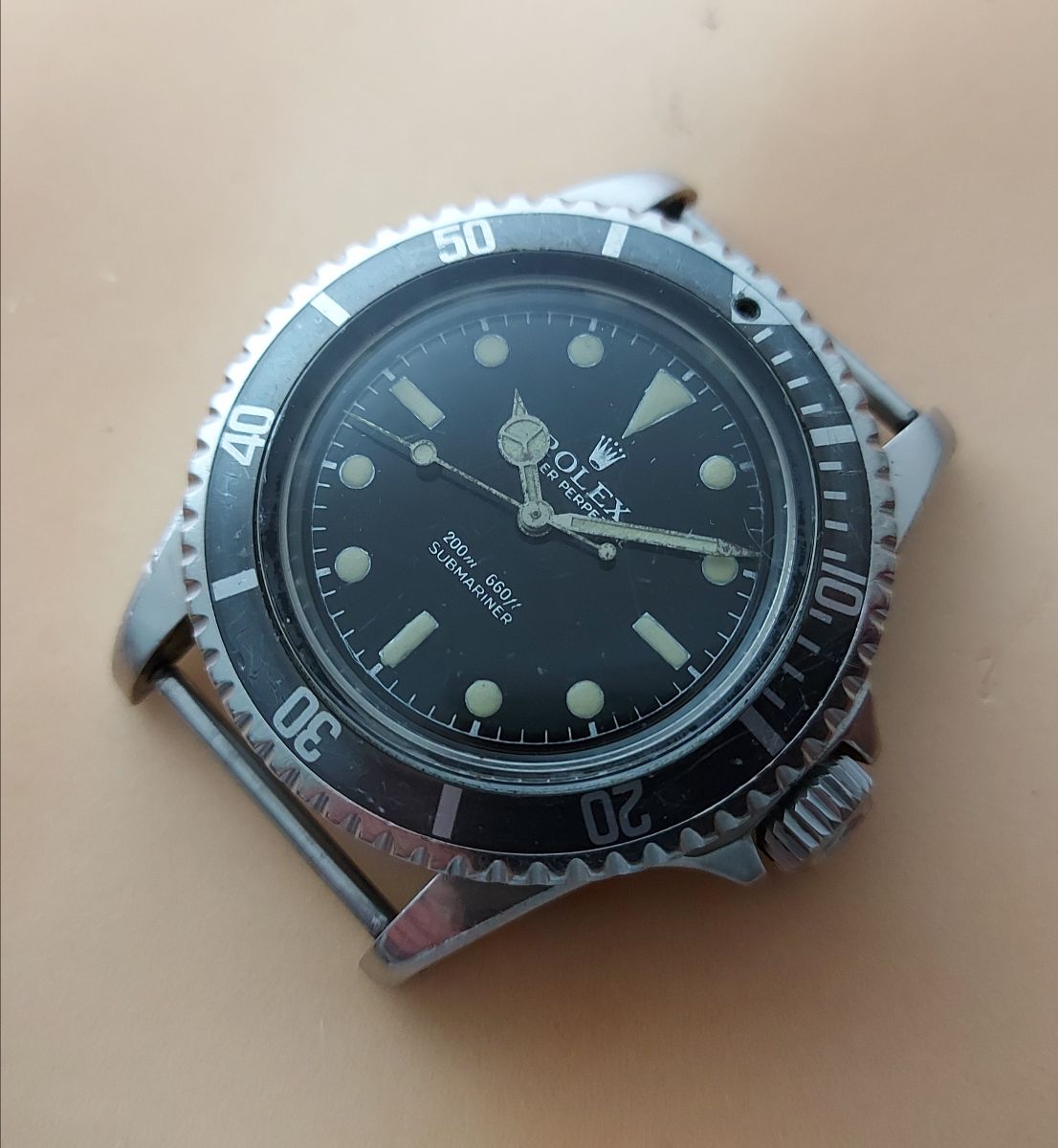 This Rolex Submariner ref. 5512 comes with its box and papers. What is really neat is that this watch is dated to 1959, when the reference was first released, placing its manufacture within the first year of its issue. That being said, it does have an old re-lumed dial – but nonetheless a very rare piece.
Offers: $55,000 – $75,000
10. 1977 Rolex Submariner ref. 5513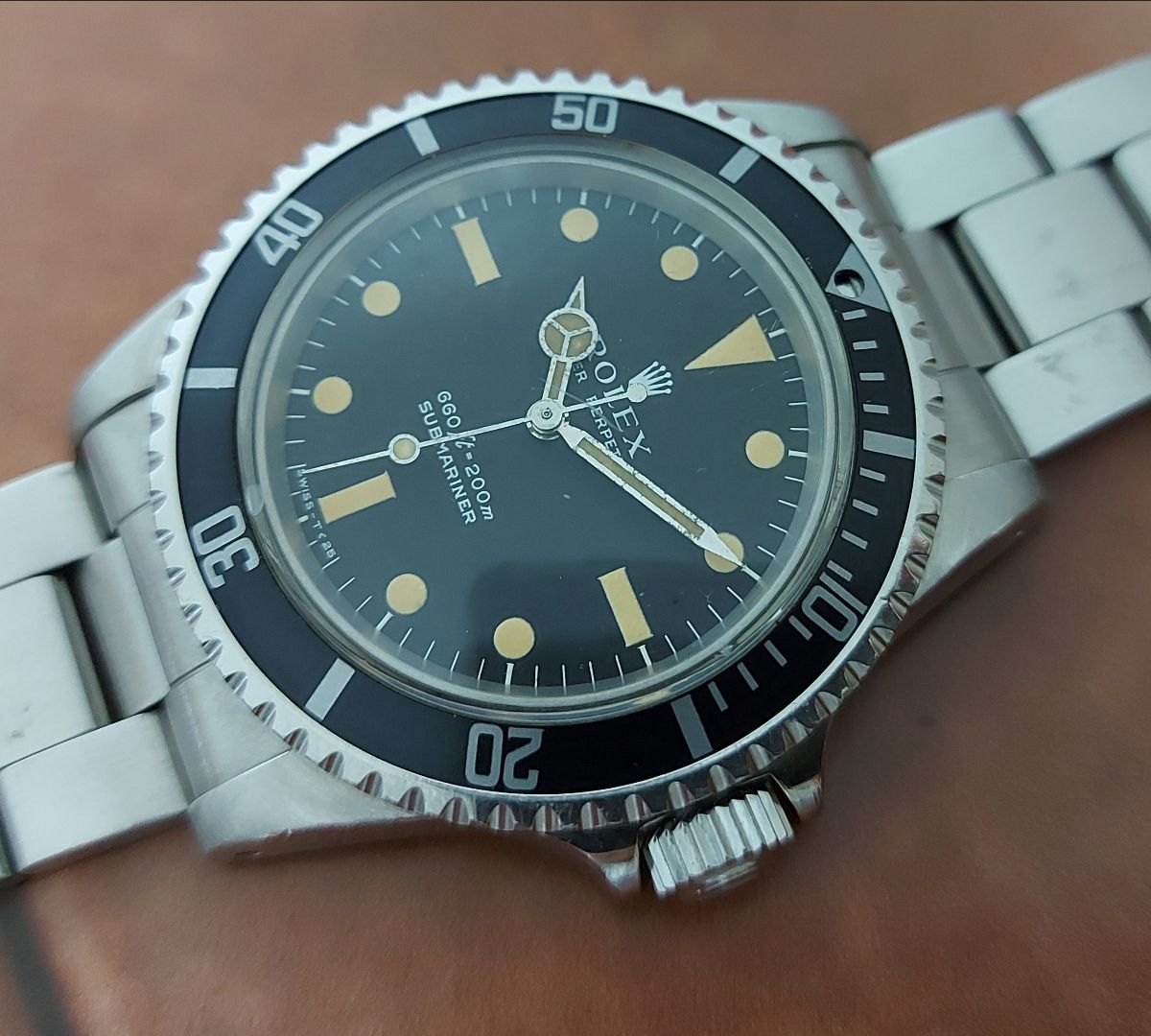 His 1977 Rolex Submariner ref. 5513 still has its original dial and hands, which based on the image have aged quite well. The 5513 has been worn by many icons throughout the years, including famed actor Steve McQueen.
Offers: $28,000 – $38,000
11. Zenith Tourbillon Zenith Grande Class 18K White Gold Tourbillon Moon phase ref. 65-0520-4034-01-C492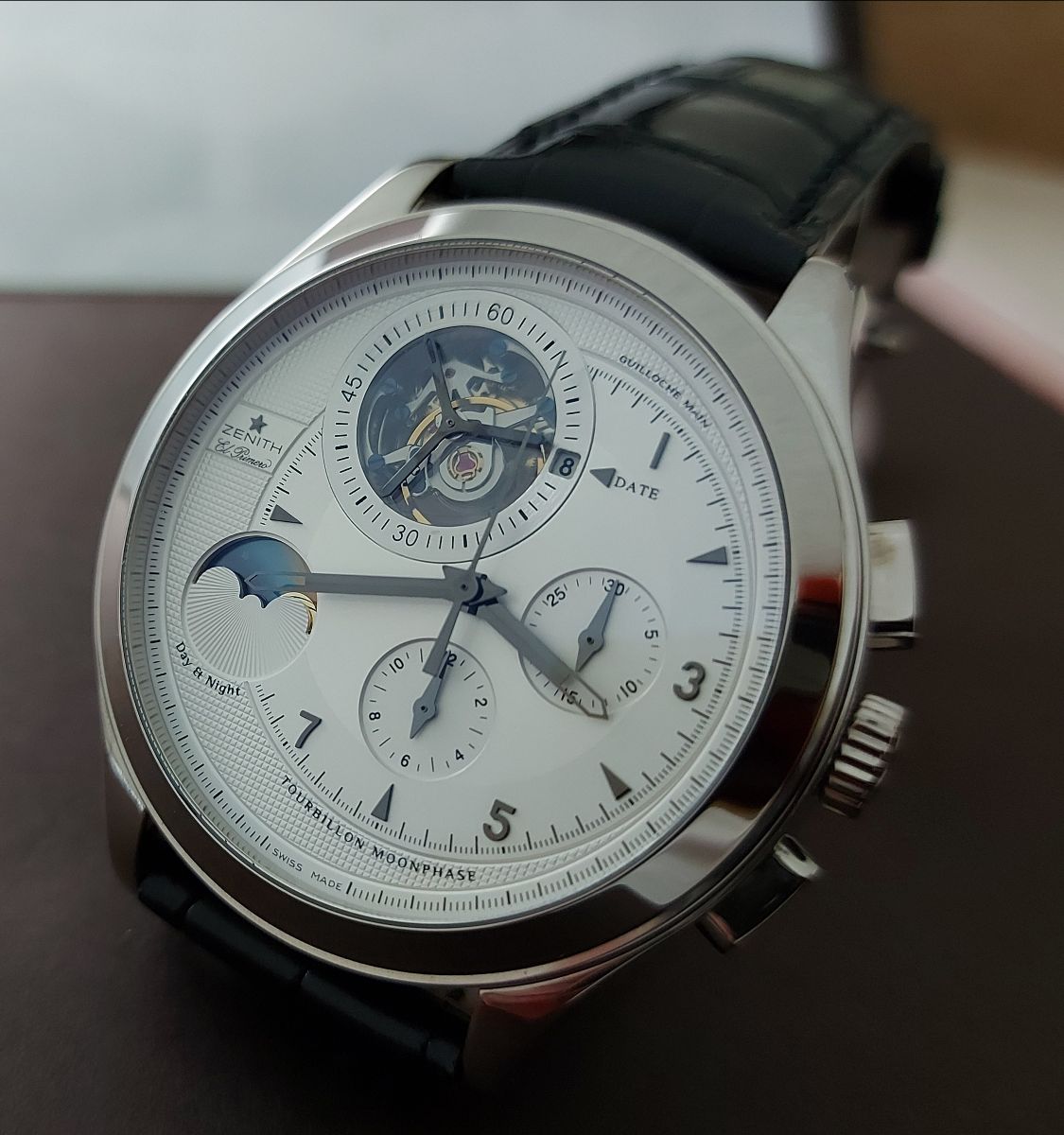 Last but not least is the most complicated watch of the eleven offerings. One of only five made, this Zenith Tourbillon Zenith Grande Class 18K White Gold Tourbillon Moon phase ref. 65-0520-4034-01-C492 has an attractive asymmetrical dial with a crescent guilloche framing the main dial. What is neat about the caliber 4034 inside is that it is an El Primero movement upgraded with a moon phase and tourbillon complication. For fans of the historic El Primero it is an interesting and rare configuration to add to your collection.
Offers: $75,000-$95,000
To get in touch with Nicholas, you can email him here and let him know the watch that you are interested in,  or call (02) 9232-0500. The office can arrange a viewing for you at your convenience or send you a Proforma Invoice today.