Apple threw down the gauntlet when they announced the Apple Watch. This week the Swiss responded. At an event strategically placed between the SIHH and Baselworld fairs, Frédérique Constant gathered a select group of journalists to drop a horological bombshell – the official announcement of the Frédérique Constant smartwatch. Yep you read that right. You're looking at a smartwatch. A Swiss made smartwatch.
However, what was unveiled was not a just a product, even less a smartwatch as we currently understand them. What the Frédérique Constant Group announced was nothing less than a brand new market segment, one that CEO Peter Stas dubs 'Horological Smartwatches'.
"All current smartwatches are based upon a screen, not a dial. Our goal was to make a real watch, which is our core business, being a manufacture for 10 years now. Something made to last, not a simple connected device".
But Frédérique Constant hasn't spent the last three years developing this project in isolation. They teamed up with two key partners, Fullpower (the guys behind Jawbone UP) and MMT, the second being a new Swiss joint venture formed by Fullpower Technologies, Inc. and Frédérique Constant.
Who's doing what?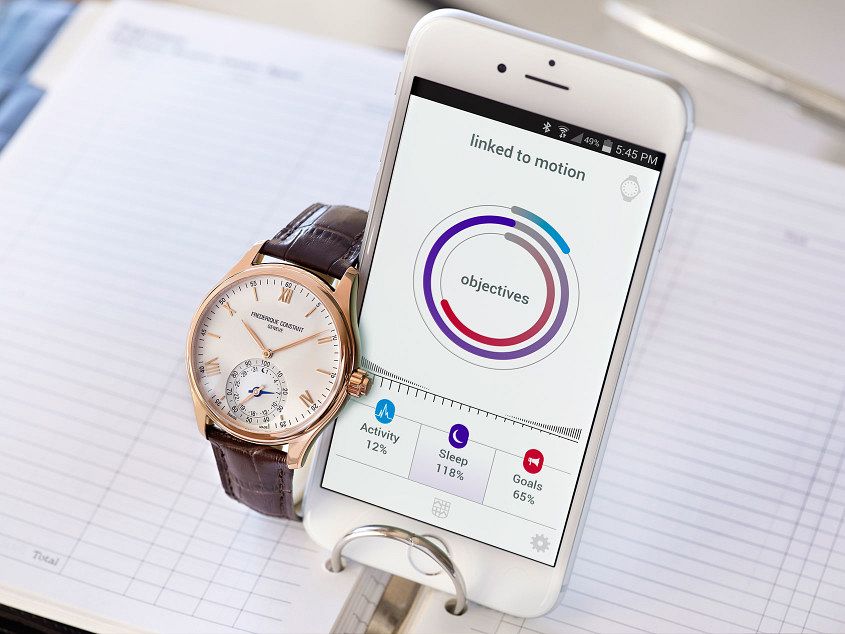 Fullpower creates and licenses the schematic design, firmware, smartphone applications, and cloud infrastructure to MMT. Geneva based MMT manages the development and production of Swiss watch movements incorporating Fullpower's technology, and licenses, and provides support for, the MotionX-365 Horological Smartwatch Platform to the Swiss watch industry.
This means that the MMT platform will be available under license to any Swiss watch brands, in fact Mondaine have already announced their MMT powered watch.
Additionally the the Frédérique Constant Horological Smartwatch is already fully compliant with the Swiss Made criteria, and will still be as of January 1st, 2017, when the new criteria will be implemented. That the Horological Smartwatch will say 'Swiss Made' on the dial adds a great deal of credibility to the project.
What does it do?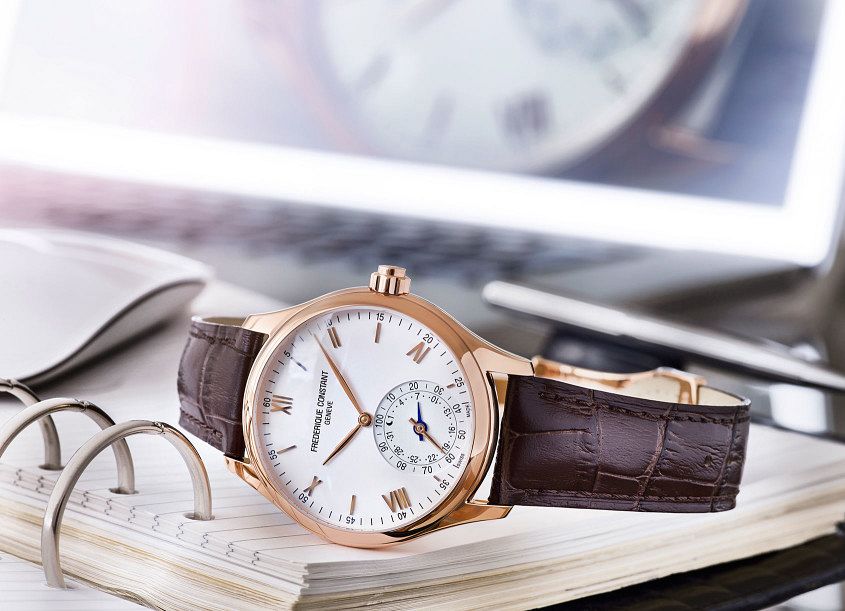 The new smartwatch has the familiar and elegant lines of the FC Slimline, one of the best-selling watches of Frédérique Constant. But Frédérique Constant weren't the only guys at the party. Sister brand Alpina also unveiled their own MMT powered Horological Smartwatch, a sporty contrast to the classicism of Frédérique Constant, in men's and women's versions.
For now the watch is all about tracking and monitoring, with a full range of capabilities to measure the numbers of steps made in a day, the duration of sleep and, generally speaking, many metrics to keep track of our activity, along with clear objectives to reach. In details, key functions include :
Always-on time & date, thanks to a watch / smartphone constant sync
MotionX activity tracking
Sleeptracker sleep monitoring – and no, you don't have to wear your watch while sleeping, putting it under your pillow should work
Sleep cycle alarms – when to go to bed, and the best morning timeframe to wake up
Get-Active alerts
Adaptive coaching
MotionX cloud backup and restore
What's more important is what it doesn't do. The lack of a screen means that you can't answer your phone, check emails or get any other sort of notification.
One more thing. The watch has a 2+ year battery life. Battery life has been a major main turn-off for 'traditional' smartwatches (if there can be such a thing), which could not go over two days, while this Horological Smartwatch, with a simple quartz technology, will last more than these two years. Out-of-date firmware won't be an issue either, thanks to use of cloud-based technology, from which the wearer's smartphone (and then the watch) will download new firmware versions; a smart way for Frédérique Constant to get rid of the apps-based business model.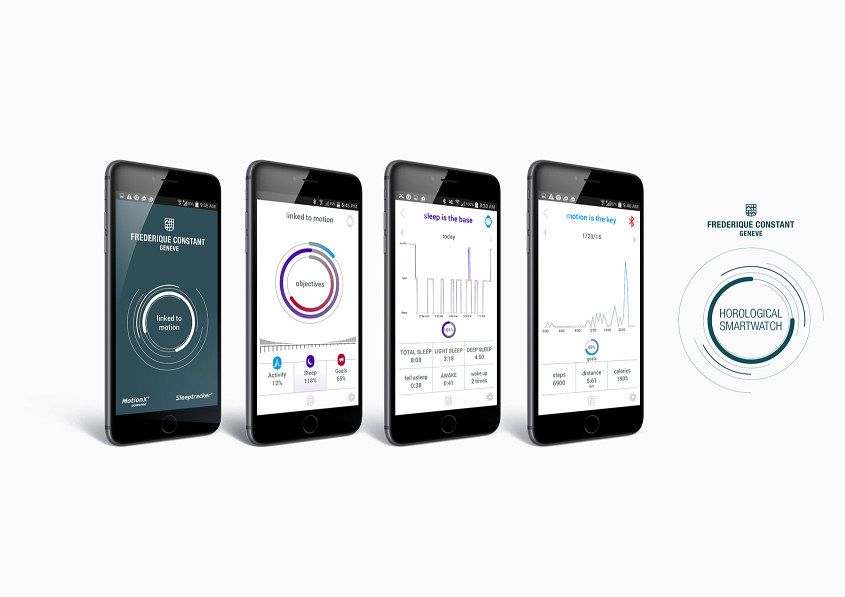 The piece will be shipped in stores as of end of May, beginning of June, for less than 1000 CHF, Frédérique Constant will make five versions of its watch, and Alpina two versions.
Considering that Switzerland exports 21 million Swiss Made watches per year, Frédérique Constant projects that 10 – 30% of them will not only be 'quartz' but also 'smart' –they're betting on huge growth for the group. In these Apple Watch dominated times this would be a major achievement for Frédérique Constant. One that might also have an impact on how their followers, including TAG Heuer will position their own connected devices.
Words and original photography by Olivier Müller, in Geneva.
Specifications
Brand:
Frédérique Constant
Model:
Smartwatch
Reference No.:
FC-285V5B4
Case Size:
42 mm
Case Material:
Polished rose gold plated stainless steel 2-parts case
Dial:
Silver dial with hand-applied indexes
Strap:
Brown leather strap with folding buckle
Movement:
FC-285 quartz caliber, functions adjustable via the crown 2 years battery life