MICRO MONDAYS: Introducing Marnaut, the sub-$1k 300m dive watch with the sea urchin dot-pattern dial
Fergus Nash

Mario Jutronic's marine-themed microbrand Marnaut is a breath of fresh ocean air. It was beginning to seem impossible that a retro-flavoured dive watch could bring anything new to the table, but one glimpse at a Marnaut dial and you must admit they've found a way.
Having spent a large portion of his youth snorkelling around the Adriatic Sea, Croatian entrepreneur and watch collector Mario Jutronic decided that his own brand needed to break away from the endlessly recycled designs in the diving world. His solution? Evoking the strikingly symmetrical holes in a Sea Urchin's exoskeleton by arranging no less than 43 Super-LumiNova filled steel indexes on the dial.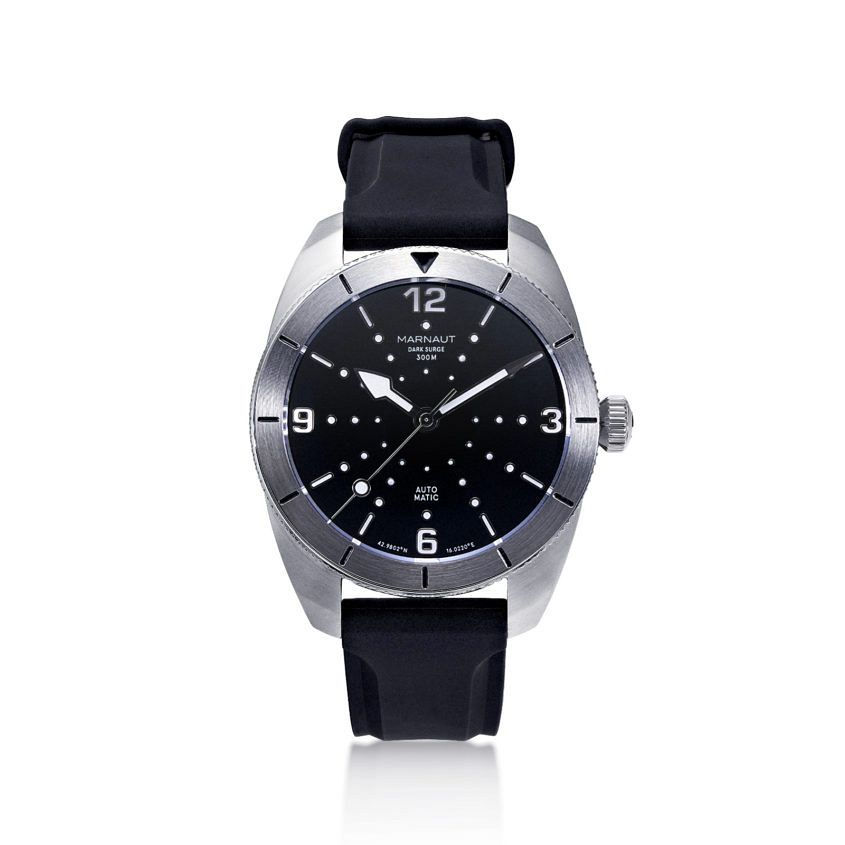 Mario describes the watch's inspiration, the Sea Urchin, as a mesmerising object. And that's the right word to describe the dial, too. The glinting indexes beneath the gently doming sapphire of the Dark Surge draw the eye, and train it to the centre; it is in fact hard to believe something so symmetrical and perfectly designed comes from an organic being. The downside is the lack of numbers on the timing bezel. With not a minute marker to be seen, it loses a lot of traditional diving functionality.
That is part of the reason why it cannot be granted ISO certification, even taking into account the substantial 300m water resistance and screw-down crown. However, the result is a clean and mysterious dial that doesn't lose any elegance from its complexity. This is especially true in the dark, when each of those luminous dots glow an eerie green.
This is a watch counted in thoughtful, and precisely executed details. The attention Mario puts into its components has certainly paid off; my only gripe being a small amount of backwards play in the 120-click unidirectional bezel. The watch otherwise feels solid, with no issues in the threading of the crown, as do both its supple rubber and handsome suede straps. The movement is a Japanese Miyota 9015 — a favourite of microbrands due to its high performance, reliability and affordability.
The dimensions have been a sticking point for many wearers of the Dark Surge 300. Although 42mm in diameter is common, the lug-to-lug reaches out 52mm, slightly overextending my 17cm wrist. This is something Mario has taken on board, and plans to remedy with a second generation of the Dark Surge in future. For the present, a size reduction can already be found in Marnaut's latest model, the 40mm Seascape 200.
Much more vintage-flavoured than the Dark Surge, the Seascape grasps at the growing popularity of the 'Super Compressor' style, whilst keeping its own Sea Urchin identity intact. The minute markers and 15-minute intervals on the inner-rotating bezel are a welcome addition, proving that a watch brand can indeed take on customer feedback.
I had the chance to speak to Mario after getting my hands on a Dark Surge 300 to chat about the brand, his collection, and the state of watchmaking.
T+T: Kickstarter has been really successful for you. Do you think that this era we're in is beneficial for companies like you and independent watchmakers?
MJ: I think a better word would be 'existential', because there's no funding, there are no grants … Being a company that's this size, cash flow is so important. I think the bricks-and-mortar is so far out of reach, and also kind of dying. It's competitive, it's tough, and I really see this as one of the only options to try to get your foot through the door. I don't think any other way would have worked unless I took a loan, so what Kickstarter does, if you do it right, is gets you the funding that you need. In terms of getting some eyeballs and promotion if it gets a bit of traction, it does a one-two punch where it also gets you a decent amount of marketing.
T+T: Are there any hints you can give us about future ideas?
MJ: I really like, although they weren't very useful, the Omega Chronostop they made for drivers in the late '60s. I have a racing look with the same kind of dial theme, but the problem for me in developing something like that is where do I source that kind of movement? It's not something I can just pick up from Seiko or Miyota or even ETA really, so those kinds of challenges I've got to figure out. I've been playing with a three-eye chronograph as well, doing some designs I'm happy and excited about. They take a bit more real estate and I still want to weave that Sea Urchin theme of the dial throughout, which I'll obviously have to adjust if I do a chronograph, but that's what I've had on my mind.
T+T: Why did you decide to found your own brand?
MJ: I couldn't fight that urge really. My love of watches started in Japan. I lived there as a kid for a while, and I do have a very strong affinity for Seiko. Part of that reason is because they have a super rich history. They have an amazing amount of watches. In the '70s I think some of those Seikos were more expensive than Rolexes. I would say the quality of some of the early chronographs and divers is on par with the Grand Seiko. Seiko was my biggest inspiration to start. I had the Navigator GMT and the 6105 Turtle, little grail watches. I've been on this collecting journey for maybe 8-9 years, and then I got into Omega with an old Seamaster, then a Heuer Regatta. It really evolved and started with Seiko, because you can get in there, have fun and even if you don't have the money, still collect a few cool watches. I had folders and folders of images, I was scouring eBay and Japanese websites, and I started seeing all these strange Swiss brands like Silvana, Alsta, Rox … all these weird divers kept me interested. In the last, I don't even know how long, the watches that keep selling and look the best are watches that were designed in the past.
Every brand has their one thing they made 50, 60, 70 years ago and it's still looking the same. To start my own brand, the initial thing I kept pounding in my own head was to make something different. Don't put it out there unless it's going to be recognisable. People can look at it, and like it or not, but at least they can see it's different. That was kind of how the whole thing unfolded. I dug back to my childhood and Croatia, to this outer-worldly design of a Sea Urchin exoskeleton. The thing is just kind of mesmerising. I used to collect them as a kid when I went snorkelling around here. So at the end of the day, nobody can say it's a copy of anything.
T+T: One thing that I noticed when I held the Dark Surge for the first time is that it has quite a modern touch, I almost want to say a fashion watch vibe in terms of the clean design and how striking it is visually. Is that something you intended in order to appeal to people who aren't necessarily already into watches?
MJ: Well I'm trying to strike that balance. Design is pretty much the whole approach of what I have going, and I hinge on the fact that people will appreciate it and buy it because the design is a bit different. Now, in terms of being a fashion watch, that's kind of the opposite of what I want it to feel like. For the budget that I had, I really threw everything I could at it in terms of build quality, I think that goes back to the fact that I'm wearing watches from the '60s which are robust as hell, still look great and still work. I want to try to transition that feeling of manufacturing and the fact that it could have a long life into the watches that I make myself now.
Pricing for the Marnaut Deep Surge & Seascape
Each Marnaut model is available in three case and bezel variants: one dark, one light, and one blacked-out PVD case for a more sleek, modern appeal.
Marnaut Dark Surge 300T (two-tone), $549USD
Marnaut Dark Surge 300S (silver) $549USD
Marnaut Dark Surge 300B (black) $599USD
Seascape 200 (preorder) $499USD
There are few watches out there that can compete with Marnaut's unique character and impressive build quality. Personally, I can't wait to see what Mario comes up with next.