Glashütte Original, Blancpain and Mido make up Luke's three favourite watches of 2020
Luke Benedictus
The lack of watch fairs and face-to-face watch showings meant that I saw fewer watches in the metal in 2020 than I had done in the last 10 years. But this lack of face time didn't stop me salivating over a few key pieces that shot straight to the top of my wish-list. These were my three favourite watches of 2020.
Glashütte Original Sixties Blue Annual Edition
The burnt orange and forest green iterations of this watch were already provocatively sexy. But the glacial glory of this pale blue version is truly mesmerising. The shift in colour on the sunray-finished dial is achieved by first building a base colour through a galvanic coating process, before several layers of different coloured lacquer are applied.
Completing the package is the brown-grey nubuck calfskin strap. Nubuck, as you may well know, is essentially top-notch leather that's buffed on the outside, to give a slight nap to the material that produces a velvet-like surface. I'm increasingly drawn to it as strap texture for its effortlessly relaxed quality that make it the wrist-bound equivalent of a comfortable pair of desert boots. Here it's employed in particularly ingenious fashion to riff off that iceberg of a dial.
The Glashütte Original Sixties Blue Annual Edition is available as both a chronograph and a time-only piece, but I'm leaning towards the frost-bitten purity of the latter.
Price: $10,100
Blancpain Fifty Fathoms MIL-SPEC Limited Edition for HODINKEE
On the wall of my four-year-old son's bedroom is a map of flags of the world. Increasingly, I'm liking the more minimalist designs – an Estonia or a Laos (below), for example.
Something similar draws me to the Blancpain Fifty Fathoms MIL-SPEC Limited Edition for HODINKEE. More specifically, it's the moisture indicator. That half orange, half white circle prominently at six o'clock – looks like the flag of some long-forgotten nation that makes up for its obscurity with an incredibly potent brand of local alcohol.
It's actual purpose is a bit more useful. This moisture indicator is essentially a safety precaution. If the dial is exposed to even a smidgen of water, the white part will start to change colour, until it matches the orange side. That's when you know you have a serious problem.
I loved the antecedent of this watch at Baselworld 2017, Blancpain's Tribute to Fifty Fathoms MIL-SPEC. Obviously, the Blancpain Firty Fathoms was the dive watch back in the day, but what appealed to me was that moisture indicator and the neatly sized 40mm case proportions that felt pleasantly unobtrusive on the black NATO strap. Kudos to Hodinkee for bringing this back, albeit in just 250 units. Right now, it's the dive watch of my dreams.
Price: $14,400 USD
Mido Ocean Star Decompression Timer 1961
In January 2018, I was in Shanghai for an event to celebrate Mido's 100th birthday. On display at the event were glass cases full of Mido's greatest hits, and one watch, in particular, shone out at me to the extent that I even took the following (bad) photo of it.
It was unlike anything I'd ever seen – a riot of candy-hued pastels and concentric rings. This was the Powerwind 1000, ref. 5907, from 1961, a Mido dive watch that was waterproof to 300m and whose colourful flourishes were, in fact, a decompression table to help divers time their ascension back to the surface. The watch was only available for four years, which made it pretty hard to get hold of. When I tried to track one down, I found that in 2018, the watch's rarity value meant they now cost about $10,000 USD on the vintage market.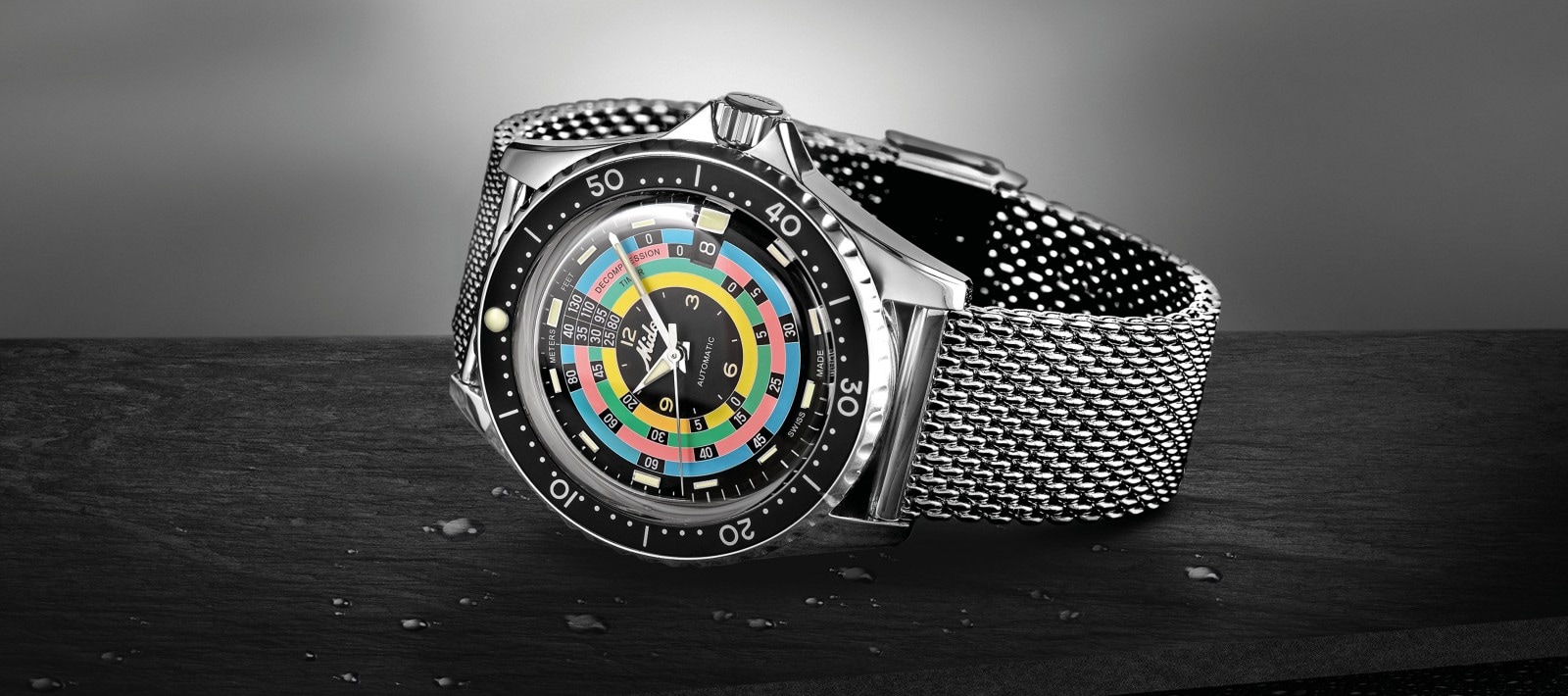 So I was bloody thrilled to see the revival of this watch last year in a stainless-steel, 40.5mm case. Alongside the likes of Seiko and Tissot, Mido is one of the watch world's true value propositions, so the head-turning looks are backed with functional competence – there is a screw-down crown, one-way turning bezel, 200-metre water resistance and an 80-hour power reserve.
Price-wise, it's an absolute steal, although with the supply limited to just 1961 pieces, it's sadly due to become just as inaccessible as its predecessor.
Price: $1750