LIST: 6 watches for all 6 types of super-villain, just in time for Suicide Squad
Ceri David
With Suicide Squad in cinemas (and trending poorly on Rotten Tomatoes)  we've got bad guys on the brain, and we can't help noticing that when it comes to Hollywood, there are two distinct trends, the first noted by Empire: "If Marvel has the best superheroes, so the prevailing geek-logic goes, then DC has the coolest villains." Meanwhile, the prevailing watch logic, as it applies to both, is that it's the heroes who tend to get all the best watches. James Bond with Submariners (if you have a time machine handy, you can buy one of them here) then more recently the latest, and probably greatest, Seamaster 300. The Expendables with more PAMs than you could lift with one hand, and Arnie / Ari Gold with APs in Terminator 3 and Entourage.
"If Marvel has the best superheroes, so the prevailing geek-logic goes, then DC has the coolest villains." Meanwhile, the prevailing watch logic, as it applies to both, is that it's the heroes who tend to get all the best watches.
Well, here it is, the hero bias ends now. In the name of fairness, we've put together this compendium of villain types from across the spectrum and rewarded each with an appropriate timepiece from the baddest around. We couldn't get them on wrists in time to save the first Suicide Squad by the looks of it, but hey, DC, you're more than welcome to refer to it for the sequel. Our absolute pleasure.
The Mastermind
Silver tongued and sharply dressed, this particular brand of villain never gets his own (manicured) hands dirty. Sure, the law might know he's shady, but they'll never be able to prove it. He's too smart for that, and knows how to maintain the required distance from the meat-puppets he orchestrates to do his bidding. Often seen rubbing shoulders with the media magnates and senators who live on his street, he's partial to tuning out the noise of the great unwashed by playing Beethoven's Overture to Egmont while in his Bentley.
He wears the… Jaeger-LeCoultre Grande Reverso Ultra thin Duoface – elegant, classic and yes, two-faced.

The Henchman
Our second scoundrel has never knowingly made a decision himself, instead following orders from above. And, having sold his moral compass to a classmate back in kindergarten, has no qualms regarding his chosen career, provided he gets the job done. The majority of his wages goes on protein powder, which he buys by the pallet-load, though his growing cache of Jason Statham movies is illegally downloaded, and therefore doesn't cost him anything. A routine MRI scan once found his entire frontal lobe had been replaced by muscle.
He wears the… Breitling Avenger Hurricane – huge and tough, with its trademark non-slip bezel that can be operated even while wearing gloves and a 24-hour display, because crime doesn't stop at bedtime.

Evil Boy Genius
Part of the new wave of super-villain, EBG still lives with his parents, but then that's unsurprising, since he's only 14. Rarely leaving his bedroom, his lack of interpersonal skills makes eye contact his kryptonite, though of course that's no problem when working remotely. Self-designed apps mean this enfant terrible can carry out his wicked intentions – hacking networks, launching missiles and causing general mayhem – from the comfort of his single bed, fuelled only by Coco Pops and Red Bull.
He wears the… Apple Watch – allowing him world domination from his wrist, but only for as long as the charge lasts.

The Anti-hero
As far from a mindless thug as it's possible to be, everything the anti-hero does is for the greater good. Does he occasionally cross over to the dark side to get it done? Sure. If he were caught, would he be branded a criminal? Clearly. But still, someone has to take out the trash while the police are busy bungling their investigations. The key, then, is to fly under the radar. To blend in with the neighbourhood. That's why he drives a Golf, works a regular 9-5 and has a wardrobe full of chinos and polo shirts. Nothing to see here.
He wears the… Vacheron Constantin Patrimony – slimline with no complications, this won't attract attention, but rest assured it's all going on behind the scenes.

The Monster
The living, breathing product of a harebrained science experiment, this creature has been around since the Industrial Revolution and shows no sign of popping his size 18 clogs any time soon. No one really knows where it lives (a cave? a cell?) or what it survives on (electricity? the spinal fluid of his victims?) – all you need to know is that you don't want to cross its path on a dark and stormy night.
It wears the… Romain Jerome Steampunk Tourbillon Titanic – made up of gnarly, rusted components from a bygone era, conjoined and brought to life.

The Femme Fatale
First up, there's nothing stopping any of the above villains being female. Women can be as sneaky, corrupt, amoral and dangerous as the gents – and all hail equality on that front. This one, however, is just for the ladies. After all, sometimes the most powerful weapon is a fully functioning set of feminine wiles. Fiercely turned out from her precision bob right down to her spiked Louboutins, this seductress grew up watching Dynasty and isn't afraid to use her charms to get what she wants. There is always an ulterior motive, so watch out for that dagger in her knickers.
She wears the… Roger Dubuis Velvet Haute Couture Passementerie – knowing she has the wherewithal to unravel its silk fishnet strap into a garrote wire at a moment's notice.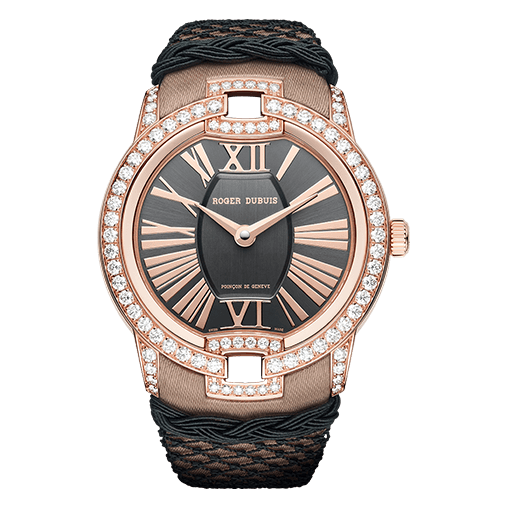 Featured image via alphacoders.com