INTRODUCING: Same shape, different recycled materials. Panerai take sustainability to the next level…
Thor Svaboe
Panerai maintains a strong focus on sustainability. This is expressed through the construction and metallurgy of their watches, right down to recycled materials for their fabric and leather straps. Their new Luminor Marina eSTEEL™ is the latest example of this valiant endeavour. Throw in Panerai's generosity in making their own research publicly accessible and their strong contribution to worthwhile causes and there's an awful lot to admire. But we still want to see new designs from the masters of elegant tool watches.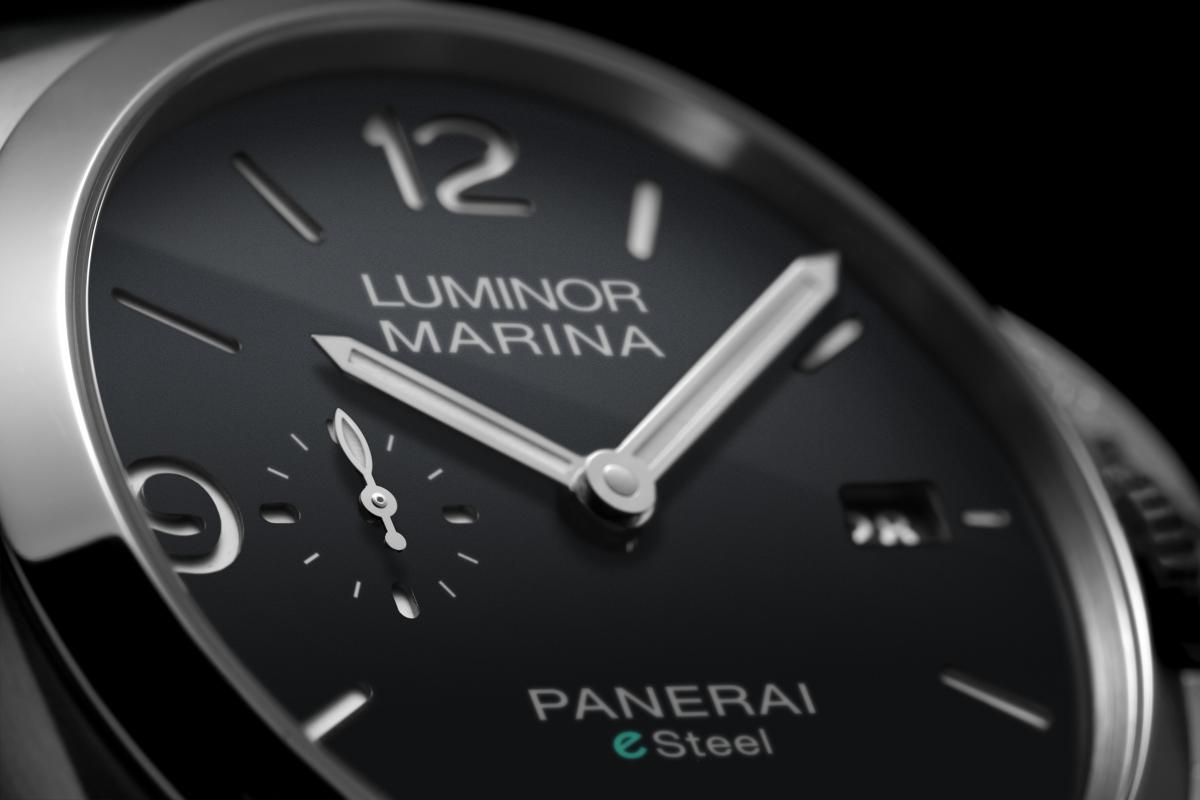 I will start with an open letter to CEO Jean-Marc Pontroué:
Dear Monsieur Pontroué,
I sincerely love the quality of Panerai, and the journey from über-niche, via Stallone to peak noughties stardom. But still, every year and at every watch fair, I sincerely wish for something NEW. I'm not taking anything away from what this year is a laudable wish to be on the cutting edge of sustainability with the Luminor Marina eSTEEL™, I'm applauding the eco-focus, lacking in most ateliers – this is a serious need.
But, what I yearn for is A NEW SHAPE, any new shape. Just imagine, the beautifully matte green or blue sandwich dial of a Radiomir, with gilt hands, in a round case of 39mm with an 11mm thickness. Not a cushion case, no wire lugs, no massive Luminor crown guard with a big lever and not a Submersible tank. I wear shirts, slim ones. If you do this you can sign me up. This is what we need for Panerai to have a skyrocketing return to greatness. Consider this me respectfully imploring you.
Signed:
Le Time+Tide journaliste Norvègien
OK now on with the review, because actually there's a lot to like with Panerai's latest…
The new Luminor Marina eSTEEL ™ range.
Material geeks and eco-warriors, rejoice! Yes, Panerai is pushing forward with their focus on sustainability, shown previously in recycled carbon fibre composite cases, and now the most important material, Steel. The brand's new eSTEEL™ is proof of the eco commitment within the company, a commitment generally lacking today – except for outliers like Chopard – and sorely needed. Some 89g of the Luminor Marina eSTEEL™ components are made of recycled-based materials, which is 58% of the total weight of the watch. Both case and dial feature the new recycled steel alloy.
The demands on developing eSTEEL™ are manifold. The requirement is that the new material meets the same rigorous standards demanded of the normal 316L steel cases that preceded it. eSTEEL™ exhibits the identical chemical behaviour, physical structure and resistance to corrosion as a non-recycled alloy. What's more, Panerai are happily sharing this technology in an unheard of act of sustainability with a heart, as they believe this needs to be implemented across the board.
Back to my introduction, and yet another small prod despite my grand applause for eSTEEL™, the Luminor Marina is the jewel in many a Panerista's collection, in fact many have several, so there is not much new to see here, except a well known damn tough exterior with its delightfully large crescent crown guard and a large (actually still cool) lever to open it. Within lies the in-house Calibre P.9010, a superb 3-day power reserve movement that has a charming quick set-hour hand for easy adjustment when you travel. The depth rating is, of course, 300 metres as befits a tool with the stature of the Luminor Marina, but you have already seen where the eye is drawn to here, and despite the fact that I lament the size of the 44mm x 15.45mm case, the dials are absolutely gorgeous, and on point for 2021.
The dials are degradè but without the usual distribution of colour and also feature the year's colour of the moment, green. In short, they are absolute knockouts. The PAM01157 Blu Profondo has a deep degrade dial that fades vertically like the ocean depths, from a powder blue at 12, down to a deep navy mystery at 6. Replete with the charming small seconds at 9, sandwich construction and a new pop of eSTEEL™ logo.
The PAM01356 Verde Smeraldo has that deep olive 2021 colour up top, descending to a beautiful deep moss green at the base of the dial, a colour that works well with the sandwiched Super-Luminova in white, the strong sword hands and the broad polished bezel.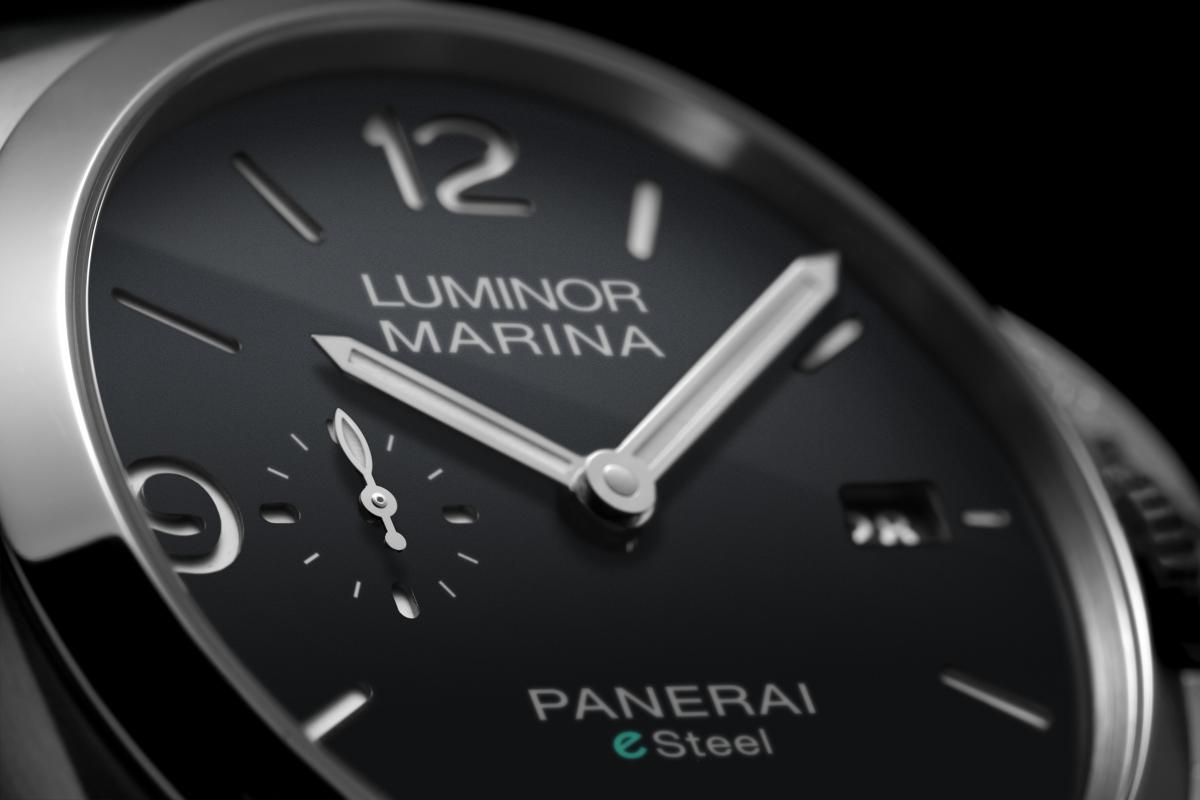 As a formal and elegant conclusion to this trio, the PAM01358 is a sharp, monochrome grey dial that becomes near black at six o'clock, a calm understated wrist presence on its recycled fabric strap. All watches also comes with a black rubber strap for a more tool-like presence.
The Panerai Luminor Marina eSTEEL™ collection, price and availability:
The Panerai Luminor Marina eSTEEL ™ is priced at $8,700 USD on a recycled woven fabric strap in matching colour to the dial, and includes a black rubber strap. Available from October 2021.