INTERVIEW: Takuma Kawauchiya unpacks the wonders of the Grand Seiko Kodo Constant Force Tourbillon
Borna Bošnjak
With hair neatly parted and pocket square cheekily stuffed into his breast pocket, Takuma Kawauchiya doesn't look like a former guitarist in a rock band that once toured around the world. But music's loss has been the watch world's gain in a very big way. The Grand Seiko R&D engineer and watchmaker is responsible for the T0 Constant Force Tourbillon concept movement that blew people's minds at Watches & Wonders this year. T+T was lucky enough to attend a video presentation in which Takuma explained some of the complexities of this ground-breaking watch.
The technical aspect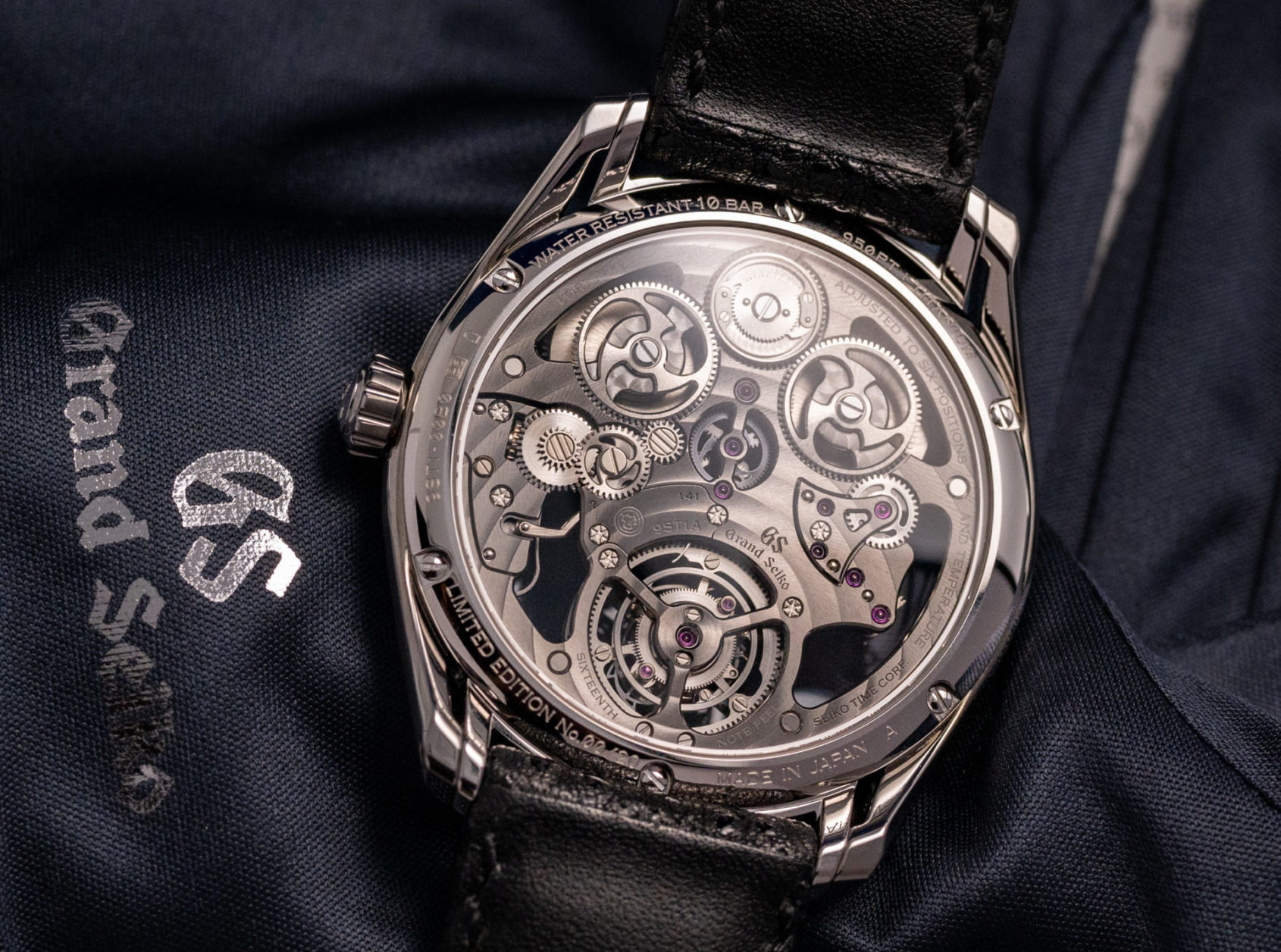 A question that arose quickly was why Grand Seiko chose to develop a constant force tourbillon in the first place. Takuma explains that there are a couple of main considerations. The first was the striving to create such a rare complication, as this would not only be a fantastic achievement once complete, but also solve some timekeeping challenges that mechanical watches face. The positional errors of a balance wheel and fluctuations in torque from the mainspring are both mitigated with this complication, by the tourbillon and constant force mechanism, respectively.
Developing this movement did not come without its challenges, of course. Simply having the idea and the skills to conceive it aside, there were two specific mountains the boffins at Grand Seiko had to overcome. The T0 concept movement which the Kodo takes much inspiration from had to be downsized to make it more wearable and versatile for case design. This meant that the power reserve indicator and carriage supports had to be redesigned, resulting in a movement that's 1.9mm smaller in diameter and 0.2mm slimmer. The movement also features hacking, a rare occurrence in a tourbillon. Takuma explains that, to him, it didn't make much sense having a highly accurate movement that couldn't be set exactly. To resolve this, the tourbillon carriage of the Kodo is stopped by a lever, rather than the balance wheel in a regular movement. Once the time is set, the same level pushes the carriage to restart it. This was a feature present in Seiko stopwatches from the 60s and T45 movements, which Takuma used as reference.
Finally, a material challenge. Grand Seiko chose to power the Kodo via twin barrels, which deliver torque to the constant force mechanism via the stop wheel, resulting in increased wear. To prevent it, the stop wheel is made from ceramic, a nightmare to produce at a micron scale. The precision and craftsmanship involved with creating the Kodo come to light as it is explained how the sound from the tourbillon and constant force mechanism avoid interfering with each other, creating perfect 16th notes, something Takuma insisted on. He chuckles: "That's simple – the timing has to be adjusted by hand."
The design aspect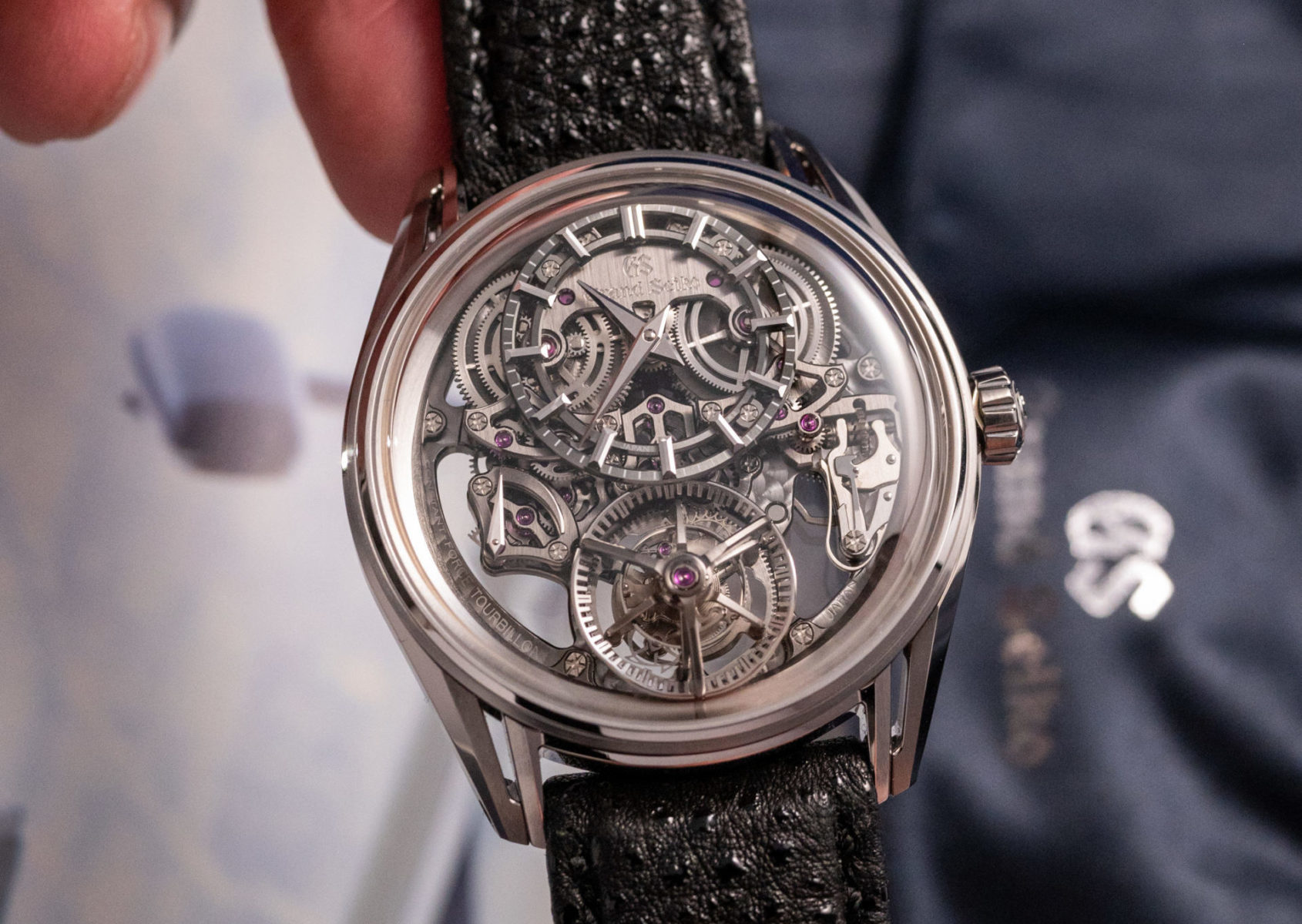 Grand Seiko have been laurelled many a time for their masterful combination of form and function, often owing to different aspects of Japanese design ideology. The same question came up regarding the Kodo, and where Grand Seiko drew the line between beauty and functionality. Takuma didn't hesitate to note that achieving the technological goal always comes first, though of course, aesthetic considerations were made from the very start – pointing to the symmetry of the dual barrels. Where Japanese influence truly makes its mark is in the usage of empty space in the Kodo. Ma – the concept of negative space, places as much importance on absence as on presence, as it inspired Kodo's designers to skeletonise the movement and lugs to create a lithe, airy feel.
It's easy to overlook the case considering what's within, but its lugs are not the only feature given a near obsessive amount of consideration. Combining an inherently luxurious metal with one correlated with sportiness and ruggedness,  the amalgamation of platinum and titanium certainly surprised me. Once again, however, it makes perfect sense. The slightly differing hues of silver and grey complement Grand Seiko's tenet of light and shadow play, giving Kodo's case a natural gradation. It's also functional, as the brilliant hard titanium outer case protects the inner platinum 950 case, resulting in an ideal, balanced weight.
The inspiration, and future plans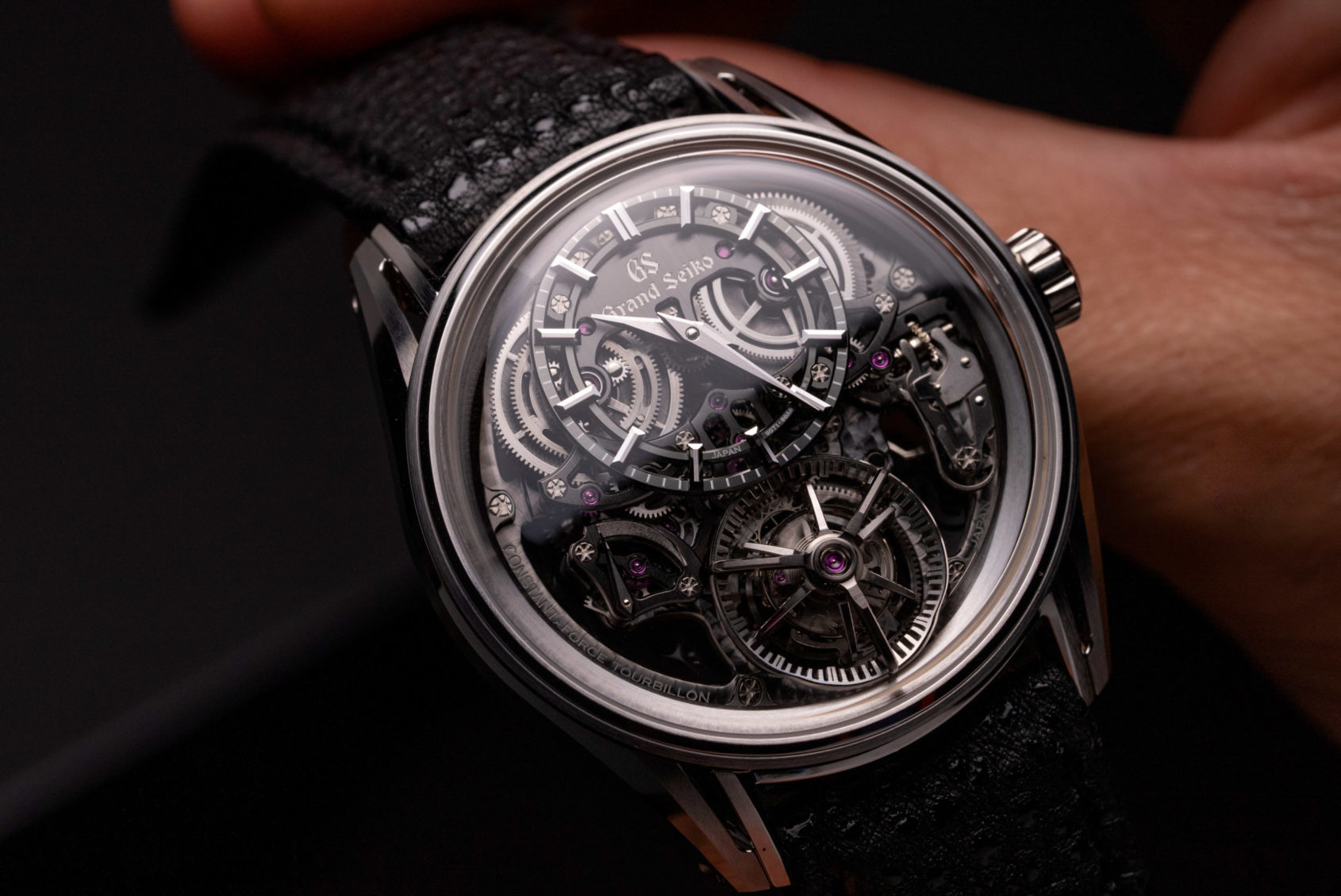 The inevitable raising of eyebrows regarding a professional guitarist turned virtuosic watchmaker came up, as some were wondering how Takuma got involved with watches in the first place. He explains that his professional involvement in music came to an end at the age of 30, as his band disbanded. Wondering how to further his career, it was through conversation with his mother, who suggested that he become a watchmaker, that he enrolled in a watchmaking school. Takuma found it to be an interesting pursuit, and the rest is history.
Having spearheaded the creation of Grand Seiko's first high complication, it was natural that all were intrigued to hear any tidbits on what might be next for the Japanese powerhouse and Takuma. I teasingly wondered whether, considering his musical past, Takuma finds sonnerie complications exciting. Understandingly and exceedingly politely, Takuma explained that while he daydreams of sonneries and minute repeaters, it is difficult to say what that will mean for Grand Seiko as a company, the same going for any other watches based on the constant force tourbillon movement in the Kodo.
Hopes and dreams
If you'd like to hear the origin story of the Kodo, you can check out our chat with Seiko President, Mr Akio Naito or catch the team 'mirin in video form (with some questionable sound effects). Grand Seiko didn't just dip their toes into the complication pool, rather cannonballing in with Kodo's brilliantly executed solution to a complex technical problem. With Takuma at the helm, we can only hope that this is the first of many to come.