When it comes to creative collaborations, few brands have the level of panache or skill that Hublot does. They have a few on the burner at the moment: their Orlinski watches and the one we're looking at today – the Sang Bleu.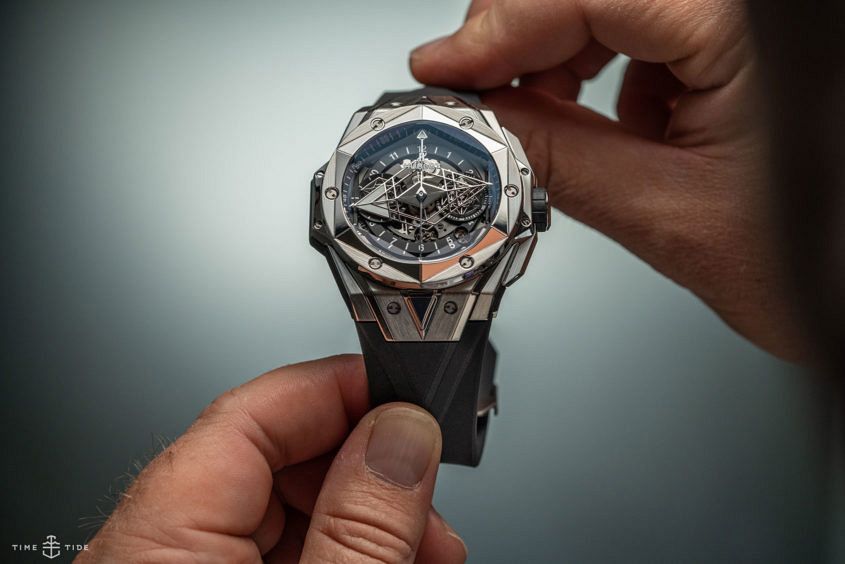 To be a little more specific, we're looking at the Hublot Sang Bleu II in titanium. Now, you might be wondering who (or what) a Sang Bleu is — if your French is good, you'll have worked out that it means blue blood, which gives you a bit of a hint. Sang Bleu is a tattoo studio, with notable clients including Kanye West and FKA Twigs. But it's 2019, so tattoo studio doesn't quite cover all of what Sang Bleu is or does — it's also a fully fledged design agency, magazine and media platform. Sang Bleu has worked with heavy-hitters like Balenciaga and Rick Owens.
The man who drives much of this, and who's behind the Hublot collaboration, is Maxime Büchi. I sat down with him at Baselworld earlier this year and had a very enjoyable, to-the-point interview. Unlike many interviews that take place under the rubric of the Swiss watch industry, this one was refreshingly free of obfuscation and over-the-top chit chat. My only regret was that it was so short — speaking to someone like Maxime Büchi is something that, I suspect, would best be done over an extended period of time, with refreshments and reference material. This guy is as sharp as the facets on the watch he's designed.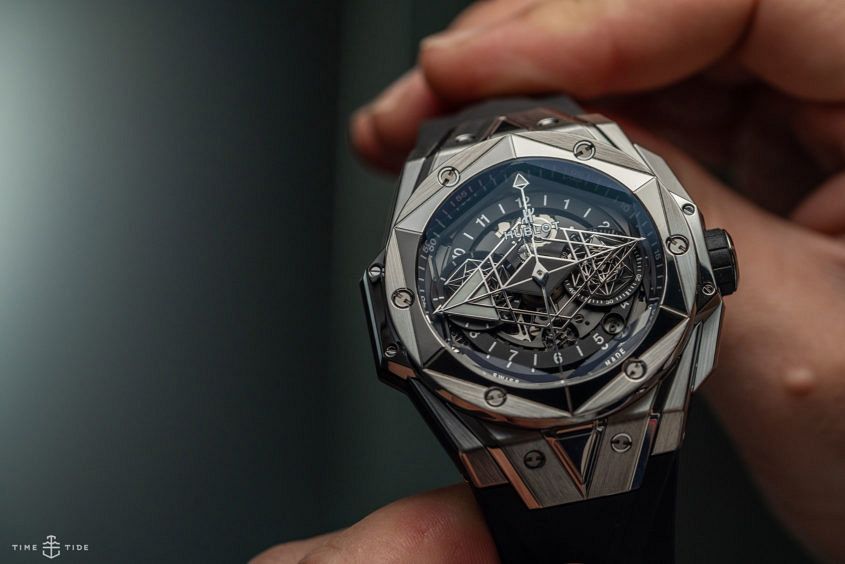 How did the relationship with Hublot begin?
"Well, I'm Swiss."
After this very to-the-point answer (I suspect Mr Büchi might have answered this question a few times), we got into the details of how the watch industry in Switzerland, especially for someone who grey up in the Jura Valley, is more or less a way of life. After a brief sojourn into the watches of our respective childhoods, we got back on point.
"Well, we spoke a few times and they kept talking about tattoos. I had to say, 'I'm sorry, guys. You got the wrong person. My tattoos don't look like tattoos.' I said I was happy to recommend people, but they were pretty clear that they wanted to work with me, so I was like, 'Okay, well, I'll try not to push them too far out of their comfort zone.' And they were the ones that I definitely went super crazy on some sketches, and they were like, 'Okay, now we're liking this. Hey, let's do that.'"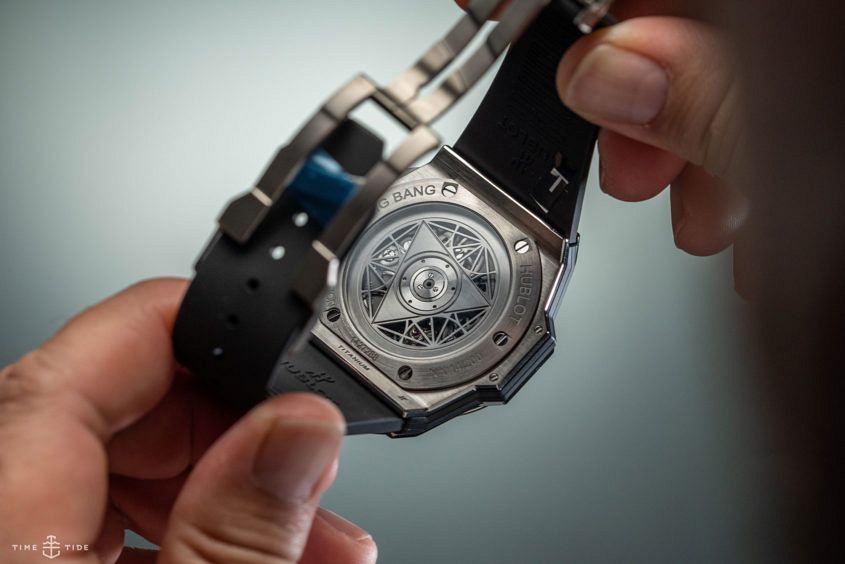 I got the sense that this spirit of willingness surprised Büchi somewhat, but there's no denying that the fusion (to use a very on-brand word) between the designer and the luxury watchmaker resulted in some surprisingly distinctive watches, ones that pushed the boundaries of the traditional Big Bang architecture, and resulted in a very striking series of watches. But you have to wonder – is what Maxime Büchi does watch design or watch styling? And really, what's the difference?
"I don't have an actual answer. But I would … I am not interested in styling. I was trying to truly design something based on the base that was given, and there were many limitations of what could be done, and what couldn't be done. But I pushed those boundaries. The whole intervention on the hands for the first Sang Bleu watch was already kind of like that; I didn't want to just put an image on a watch. I understand watches and I wanted to intervene on different levels.
"I continued that with the Sang Bleu II. I continued to work in the free spirit that the support of Hublot offered. There are so many design interventions on this watch — even elements that challenge what the Big Bang is on a structural level, the structure of the case is much more three-dimensional. But there were challenges: I wanted to do things with the hands that couldn't be done — I wanted to use heavier discs instead of hands, and this just didn't work — there was too much torque.
"It could have been resolved with more research, but we're working with real production constraints, and have to move forward.
"Another surprising challenge was the clasp! There were a lot of constraints around that. You don't necessarily think that it would be an issue, but there's a lot of work that went into it. And at a point you have to go, 'Yeah, we could spend another six months to figure it out, but you have to work with the pace of the industry.'"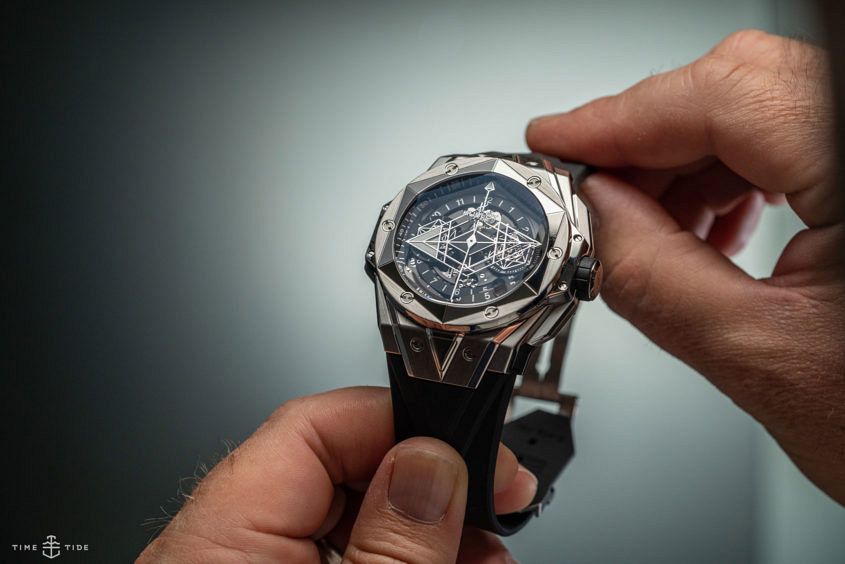 Speaking to Maxime Büchi gave me a real sense of what a well-done creative collaboration should look like — there truly was give and take on both sides, and genuine collaboration. The Sang Bleu II is a graphically bold, sculptural chronograph that is a long way from a simple licensing agreement, or a custom dial. It's a unique watch, and one that will, I suspect, inform the evolution of the Big Bang, far beyond Büchi's involvement.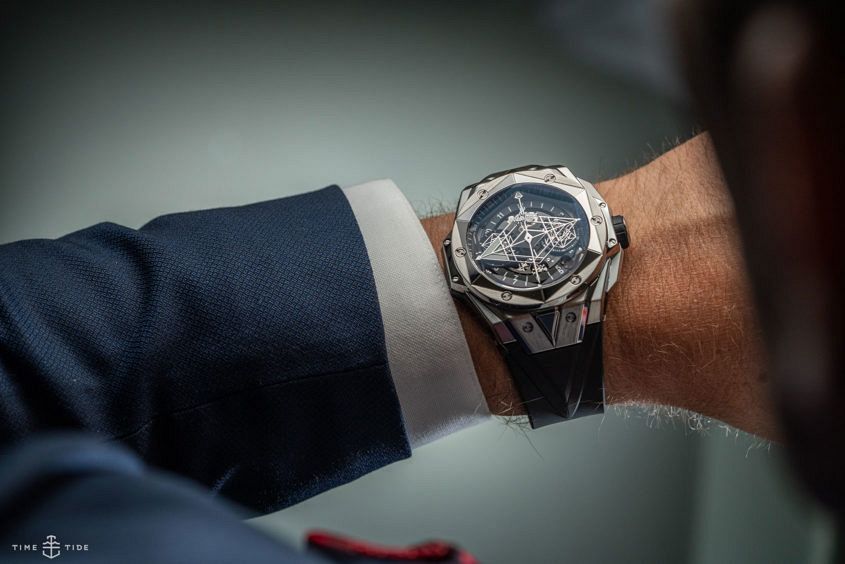 Hublot Unico Sang Bleu II price and availability
Hublot Unico Sang Bleu II in titanium, limited to 200 pieces, $32,400 AUD
Made in partnership with Hublot. However, the opinions expressed in this article are our own in accordance with our Editorial Policy.