HANDS-ON: The Sinn U50 SDR is submarine tough, but mighty slim and perfectly sized at 40mm
Thor Svaboe
A neutron star is tiny, at an average 20km in diameter, but incredibly dense. Its mass is equivalent to 1.5 times our Sun – which has room for more than a million Earths. How does this set the backdrop to a review of the fêted Sinn U50 SDR, the first-ever Sinn with a waiting list? 
Physics and astronomy is an unusual starting point for a watch review, but stay with me…! Thanks to the generous engineers at Sinn Spezialuhren in Frankfurt, I have had the new Sinn U50 diver comfortably on my wrist for a couple of weeks, and the confusion started the moment I picked it up.
Like the neutron star, it is small and rather heavy thanks to the HY 100 submarine steel construction; a compact nugget of a watch. A 40mm diver of mine on a tropic strap is 30 per cent thicker and weighs 90 grams, whereas this is a heavy 130 grams and very slender at 11mm. On its rubber strap it weighs only slightly less than my Tudor Black Bay Fifty-Eight on its solid steel bracelet, and that's including the Sinn rubber being cut short to fit my twig-like forearm. In a word, it is solid.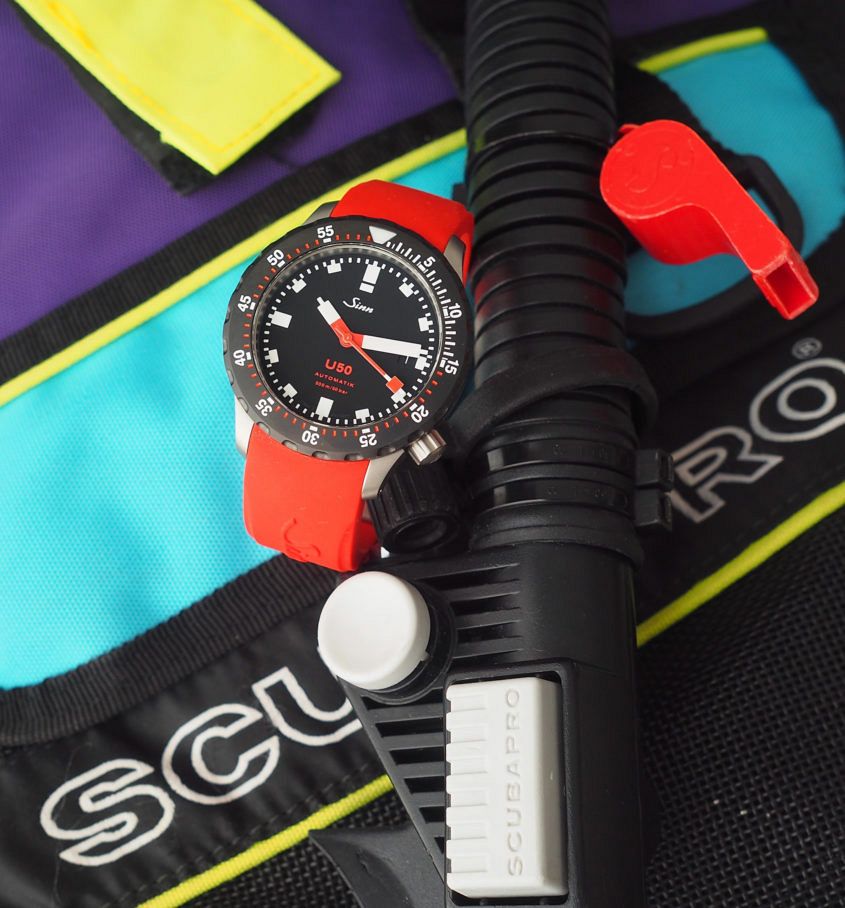 Sinn is at the forefront of form follows function with a broad range of instrument-focused watches packed with innovation and without bling (save for one new series of dress watches). In 2020 I find the brand's consistency and focus refreshing. Thanks to a very solid following in the enthusiast community and a strong national identity, they are less susceptible to ongoing trends.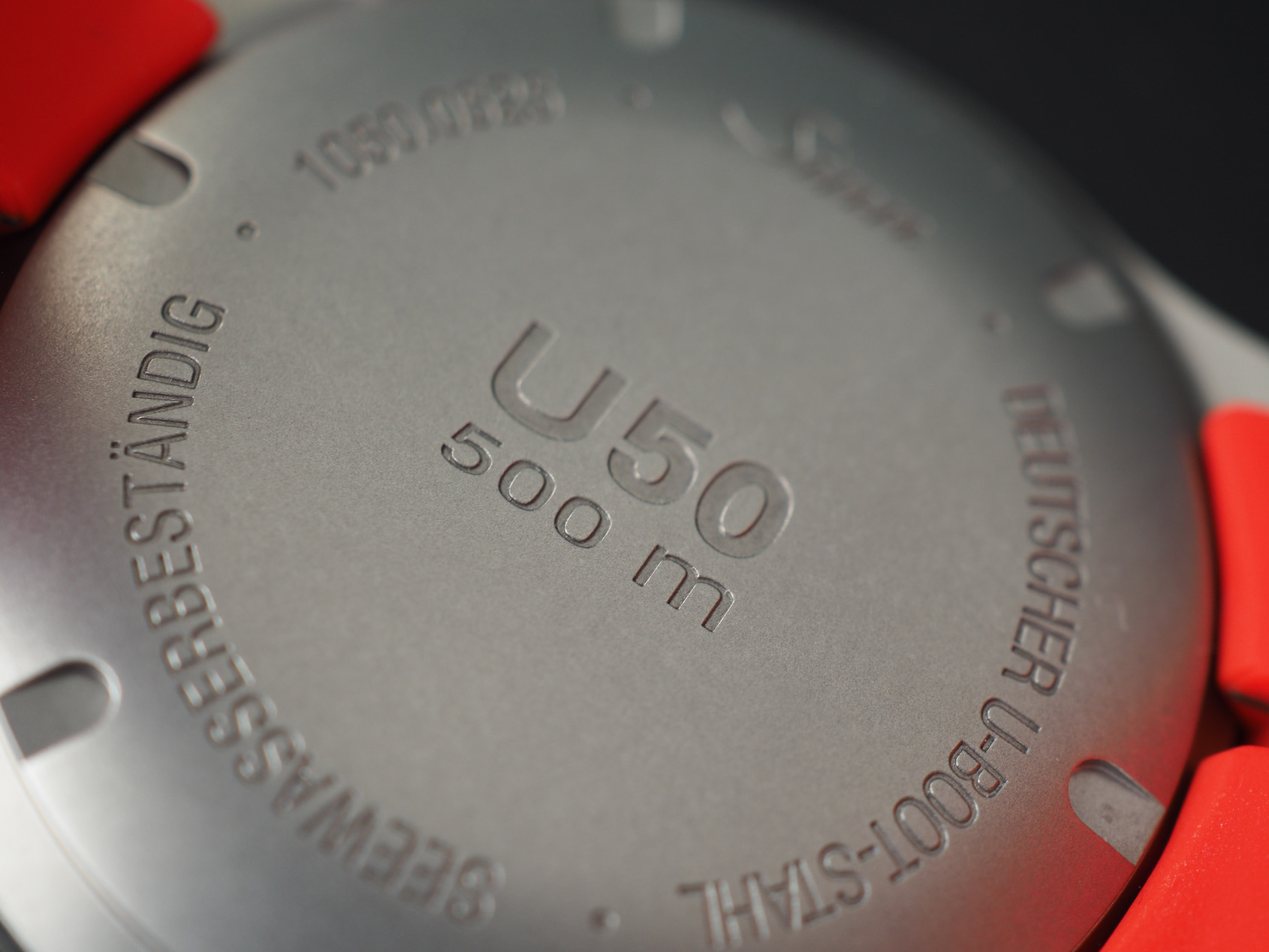 The U50 is a new version of their U1 diver, which is a solid seller and a brilliant tool with a lot more go than show. But in a twist in their usually charming indifference to trends, Sinn has realised that the U1, with its 44mm case, is on the large side for modern tastes. The U50 is its slim younger brother, at only 41mm diameter at the bezel, and with my approximate measure showing less than 40mm at the case.
The thickness is a slender 11mm, which for some is a dress-watch size, and for me a damn impressive sight for something that can go to 500 metres. You have a plethora of choices in finishing and colours, which is equally impressive for a medium-sized operation with a large catalogue of references. What we are looking at here is the summer fresh Sinn U50 SDR version with a black tegimented bezel on an emergency red silicon rubber strap.
Case and strap
The paradoxes presented by this piece do not end at the dense weight vs. slim case profile. Note the pleasant contradiction of its fresh summer look with its bright colours, with its wrist-feel which is akin to a wearable tank. This is a combination of the aforementioned weight/size ratio and the very German haptics of the moveable parts. I am not exaggerating when I say that I have clocked up circa 1420 unnecessary openings and closings of the clasp. The click is satisfying on a borderline sexual level.
To enjoy the full tool experience, this also comes with a blasted steel bezel and an excellent steel H-link bracelet – with the option of the entire ensemble being tegimented, which is an ultra-hard treatment of the steel making it even stronger than submarine steel, probably making it safe for a journey to Mars on the outside of a rocket. The price of the U50 makes the engineer in all of us admire the single-mindedness of Sinn in eschewing trends for strength and purpose. 
The case itself is a case of less is more, with not a single bevel in sight, which is a result of the HY 100 submarine steel being a lot harder to work with than normal steel. On the Vickers scale, the normal 316L and 904L steel has a surface strength of between 150-190, whereas the steel in the U50 has twice that, around 350.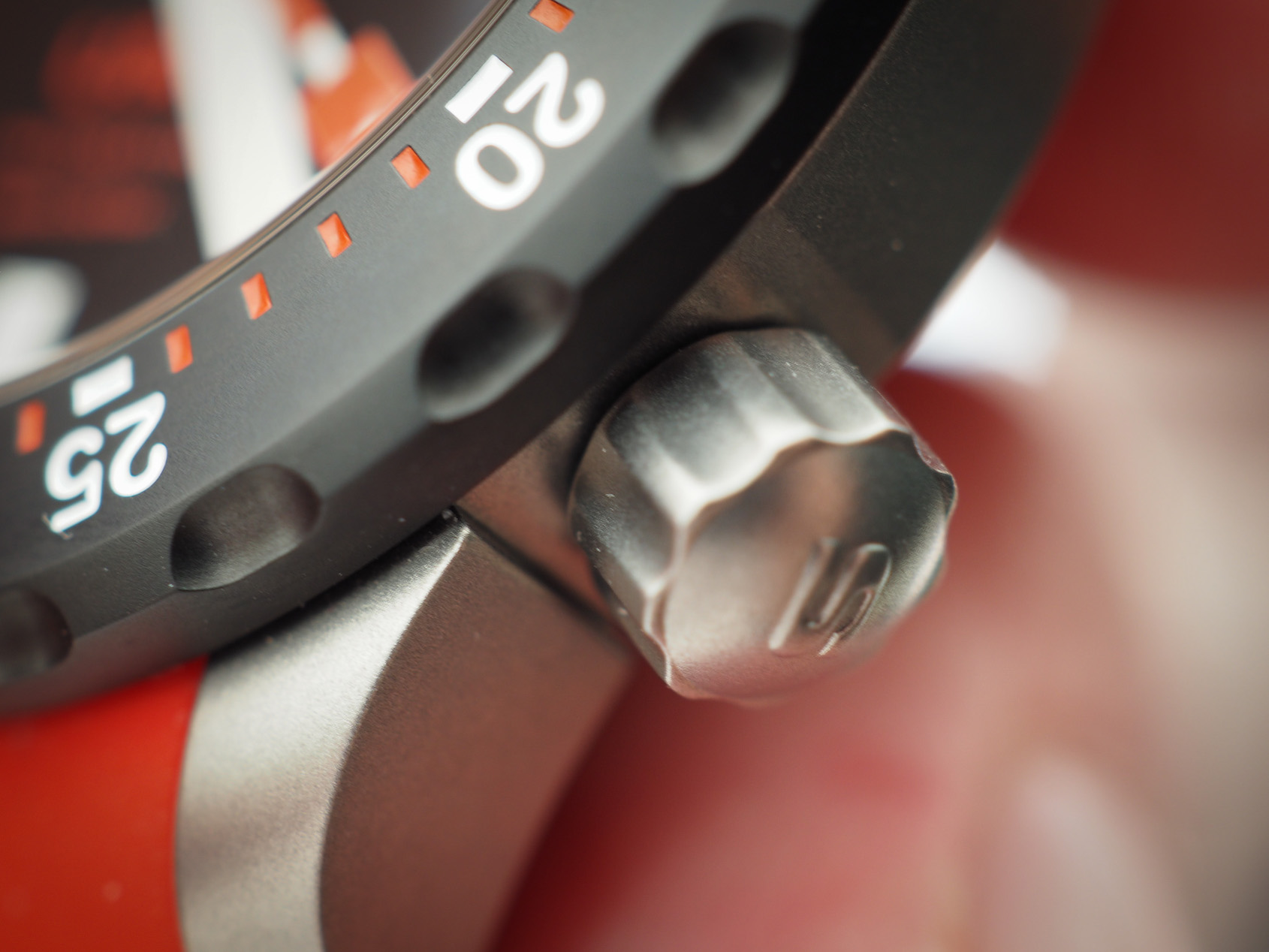 So, the silky smooth blasted surface hides a rock-solid tool. Ergonomics are also achieved thanks to short lug-to-lug length and a good arm-hugging shape. The back is pebble smooth and free of unnecessary adornments, bar the strict German script telling us that it is both Seewasserbeständig and made from U-Boot-Stahl. The silicon rubber strap on this version accentuates the comfortable shape by being quite a thick strap for the case size, moulded to integrate with the case and having a good degree of downturn.
The result is a very comfortable everyday sports watch that even slips easily under a cuff or jumper. My only gripe is the clasp. While it is a joy to operate, aesthetically speaking, it is very large. Functionally, it is superb, with a proper diver's extension, but at 10-11mm thick, it is chunkier than the actual watch, as the case sides without the bezel are only about 8mm.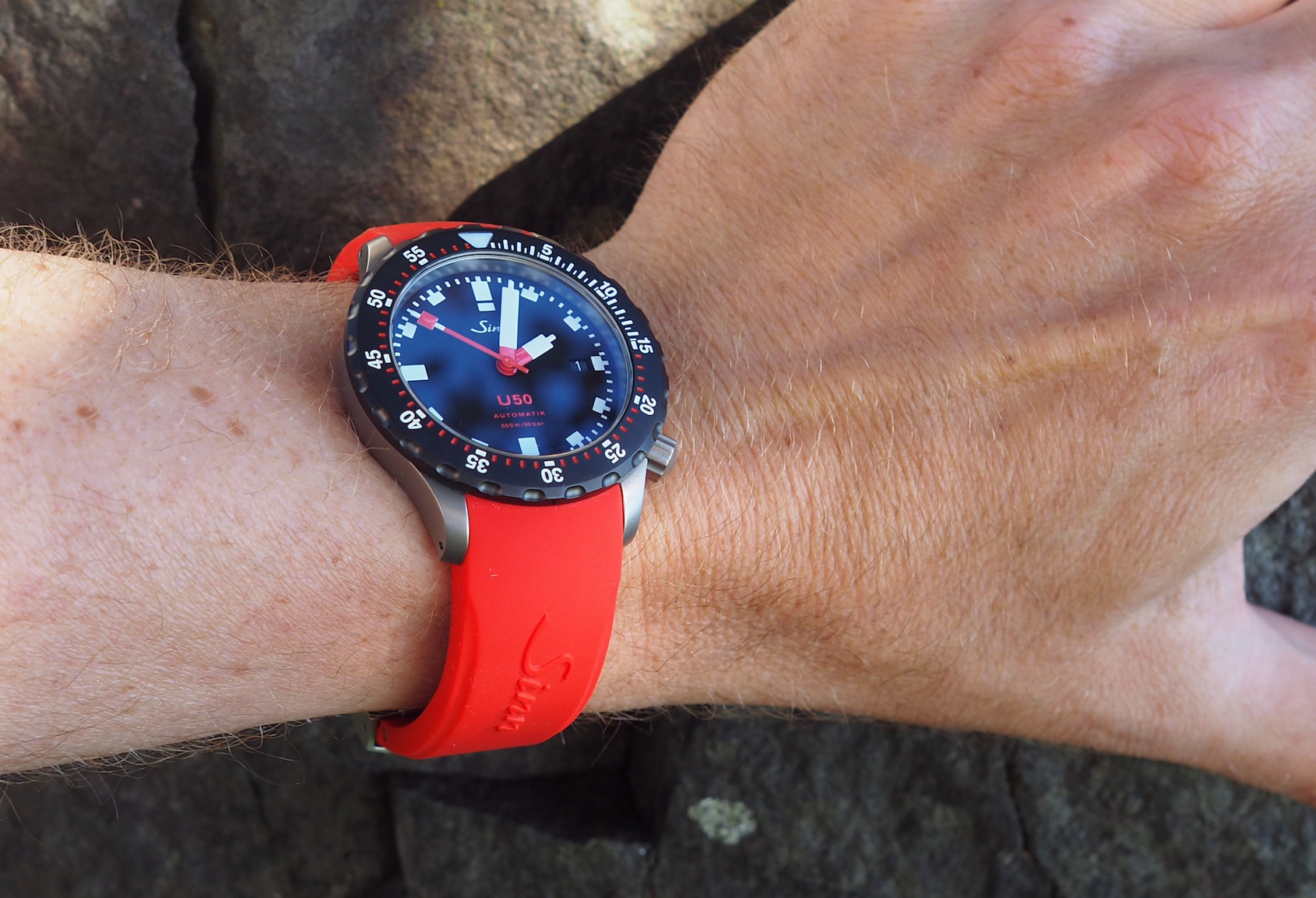 But this is one of two clasp choices – the other option is a lot smaller and would be the best choice. By all means, if you are going to use this as an actual diver over a wetsuit, the extension is great – embrace the heft and enjoy the haptics. Yes, you can get a black version of the rubber, but I thoroughly enjoyed the cheerful emergency red colour of this one, with its stylish Sinn script on the nearside.
The dial
Surrounding the dial of the SDR is a rock-solid black tegimented bezel, and at bezels Sinn excel. Like most of their models, Sinn do not have snap-on bezels. Instead, it's held in place by three countersunk captive screws made from Grade 5 titanium. Does it make a difference except saving it from popping off in an accident? The 60 clicks are not without a little play but they clunk into place like the cogs in the combination lock of a large safe (before getting away with the jewels, obviously).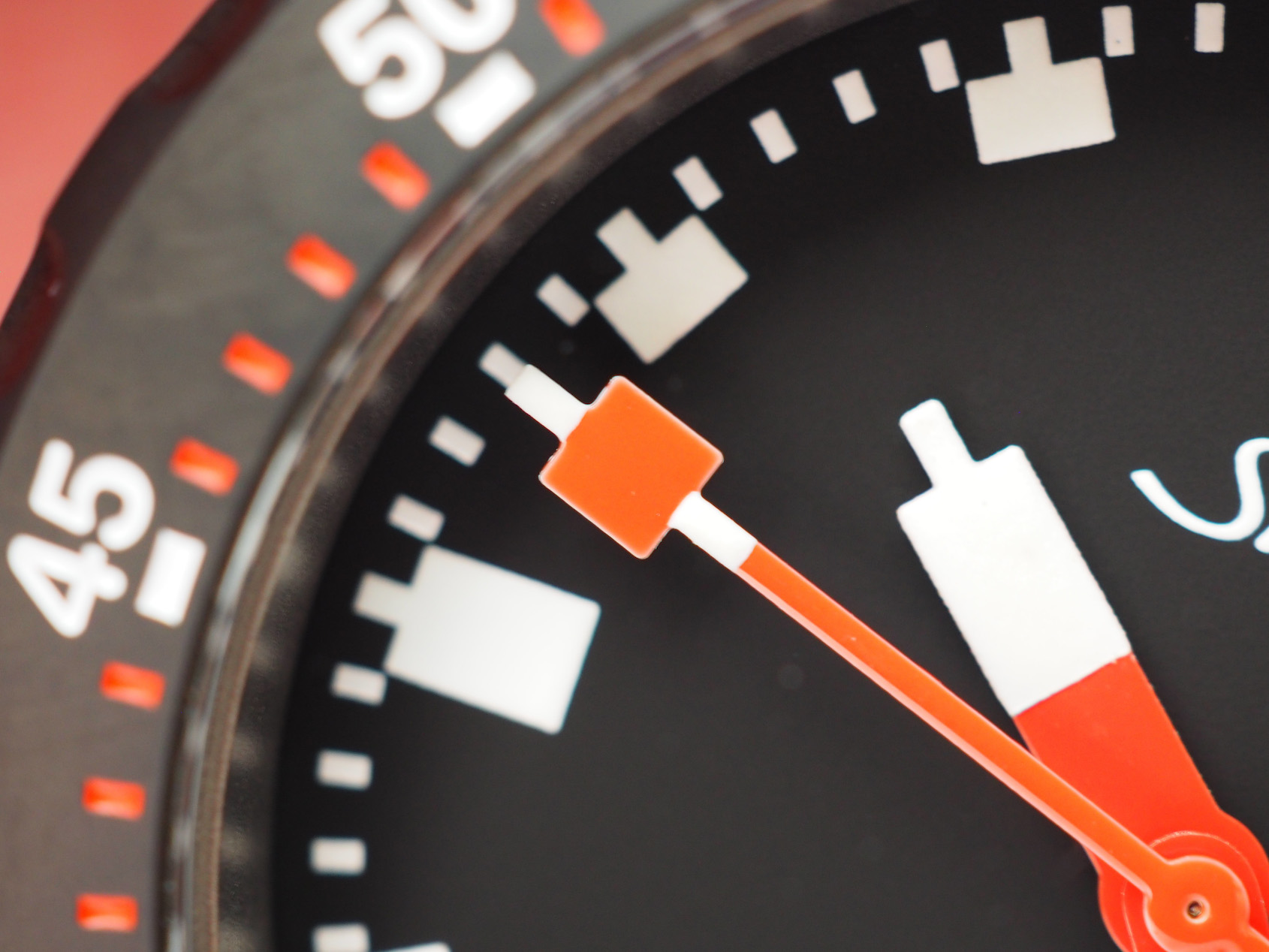 Again, this had me twiddling the bezel, ear-close and a smile on my face … it is that sharp. The classic 0-15 minute diver section is here in all white, with half-minute intervals, whereas the rest are white crisp numerals every five minutes, combined with a fresh red minute track. The dial itself is made extra legible by a flat sapphire and what I understand is a fanatical application of AR — on the photos manifested by a seemingly non-existent crystal, the photographer's dream. An ultra matte black surface is the background to a no-nonsense approach to legibility, with clear minute track and blocks of white Super-LumiNova marking the hours, and a discreet matching black date wheel.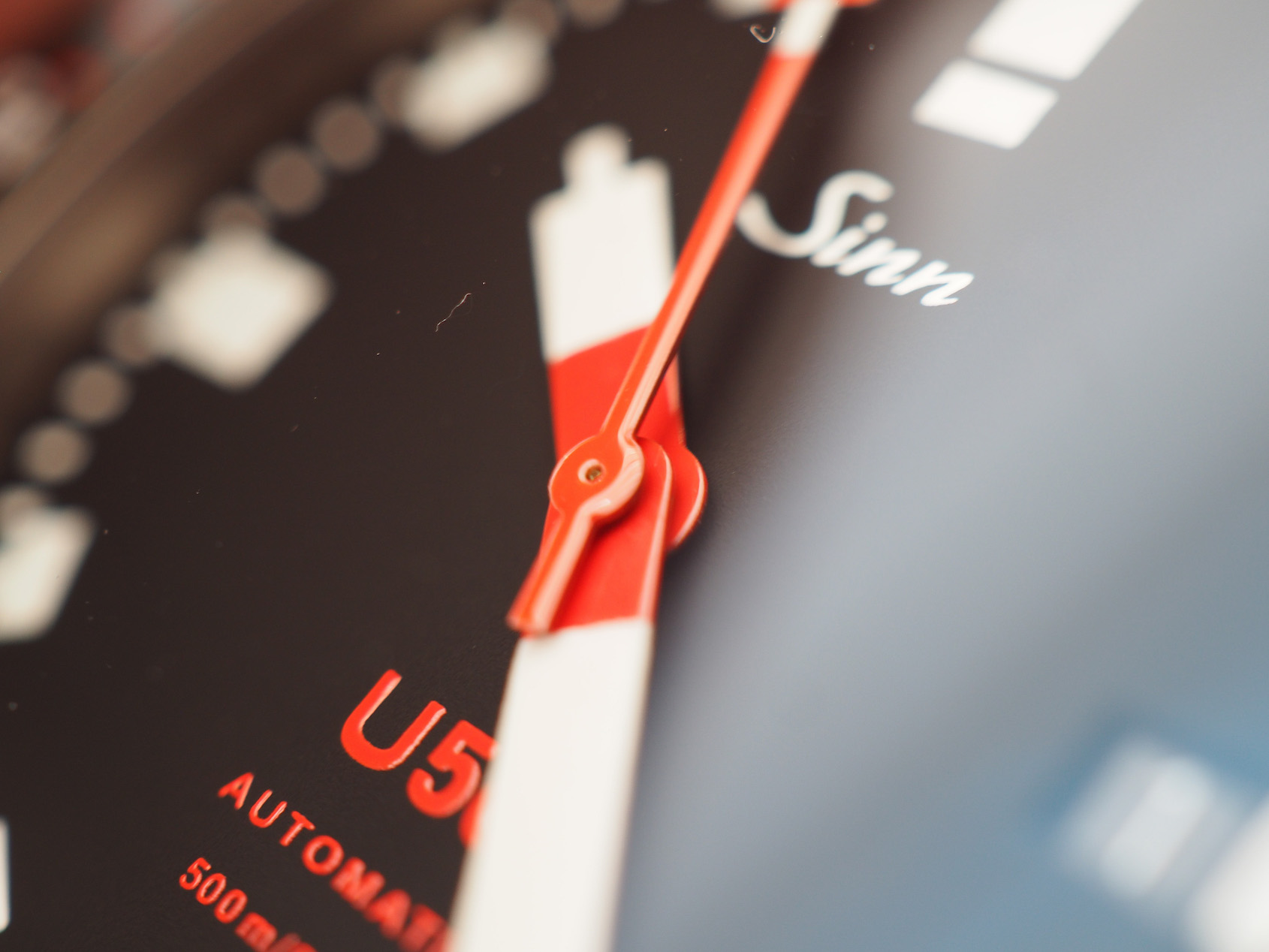 The Sinn logo at 12 and the red text above 6 freshens everything up and then we have the hands. The teutonic and purely technical design of the hands has to be one of my favourites here. Imagine the clock hands from an '80s low-res video game made real. The word blocky is an understatement with large flat shapes, crisply lumed white with a simple narrow tip. The seconds hand is straight, with the fun combination of a big square red lollipop bookended by white lume, something I can imagine finding on the main pressure gauge in a nuclear submarine. There is even a Cartier moment, with hidden text. The words "made in Germany" are invisibly printed on either side of the blocky 6 o'clock, in a glossy black only visible from certain angles.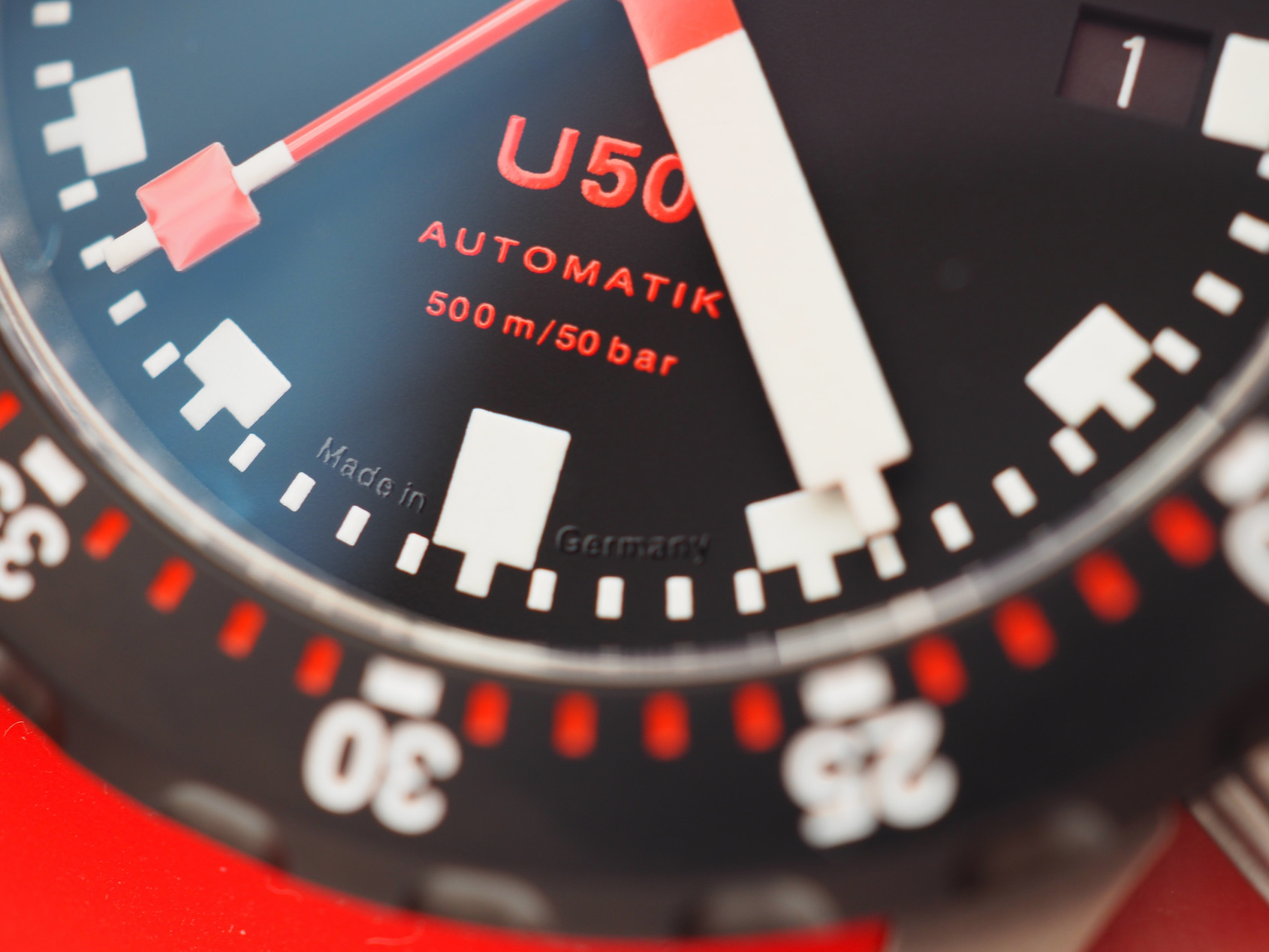 The movement
Under the smooth caseback lies the solid Sellita SW300-1 automatic movement that we all know. A dependable 28,800 vph workhorse with 25 jewels, and something you can trust in the depths of the dark sea.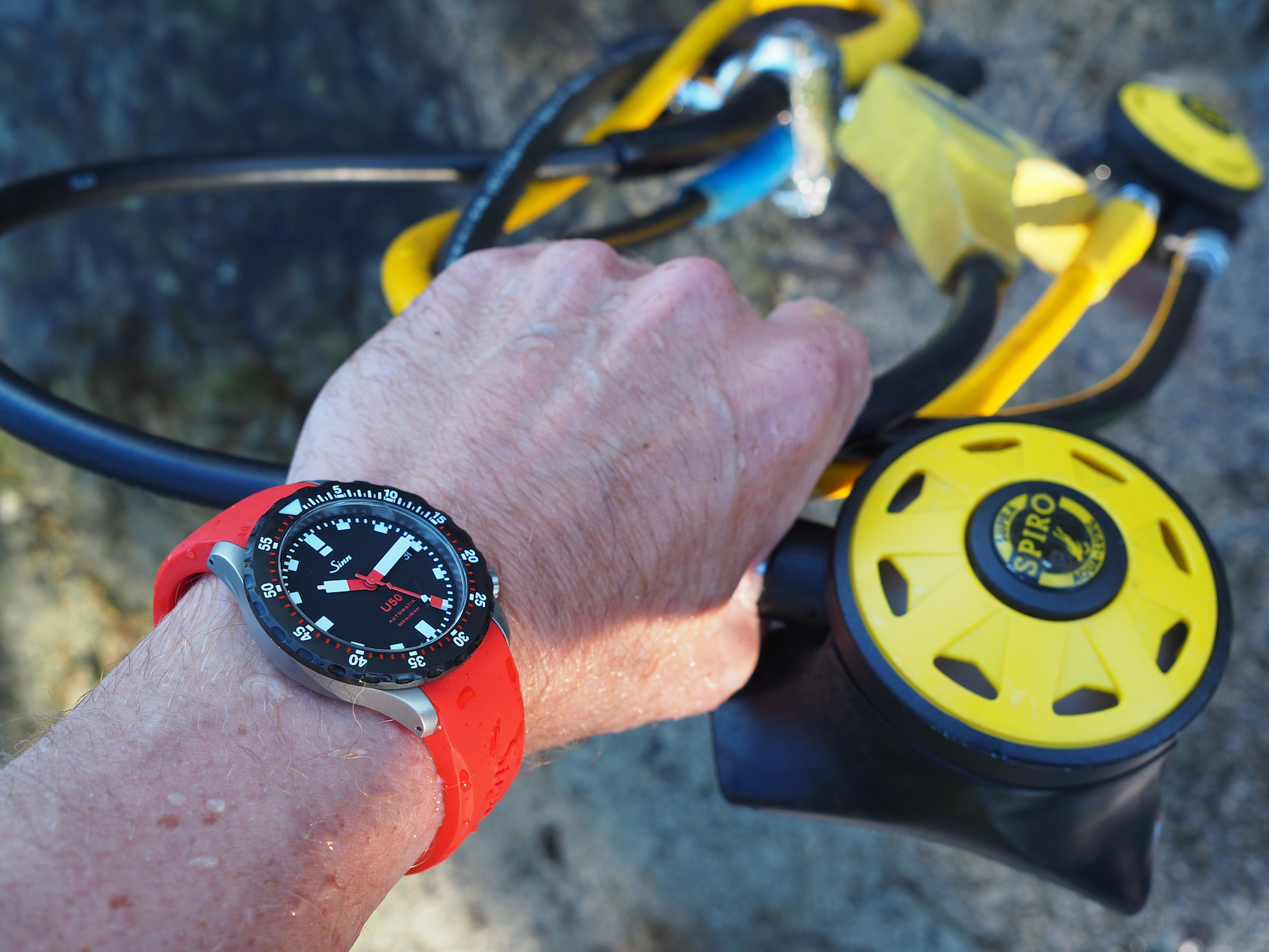 So, at the end of these couple of weeks with the Sinn U50 I am still confused as to how they could possibly engineer an 8mm case with a 3mm bezel to withstand 500 metres of pressure. I am also questioning how something so slender and summer-fresh can feel so bombproof. Its as if Sinn have compressed a Ploprof in an industrial 400 tonne press into a slender sports watch while retaining the strength and weight, and of course adopting those no-nonsense German aesthetics. As for me, now? You'll find me opening and re-closing the clasp and turning the bezel until the moment UPS gets here to pick it up.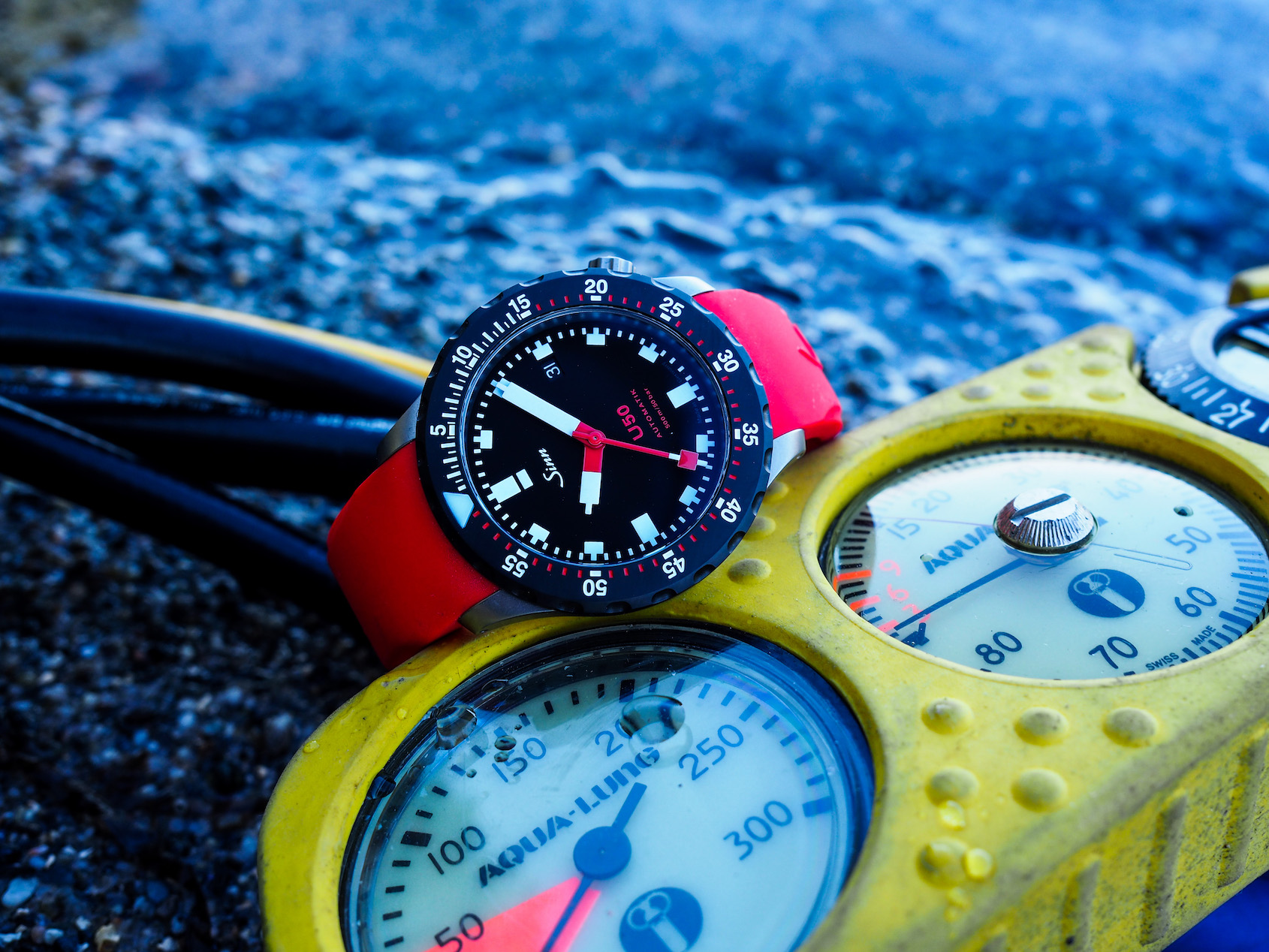 I should mention that, as hinted in the title and the opening paragraph, this is the first time there is actually an extended delivery time for a new Sinn model, as demand has far outstripped supply at the Frankfurt factory, a sure sign of this being their star reference for 2020. 
The Sinn U50 SDR price and availability:
The Sinn U50 SDR has an RRP of between $2180 and $2940USD and starting from $3540AUD on leather.
For availability in your region contact [email protected]
Specifications
Case Material
Stainless Steel