GADA-OFF: The Longines Spirit Titanium vs the Tudor BB58. Which is the better daily wearer?
Zach Blass
Editor's Note: This article was originally published back in January earlier this year, but, with our recent list of the team's GADA (go anywhere do anything) watch picks, this article came back to mind. Two daily wearers, with competetive specs and their own tradeoffs. A very solid match-up, dive back into the debate below.
When the new Longines Spirit Titanium first dropped, various media outlets and members of the watch community began to draw comparisons between the 40mm variant and the original Tudor Black Bay Fifty-Eight. Honestly, at first I didn't get it. I mean one is a diver and one is a pilot's watch. Apple and orange. But after a fleeting moment of disconnect, the offerings, when stacked against each other, actually really match up. Digging into the details, it becomes clearer and clearer that these two watches both present buyers with value-driven alternatives that could easily stack up as a consumer's "one watch".
Examining the specifications of each watch, both really tick all the boxes of what makes a good "one watch". What do I mean by this? Well, not everyone indulges in a large watch collection. Having five, 10, or 20 timepieces can be unrealistic for many. Outside of our niche community, most people are looking for that one watch that covers all bases. It is typically a sporty piece that can stack up against an active lifestyle while also passing muster in more formal settings. In other words, a watch with a sense of "robust elegance" as I have been known to say.
Aesthetically speaking, both of the watches have classic and sporty appeal and can be purchased on either a strap or bracelet at the buyer's discretion. The cases are each executed with mixed finishes, notably having polished bevels to the lug shoulders – a calling card cue for vintage-inspired designs. They also each leverage a heritage-driven aesthetic on their dials with a pseudo-gilt colour scheme that'll win the hearts of collectors with their warm vintage tones. Both of the dials on the Spirit Titanium and Black Bay Fifty-Eight have a grained matte black tone that brightens a tad towards its centre and darkens towards the outer circumference of its perimeter. It is akin to a spotlight faintly hitting the dark backdrop of a night sky.
It is a very versatile colour scheme, the black pairing with any wardrobe style and the gilty tones working with brown and earthy tones as well. They also both have super clean and simple dials, each in a no date configuration that'll satisfy the purists. Where they stand distinguished from one another is the categories they fill, and the ensuing aesthetic choices as a result. As a diver, the BB58 has a timing bezel whereas the Spirit Titanium has a flat brushed bezel ring that steps down to a sloped conical mirror polish that creates elegant light play. As a result, the Spirit Titanium edges out the BB58 in its ability to be a formal chameleon – the BB58 much more distinguishable as a sports watch from a distance. It should also be noted that the Spirit Titanium is, of course, made of lightweight yet tough titanium while the BB58 is made of ever-so heavier stainless steel.
Digging into the numbers, the Longines Spirit Titanium clocks in at 40mm in diameter, 12.2mm thick, and 49mm lug-to-lug across the wrist. It is not a far stretch beyond the 39mm x 11.9mm x 47.7mm dimensions of the Black Bay Fifty-Eight, plus the ergonomics of the Longines Spirit Titanium make the precious extra millimetres of lug-to-lug nearly negligible. The largest differentiation between case specs is really the 100 metre depth rating of the Spirit Titanium and 200 metres of the BB58. In either scenario, you have decent specifications for a potential "one watch".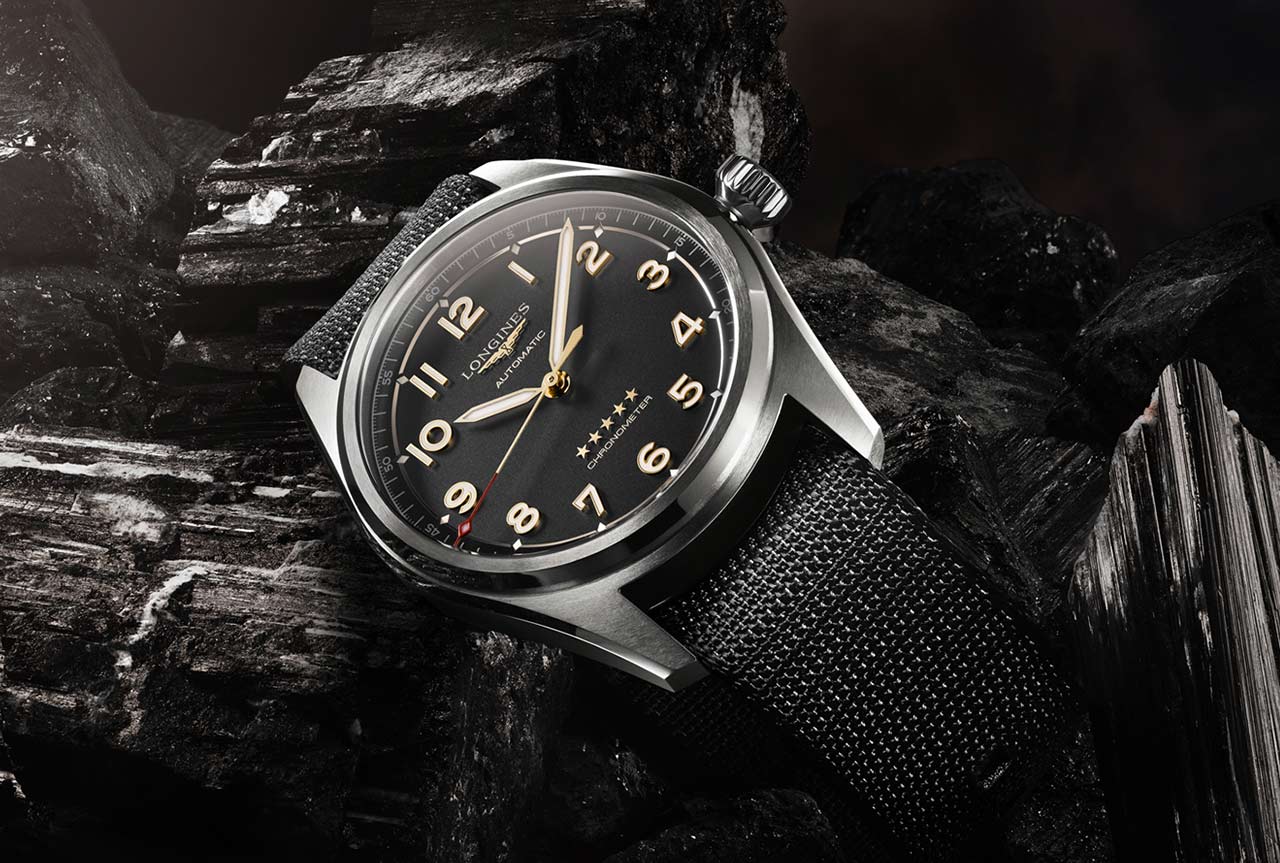 Internally the parallels continue, with each of the watches powered by COSC-certified calibers with 70 or more hours of power reserve and a silicon hairspring for resistance against magnetism. Both the movements meet the modern standards of today's collectors so one can't necessarily be declared the winner over another.
Overall each of the watches are highly wearable, ergonomic, and technically satisfactory. Sure, the BB58 has slightly more robust qualities to offer, but its greater skew towards sporty makes it a tad harder to dress up short of going for the James Bond look at a formal outing. It is also worth mentioning that the Black Bay Fifty-Eight is at least $1,225 USD more expensive in both the strap and bracelet variants. So unless you are attached to 47mm lug-to-lug versus 49mm, a dive bezel, and an extra 100 metres of water-resistance, the lightweight Longines Spirit Titanium may pack more of an economical punch in your collection. But if you're dying to add the modern diver that issues the same essence as older Submariner models, then its best to seek out a BB58.