EDITOR'S PICK: The Aegir CD-2, a dive watch made by… wait for it… an ACTUAL diver
Felix Scholz
Editor's note: There's nothing that watch journos love more than a watch with a story. Marketing departments know this, and try hard (sometimes too hard) to come up with gripping narratives behind their latest and greatest. In all my years of writing about watches, I've come across few stories as authentic and compelling as that of Australian micro-brand Aegir Instruments and the man who makes them. Oh, and the watches aren't too shabby either.  
Todd Caldwell, the man behind the brand, is a commercial diver – and the inspiration for Caldwell to go out on a limb and make his own dive watch was hours of decompressing in a diving bell, with little to do but stare at his watch (I asked – it was a Panerai, and yes – he's still got it).
Caldwell wasn't happy with what he saw, or with any of the watches on the market for that matter. He wanted something he could wear at depth that wouldn't look like a tuna can on the wrist, jutting out from a suit cuff. So decided to design his own, initially just for himself and a few diving buddies. Out of this process came two designs: The CD-1, forms the core of the Aegir Instruments collection, and the CD-2 – a limited edition of 100 pieces that has spared no expense in the quest for quality.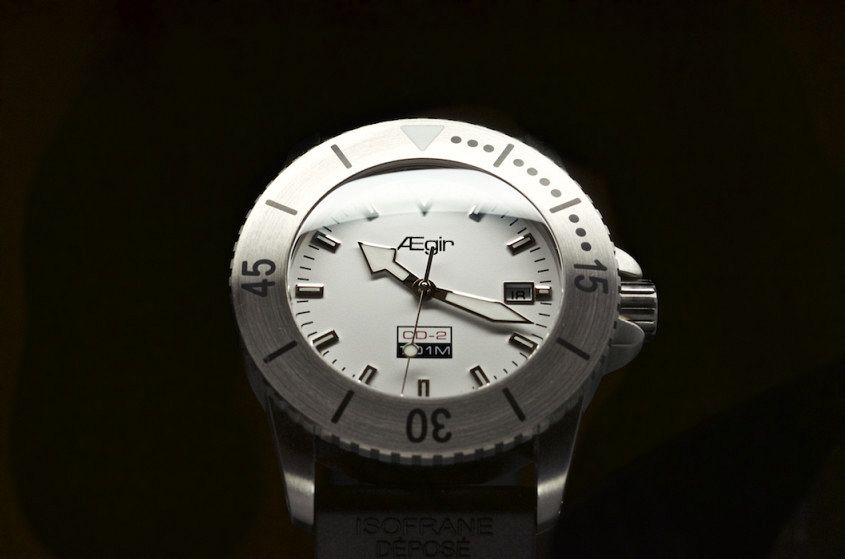 The CD-2 emerged because it turns out that people expect certain things of a dive watch. Water resistance is one, and a turning bezel is another. Somewhat ironically the classic dive watch bezel was superfluous to Caldwell's needs as a diver. His dives, taken in diving bells, were measured in hours, not minutes. He's only ever used a bezel to time how long it takes to boil an egg. But, people wanted a divers' bezel – so Aegir delivered.
The CD-2 is quite a chunk of steel, with brushed 42mm case (with a helium escape valve) that wears a lot larger than you might expect thanks to that super wide bezel. This bezel is great, with simple numerals and hash marks that don't try and fancy things up too much, and a luminova filled triangle at 12. It has a little bit of play in it, compared to the Rolex and Omega watches we happened to have lying around, but other than that it held up pretty well against the big boys.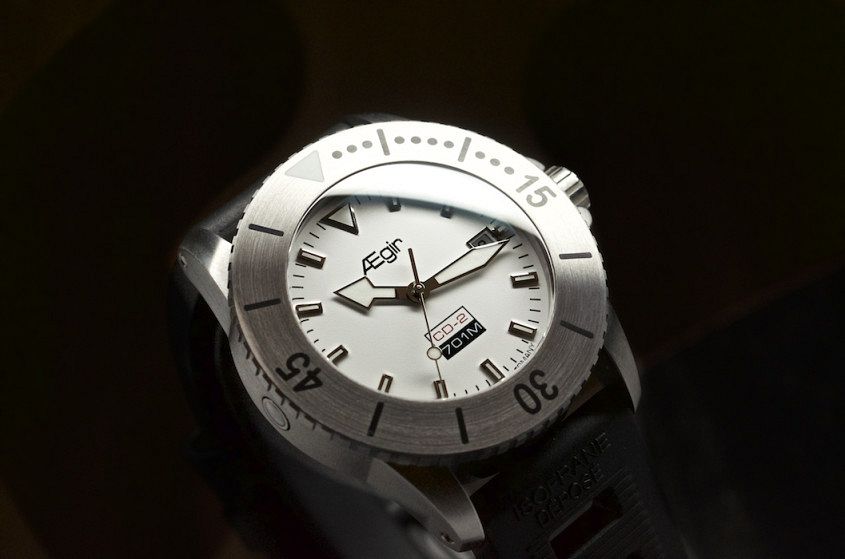 Thankfully for those of us that aren't professional divers Aegir Instruments have made the dial a little dressy, with large, shiny and generously luminova filled indices and hands. The white dial here is particularly elegant and a nice change from the usual spartan black this style of watch often defaults to. The logo and dial text at six is plain and simple, verging on an 'un-designed' look that manages to avoid being ugly. The strap is a 24mm option, which is quite wide for this size case, but it's a perfect size for all those aftermarket Panerai straps you see everywhere.
There have been no half measures taken in the design, construction or manufacturing of this watch. To an almost epic degree as it turns out. Caldwell enlisted the help of Thomas Prescher in the prototyping phase. Prescher is one of the leading names of Swiss independent horology, who more commonly works with triple axis tourbillons. In and of itself this sets Aegir apart. But that wasn't enough. German company Fricker – one of the most respected private case makers was commissioned to manufacture the case. The movement is the high grade Swiss Soprod A10. Depth rating isn't 200, 300 or even 500 metres as would be reasonable for 99% of users.
Any guesses as to the depth rating on this weapon?
If you said 701 metres, please stand up, the meat tray is all yours. The significance of this wonderfully odd number is not random. It's to match the depth of the deepest dive ever made (in 1992 by Greek Comex diver Theodoros Mavrostomos). Get thee to the Mariana Trench Aegir.
Even the straps are impressive. The standard option is a rubber ISOfrane (which on its own costs over $100) that is, in my opinion, the best rubber strap on the market. The CD-2 was originally available on Metta Catherina leather, which, if you'll gather around the campfire for storytime, is an incredibly rare reindeer leather that was salvaged from a Russian ship that sank in 1768. Obviously 250-year-old Russian reindeer leather from long forgotten shipwrecks is in short supply, and these watches were all quickly snapped up. Can you even imagine what a marketer would do with a story like all this? The mind boggles.
In closing – though we could go on to be honest, this is a serious watch – the CD-2 is clearly a labour of love. Speaking with Caldwell it quickly becomes apparent that he isn't in this for a quick buck. The CD-2 has a retail of $1900 (there may even be one or two left) and even though this price is higher than most of the other Australian watches it still represents great value. Especially if you're a hardcore diver, or a hardcore watch lover. It's going to go wherever you go, and do its job at every turn. While at a cursory glance the CD-2 looks like a lot of other dive watches on the market, closer examination reveals that all the little details have been thought about, and very little is compromised on. These watches are very much an expression of Caldwell's passion and because of this the product is very pure. There is no marketing, there is no hype, which is something of a shame, because more people should know about this brand and the stories behind it.