Everything you need to know about dial finishing
Borna Bošnjak
When you look at a watch, what's the first thing you notice? Do you immediately comment on the movement, or perhaps case finishing? Of course not – it's the dial. No matter how nice the movement is, or even how suitable the dimensions are for your wrist, the dial is the likely the one to be the make-or-break in the eye of consumer. With it being such an important element of a watch, manufacturers have masterfully created different dial finishing techniques – some of which we may have already covered in our guide to watch finishing in more detail.
Brushed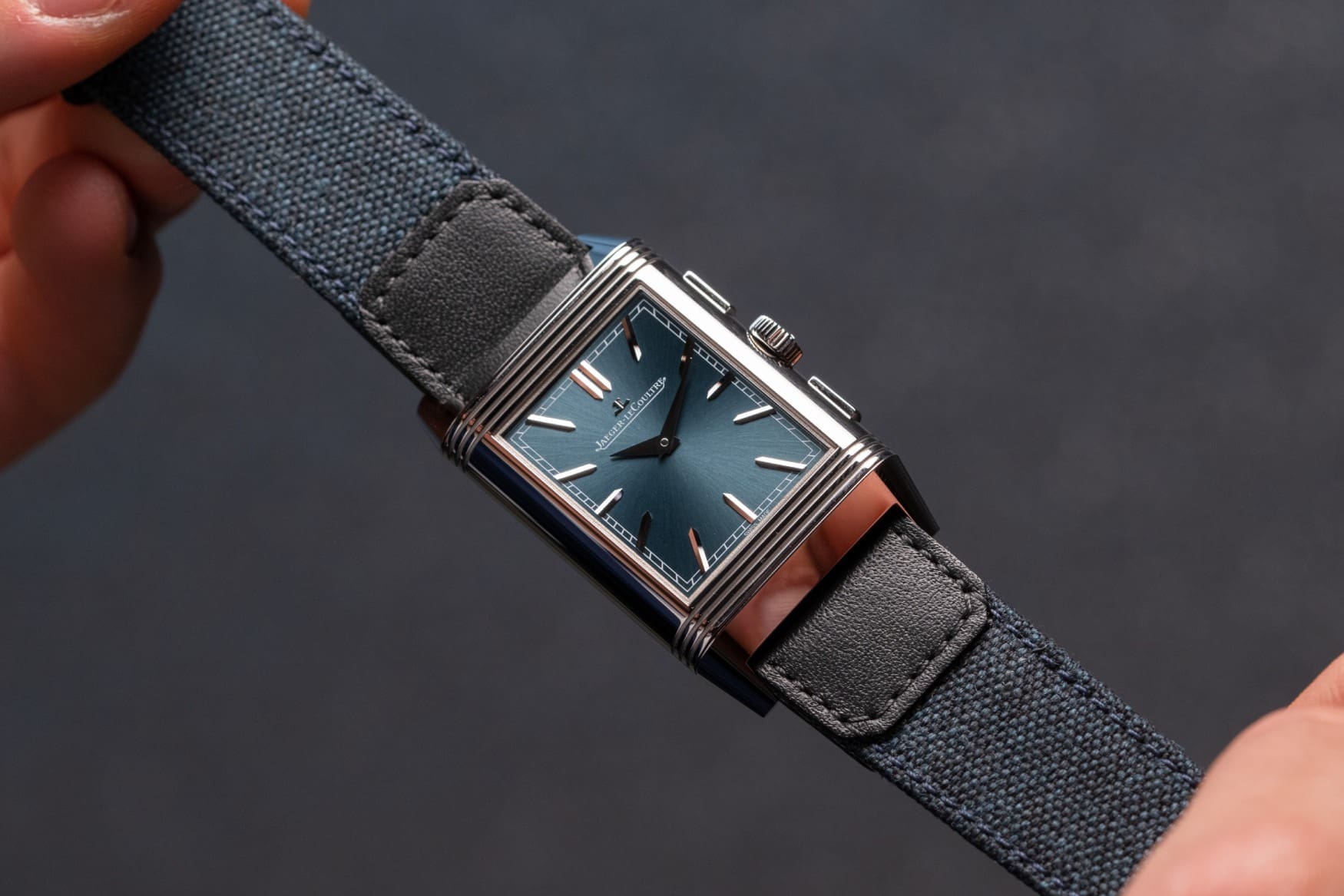 Brushing has to be one of the most common dial finishes, simply for its subtlety in adding just the right amount of texture to a dial. Whether linearly grained or in a sunburst pattern, the finish keep the dial bright while not being overly reflective like polished lacquer or enamel. It tends to be used when brands want the texture of the finishing to stand out, or want to use multiple finishes to convey complexity. The Reverso Tribute Chronograph above is a perfect example, as the dial is lively, though doesn't detract from the ultra-reflective polished markers.
Enamelled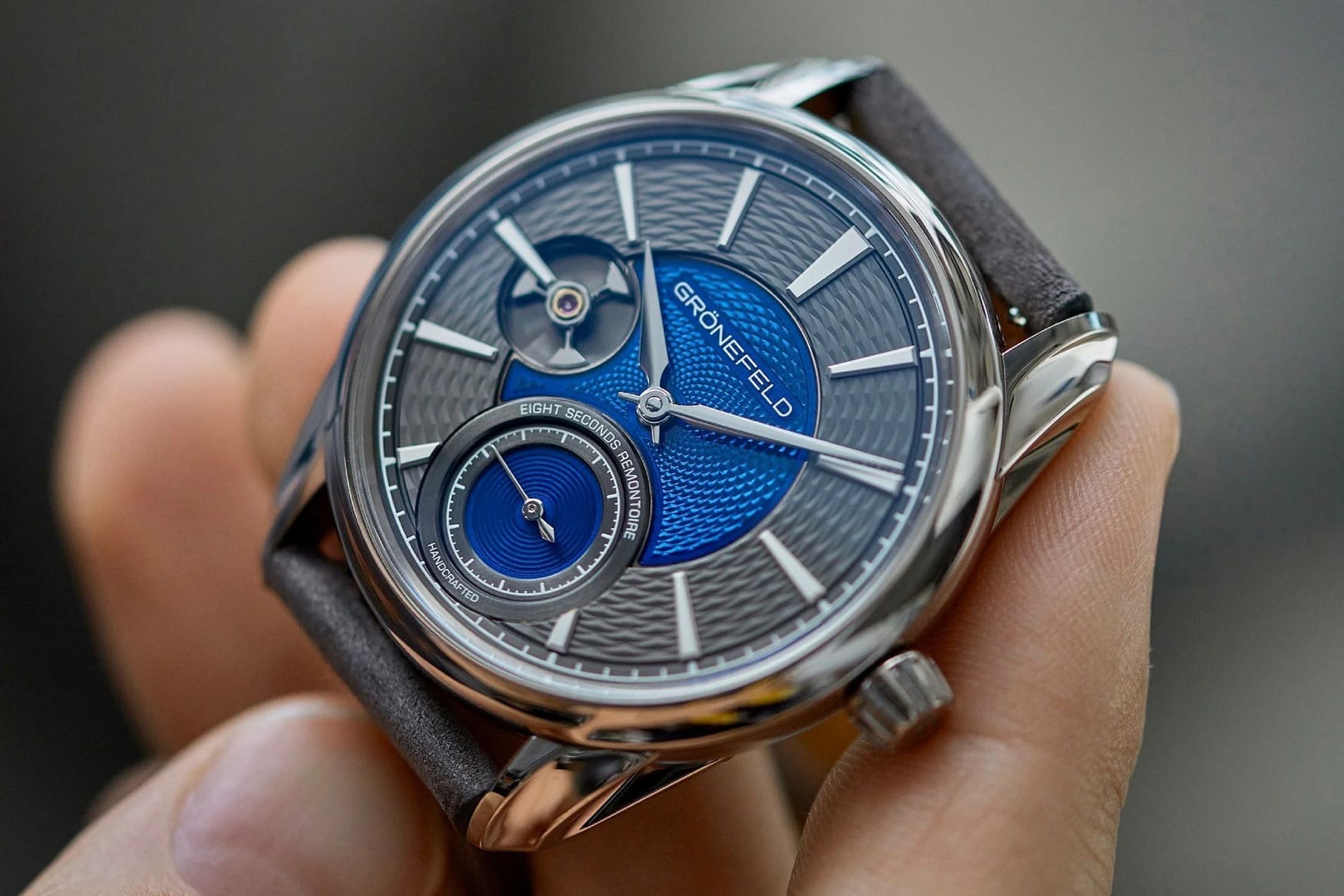 Enamelling is one of the most revered dial-making practices around, and comprises numerous different techniques. From grisaille to flinque, to cloissonne and grand feu, each is a stand-out example of artisan skill that took years to master. The specific temperatures needed for the glass powders to fire correctly, without melting the layers underneath, usually reserve the most complex enamel styles to grail-worthy watches – pieces such as this stunning Grönefeld Remontoire with a Kari Voutilainen flinqué enamel dial. There are exceptions to every rule, however, and Scottish makers anOrdain are likely the best-known for their intricate, but affordable take on fumé enamel.
Frosted
Frosted dials are a traditional finishing originally ushered in by Breguet. Back then, the dial metal was heated to a point unitl the impurities rose to the surface, before applying acid that would remove the impurities and leave a pitted, or frosted, finish. Today's frosted dials get their finishing from wire brushes compressed against the surface or bead blasting. While this likely required the development of new techniques, it did reduce the likelihood of inhaling acid fumes which can be seen as a (dis)advantage, depending on who you ask. It's worth noting that some modern makers, such as J.N. Shapiro and Roger Smith still frost their dials the old fashioned way.
Hand-hammering could also be filed under frosting, in which an artisan imbues the dial blank with thousands of tiny indentations created with a hammer, stake and bounds of patience.
Fumé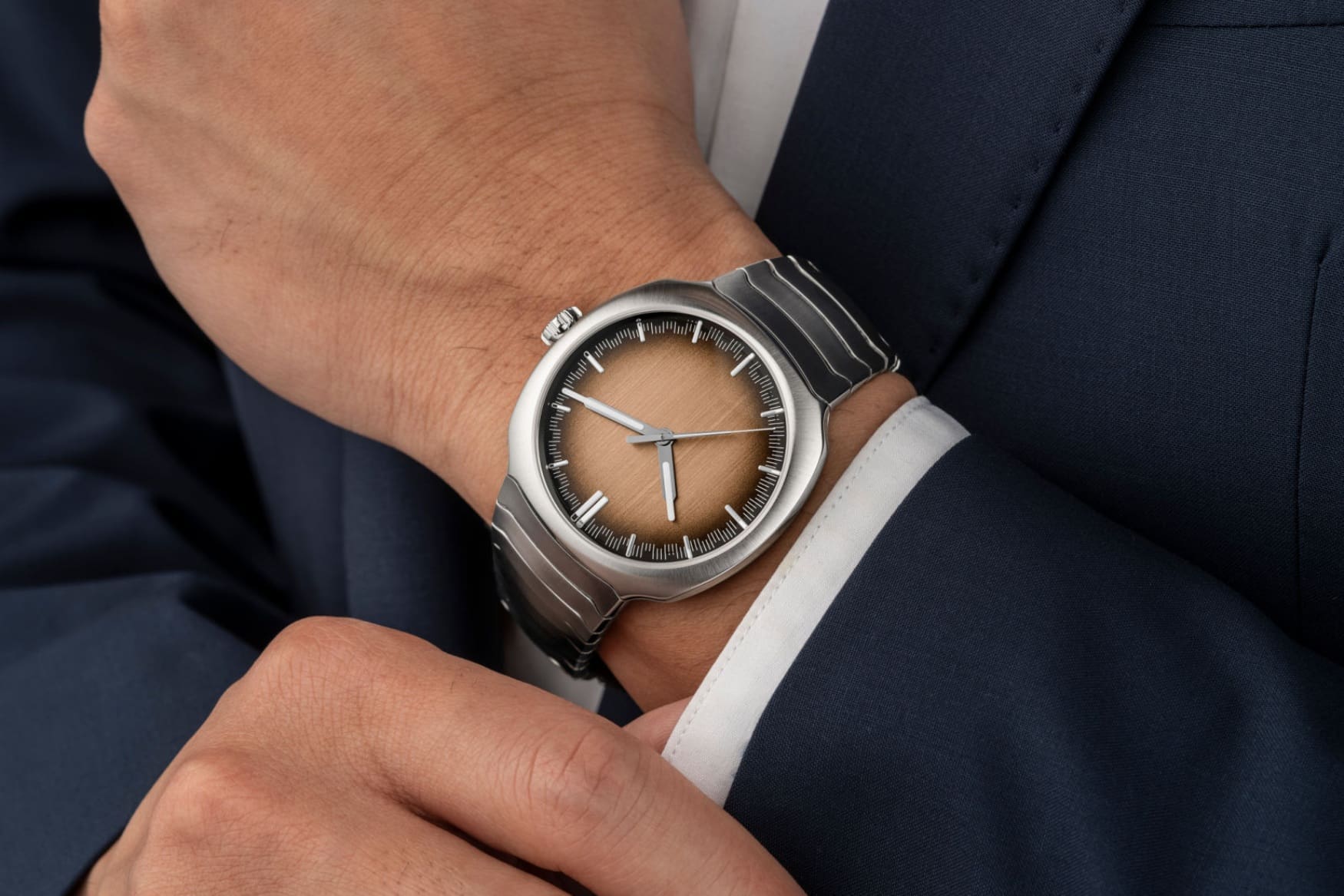 Fumé, smoked, gradient – call it what you will – but the result will be the same. This finish involves a colour-shift, usually going from a lighter to a darker tone towards the edge of the dial. While less a finishing technique and more of a design choice, H. Moser & Cie have been long-time custodians of this look, which has become almost synonymous with their designs. The recent, and cleverly named, Streamliner Centre Seconds Smoked Salmon depicts an extreme version of it, with a not-so-subtle gradient going from a bronzy pink to a dark brown.
Gilt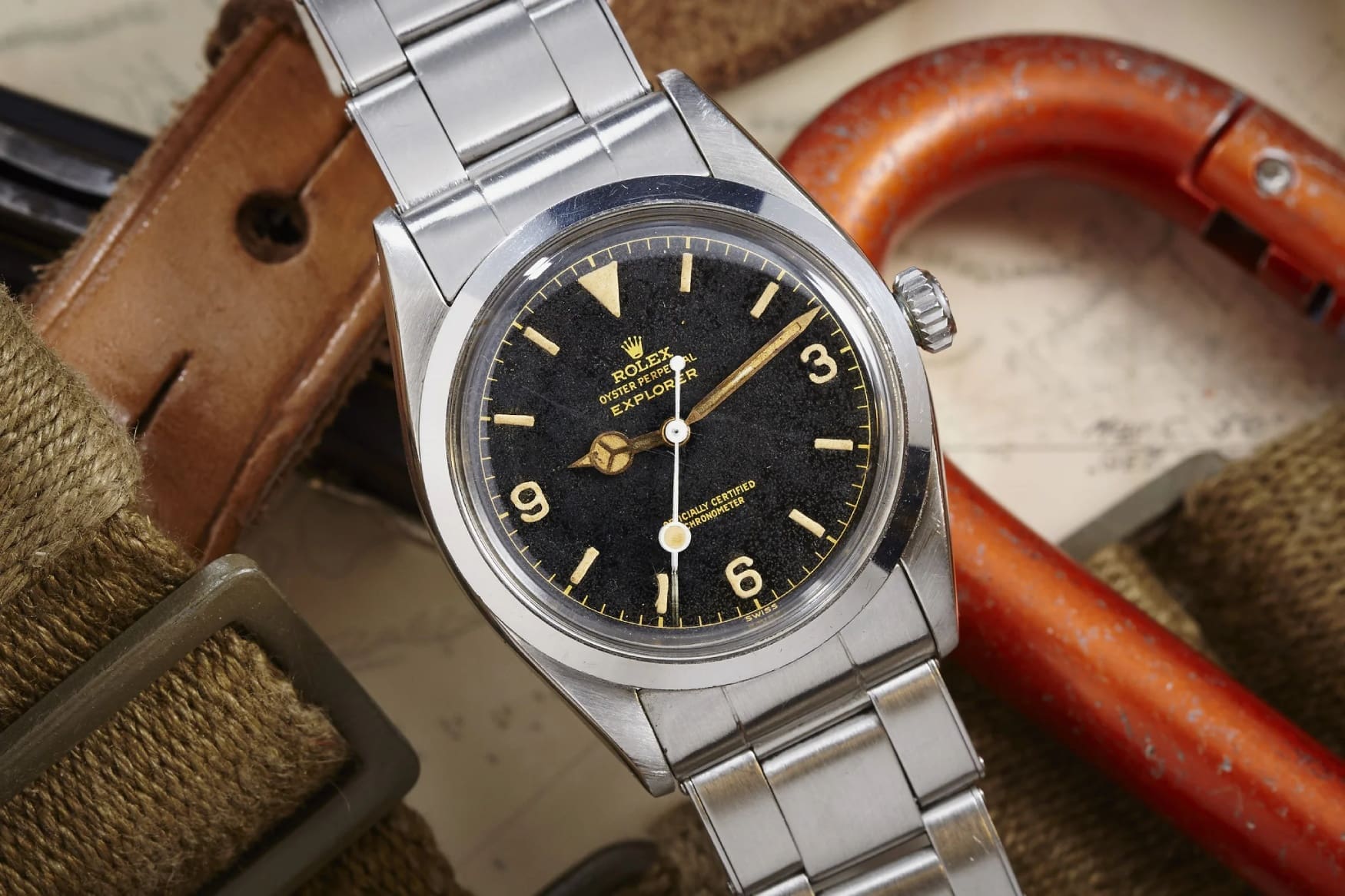 If you've at all dipped your toes into vintage, you'll have undoubtedly come across the term "gilt". Whether vintage or modern, there are plenty of watches that claim gilt dials, even though they do not follow the traditional definition of what a gilt dial is. When something is gilded, it refers to a coating of gold – gold-plating, in essence. Gilt dials, on the other hand, plated the gold, if you will. As shown on the resplendent Explorer 1016 above, the markers and numerals are actually exposed brass plate covered in clear lacquer, while the black colour of the dial is electroplated around them. Rather than undertake this painstaking technique, modern watches opt for gilt-like finishes, printing the gold onto the dial directly.
Guilloché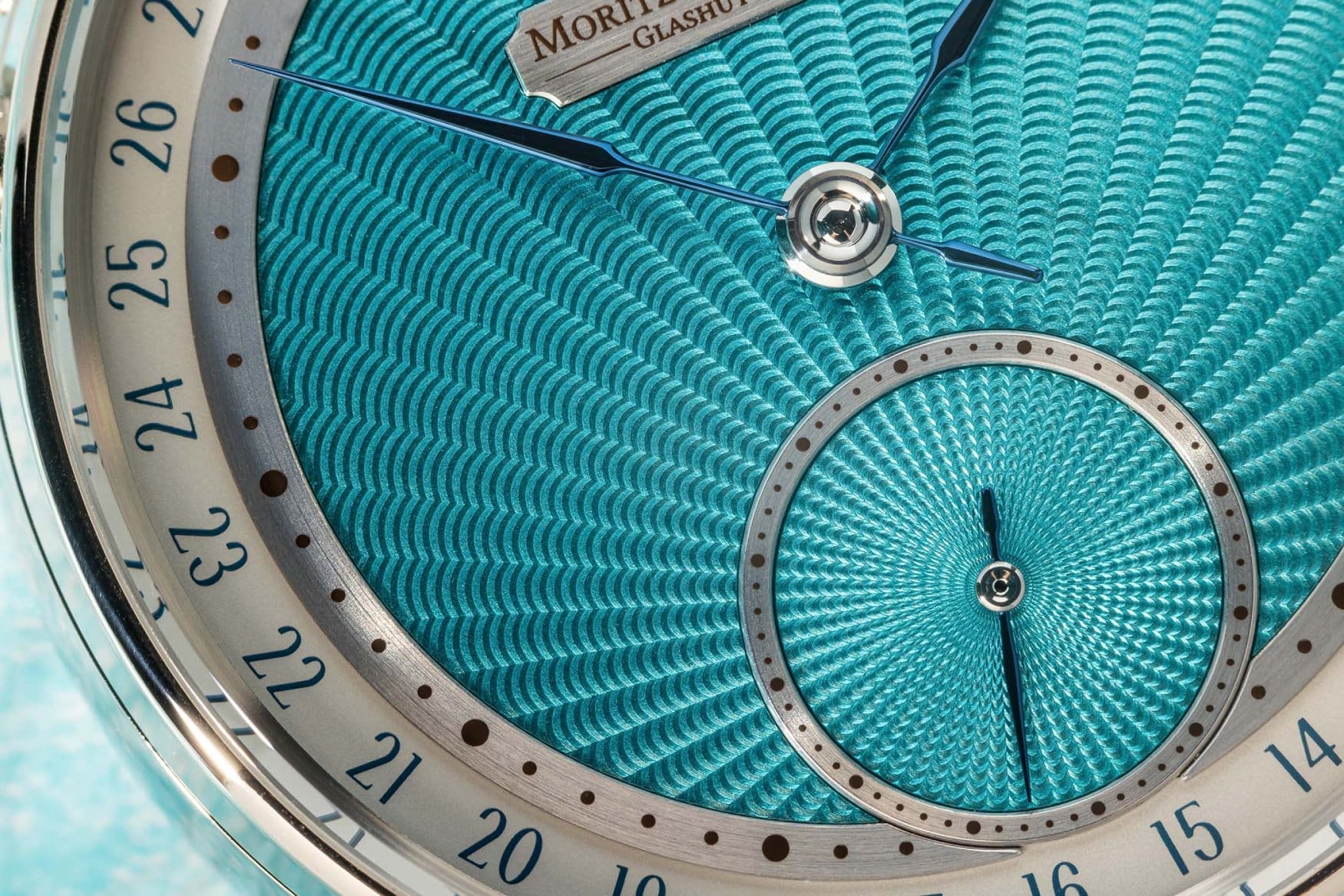 The classic way of placing a pattern on a watch dial, where watchmaker and engraving machine become one. A long and arduous commitment that comes at a high cost, if done properly. This process is a clear example of "you don't pay me simply for the guilloché. You pay me for the hours of experience, trial and error it took for me to learn how to do it."
Of course, I should mention that going the stamped route is also a possibility, where an original plate that has the pattern is used to create more dials. The pattern is pressed into sheets of dial material over and over again, ensuring an identical pattern every time. This simpler process is what makes stamping a more cost effective way of getting the guilloché look, but collectors tend to prefer the human touch that only a rose engine can provide.
Lacquer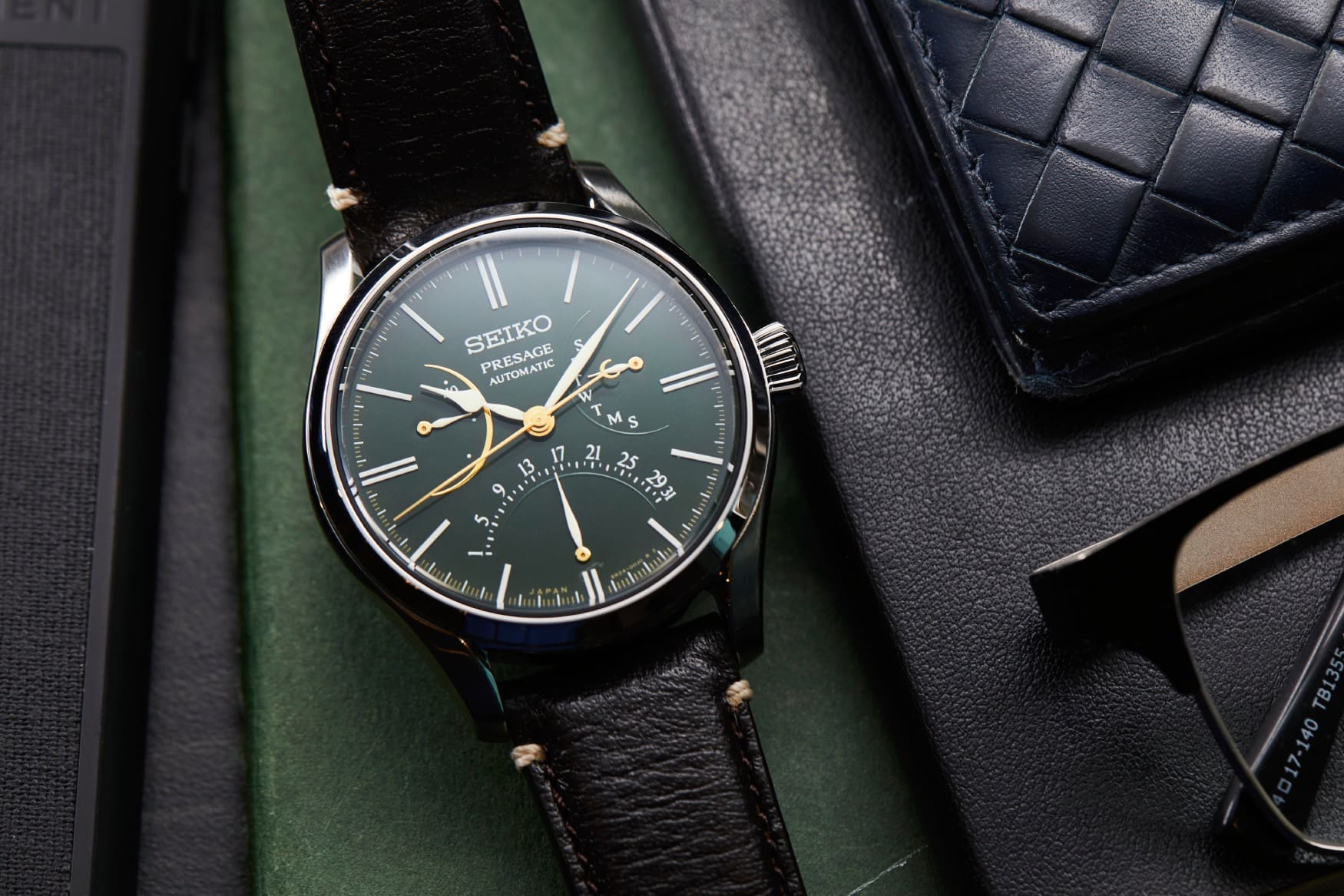 Lacquer dials often go unspecified, being referred to simply as "glossy". Sometimes it's true that there's nothing particularly special about them, but there are lacquer dials, and then there are lacquer dials. Urushi lacquer is likely the most famous technique used on watches, commonly employed by Seiko for their Presage as well as special Grand Seiko pieces, but also smaller brands like Minase and their mesmerising Divido Shibo-Urushi. Lacquer can be both polished and matte, giving the dial an innate sheen in either case – Rolex's Stella dial Oyster Perpetuals are a good examples of this.
Certain types of lacquer dials, especially those on older watches, suffer from cracking due to excessive expanding and contracting, resulting in what is often referred to as a "spider" dial. Some feel that it's a desirable feature, such as on vintage Rolex where everything is desirable, while others deem it as ugly defects.
Linen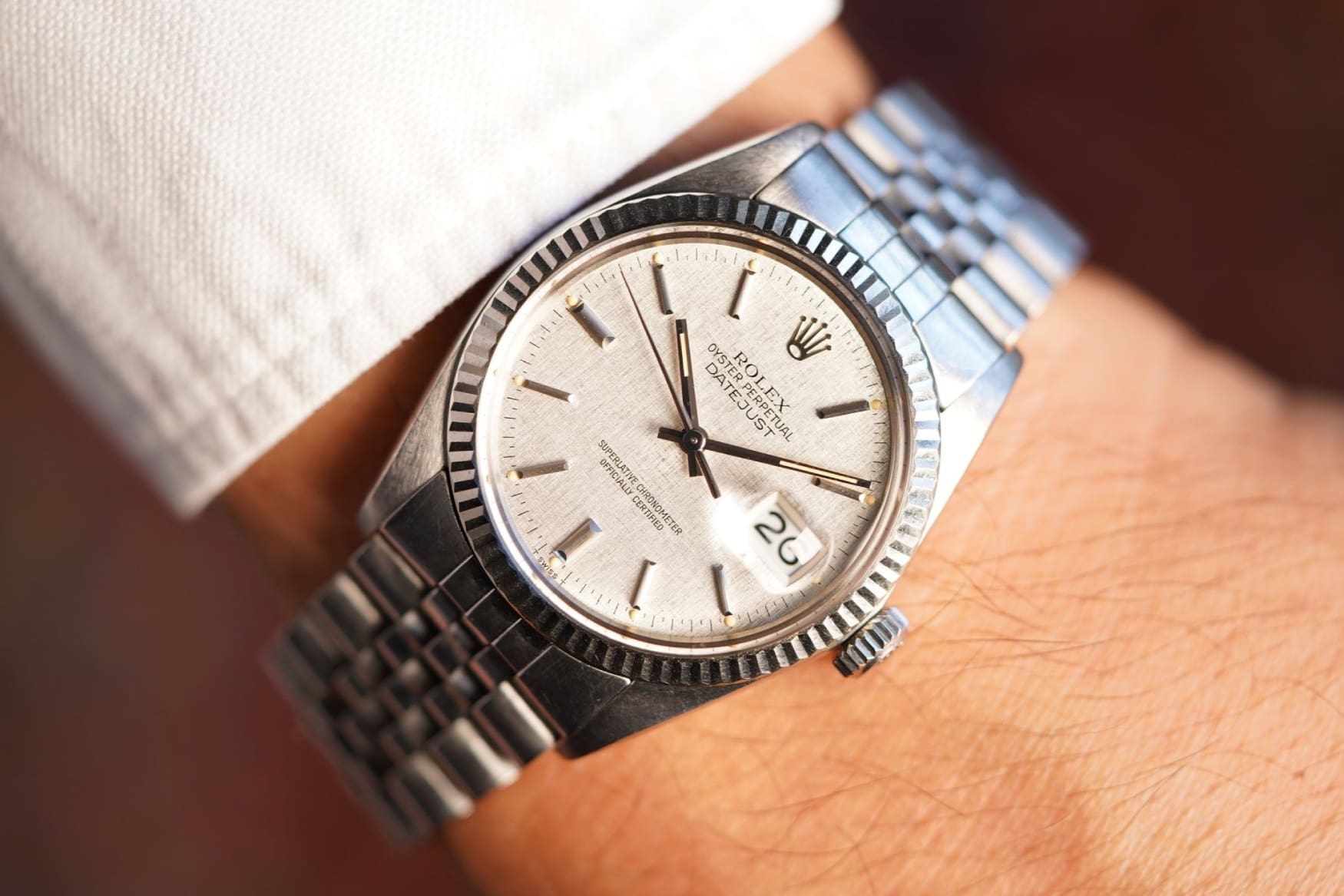 A bit of a modern rarity, linen dials have the appearance of a thin layer of cloth strewn across the face of the watch due to their intricate, cross-hatched engraving. Rolex and Tudor are among the more popular users of these dials, such as the Datejust 16014 above, though it was seen in Seiko, Omega and even Eterna models of the `60s and `70s. These days, only a few microbrands have explored the linen dial, one of which is Stella and their funky Breslin that we checked out recently.
Marquetry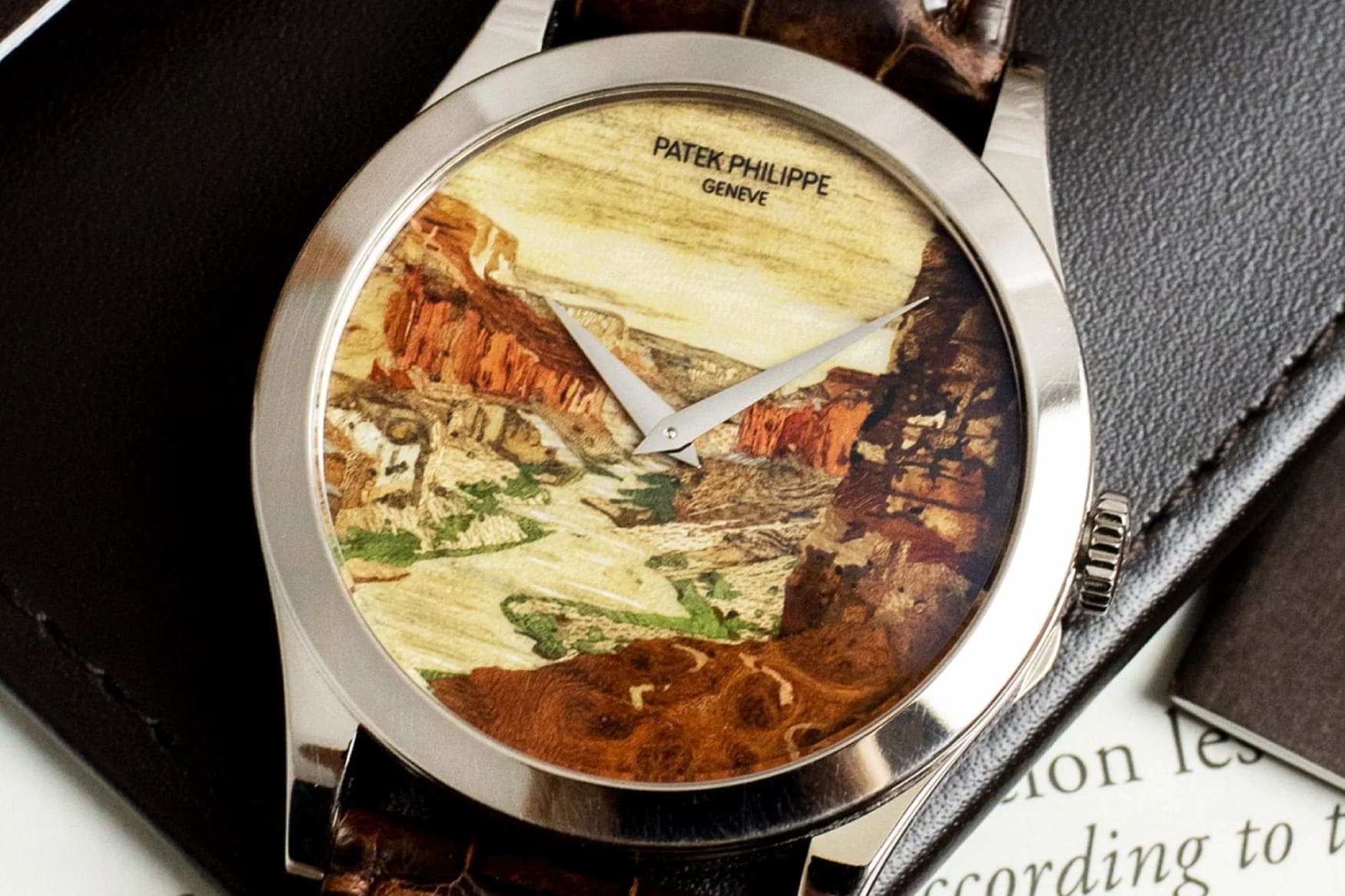 Louis Erard will be glad to tell you that no marquetry dial has ever appeared in a watch for less than 4,000 Swiss francs – assuming that's accounting for inflation. This also goes to show the kind of artistry and skill required for such a dial, as the technique involves combining tiny pieces of wood, leather or other natural material to create an image or abstract shape – like in the case of the Louis Erard. For a detailed breakdown of exactly how this is done, The Naked Watchmaker steps up once again.
Matte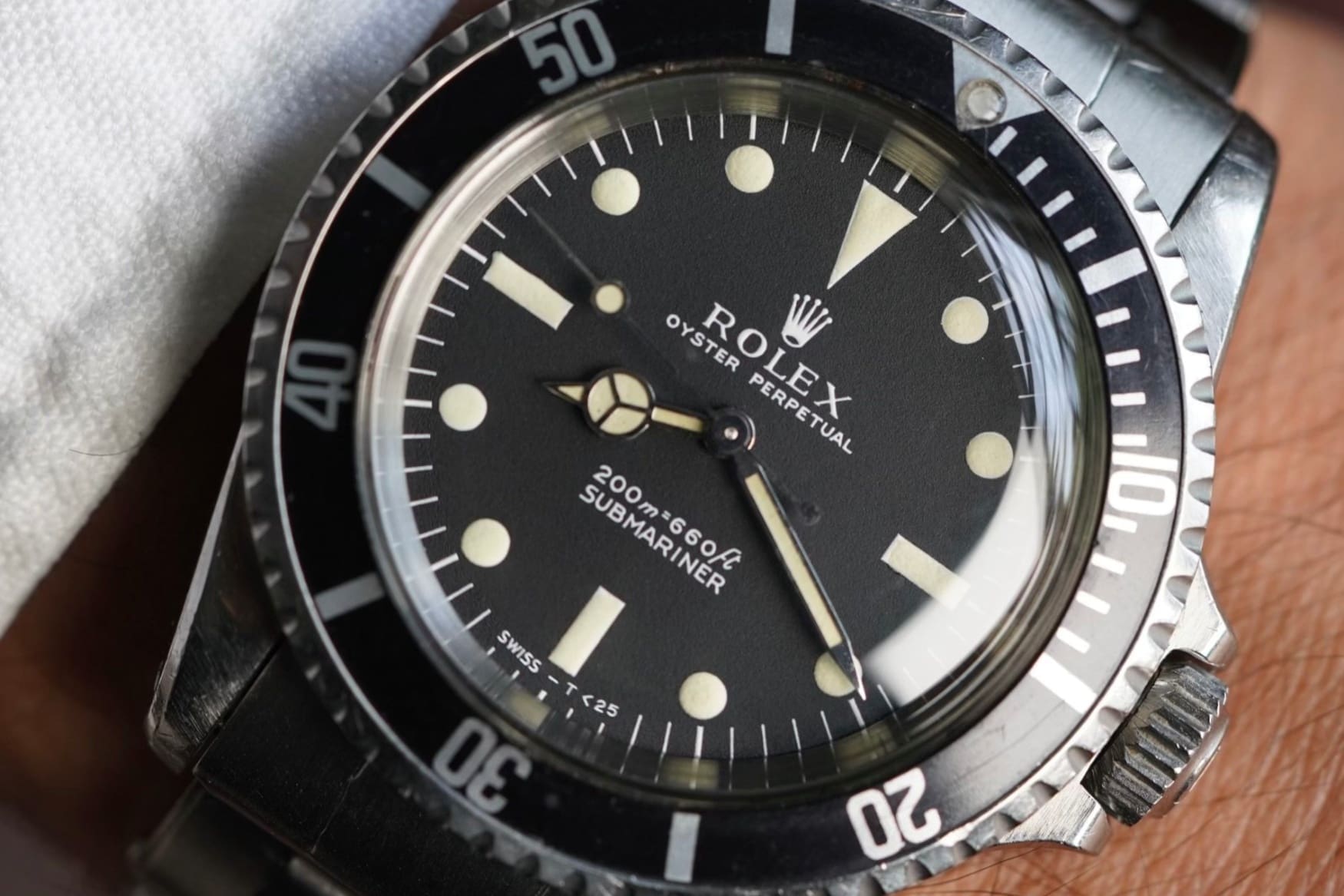 Simple and classic, matte-finished dials have a flat, almost washed-out look, and are akin to the matte paper we in your photocopier. You'll notice how on the Submariner above, the logo and markers are all printed, something you'll commonly see on a matte dial. Furthermore, matte dials don't reflect light all too well, making for a subdued, no-nonsense aesthetic.
Porcelain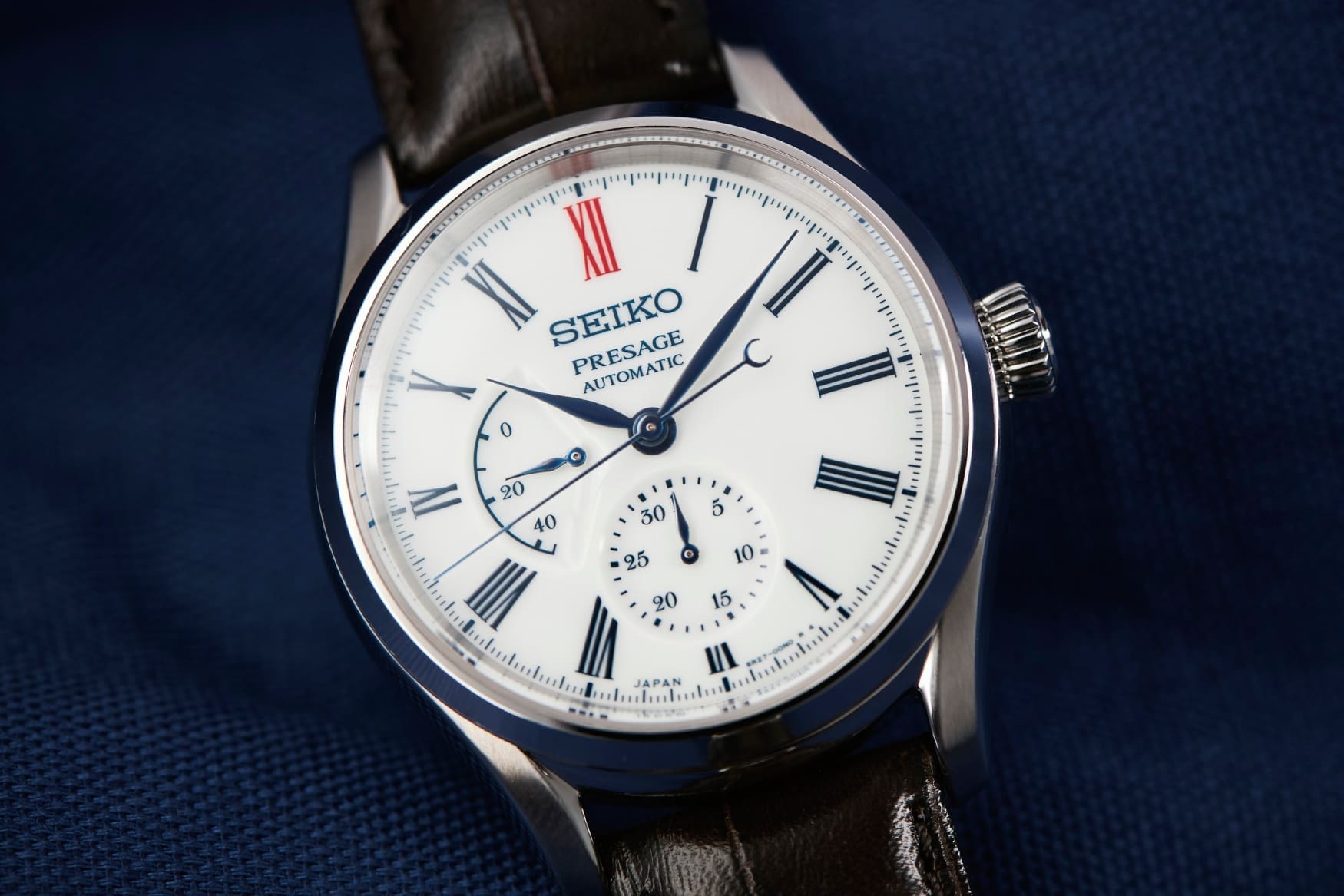 While not too dissimilar to the look of enamel at first glance, porcelain dials are even more rare. Seiko's Arita porcelain is definitely the best-known in this space, available at a great price point considering the simple fact that no other watchmakers readily offer this feature. On the SPB093 model in particular, the recessed sub-dials are the most impressive part, as they're constructed from a single piece of porcelain.
Stone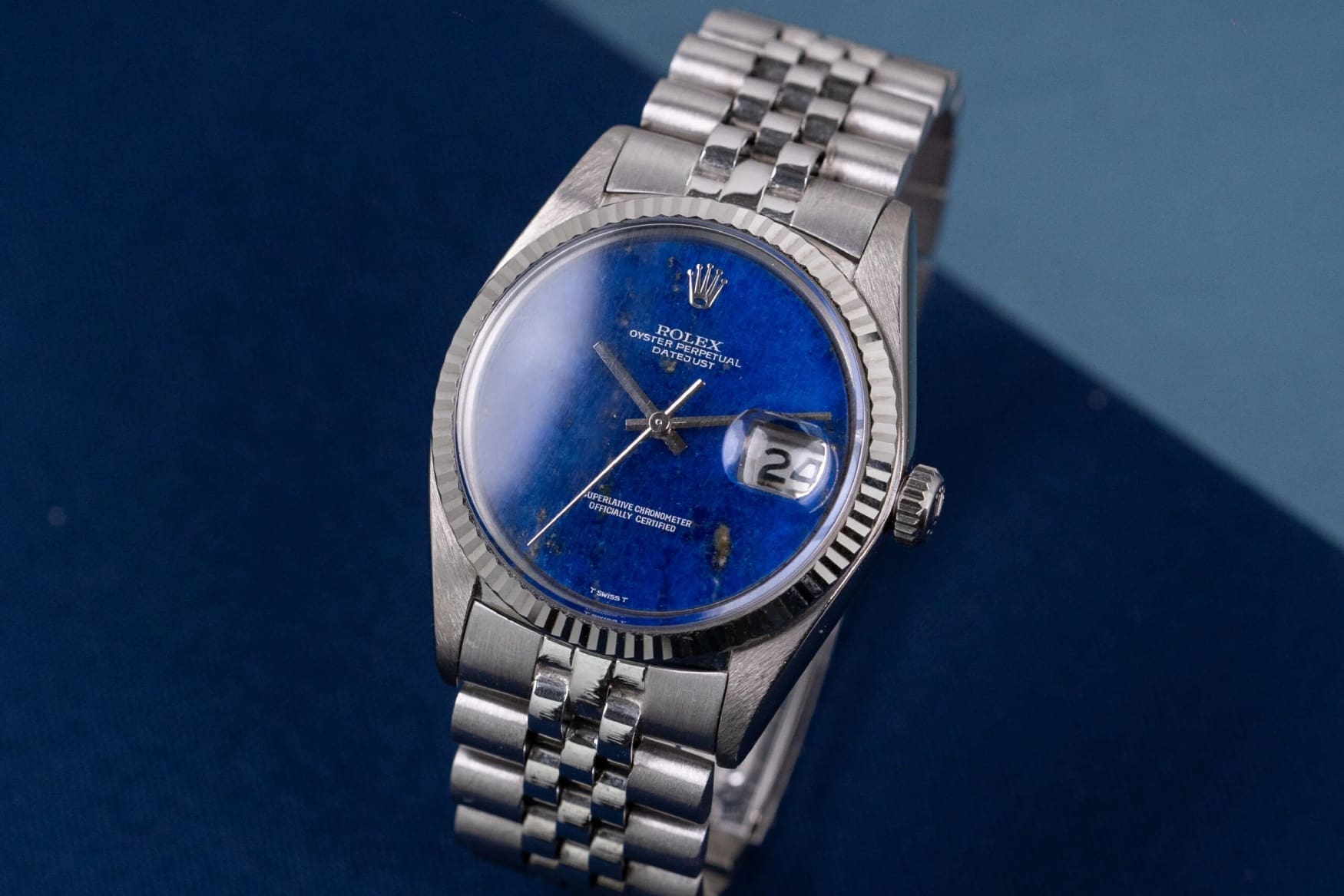 Stone dials were all the rage in the `70s, with the world's biggest manufacturers jumping on the trend that Piaget started in 1963. Involving millimetre-thin slices of semi-precious stone such as lapis, jasper and agate. While their popularity died down over time, the stone dial has made somewhat of an unexpected comeback, though in a slightly different form – meteorite. Whether it's microbrands like Zelos or big box brands like Rolex, the patterns of meteorite's crystalline structure might be signalling the return of funky stone dials – the crown certainly seems to think so, bringing back a trio of colourful Day-Dates earlier this year.
Teaked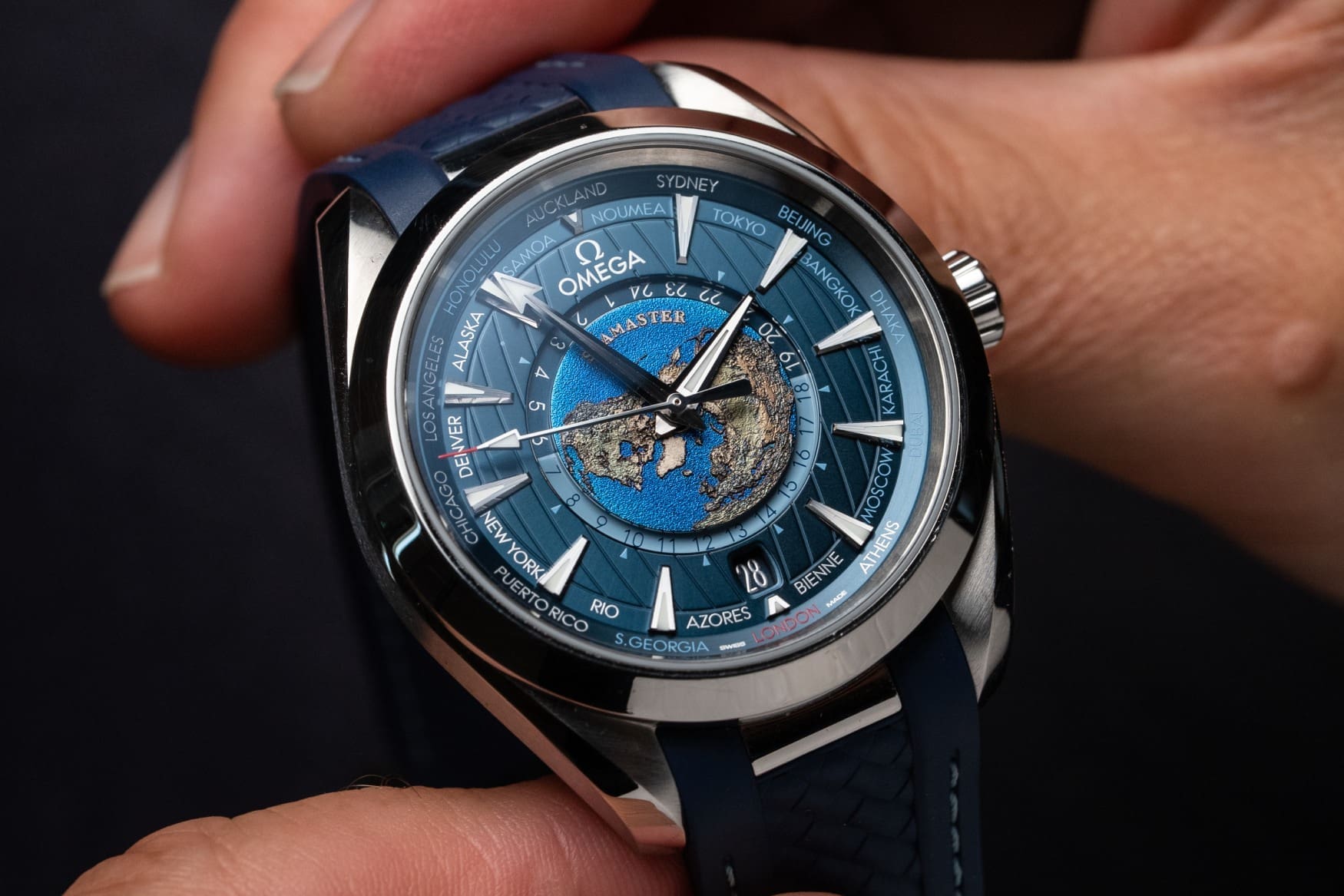 Evoking the vibes of teak decking on the back of a luxury yacht, the name given to a pattern of engraved parallel lines is relatively self-explanatory. Omega's Aqua Terra line-up has used this feature extensively, including on the new GMT Worldtimer model, but we'd be remiss not to mention its horizontal feature on the likes of Patek Philippe's Nautilus, too.