The Moser Streamliner Centre Seconds Smoked Salmon is even prettier in pink
Luke Benedictus
Smoked salmon is something I always try and have in my fridge. Back in my 1980s childhood in the UK, smoked salmon had quite a luxurious status – it only got airings in our house on special occasions like Christmas or when we had notable visitors (like my gran). These days, however, it's no longer that pricey and is a definite fixture on my weekly shopping list. I like smoked salmon with scrambled eggs and avocado. I'll grab a slice or two with a pickle for a snack. Plus, I also love it in this pasta recipe with chilli, capers and dill (yes, I know it technically specifies trout not salmon, but that doesn't seem to be a complete deal-breaker). For me, smoked salmon has become a superfood utility player, just don't put Nutella on it or you'll get salmonella.
Something else I love is the Moser Streamliner. In fact – and, yes, this is a big call – it's probably my favourite integrated-bracelet watch. H. Moser & Cie always seem ahead of the curve with their design vision and the Streamliner is one of their greatest hits. Straight out of the blocks it felt like a modern classic, the lugless cushion design utterly distinctive but still eminently wearable. This was a watch that exudes a certain type of 1970s-inflected retro-futurism. A slinky presence on its snake-like bracelet, the whole Streamliner package remains utterly beguiling.
If you think you can see where I'm going with this, well, you'll be right.
Moser have released the Streamliner with a brand-new fumé dial in a shade they're calling Smoked Salmon. Dials of this hue invariably give a watch a touch of extra gravitas and panache. That seems to be the case here too, the salmon dial imbuing the watch with a vintage touch that makes the design feel all the more timeless. While the griffé finish to the dial adds welcome texture, it's an interesting colour, too, a paler shade with a hint of brown like a glass of nice rosé.
The only controversy is whether that dial colour is pink enough to merit the "Smoked Salmon" title. But to the sceptics who question this definition, Edouard Meylan, the Moser CEO and a seasoned fly fisherman, has already come out fighting.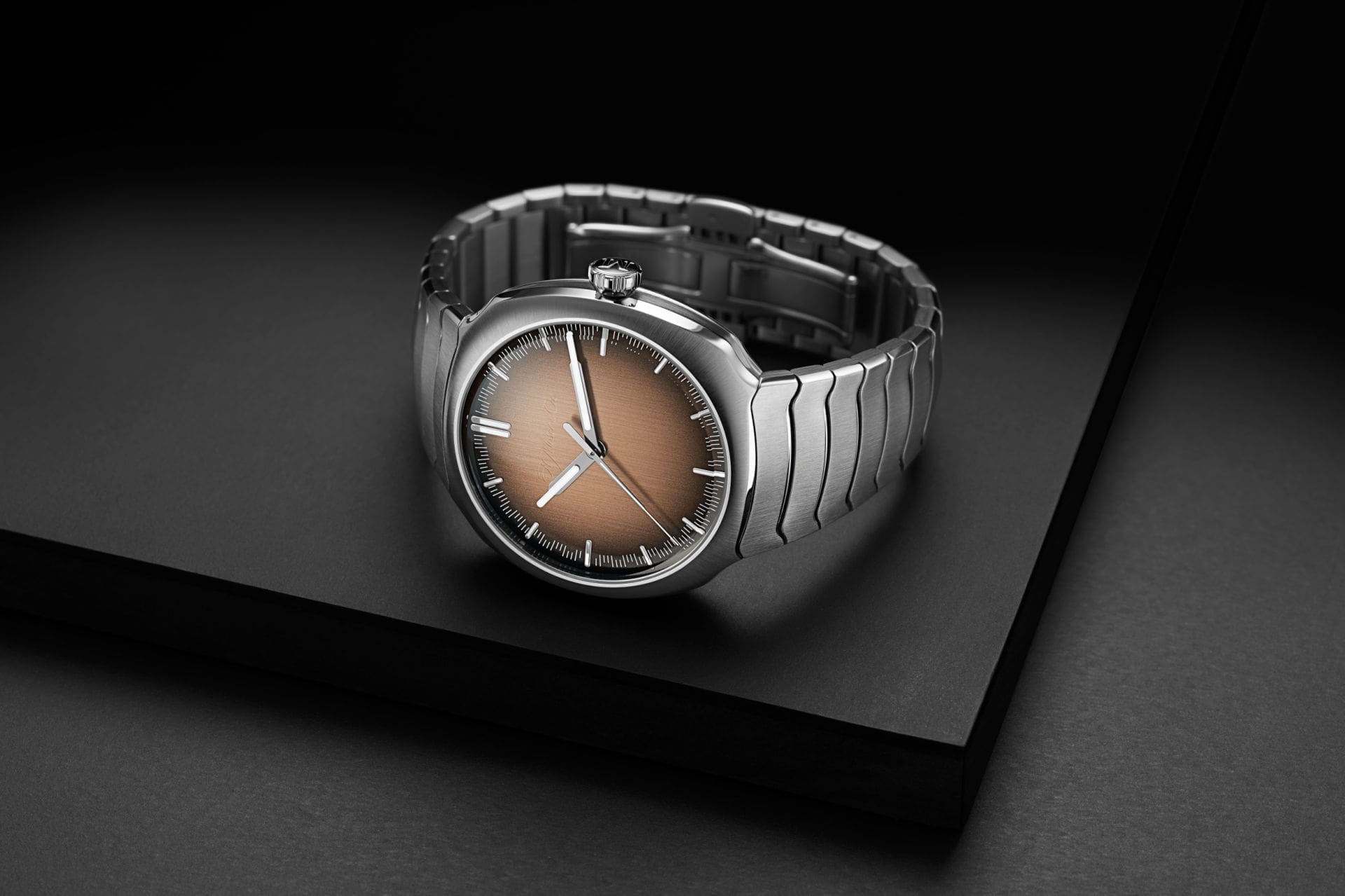 "There is salmon and there is salmon," he insists. "Our inspiration does not come from the traditional Atlantic salmon, or 'Salmo salar' to give it its Latin name, but from its very rare cousin, the 'Oncorhynchus kisutch'. Allowed to mature in total freedom and massaged each day by specialists using an oil infused with aromatic herbs picked from the slopes of the Himalayas, this species only eats crustaceans that have been pre-digested by pink flamingos. Each individual fish is smoked using a secret recipe made using Scottish whisky. This is what gives the flesh this exceptional colour, and is the inspiration behind our new dial."
Which, of course, only makes me want this watch even more.
H. Moser & Cie Streamliner Centre Seconds Smoked Salmon pricing and availability:
The H. Moser & Cie Streamliner Centre Seconds Smoked Salmon will be released next month for US$21,900 and will only be available for a year.
| | |
| --- | --- |
| Brand | H. Moser & Cie |
| Model | Streamliner Centre Seconds Smoked Salmon |
| Case Dimensions | 40mm / 12.1mm thick |
| Case Material | Steel |
| Water Resistance | 120m |
| Crystal(s) | Sapphire crystal |
| Dial | Smoked Salmon griffé |
| Straps | Integrated steel bracelet |
| Movement | HMC 200 automatic calibre |
| Power Reserve | Minimum three days |
| Availability | Available next month |
| Price |  US$21,900 |