To celebrate their 260th anniversary Vacheron Constantin have unveiled a true masterpiece of the watchmakers art. The one-of-a-kind reference 57260 (57 complications plus 260 years equals Reference 57260) is the most complicated watch ever made, and the latest in a long line of prestigious supercomplicated timepieces (like the recently sold Patek Philippe Henry Graves Jnr Supercomplication) dating back to Breguet himself. It's a staggeringly impressive piece of engineering and art, and, to be honest it's quite hard to comprehend the scale of the achievement. Beyond the challenge of understanding the functions of the watch, several of which are unique to this piece, there's the bigger question of what this watch means for Vacheron Constantin, and the industry. It's certainly one of the most important timepieces of the century.
We're really really hoping to see this watch at Watches & Wonders in Hong Kong – and give you a more complete rundown, but until then, here's the vital statistics for the Reference 57260, along with every single one of the 57 complications.
1: The Vacheron Constantin 57260 is a one-of-a-kind masterpiece, made to order for a dedicated collector
3: Master watchmakers in the team that created the watch
8: Years of research and development to create the 57260
57: Complications, comprising of:
6: Time functions (including the Armillary sphere triple-axis tourbillon)
26: Calendar functions (including Gregorian, Hebraic, Astronomic and Lunar calendars)
4: Chronograph functions
6: Alarm functions
8: Striking functions
7: 'Other' functions
Calibre 3750: The movement powering the 57260.
2826: The total number of components in the watch (all finished by hand to the highest standard)
31: Hands on the watch
6: gongs in the watch (including a set that ring the Chimes of Westminster – just like Big Ben)
98mm: The size of the case (that's almost 10cm)
50.55mm: The thickness of the case
960 grams: The complete weight of the watch
33: The number of complications the Patek Philippe Calibre 89 (the world's second most complicated watch) has. Vacheron Constantin haven't just beaten the record – they've smashed it.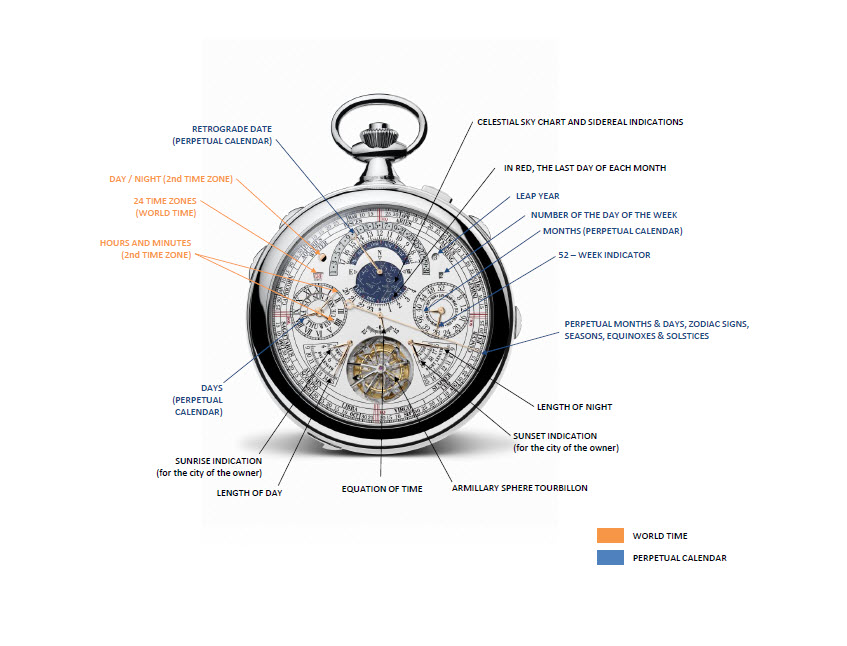 All 57 Complications present on the Vacheron Constantin Reference 57260
Time Functions
1. Regulator-type hours, minutes and seconds for solar meantime
2. Visible spherical armillary tourbillon regulator with spherical balance spring
3. Armillary sphere tourbillon
4. 12-hour second time zone hours and minutes
5. Indication for 24 world cities for world-time
6. Day and night indication for the 12-hour world-time
Perpetual Calendar Functions
7. Gregorian perpetual calendar
8. Gregorian days of the week
9. Gregorian months
10. Gregorian retrograde date
11. Leap-year indication and four year cycle
12. Number of the day of the week (ISO 8601 calendar)
13. Indication for the number of the week within the year (ISO 8601
calendar)
Hebraic Perpetual Calendar Functions
14. Hebraic perpetual calendar with 19-year cycle
15. Hebrew name of the day
16. Hebrew name of the month
17. Hebrew date indication
18. Hebrew secular calendar
19. Hebrew century, decade and year
20. Indication for the number of months in the Hebraic calendar year
(12 or 13 months)
21. Indication for the Golden Number with 19-year cycle
Functions of the Astronomic Calendar
22. Indications for the seasons, equinoxes, solstices and signs of the
zodiac with "sun" hand
23. The sky chart (calibrated for the city of the owner)
24. Sidereal time hours
25. Sidereal time minutes
26. Hours of sunrise (calibrated for the city of the owner)
27. Hours of sunset (calibrated for the city of the owner)
28. Equation of time
29. Length of the day (calibrated for the city of the owner)
30. Length of the night (calibrated for the city of the owner)
Lunar Calendar Function
31. Phases and age of the moon, one correction every 1027 years
Religious Calendar Function
32. Indication for the date of Yom Kippur
Functions of the 3 column-wheel Chronograph
33. Retrograde fifths of a second chronograph (1 column wheel)
34. Retrograde fifths of a second rattrapante chronograph (1 column wheel)
35. 12-hour counter (1 column wheel)
36. 60-minute counter
Alarm Functions
37. Progressive alarm with single gong and hammer striking
38. Alarm strike / silence indicator
39. Choice of normal alarm or carillon striking alarm indicator
40. Alarm mechanism coupled to the carillon striking mechanism
41. Alarm striking with choice of grande or petite sonnerie
42. Alarm power-reserve indication
Westminster Carillon Striking Functions
43. Carillon Westminster chiming with 5 gongs and 5 hammers
44. Grande sonnerie passing strike
45. Petite sonnerie passing strike
46. Minute repeating
47. Night silence feature (between 22.00 and 08.00 hours – hours chosen by the client)
48. System to disengage the striking barrel when fully wound
49. Indication for grande or petite sonnerie modes
50. Indication for silence / striking / night modes
Further functions
51. Power-reserve indication for the going train
52. Power-reserve indication for the striking train
53. Winding crown position indicator
54. Locking mechanism for the striking
55. Winding system for the double barrels
56. Hand-setting system with two positions and two directions
57. Concealed flush-fit winding crown for the alarm mechanism