Battle Royale: The T+T Team debate which is the best Hublot Big Bang
Time+Tide
The team have physically and emotionally recovered from the first round of Battle Royale, which saw a war of words fit for a Grecian epic tale. This week, the team are back in the cage to make their case for their favourite piece from the Hublot Big Bang collection, a family of watches that has just about everything you might ever desire in a wristwatch. Without further ado — draw swords!
James' choice – the Hublot Big Bang Unico Full Magic Gold
This Big Bang typifies why many consider Hublot to be at the pointy end of the horological spear when it comes to material innovation. Not only have the wunderkind managed to create a new precious metal that looks unique, but "Magic Gold", as a result of being a proprietary blend of 18k yellow gold and ceramic, is also robust and very scratch resistant. This means that you could conceivably daily wear this timepiece without fear of errant door jams or whatever scratching it … which is a good thing, because it's got an RRP of $48,300 big ones. At 42mm, it's also the most appropriately sized Hublot for my lissom wrists, and like most Hublots, it comes on a natural rubber strap that I know will be comfortable all year round. The manufacture calibre movement, HUB1280, is also a bit of a beast, offering up 70 hours of power reserve, flyback chronograph complication with column wheel and self-winding. Oh, and the cherry on the magic cake? One hundred metres of water resistance, which means I could flex on folks at the beach too.
Andrew's thoughts: I love the story about Jean-Claude Biver sawing at the first watch made in Magic Gold with a dinner knife at an event to prove how scratch-resistant it is. Classic JCB and classic Hublot hype! I'm with James on how attractive that attribute is, precious materials you're not worried about scuffing up. But for me, the dirty gold look of Magic Gold vs the sheer majesty of satin-brushed King Gold makes me side with the King. As you will see right now.
Andrew's choice – the Hublot Big Bang Integral King Gold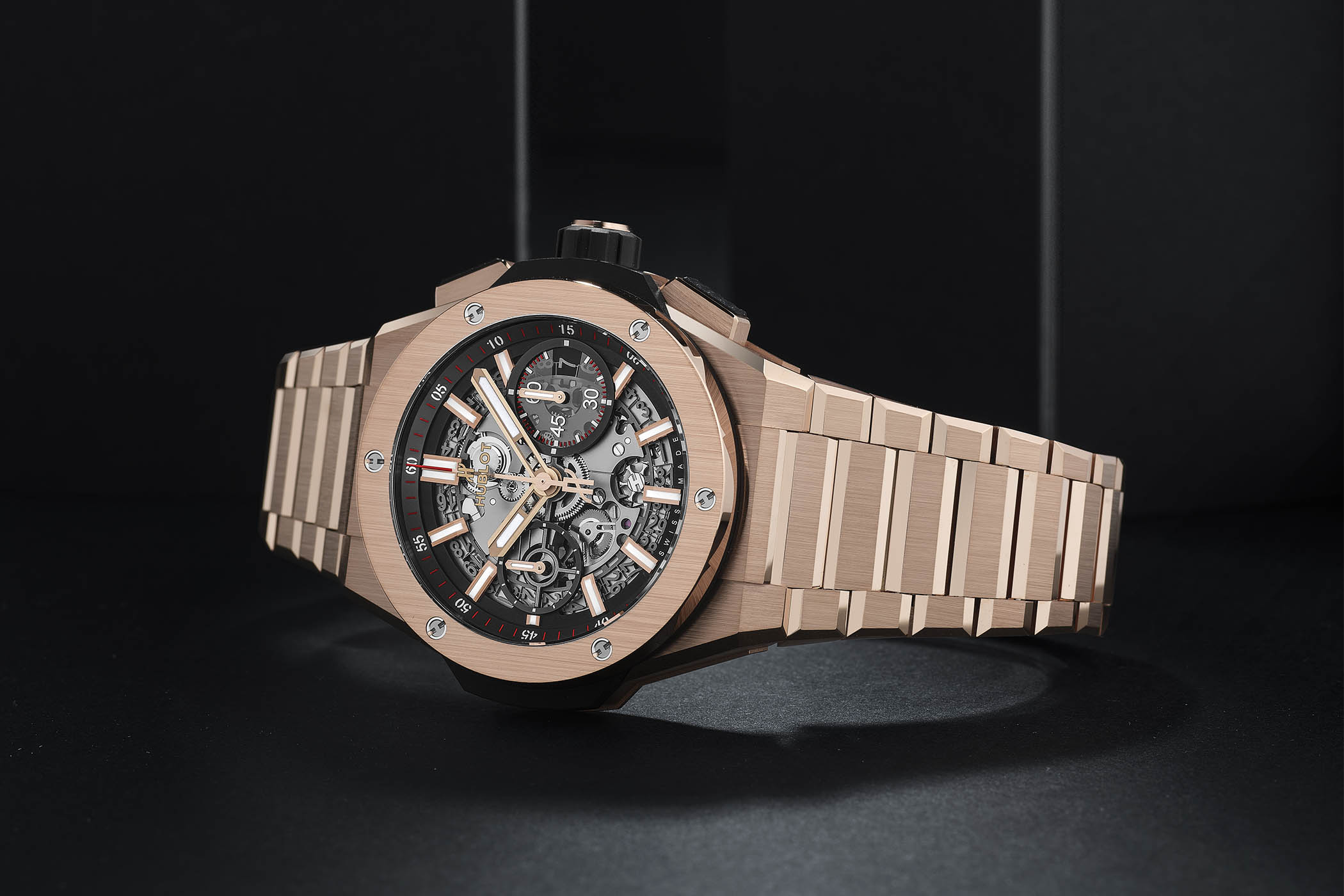 It's a bit of a cheat answer, because only a handful have had this on the wrist, and nobody else in the Time+Tide team. But you can take my word for it, the hype you've probably heard is justified. This is the ultimate expression of the Big Bang, in King Gold. The version where all elements interlock, with satisfying, sexy cohesion. Which is weird. Because the Big Bang, in its first iteration,  was all about the 'Art of Fusion' — the marrying of a rubber strap with precious metals in a sports watch. There is a serious elevation of the collection here on a stunning integrated bracelet. Like I've said many times on Instagram and in our early reviews of the Integral, it's the painstaking attention to detail that makes the claimed four years in development believable. The deeply etched satin brushing — contrasting with the mirror-polished chamfered link edges — that continues through to the case and bezel. It's a masterwork. It's the King of the Big Bangs.
Luke's thoughts: Fair play to Andrew on this one, Hublot nailed the bracelet with this release. The longer you look at it, the harder it is to imagine it without an integrated bracelet.
Nick's choice – the Hublot Big Bang Unico Sapphire Rainbow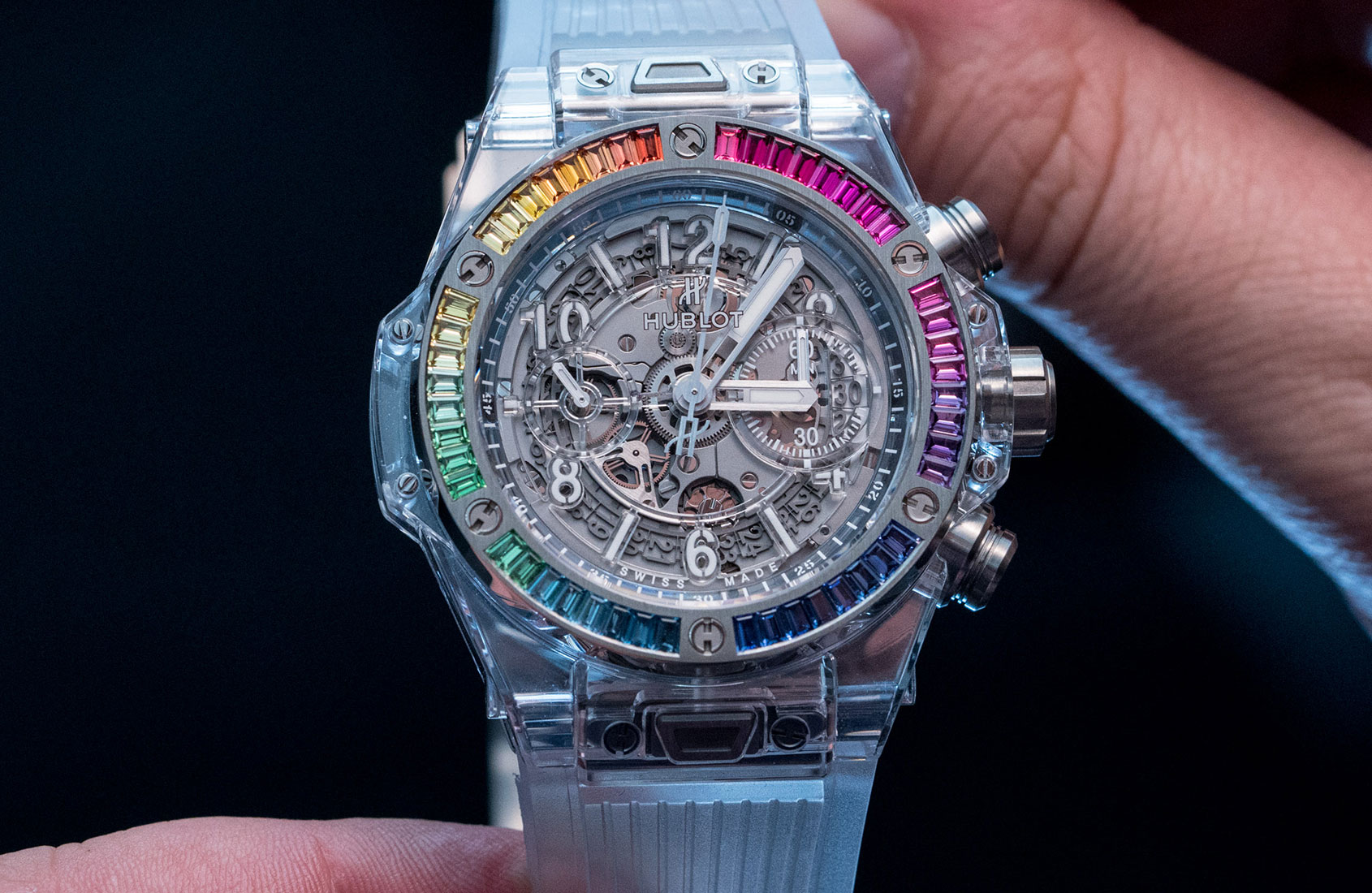 The Hublot mastery over the materials used in watchmaking is almost second to none, with their impressive ability to make cases and dials out of just about anything you could imagine, including their proprietary alloys of ceramic and metals in King Gold. Here we have a case made almost entirely out of sapphire crystal, with a matching semitransparent rubber strap, that work together to offer a sensation that the movement is floating on your wrist. If that isn't enough wow factor, the bezel features a ring of graduated coloured gemstones set into white gold that are a visual delight. At 42mm, the Big Bang Unico Sapphire Rainbow is more modestly sized than some of the Hublot lineup, making it an option for a (very flamboyant) daily wear. This rainbow doesn't lead to a pot of gold — it is the pot of gold.
James' thoughts: Nick Kenyon is, at times, a flamboyant character. As a result, I can't say I'm surprised he's gone for a sapphire-cased, full rainbow bezel Big Bang – it's a watch that would suit him down to the ground. And knowing Kenyon's penchant for smaller timepieces, if this watch was 34mm instead of 42mm, I have no doubt he would already own it.
Luke's choice – the Hublot Big Bang MP-11 Red Magic HUB9011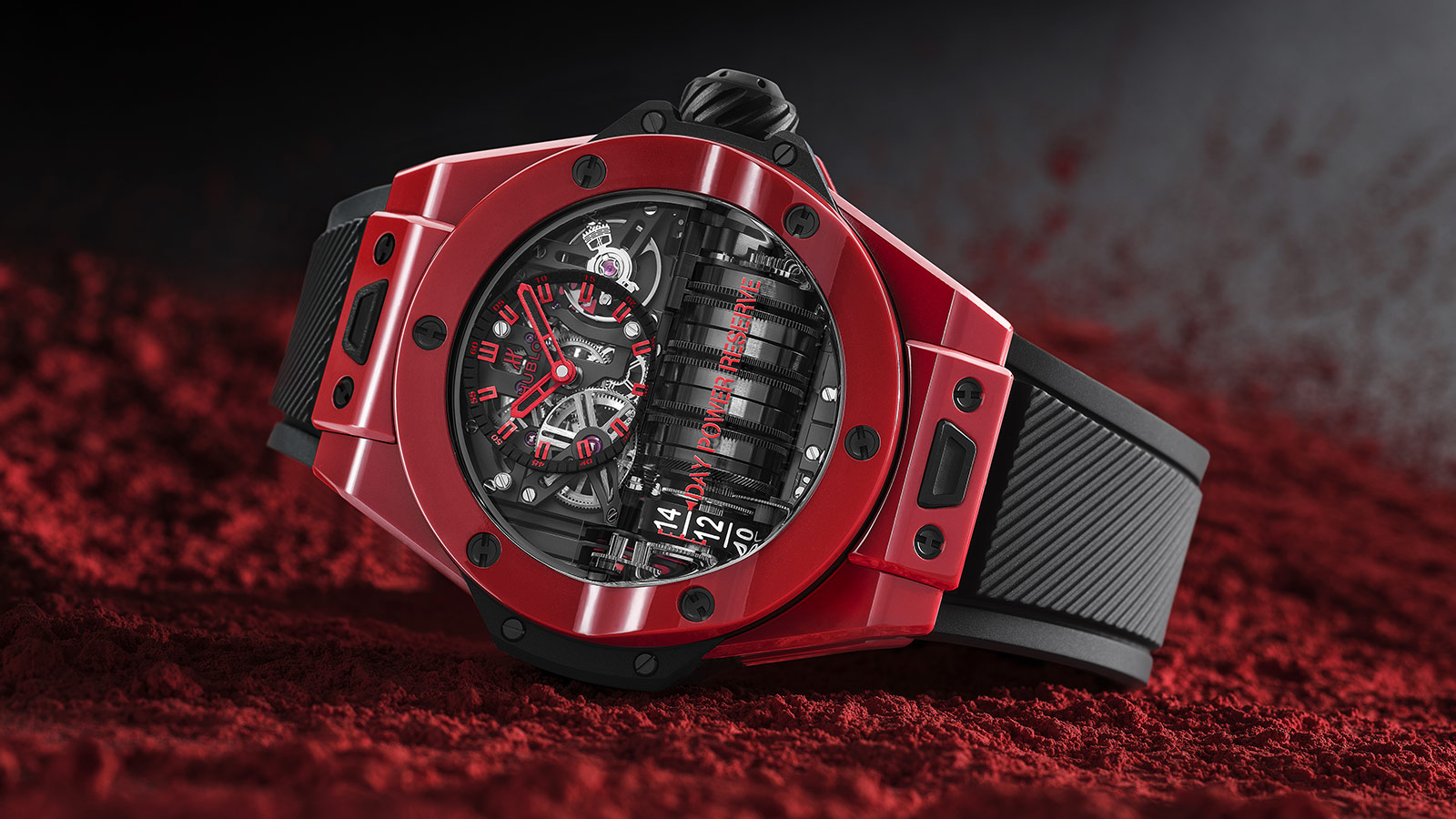 For me, Hublot's red ceramic pieces hit the bullseye when it comes to nailing the very essence of the brand. A Hublot, after all, is not a watch for the faint-hearted. Their watches are big, bold and ballsy and, if you're looking to make an attention-grabbing statement, then colouring it fire-engine red never hurts. But there's also a striking depth and richness to Hublot's particular shade of blazing scarlet — it doesn't look remotely cheap. That's as it should be, too, as this is hardly an inexpensive watch. In part, that's because of the complexity of the movement that delivers 14 days of power reserve via seven horizontally arranged barrels placed under the time. To accommodate this mechanical flourish, the watch is a veritable monster, swelling to a height of 14.4mm at its peak. Then again, if you're a Hublot man, bigger is usually better, particularly in pulsating red.
Nick's thoughts: Clearly, Luke doesn't use his watches to tell the time, as his choice features a dial that requires a microscope to read. In fact, the stacked mainspring barrels take up as much real estate as the time-telling part of the watch face, which certainly wouldn't make it my first choice.