Battle Royale: The T+T Team debate which is the best modern-day Rolex Daytona
Time+Tide
It's a new segment. It's called Battle Royale. Someone nominates a collection, and we fight to the death for our favourite from said collection until there is one opinion standing. Well, not really. That would be bloody, time-consuming, fairly hard to adjudicate and likely to upset HR. So, why don't we just make our case for our pick, and then try to eviscerate each other's (clearly poor) choices in comments?
The idea was hatched when we came to the realisation that, as a team, we agree on almost nothing when it comes to watches. Agreeing to disagree is such a way of life at T+T HQ that it's practically a value you sign up for when you join the team. This colourful clash of opinions is never more apparent than when we discuss a collection within a brand's lineup. So, without further ado, we bring you Battle Royale Episode 1, about a watch having yet another moment in the sun, for all kinds of reasons.
Nick's choice – the Rolex Cosmograph Daytona ref. 116508
While I certainly haven't punched my ticket on the Rolex Daytona hype train that left the station a few years back, it's impossible to argue it isn't both a hugely historically important part of the horological landscape, and a damn good-looking watch. If I had my pick of the collection to keep on my wrist till my last breath, it would be the Rolex Daytona ref. 116508 in yellow gold with black dial and champagne tone sub-dials. There's something about a gold Rolex that sends the amygdala part of the human brain into hyperdrive, flooding it with a mixture of curiosity and awe that no other watch has successfully coalesced. As a result, this coloured metal interpretation of the famous racing watch is something that would not only quietly command any room it made its way into, but there is a timelessness to yellow gold that would see it stand taller than more ephemeral designs that might be in vogue. 
Andrew's thoughts: It's not going to happen. The intensity of the black and red colourway with the all-yellow all-the-time case, bracelet, bezel and pushers is too heavy-handed a flex for this delicate flower.
Andrew's choice – the Rolex Cosmograph Daytona ref. 116500
I expect that I will be alone in this opinion. In fact, I know I will be alone. Because the polite silence that settled itself over the office when I said, "How about that black-dial Cerachrom bezel Daytona then, eh? So much better than the white dial, right? Guys? Anyone? Bueller?" Crushing. Why do I love it? It's masculine. There's a daintiness to the dimensions of the Daytona that seems — for me — to be heightened by the white dial. And while we're going all "reverse Panda" — which, by the way, MUST be a Kung Fu move as well as a way to describe a black dial watch with white sub-dials, even though these have big dilated black eyeballs — can I also say dark-dialled watches are far more adaptable to your clothing situation. You know what, now I'm trying to articulate it, I realise it's my outlaw stance, the sheer unpopularity of this opinion, that embeds it for me. So I don't even want you to agree. Come at me, team.
Nick's thoughts: While I'll agree that there is no such thing as a bad Daytona, there are certainly some that get the heart racing more than others. When it comes to the black dial ref. 116500, your heart slows to the point that a doctor is called, and you die from boredom. RIP.
James' choice – the Rolex Cosmograph Daytona ref. 116588TBR "Eye of the Tiger"
Oftentimes it surprises me that more people in the horological fraternity don't know this, but Rolex is one of just two watchmakers in the world that has their own precious metal foundry. That means that from the moment this yellow gold is pulled out of the ground to the second that it first touches your wrist, it's been done by Rolex. This, in turn, means quality control and, more importantly, continuity  – you are getting a product with a level of consistency that is peerless. Another lesser-known tidbit about the Big Crown is their gem-setting capabilities — they are, for lack of a more contemporary idiom, off the chain. Every single diamond that you see attached to this Daytona has been selected and set by one person … and it's done by hand – this Daytona is wrist-worn art. And it's why this watch is so great, because it showcases two of Rolex's biggest strengths that most people are completely oblivious to. I also love the fact that it comes on an Oysterflex bracelet, because it will offer a level of comfortability that the two aforementioned Daytonas from McUtchen and Kenyon simply cannot muster. Oh, and the nickname of the watch is literally the "Eye of the Tiger". Gem. Set. Match.
Luke's thoughts: James has a hint of flamboyance to his personality that nicely matches this Daytona, but that doesn't excuse this choice. The diamonds seem set at random in a pattern that is indistinguishable from a Rorschach test, perhaps giving an insight into James' psychological state when he chose this reference.
Luke's choice – the Rolex Cosmograph Daytona ref. 116595RBOW "Rainbow"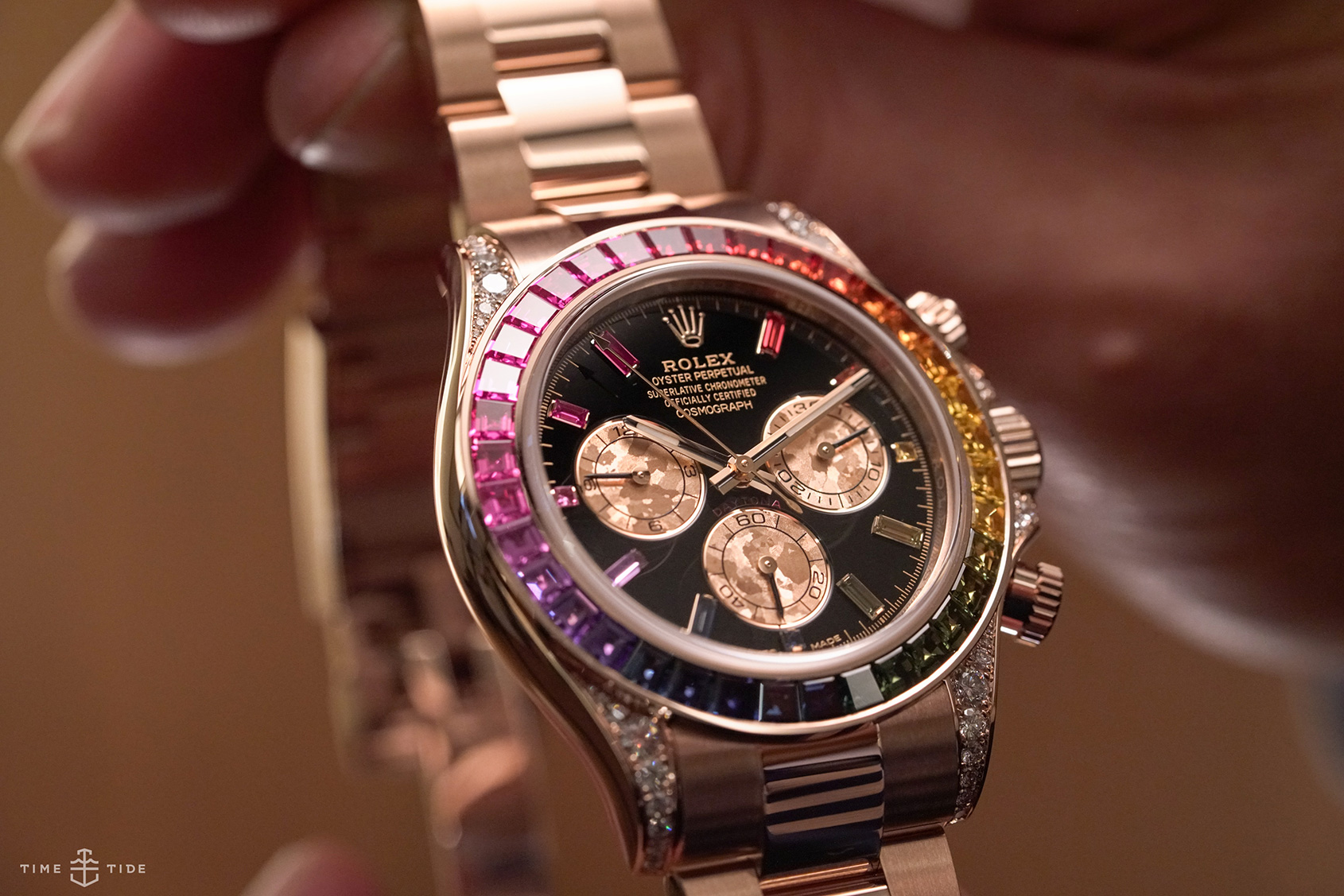 You know the bit in The Wizard of Oz where the footage erupts into glorious technicolour? Well, this watch conjures the same effect on your wrist. I know it looks utterly preposterous (spoiler alert: that's because it is). But when I first saw it at Baselworld, I was mesmerised. You can't buckle it on without breaking into a foolish grin. It's partly the demented array of colours. But it's also the flawless execution. Rolex, of course, has its own crack team of gemologists who examine every stone to ensure it passes their fearsome quality-control tests. The stones are then passed onto their in-house gem-setters who labour to fix each gem in a way to maximise colour and sparkle. The result is magnificent. If you can't get some enjoyment out of this watch, I fear you're dead on the inside.
James' thoughts: Gold, or more specifically, Everose gold, the colour of winners, the precious metal that should be reserved for the top step of the podium. This is a great choice from Luke, he's a winner in my book … and so is this watch.